Imagine all the amazing food of Italy with the beautiful nature of a mediterranean island – that's Sardinia.
The island is popular with tourists for its beaches in the summer time but because I went during the off season, I was able to find some of the island's more under-recognized gems.
My local friend, Francesca, and her family toured me around Sardinia and highlighted these places when we were there.
Explore the archeological site of Tharros and Torre Grande
Tharros is an ancient city, renowned for it's intricate water system and the complexity the city had for it's time. Visitors are able to walk through the ruins of the city and, along the way, sign posts explain the significance and purpose of each area. Beside Tharros is Torre Grande, a tower lookout point of the coastal beaches.
To explore Sardinia, it is easiest if you rent a car. Most of the island is connected through public transport but it's better to be able to go off your own schedule and go off the beaten path to places like Tharros.
Tip: Check the hours of the archeological site before going. When we were there, it closed at around 6. Because the archeological site is connected to the museum in a town nearby, there is a deal to buy tickets for both places.
You may also like: Awesome Things To Do In Capri
Visit Bosa's Castle and Beach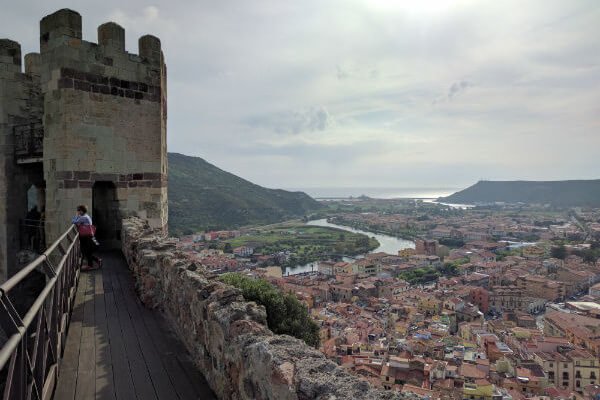 The Castle on top of the hill in Bosa, Sardinia offers a panoramic view from it's lookout. The Castle itself has a small museum element, and guided tours are offered throughout the day that explain the island's history for Italian speakers. After exploring the castle, walk or drive down to the beach in Bosa. This was the first time I saw a black sand beach. It was so beautiful and we spent some time watching the sun going down and walking along the rocks near the shore.
The town of Bosa has colorful houses and is surrounded by a valley, as you'll see from the castle's viewpoint. There is quite a bit of a hike up to the castle and the parking is quite limited so budget your time wisely.
Tip: Ask the staff for a written English guide. Although it won't be as comprehensive as the guided tour, at least you'll learn a bit about the castle.
Get acquainted with the local culture
Every village in Sardinia has it's own local specialities, from cheeses to costumes to customs. In the village I visited called Santu Lussurgiu they have an amazing cheese made from cow milk. I was lucky enough to try some directly from a local farmer.
Although I'm very thankful to have had a local guide, I know this isn't available to everyone. Cities like Oristano will also have Sardinian delicacies to try. Sardinians will tell everyone that they are Sardinian, not Italian. They are very proud of their unique culture.
Tip: Locals don't always speak English. Try to brush up on your Italian or learn a few words before going to Sardinia.
You may also like: Best Things To Do In Sorrento
Learn about the Island's history at Santa Cristina Nuraghe Village and Holy Well
Sardinia's people established hundreds of Nuraghes in the early days of the island. These structures, some still standing, offer clues to what went on in Sardinia's early history. The Santa Christina Village has a Nuraghe structure, a well of sacred water, and other significant historical areas.
Make sure to walk down to the well and touch the sacred water. A unique thing about these archeological sites in Sardinia is that visitors can walk through them and experience living history. Another Nuraghe nearby is Losa, it's in really good condition with a staircase up to the where a top balcony used to be.
Tip: The audio guide in English is very good and will tell you more about the Nuraghe history and the theories around the Nuraghe purpose.
Watch the Sunset at L'Archittu Beach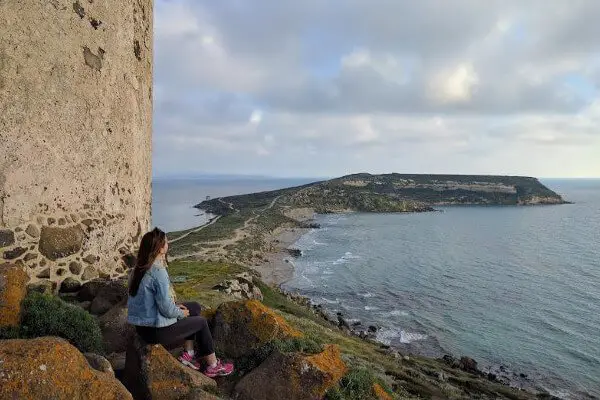 This beach town reminded me instantly of Santorini. With houses along the coast and a beautiful beach, it's hard not to find myself dreaming of going back to L'Archittu Beach. From the beach, there is a walking path over to a rocky part that is perfect to watch the sunset from. When we were there, there was hardly anyone else.
Sardinia's beaches have different colors depending on the stone in the sand. Some will have huge white quartz sand while the one I went to in Bosa had black sand from the iron. Find unique beaches and don't just stay at one.
Tip: If you go in the summer there are sure to be locals and tourists. Some may dare to jump off the arched area but I would not follow their lead, many people have been injured.
Pin For Later