Every so often, a holiday that's a little off the beaten track is precisely what you fancy, isn't it?
Well, you might be wondering how you can have that kind of a holiday if you're travelling with kids. The good news is that it's perfectly possible, and it's especially enjoyable if you research some child friendly destinations first.
Forgo the usual camping trip in the countryside or ferry over to England, booking your family an adventure to one of these child-friendly destinations and make memories you'll never forget.
Thailand
Known for being a holiday destination that's perfect for children (kids are treated like little celebrities here), Thailand has everything a family could ever want. Beaches, jungle treks, elephants and monkeys, great weather, friendly locals and delicious food – this wonderful destination truly has it all.
European families tend to head to Chiang Mai where the the beaches are beautiful and the towns are bustling but not too busy. You could try the Eastern Seaboard and Ko Chang if you'd prefer to go somewhere with shallow seas and nearby jungles (as well as centres for elephant interaction), whereas slightly older children will love Ko Samui for snorkelling and shopping in Hat Chaweng.
Buddhist temples are very child-friendly too, and Thai food is suitable for children with popular dishes including omelettes, sticky rice and mild stir fries. Just take a look at some hotel deals (Travel Republic offers good prices and have lots of information on their site) to decide exactly where you want to stay if Thailand sounds good to you.
You may also like: Complete Guide to Flying with Children from a Travel Belle Mom
New York City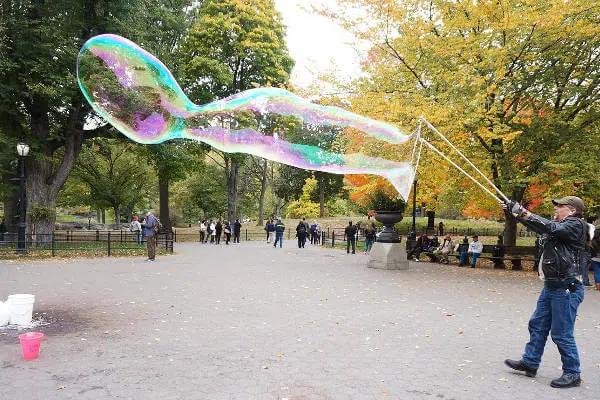 New York, New York – it's a city that never sleeps, which is perfect if you have kids to keep you up anyway! Not just for twenty-something couples enjoying a Christmas break, New York is a child-friendly holiday destination, and it doesn't have to break the bank either.
There are tons of activities to do with the kids in the Big Apple, including half-day pizza tasting bus tours (bus tours where you and the little ones are taken round the best pizzerias in Brooklyn, Queens and beyond), as well as Disney on Broadway and the Bronx Zoo.
Young children can ride the subway and local buses for free, and they're bound to love climbing the Empire State Building or checking out the best toy shops in the world. Treat them to some of the most exciting food on the planet for sugar lovers (Dylan's Candy Bar might make the kids feel like it's Christmas already), as well as sundaes and cookies.
No doubt you'll want to wear them out before heading back to your hotel, but the great thing is that there's lots of open space in the city, including Central Park and the High Line.
You may also like: Things to do in Vancouver with Kids
Lanzarote
Lanzarote, one of the Canary Islands, is a whole lot closer to home than these other two destinations (and it's a firm favourite for many of us), but it will feel like you've arrived on another planet if you do your family holiday right.
As much as the coastal resorts are lovely, head further inland towards the north for a truly unusual holiday; the landscape here is volcanic, complete with steam billowing out of boreholes and fissures. Lanzarote A Caballo is a riding centre on the island that offers lots of activities for kids who fancy trying horse riding, as well as camel-drawn wagons.
Rancho Texas is brilliant fun as well: the zoo is the largest in Lanzarote and the kids will get to see crocodiles and birds of prey, fuelling their imaginations and making them feel like intrepid explorers!
Finally, be sure to check out Timanfaya National Park where you and the kids can watch as your lunch is cooked over red-hot fissures; its arid landscape will remind you of Mars and if you book ahead, you can either be taken on a coach around the park or even take a camel ride across the landscape if you like.
So, how do these child-friendly destinations sound? Better than your standard holiday? Thought so!
Pin For Later