Editor's note: As promised today we bring you gorgeous coverage and photography from the 2011 carnival in Venice from regular contributor, Kathy Ayer, as a follow up to last week's update of the Venice festivities from Inka Piegsa-Quichotte.
"All the world's a stage, and all the men and women merely players." Shakespeare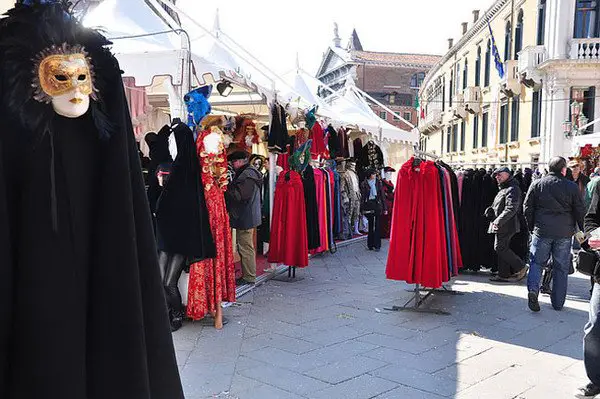 A time of fun and folly in Venice, and we revelers played our parts. Young and old participated. Stars, divas, jokers, and a cast of minor players filled Saint Mark's Square and the calle (small streets and alleyways) of Venice day and night to participate in the festivities.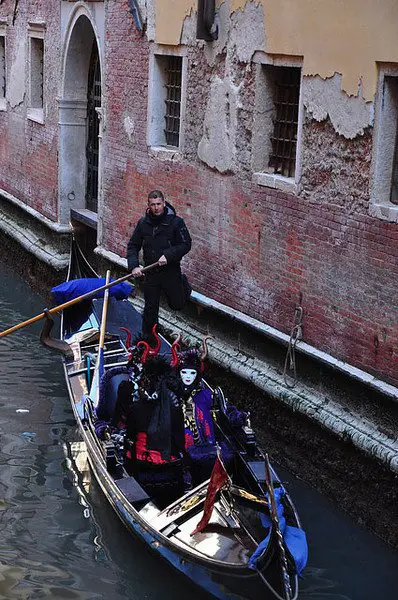 There were stars. The Angel, whose "Volo del angelo" kicks off each year of Carnival. Her flight, on a zip line, from the bell tower in St. Marks Square to the Carnival stage announced the official start of the yearly festivities. There are the "posers," as I called them, who are paid by many of the mask and costume shops in Venice to strike as many poses as their audience requests. Their costumes are bright, big and beautiful. Many of us crowded around them and clicked our cameras to each slight move of a hand or torso.
There were divas. These partygoers rented, because divas don't make their own, high-priced costumes matching this year's theme, "Ottocento Da a Sissi, La Citta delle Donne." Clad in 19th-century dresses with corsets and petticoats, bright white wigs, and small masks that showed most of their glamorous faces, these ladies strutted up and down St. Mark's, almost always with an equally decked out man on their arm.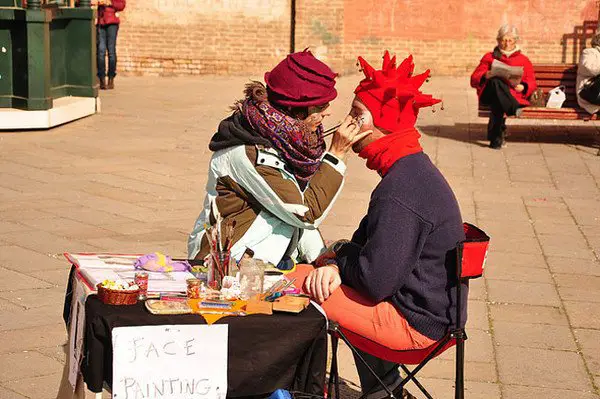 The jokers also filled the streets. During Carnival the saying, "Ogni scherzo vale" (every prank/joke is ok) is still alive and well. Many of these jokers were adolescents, usually Italian, with coordinating hand-made costumes. There were groups of leprechauns, Snow White and her seven dwarves, Tellytubbies, decks of cards, young men who had raided their mother's wardrobes and makeup. Others just had simple capes and masks. They pranced loudly up and down the streets of Venice yelling, singing, and throwing confetti.
I happily held a minor role in the merriment. In the morning I was nothing more than a voyeur. I would race over to Saint Mark's Square early in the morning to seek out the "posers" who would line the portico of the Doge's Palace and the banks along the Grand Canal, with a backdrop of gondolas and the lagoon. The mornings were the time to avoid the throngs of people and get the best photos. Here the size of your lens definitely mattered. The bigger your lens the more attention one of these posers would give you. Although my lens was in the mid-size range, I was thrilled with my photos.
Starting in the late morning, the stage in St. Mark's Square would have some form of entertainment. There were dancers, musicians, jugglers, improv, poets, and mask and costume contests. I stayed for a little of the entertainment each morning, especially liking the mask and costume contests, which ended with the participants giving a little parade in front of the stage. Then, I would take my leave to eat and explore.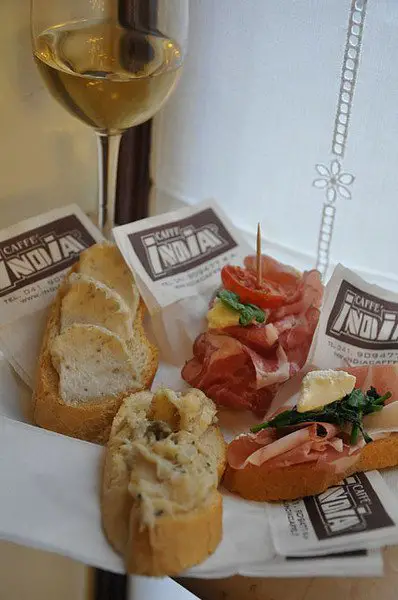 Frittelle and Galani, the fried treats of Carnival are in abundance throughout the city. Frittella is a round yeast dough that's fried. You can get the traditional "alla Veneziana," which has pine nuts and raisins, or opt for an even richer, filled version. They have those filled with pastry cream, cream Chantilly, zabaglione, and I even spotted a few filled with Nutella. My favorite was the pastry cream version. Galani are a crunchier fried sweet dough (no yeast) that come in rectangular strips and a sprinkling of powdered sugar. Maybe not the breakfast of champions, but certainly the breakfast of Carnival in Venice.
I do have a map for times when I want to find a specific street or address, but most of the time my mission is to wander
One of my favorite things to do in Venice is to get lost in the maze of streets and bridges that wind along the small canals, called rii in Italian. I do have a map for times when I want to find a specific street or address, but most of the time my mission is to wander. Without the crowds, I find magic in the crumbling facades, exotic and ornamental windows, the various shades of greens and blues of the lagoon, and the pastel colors of the buildings whose reflections dance upon the water's surface. During these wanderings, I also found a little peace from the massive crowds that filled St. Mark's Square, the Rialto Bridge and the streets between these two "main stages."
While lost I also found more Carnival festivities in the San Polo quartiere. Food vendors from around Italy sold their regional specialties. There was an ice rink in the middle of the campo and a playhouse and merry-go-round for the kids. In Campo Morosini, I found tents of vendors selling masks and renting costumes. A cape would run you anywhere from 50 to 250 euros to rent or buy. Costumes started at 400 euros to rent for a day. Masks came in all price ranges, from those not made of the authentic "carta pesta" (papier-mâché) to the hand-painted and crafted masks with feathers and elaborate decorations. Those that didn't want to cover their faces, but still wanted to join in on the festivities, could get their faces painted.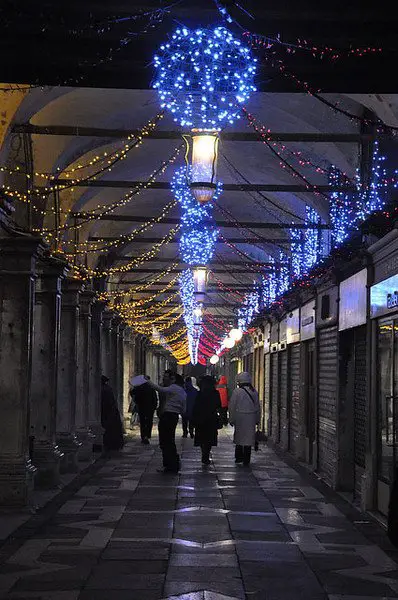 At night, you could attend a ball or organized event. I preferred to take my place with the other supporting cast of players in the streets. My costume was simple, one of the two small masks I bought and a scarf to match. The best evenings started with a cicchetti crawl, where we went from one wine bar to the next nibbling on various small plates of snacks (cicchetti) and ombre (small glasses of wine). We paraded through the streets, eventually making our way to Saint Mark's. Here we enjoyed the entertainment on stage and the other party goers around us. Most days were sunny, except for one day of snow, but the nights were still very chilly. Vin Brule (hot spiced wine) and hot chocolate were always available.
The last day of Carnival is Martedi Grasso (Fat Tuesday). During the day Venice is packed with party goers. It felt like a combination of Halloween and April Fool's Day. Everywhere I looked there were people in costumes; babies, teens, and the elderly. Kids were dousing each other with confetti or spraying each other with silly string and shaving cream. At midnight the official end of the party is sealed with a midnight boat regatta along the Grand Canal, called La Vogata del Silenzio. Boats lit only by a single candle float in silence in the canal. It is a somber ending to the party and beginning to the 40 days of Lenten fasting before Easter.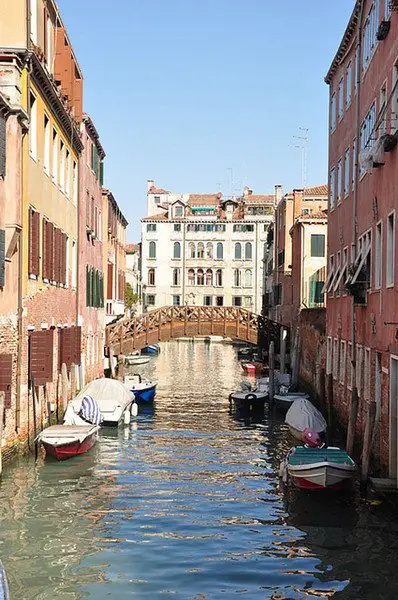 The festive atmosphere and merriment is contagious. With a stage as magical as Venice and a part for every type of player, Venice's Carnival is an event anyone can enjoy.
*All photos all rights reserved, Kathy Ayer
For more stupendous coverage of the Carnival in Venice visit Kathy's blog, Food Lover's Odyssey
Pin for Later