Everything you need to know about wines from Umbria, Italy
I'm not in Italy right now, but I may as well be. My dad is in Umbria, staying among the green, rolling hills in Perugia – the city where famed artist Raphael was born, and the province where you'll find Assisi, the gorgeous town where St. Francis started the Franciscan order. But this area is known for more than sacramental wine, as my dad's daily updates and questions bear out.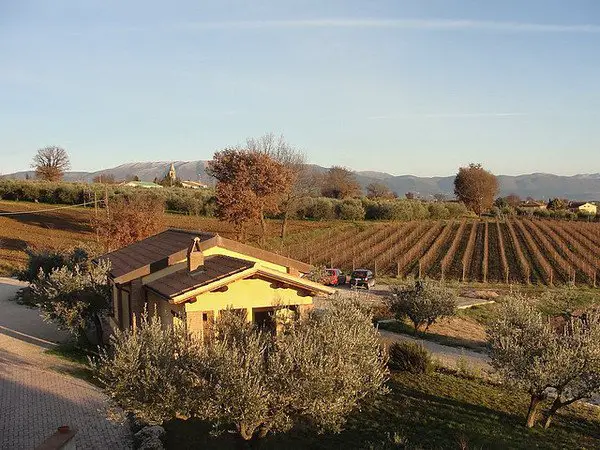 The emails my dad has sent me have been made up of two things: photos and questions. The photos vary, but the questions are the same: "What is this?"
He's asking because, like most European wines, wines from Umbria are named by place instead of by grape. If you want to order more than the vino di casa, or house wine, which I would encourage you to do, you've got to know a thing or two about what this stuff is and how it may taste.
Although you may be familiar with the ubiquitous (and often flavorless) white wine Orvieto, which is made from the very bland Trebbiano grape along with a few others, Umbria has much more interesting wines that you should explore when you head there.
The "don't miss" wines are actually not white, but red. Here two wines carry the name Montefalco, the name of a town. Rosso de Montefalco, which is mostly Sangiovese and about half the price (and kind of non-descript most of the time) and Sagrantino de Montefalco, of the Sagrantino grape, a wine that you'd be hard-pressed to find outside of Italy but one that is the star of the area.
Sagrantino is an ancient grape from the hills of Montefalco and it's a knockout wine. Although it's more expensive, you want the Sagrantino when you go to Umbria – it's a hidden gem and typifies this area. It has rich blackberry and black plum flavors and incredible mouth-drying tannins and earthy flavors – perfect for the funghi (mushroom) dishes of the area. When you're on the ground there, you'll want to look for sweet versions of the stuff too, since finding one outside of Italy would be like spotting a unicorn on a highway in the US.
Torgiano Rosso Riserva is also a Sangiovese based wine, with a touch of Canaiolo and Pinot Nero (Noir). It can be simple or amazing, so you'll have to try quite a few when you're traipsing through central Italy. A big challenge, I know! A rustic wine with flavors of orange, cherries, earth, and sometimes an iron quality, these will be like riper, but less intense versions of Chianti. Similar to the Sagrantino, Torgiano can also be found in a sweet style – look for that if you find yourself in Umbria, since it will go well with local desserts.
I'll be honest, I find Italian whites really unimpressive and Orvieto may be one of the least impressive, but wines from Umbria made locally versus imported are always more delicious, so the white is worth trying when in Umbria. This especially holds if you can find an off-dry or lightly sweet version, which will say "abboccato" on the menu. Although most Umbrian whites will be from the very watered down Trebbiano grape, you can also find some from Grechetto (meaning "the Greek," since that's where the grape came from). Grechetto will have more oomph than most of the Italian whites out there, with mineral and citrus flavors, but it is Italian, so it's going to have a little bitterness – no escaping that in most whites from this country.
I've mentioned this with a few of the wines above, but I want to make a special point. The one thing that I really remember from my trip to Umbria was the sweet, white dessert wines, which can be identified on menus with the word "amabile." These wines are lightly sparkling most of the time, always sweet, and awesome with non-chocolate desserts. Again, nearly impossible to find outside of Italy, but something that will make your trip to the beautiful towns nestled in the green hills of Umbria memorable from a wine standpoint.
So in between sightseeing and enjoying the churches, little towns and wonderful food of the region, you can easily drink the specialties of Umbria. But as with all European regions, know what you're getting before you go. A little research to tell you the regional wine specialties and what names they go by will make it fun and easy to order wine and drink really, really well … my dad is happy to attest to that!
*Photos by UmbriaLovers and ComùnicaTI
Pin for Later