Part Two (for Part One, about various locations in the Myrtle Beach area go here. Or here for shopping in Myrtle Beach. Or here for one of our favorite restaurants for out of town visitors.)
Parks haven't always been my thing. I used to think of myself as "outdoorsy" only when convenient. I believed there were only two kinds of people in the world: those who camp and those who don't. Then over history these things happened:
My husband was an Eagle Scout. I didn't know him when this happened, but it has always loomed out there in silent threat
Many years later our older daughter requested and received a hotel-esque tent for her birthday. I was told it would only be used for backyard sleepovers.
Two years after that our younger daughter wanted nothing more than to go camping in lieu of a birthday party.
In 2008 history converged on a particularly cold March night. Myrtle Beach State Park was the obvious choice. Except for hotels in the distance that flank the property on either side, it's easy to forget you are in the middle of the bustling resort town. In this way Myrtle Beach State Park offers the best of both worlds.
We didn't go to Damon's for dinner, even though it and many other dining choices were located just outside the 300 acres of protected maritime forest. For 24 hours we were a modern day Swiss Family Robinson, relatively speaking. When we woke up to 30 degree temperatures, I cheerfully volunteered to warm up the car and go to the convenience store for coffee and hot chocolate. A new world had been discovered somewhere between cooking over an open flame and merit badges, flat irons and good hair. I was proud.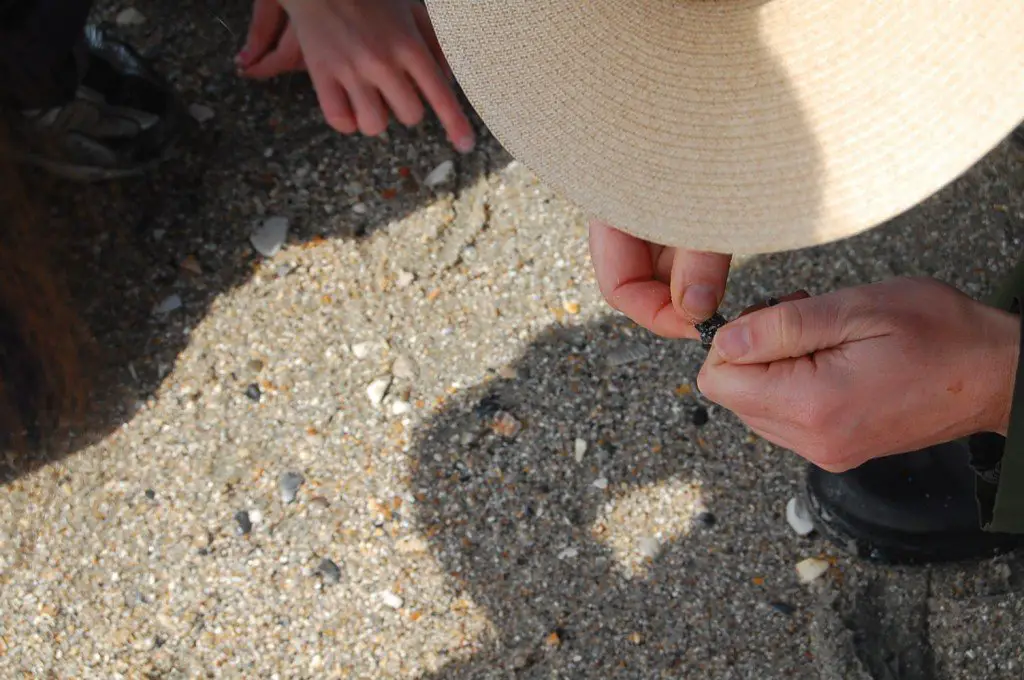 As a destination for many school field trips, the park has always been one of my favorite things about living here. This is mostly due to Interpretive Ranger, Ann Wilson. Without her enthusiasm, I doubt I would have ever wallowed in the sand pretending I was a sea turtle burying my precious eggs. From her I finally learned the difference between a porpoise and a dolphin, how to identify several species of jelly fish, and the dangers posed by plastic bags and shoreline lighting to sea turtles.
Did I tell you I didn't care about these things until I met Ann Wilson? I've always thought she should have her own television show. Or at least a YouTube channel. I ask her favorite thing to tell people to do while visiting the park.
"I tell them to go out on the pier. They can go fishing. You can see things swimming in the water…" She points towards the pier from the beach. "Dolphin!Dolphin!" she bursts, having spotted one just off the shore until she has the attention of that day's group of third graders.
I mention that I love seeing how excited a group of kids who live in Myrtle Beach can get over these things.
"It never gets old," she says.
So I'm a fan of the park, and never miss a chance to go especially if it doesn't involve spending the night in freezing temperatures. This past Saturday my husband and I went to Park Palooza, the first big event of the spring park-going season. Of the sessions that were offered throughout the day, we attended Outdoor Cooking for Dummies, Fly fish casting and Geocaching.
Except for knowing that geocaching involved using a tricked out GPS device, we didn't know what it was. In recent years thanks to newly available technology, the activity of hunting down certain containers, or "geocaches" has grown like crazy. Geocaching.com offers over a million active geocaches created by users. The website serves as a central station where hunters are encouraged to share photos and stories about their experiences. When I visited the homepage of geocaching.com and put in our zip code, I was impressed by how many geocaches were available nearby. Rated for difficulty, some are located in the middle of nowhere and others are planted in urban areas. Considered both economical and environmentally friendly, geocaching has been embraced by a wide variety of groups and individuals.
For information about Myrtle Beach State Park including monthly activity schedules, check out their website. It's always a pleasure, and shouldn't be missed next time you visit Myrtle Beach.
Pin For Later