Clifton Inn, Charlottesville: When visiting the University of Virginia, my daughter and I found it to be a special place for a mother and daughter to stay.
See the raindrops on the petals? My mother used to tell me that meant more rain was coming. She was right
My older daughter and I just returned from a trip where we visited colleges she is interested in applying next year. On the agenda this time were the University of Virginia and the University of North Carolina at Chapel Hill. When we arrived in Charlottesville it was so cold, dark and rainy that we couldn't tell we were in the mountains except by the fact that we could tell we were driving up and down hills. Being from Myrtle Beach we are altitude deprived and the roller coaster-like feel and popping ears would be hard to miss!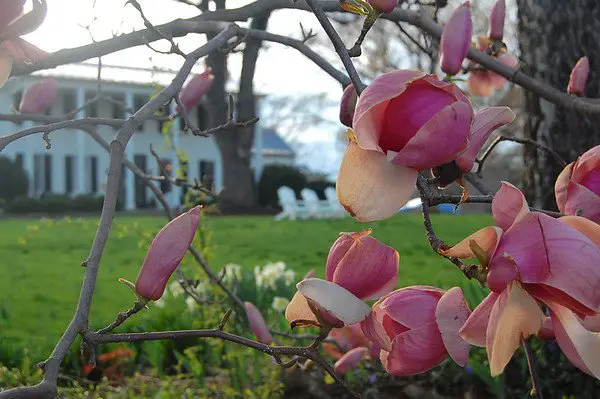 Even though the forecast was horrible for the whole time we were in Charlottesville, the next day the sun broke through around noon. The Clifton Inn is usually a little out of our price range, but they offer some very reasonable deals during weekdays and depending on the season. An added bonus was that my parents were able to drive from Richmond one evening to eat dinner with us. We would have been happy to see and eat with them anywhere, but the restaurant at the Clifton Inn, Charlottesville,  is incredible and made our college jaunt in the rain that much more special.
Wishing everyone a wonderful holiday weekend!
Pin for Later