A Kentucky Bourbon Tour
For several decades I have preferred my cocktails pink, frozen or Tom Collins mixer sweet. A libation as serious as bourbon could never be mixed with enough Coke or 7-Up was my manner of thinking. From the movies and experience, I had no clue that bourbon could be consumed from something other than a crystal tumbler in a smoke-filled back room of a country club, or from a Solo cup mixed with said Cokes or 7-ups at a fraternity party.
I confess: Most of my life I thought bourbon was "yucky"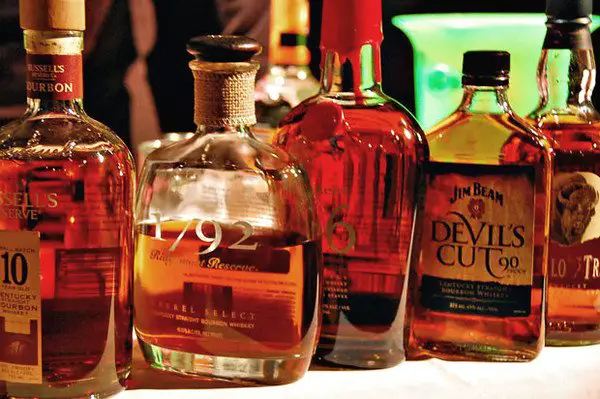 In advance of visiting Louisville and several of the Kentucky Bourbon distilleries in and around Bardstown, I decided that instead of pretending like I was sophisticated at all on the subject, I would flat out admit it: I am a Kentucky bourbon priss pot.
… so let's start with a few bourbon cocktails
Old Owl Tavern at Beaumont Inn
Located between Lexington and Louisville, my post-collegiate introduction on my Kentucky bourbon tour began in Harrodsburg at the Beaumont Inn. I told Dixon Dedman, the fifth generation of his family to run the historic Beaumont Inn, about my preference for cocktails with alcohol rendered sweet and unrecognizable. I told him the story of the one mint julep I tried many years ago, and how it was an experience not to be repeated.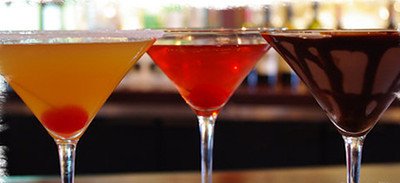 Clearly he'd heard it all before. In an emphatic and slightly teasing manner that true Southern gentlemen pull off well, he said, "There's a bourbon cocktail for everybody." He asked his mixologist to make me a Beaumont Martini.
Beaumont Martini
1.5 oz Makers Mark
1.5 oz Amaretto Di Sarrano
2 oz. Dailey's Sweet & Sour
Chilled and served up with a cherry in a martini glass with a sugared rim
As opposed to when I tried that one mint julep so long ago, I did not hear Julie Andrews singing "A Spoonful of Sugar," when I sipped this drink. As a matter of fact, I found myself downing it a little fast. But this introductory experience had given me hope. Although I never did get to try one, there is a video available of Dixon showing us how to make the perfect Mint Julep over on the Beaumont Inn website. Dixon also arranges customized Bourbon Trail tasting tours for visitors to the inn.
By the time I arrived in Louisville, I felt as if I'd been broken in. Not in the way that Kentucky racehorses are broken in – that sounds painful! But I had been convinced that there exists at least one way to mix a proper bourbon cocktail.
Next up, "The Ambassador's Wife," at Proof on Main in Louisville
For this still somewhat bourbon cocktail adverse Travel Belle, the name, "The Ambassador's Wife," alone made for a tempting choice. Spun from Old Forester, a brand of bourbon that has been on the market for over 140 years, elderflower liquor, Tuaca (a vanilla and citrus-flavored liquor) and basil, I found this cocktail enjoyably sippable. Whether due to it being served in the most amazing bar setting ever in the Museum 21c Hotel, or just the right balance of ingredients for my slowly recovering 7 UP doused palette, this one was definitely one of my favorites.
The Seelbach Cocktail at the Seelbach Bar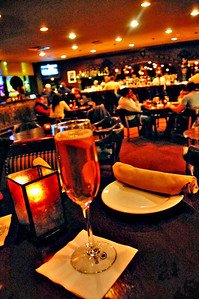 According to one tale (there are many), the Seelbach Cocktail was invented in 1917 just before the stroke of midnight before Prohibition began. The cocktail is made of bourbon, Cointreau, Angostura and Peychaud's bitters, and last, but not least Champagne. Located in Lousiville's grand Seelbach Hilton, the Seelbach Bar, for which this cocktail is named, is widely recognized as one of the "world's best bars." As a glitzy watering hole that F. Scott Fitzgerald is known to have frequented, I was expecting to be transported by the venue alone. Although quite nice, the Seelbach Bar lacks the opulence that I imagine defined the pre-prohibition era. The champagne cocktail, however, is a keeper!
Next stop on the priss pot Kentucky Bourbon Tour: Bardstown and several of Kentucky's Bourbon distilleries
Following my time in Louisville, I had a couple of days traveling along the Kentucky Bourbon Trail, which would kick any of my hastily attained bourbon swagger to the curb.
A proper bourbon upbringing
When I confessed to my end of the table during a pre-dinner bourbon tasting at The Rickhouse in Bardstown about being a bourbon priss pot, I overheard a fellow journalist mutter "Well, some of us just weren't raised right," to the person next to her. I guess it was a pretty brazen place for me to admit such Kentucky blasphemy, but not raised right? I was being honest and trying, and for that, I have no shame!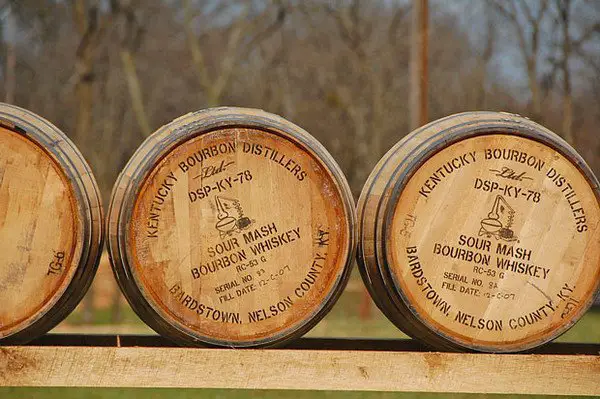 From the Jim Beam representative who conducted that tasting, I received a thorough primer in bourbon sipping. I was introduced to a world where good bourbon, much like good wine, is meant to be sipped, swished and pulled through the teeth while making a strange noise.
I had had the opportunity while back in Louisville to try honey bourbon, a lighter bourbon infused with honey. Along the bourbon trail, I discovered various other bourbons for someone like me – a female who prefers wine or cocktails. The Jim Beam rep introduced me to the small-batch brand, Basil Hayden, a light-bodied bourbon that is widely appreciated as an excellent "starter" bourbon.
Kentucky bourbon tastings and becoming "raised right"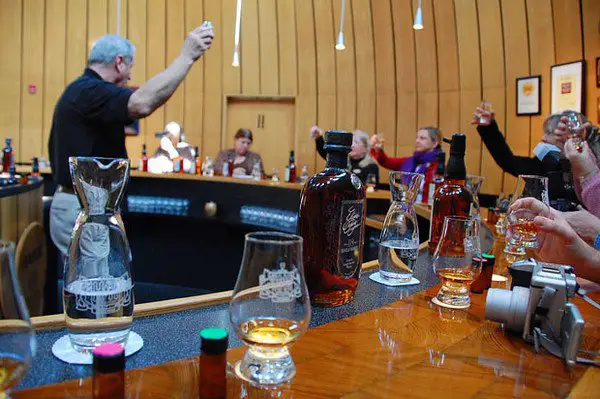 Over the course of two days in and around Bardstown, I learned a great deal about "grains," "sour mash" and "fermentation." I received a thorough education about bourbon houses and the aging process and that the geological reason why a staggering 95% of the world's supply comes from the Bluegrass State is the ample supply of iron-free water filtered through Kentucky limestone.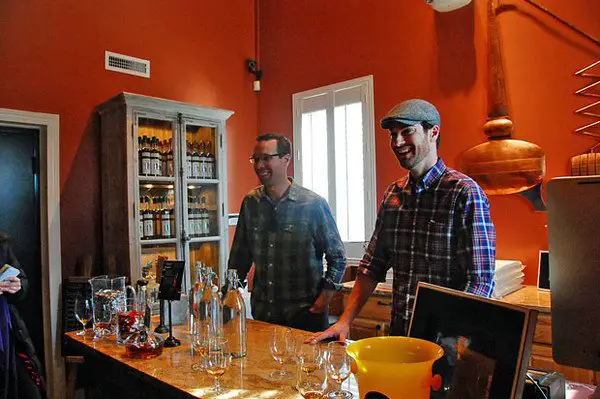 Much to my delight, I attended a bourbon tasting in a room shaped like a barrel at Heaven Hill Distilleries. Then at the Willet distillery, I became versed in the concept of "opening up" one's bourbon with a splash of water and admired their beautiful bottles acquired from Italy.
I left Kentucky not quite fully indoctrinated into the wonderful world of bourbon, but with a new resolve to avoid pink drinks with parasols. I had been happily introduced. With mini-bottles packed carefully in my suitcase, a small bourbon swagger had returned.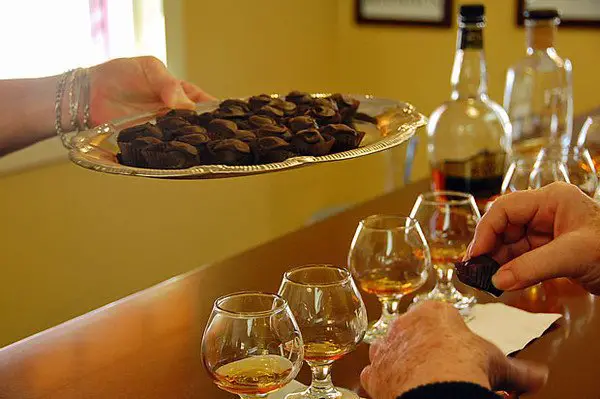 If you visit Kentucky and the Bourbon Trail: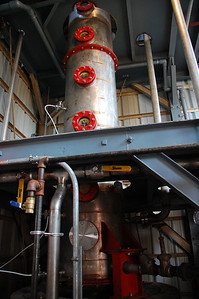 Personally visited lodging recommendations:
Beaumont Inn, Harrodsburg and the newly renovated Hampton Inn in Bardstown.
The Distilleries visited:
Barton's 1792 Distillery (busiest distillery and best bourbon balls)
Heaven Hill Distilleries Bourbon Heritage Center (tasting room shaped like a bourbon barrel, most educational)
Willet Distillery – Kentucky Bourbon Distillers (most up close look at the process, cutest tour guides and prettiest bottles)
Jim Beam is scheduled to open its doors for the first time for distillery tours sometime in 2012.
All photos property of and by the author except for cocktail picture provided by the Beaumont Inn website.
Parts of this trip were hosted, but as always, the opinions remain the author's own.
Pin for Later