You probably will not arrive on Kauai and be totally surprised by the existence of Waimea Canyon. In almost every guidebook, you will learn that Waimea was originally dubbed "The Grand Canyon of the Pacific" by Mark Twain on a visit in 1866.
You may also like: Visiting Kauai: What To Do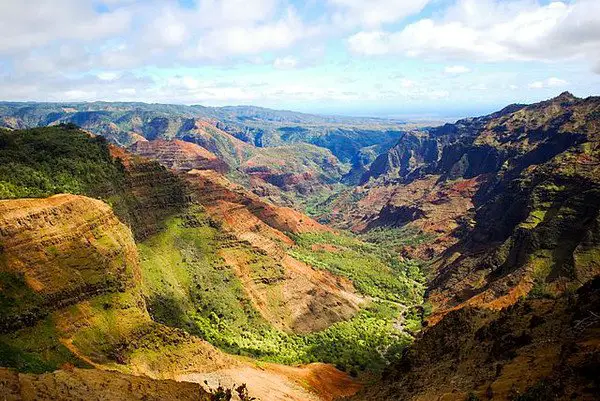 The first surprise is that Waimea is really "grand" in size, running 26 miles across and 21 miles north to south at is largest points. But Waimea is more than just a Grand Canyon-sized hole in the ground.
Although overshadowed by Kauai's Napali Coast as far as the island's most renowned views, the canyon is visually stunning and a major geological feature of this oldest and smallest of the four major Hawaiian Islands.
What is surprising about Kauai, in general, is its diverse geography and micro climates relative to its size. As a result of the island's geography, Kauai features sunny beaches, giant waves, the only navigable river in Hawaii, rainy peaks and tropical rain forests.
Kauai came into existence by volcanic eruption five million years ago. Approximately four million years ago a catastrophic collapse occurred, where lava flowed down into the valley towards the sea.
Waimea Canyon was formed over years of erosion of this lava by water flowing down from Kauai's Mount Wai'ale'ale. This central peak in Kauai is known as one of the wettest spots on earth, receiving an average of 452 inches of rain per year since 1912.
You may also like: Belles Visit Lanai, Hawaii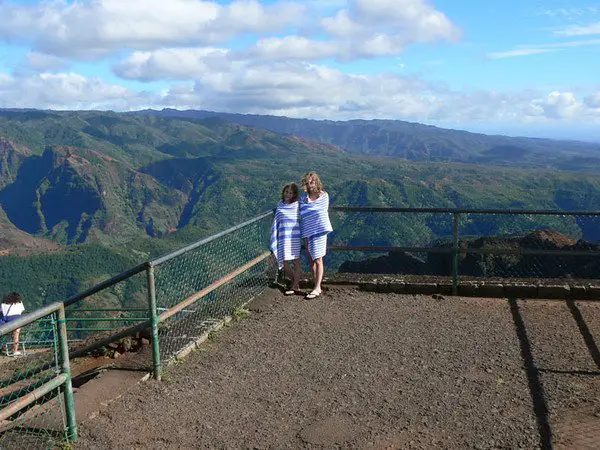 There are several ways to experience Waimea Canyon:
By car
Turning off the coast road, head up Waimea Canyon Drive. Stop along the way at Waimea Canyon Lookout, located between mile marker 10 and 11, and the Puu Hinahina Lookout located a few more miles up the road.
By car, you also have the option to visit Koke'e Natural History Museum. Last but not least, be sure to visit Kalalau Lookout, which is one of the best views of Kauai that doesn't involve a strenuous hike. First thing in the morning is generally best, before cloud cover forms
Hiking
There are many trails in Waimea Canyon for everyone from casual to serious hikers. Visit the Kokee State Park website for information about trails and guided hikes.
On an island filled with seemingly endless hiking options, one of the best hikes on Kauai is the hike to Waipoo Falls.
By air
We've talked before about how seventy percent of Kauai is inaccessible by car, and how if you are ever going to splurge on a helicopter tour, this island may be the place to do it. First tours of the day are generally best for visibility.
Where to stay
Kauai Beach Resort is located on Kauai's longest beach, near Lihue, one of the most central areas on Kauai with easy access to all the island's major attractions.
From there it is less than an hour's drive to Waimea Canyon and an easy Kauai day trip. It takes just an hour or so to get to the Waimea Canyon Road from almost all of the island except for the North Shore from which the drive is two hours.
You may also like: Top Five Luxury Indian Ocean Beach Lodges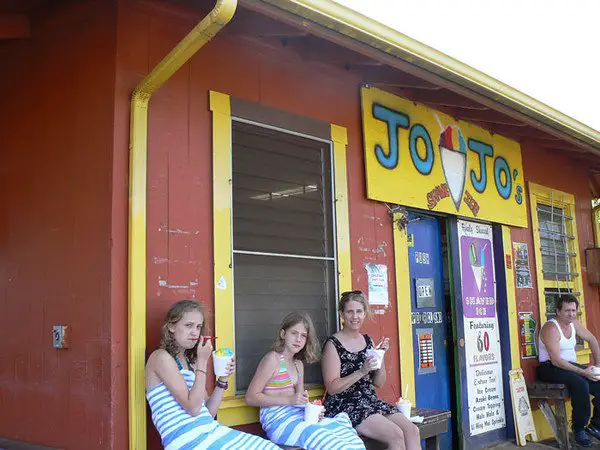 Favorite food stops
The Shrimp Station and Jo Jo's Shave Ice are located near one another in the town of Waimea.
The Shrimp Station offers a wide variety of shrimp dishes and Jo Jo's, which is an otherwise hole in the wall with iffy service, has simply divine shave ice.
Today's post made possible by Aqua Resorts.
Pin for Later