Whether you like baring it all or prefer covering up a little, there's some fashion inspiration for all manner of belle beach-goers for how to dress Italian style at the beach.

Forget topless, that's so five minutes ago.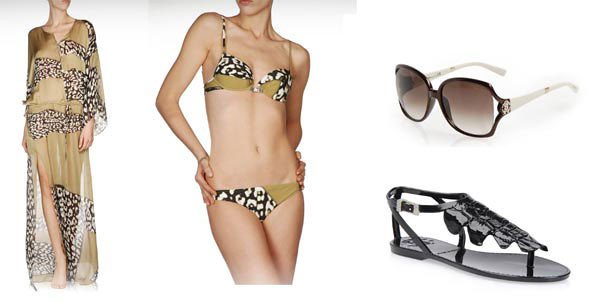 We Europeans are always associated with the Saint Tropez bare-breasted look, but styles–even beach trends–come and go. Most recently expansive Japanese tattoos, ultra-brown tans and sunbathing bare-chested have been de-classed by a more elegant, and urbane appearance.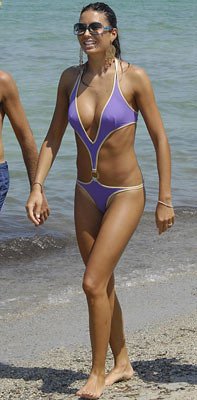 The latest Italian beach look can broadly include a combination of baggy leather boots; minimal tri-kini, shorts, cowboy hat and Moroccan tie-die turban fabric worn as a scarf.
And killer shades.
You may also like: The Great Amalfi Coast
But this topic deserves a closer look. There are two major types of Italian beach moda, the one worn by the sporty casual girl-next-door, and the ultrachic diva look.
In the first category, footwear is strictly zero elevation, which means no heels, only flats, sandals, or gladiators; Australian sheepskin boots, Hawaiian flip-flops, and the latest Mediterranean mania: latex ballerinas.
The casual look is generally comfortable, functional, and never excessively bright, too colorful, or ostentatious. Lots of zip-top velour and terrycloth cover-ups, white cotton sundresses and cut-off jeans.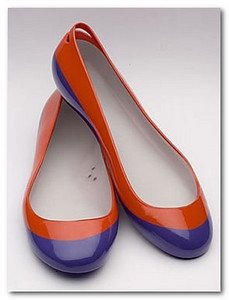 The second trend, on the other hand, prefers a more spectacular goddess effect: maxi sunglasses, sheer kaftans, flimsy sarongs, sequined mini-dresses, hot pants, New York-style total black, and the pantapareo–a Southeast Asian-inspired sewn sarong that when appropriately tied around the waist, doubles as loose yoga trousers.
The diva look pairs very well with sophisticated high heels, clogs, and 4-inch wedge espadrilles–on condition however that they be worn with nonchalance and skill. As many of you Belles know, sashaying on elevated footwear in the sand or on rocky terrain can prove arduous… and tremendously amusing to watch.
You may also like: How To Dress Like An Italian
Let's take a look at Italy's most coveted beachwear:
Swimsuit – Bikini, trikini or one-piece?
Fashionistas in Italy have at least four bikinis in their beach bag, one for every swim they take in the sea before lunch.
But a couple of years ago, on the French Riviera, the trikini fad exploded. This consists in a two-piece bathing suit connected on the front by a narrow strip of fabric, leather, chain, etc., which makes this a very sexy garment.
Italian beaches have become trikini catwalks, exhibiting every possible color, style, and fashion: draped on the hips, studded with rhinestones and various other applications, made of silver and gold metal mesh, and even macramé!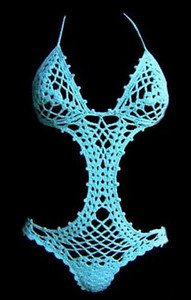 Classic one-piece elegance is reserved for those more focused on poise than beach panache. The most popular are always the classic black, or navy blue with gold or white trimming, pure white (but it must have a nude lining, or else…) and other solid colors that become bronzed complexions.
You may also like: Find Your Inner Swimsuit Model
Sundress – In Italian prendisole, or 'sun-catcher.'
There's the grey mélange maxi T-shirt style one–worn with an oversized belt–or clenched at the waists with a drawstring; the romantic and feminine LBD, or white for the beach, in floral print or black micro-polka dots, crisscross bra straps and Sophia Loren-style petticoats.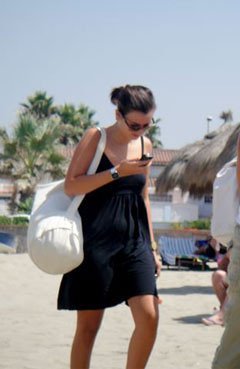 The mini-sarong outfit is huge here lately, with its few inches of fabric wrapped around the waist to match the coordinate bikini. Plenty of mariner lines, floral prints, ruffles, boat necklines and all'Americana, which is Italian for the halter neck.
Total black– a.k.a. the "slimming technique"
It may not be the coolest in terms of temperature to wear on a hot sunny Italian beach in August, but the total black look is the one that best manages to hide away the few extra pounds we simply cannot shed. This makes it a favorite among us ladies, young and mature, mothers and not.
The result? A multitude of LBDs, sequined black cardigans, black goffered lace mini-dresses, or the über-elegant all-black empire style dress, which can double as an evening gown for a formal party on the beach, just add chunky necklace and jewel sandals.
All-white – innocence & mischief
White makes suntans jump out, and so welcome crisp sundresses, snow-white kaftans, cotton camisoles, and short white Roman tunics! These may be seen worn richly decorated with ribbons, virginal Sangallo lace, ruffles and pleats, gingham trim, sewn-on flowers, and beads. Mostly worn over swimwear by day, and over jeans or leggings by night, oftentimes cinched by oversized metal belts, worn low on the hips.
Kaftan – Near Eastern looseness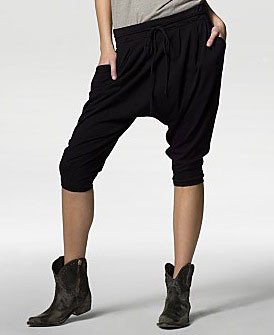 Soft, supple, enveloping and reassuring like a sleeved sarong, the kaftan tunic is very becoming and elegant. Many traveled Italian women have adopted this as a beach basic.
For those with the legs, short versions are fun, but the original ankle-length kaftan is the most popular sulla spiaggia. These may be transparent, gossamer mesh, or in a plissé crinkled effect; in hippie, optical, or tribal prints; sporting the burnoose hood or the classic embroidered decorations on the front.
Shorts and Hot Pants – an absolute must-have
They are the latest thing: surfer shorts, Bermudas, old raggy cut-offs, tartan Capri pants, and chenille micro-pants. But the top item of beach chic this summer is the knee-length floaty jersey harem pants.
They slip on (and off) in a second, and–when worn over still soaked swimwear–they dry in minutes. Light and flimsy, these comfortable bottoms are also good for hiding wide hips and larger mandolin shaped derrières.
Footwear – sole food
Even on the beach, Italian women manage to show off their shoe supremacy. Italian beaches are all a flurry of striped, floral or zebra print flip-flops; rubber mary janes, noisy wooden clogs, leather sandals, or dainty latex slippers with glamour kitten heels.
You may also like: Best Beach Essentials
Beach bags – container or accessory?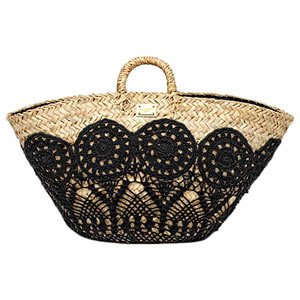 Beach style is not merely swimwear.
Every year, certain accessories set the trend on Italian beaches, bags above all else. The beach bag par excellence in Italia is the straw bucket-shaped holdall: romantic and roomy. Usually equipped with the classic short handles, it comes in its natural unbleached color, and recently also in hotter hues, and with applied decorations.
Other favorites include ecrù canvas tote bags; mesh sacks, or sporty drawstring duffels, often lined with a waterproof fabric.
Animal prints
Tiger, leopard, python, zebra: whatever, as long as it's faux. Animal print is always a popular genre on Italian beaches because in the animal kingdom, beachside cougars are never an endangered species.
This means lots of flimsy dresses, soft tunics, teensy triangle bikinis, matching sarongs and huge fluffy beach towels–all roaring with wild animal patterns.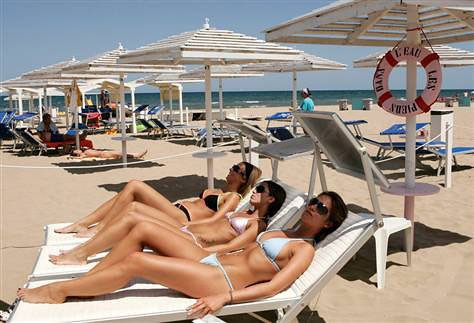 Beach-side beauty
Besides beachwear, Italian women sport another sensational item: their bodies, skin, and hair.
• What you see Italians slathering on every inch of their skin on most beaches, is not olive oil, like many erroneously believe. It's a balanced blend of moisturizer and sunscreen. This double-duty multi-use product replenishes dry scaly skin and helps protect from nasty UVBs.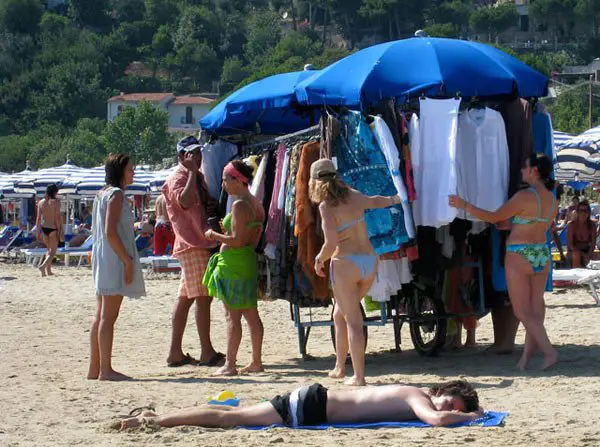 •  For impeccable complexion, Italian women commonly protect their face with a lightweight foundation with high SPF, and delicately dust cheekbones with bronze highlighter. Plus, you can also use some on your shoulders and decollété in the evening, or mix a small amount of vaseline with your highlighter, and sweep it over bare legs when the sun goes down.
• Sensual lips can be achieved even on the shore with a lip stain. It doubles as a blusher, and in a pinch, it can be mixed with a dab of white eye shadow for a little evening shimmer.
• We Italians are big on eye makeup at the beach. Smoky eyes can be obtained with unfailing black eyeliner or kajal (kohl) around the inner eyelid rim. But beware, don't overdo it, or after one swim, you'll end up looking like a raccoon.
• An Italian ragazza, whether sporty or divina, will always carry a hairbrush in her beach tote. Besides mousse, gel, and sunscreen smoothing products to protect their hair, Italian ladies usually keep their seaside manes tidy, healthy-looking and supple with conditioner: using it to slick hair back into a ponytail, rubbed on dry ends after a long salty day, or worked into rinsed hair as a substitute for styling products.
And now, fully equipped, we can finally head to the beach.
You may also like: Planning A Romantic Beach Dinner
Image © Gluecinderella
Image © What2wearwhere.com
Image © blog.acrochet.com
Image © eternallycool.net
Image © elizabethandjames.us
Image © msnbc.com
Image © strictlyitalian.com
Image © Calzedonia
Image © pursepage.com
Pin for Later