While Las Vegas may be well known for extravagant partying and risqué bachelorettes, the famed city has plenty of attractions for those who are looking for a getaway with their significant other, rather than to look for a significant other! It is called the marriage capital of the world after all…
A trip to Las Vegas with your partner is bound to be exiting. There is a sense of detachment from reality and over-the-top luxury when you arrive in Sin City so you might as well play along with it and treat you and your partner to a vacation done in style.
For those travelling to Las Vegas from outside the US we recommend arranging your travel authorisation and visas through ESTA USA.
1. Upgrade Your Hotel Room
The first thing you should look to do when you arrive in Las Vegas is to check if you can upgrade your hotel room to a luxury suite. Most hotels offer on the spot upgrades for as little as $20 – well below the usual upgrade price. The upgrade usually gets you a large suite with a bathroom spa, office and panoramic views of the city. While you don't want to spend all your time in your hotel room, it makes the whole week feel more special – and romantic! Check our reviewsofvegashotels.com to find the right hotel for your visit!
2. Visit The Bellagio Fountains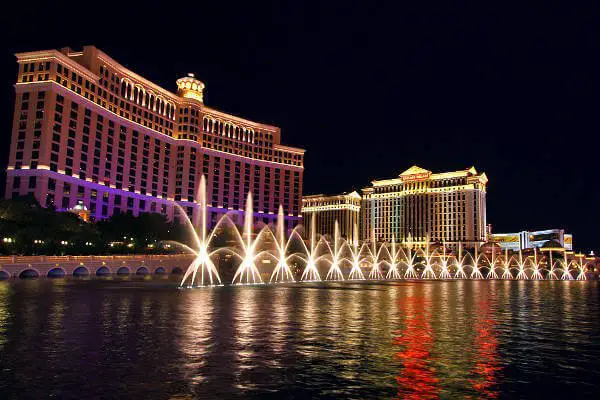 Out of all the amazing/bizarre activities you can do in Las Vegas, a few stand out as being romantic-must-dos for couples visiting the area. The Bellagio Fountains offer a mesmerizing, choreographed display of water like no other. Head down to the Bellagio Lake just before dinner to catch the display in front of a backdrop of the Eiffel Tower and the glimmering city lights.
3. Did Someone Say Eiffel Tower?
Speaking of the Eiffel Tower – a trip up the duplicate of the famous Parisian landmark is another must-do for couples. While it's not the real thing, it does offer a unique feeling of calmness at the top while you watch frenetic tourists on the streets below. There is even a bridge towards the observation deck where you can attach a lock, profess your love to each other and throw away the key as a gesture of commitment.
4. Take A Gondola Ride At The Venetian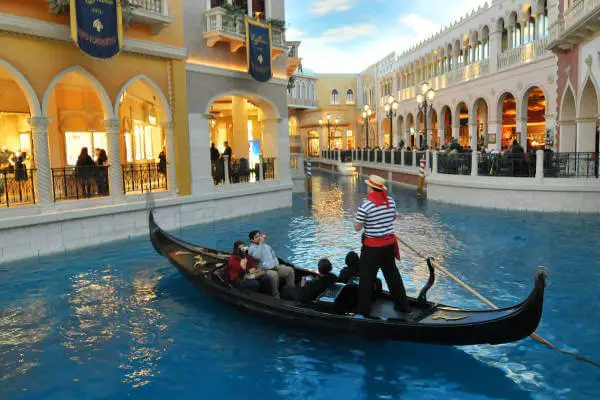 Another experience borrowed from Europe is the gondola ride at the Venetian. While the whole ride may feel a bit odd considering you're inside a closed building, the soothing singing from your gondolier will put you into a romantic mood and the short trip offers a nice break from the hustle and bustle of the strip.
You may also like: 3 Reasons To Fight The Urge To Avoid Las Vegas
5. Get A Couple Spa Treatment
A day spent exploring Las Vegas is bound to tire you out. Head for an early evening spa session to get you rejuvenated and replenished before your fine dining meal or late night show. The many spas dotted around the cities hotels offer couple deals, allowing you to relax together in the steam room, outdoor patios and hydrotherapy pools. They even offer couples massage rooms so you can chat away over some chilled champagne while you get massage, manicure or pedicure.
6. Eat, Eat, Eat
Nightfall in Las Vegas brings with it the hardest two decisions of your trip: where to eat and what show to watch? If you're looking for a romantic night, head to The Foundation Room at Mandalay Bay where you will find yourself mainly among couples and small groups as no hen-parties or stag-do's are allowed inside. The view is truly unrivalled in the whole of the city, which is probably why you have to book well in advance.
For a fine dining experience, head to the top of Palms Hotel and Casino where you will find the restaurant Alize. It has 360 views over the entire city and a 10-course tasting menu that will leave you feeling completely satisfied.
7. Go To A Show Or Two…
Watching a great show is the best way to end off a busy day and night in Las Vegas. The city has musicals, circus, magic, comedy, burlesque and basically anything else you can come up with. Depending on how adventurous you and your partner are feeling you can pick and choose each night. Anything from Cique du Soleil is bound to be breath-taking, while other popular acts include Penn and Teller and Shania Twain.
8. Gamble, Baby!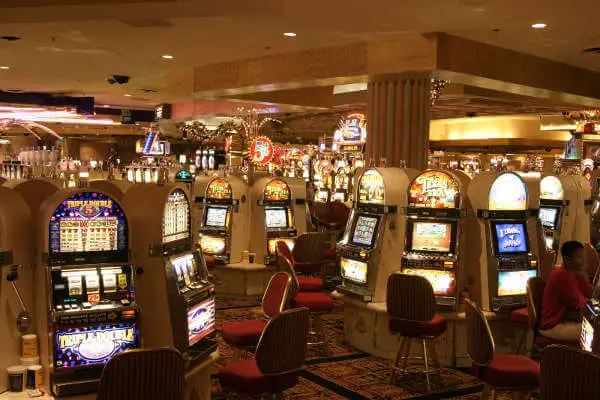 It is hard to avoid gambling when visiting Vegas, so a fun way to incorporate it into your trip is to have a little competition between you and your partner to see who can win the most (or lose the least) money over the course of the trip!
While it is impossible to list all the fun things you can do in Las Vegas as a couple, the activities above are a good starting point and will allow you to fit in many more as you come across them.
9. Get Married!
Haha… okay, we know it is the most cliche destinations for a wedding, but if you are not the romantic type and instead love to have a laugh and party, then Las Vegas is awesome for a wedding. The place oozes entertainment and fun. From awesome venues, food and performers for the event, to lookalike Elvis Presley priests and https://datingbrides.com/ that will entertain all of your hubby's single friends, Las Vegas has it all!
What's not to love?