My obsession with chocolate travel is well documented on Travel Belles.
Everywhere I travel I search out local chocolate shops and cafes. New York City is just the place to try all types of edibles – including chocolate. This spring I ended up traveling from my home in Washington DC to the Big Apple on multiple occasions and found some delectable chocolate experiences I would like to share.
Let's talk about chocolate shops.
Jacques Torres
First contender for best chocolate in New York City is the popular chocolate shop, Jacques Torres. (Actually, there are three Jacques Torres shops in the city – one on the Upper East Side, one in the DUMBO neighborhood of Brooklyn, and my favorite one in Chelsea Market).
In addition to chocolate bars and confectioneries, these shops serve some of the most decadent hot chocolate I have had on this side of the Atlantic. This warm beverage is so rich it is like drinking a molten chocolate bar and perfect for cold days. And I can vouch that it is good on warm days too!
Jacques Torres, Chelsea Market, 75 9th Ave, New York, NY 10011
Kees Chocolates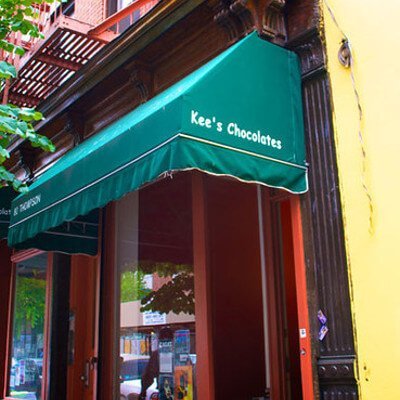 Kee's Chocolates, a tiny shop tucked away on Thompson Street in SoHo, sells chocolate truffles,  other chocolate delicacies and French macaroons. The shop is like a serene little jewel box filled with beautiful sweets.
The chocolate truffles here come in creative flavors. I carefully selected three truffles – black sesame, white pistachio, and salted caramel. When I sat down and enjoyed these truffles later, they were wonderful. Each bite was very creamy and was intensely flavorful. Visiting this shop is a must on every chocoholics itinerary in New York City…
What's better than visiting a lovely chocolate shop?
Kee's Chocolates, 80 Thompson St, New York, NY 10012
You will also like: New York: Best Things To Do And See
Cocoa Bar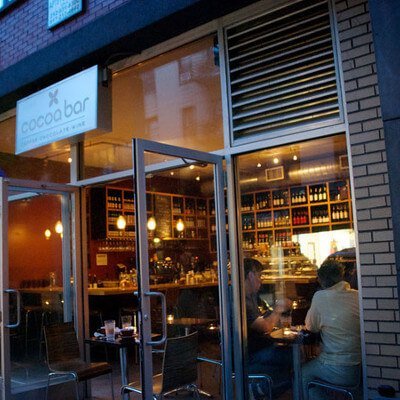 Cocoa Bar on the Lower East Side is a laid-back cafe that I visited twice on my recent trips to New York. The first time was when I was in the city for work. After a long day I decided to reward myself by relaxing at Cocoa Bar in the evening. I ordered a glass of wine and ate a decadent chocolate marzipan cake. It was the perfect reward for a long work day – or just about anything!
On my second visit to Cocoa Bar, my husband Jonathan accompanied me after dinner one evening. It was a perfect evening to be outside walking around the city streets. We wandered around the streets of the East Village and the Lower East Side before stopping in for a drink. We sat at a table on the edge of the sidewalk while enjoying hot chocolate and watching the neighborhood activity.
Cocoa Bar has a neighborhood cafe feel – both times I visited there were  people enjoying hot chocolate, wines, beers, and dessert,  talking and unwinding at the end of the day. It is a comfortable place to go and be part of the neighborhood while enjoying some outstanding chocolate. (There is another Cocoa Room – the original one I believe – in Brooklyn.)
Cocoa Bar, 21 Clinton St, New York, NY 10002
You will also like: Why Italian Hot Chocolate Is Amazing
The Chocolate Room
And speaking of Brooklyn, now I want to head across the East River. The Chocolate Room in the neighborhood of Park Slope is a cozy boutique and dessert cafe.
After a day of exploring the neighborhoods and shops of this borough my husband and I stopped here for a late afternoon snack. To begin the waiter brought us an amuse bouche of chocolate sorbet, a  perfect, cool treat on a warm summer afternoon. Next I ordered a dark hot chocolate (which sounded too good pass even on a hot day). My husband Jonathan selected an item more appropriate to the warm temperature outside – "not hot" chocolate.
My hot chocolate was intense, rich, and creamy. It was the type of hot chocolate that is so thick it almost requires you eat it with a spoon. The best word I can think to describe it is magnificent. I also tasted the not hot chocolate and it was equally delicious. This beverage was refreshing, but also had an rich dark chocolate flavor. There were many wonderful sounding desserts and wines on the menu, but unfortunately dinner time was approaching,  so I will have to return to try them on another trip to New York.
But, before leaving The Chocolate Room, I purchased several Mast Brother's chocolate bars to eat at a later date… (There is a second outpost of The Chocolate Room in Brooklyn's Cobble Hill neighborhood.)
Searching for the best chocolate in New York City is certainly a lot of fun. Rest assured there are many more places in New York City to buy and eat chocolate. There are more little cafes and shops; and there are more chocolate travel experiences. However, these are my current favorites. Happy travels!
The Chocolate Room, 86 5th Ave, Brooklyn, NY 11217
Pin For Later