East London is traditionally the home of the true Londoner – the Cockney. The area has a colourful past and with its position next to the docks, it has always been a melting pot of nationalities. Jack the Ripper, gangsters, the suffragette movement, riots, and much more have had their time in the East of London.
But today, East London has transformed into a place to visit and be seen in, containing a financial district, cool hipster hangouts, vintage markets, and a host of quaint shopping districts. Boutique hotels rub shoulders with art galleries, food stalls and 5-star restaurants, craft breweries, gin bars, and a surprising green space or two.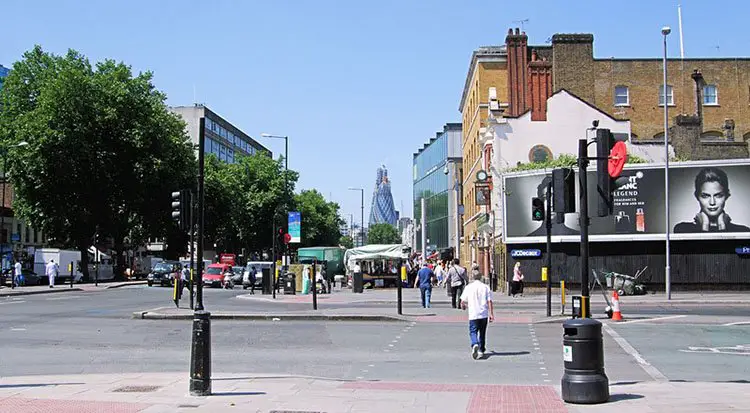 Iconic Brick Lane will never give you a dull moment. Running from Shoreditch to Aldgate East, it has the largest concentration of curry houses on one street in the country. But curry is not all its famous for, as over the years a young, artistic community moved in bringing with them art galleries, vintage outlets, quirky bars, forward-thinking eateries, head-turning street art, an eclectic range of music venues and eye-popping styles of fashion.
And this is what gives the East end such an attractive buzz – it's a place that bubbles with culture and quirk, but also history and tradition. You're just as likely to see a local family go about their day as you are the lead singers of the latest hipster band set up for a show.
East London's Best Boutique Hotels
Batty Langley's – Old world charm in the heart of Hipster Land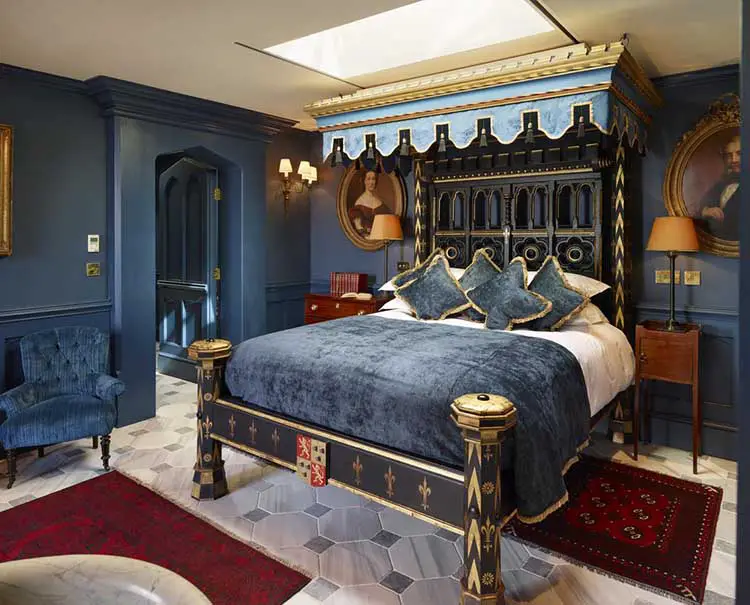 A stay at Batty Langley's in Shoreditch will feel like you're in a Sherlock Holmes drama. Named after an 18th-century interiors writer, you'll get to enjoy incredible hotel fittings like wood-paneled walls, a cast iron roll top bath, antique sofas, and unique period pieces. Experience the royal treatment while enjoying afternoon tea in the drawing-room and then take the credit card for a workout later at the Old Spitalfields Market. On your return, you can enjoy a tipple at the Honesty Bar. Named as one of London's six best hotels by Conde Nast, Batty Langley's is a truly unique gem.
nHow Hotel – The most Instagrammable hotel in London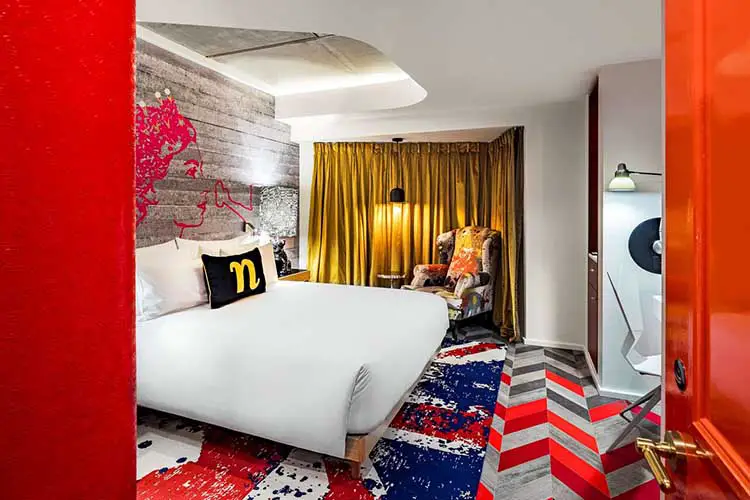 Known as a 'lifestyle hotel', the nHow Hotel concept started in Berlin wanting to give its customers the experience of fashion, art, music, and chic architecture all rolled into one. And it certainly hasn't disappointed with its rooms combining luxurious, modern style with graffiti art and striking décor pieces. Set in the buzzing area of Angel Islington, you can enjoy a wealth of cool restaurants, funky bars, and music venues, the Sadlers Wells theatre for a show, and a free bike to visit local landmarks.
New Road Hotel – Old garment factory turned Hollywood Boutique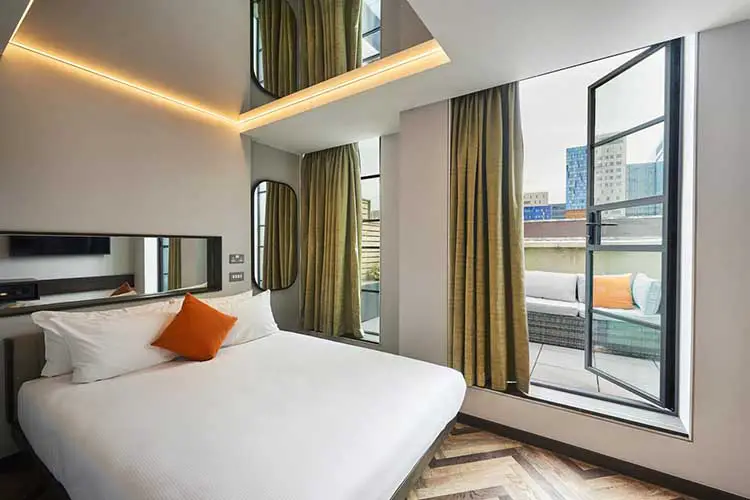 Industrial chic meets the bright neon lights of Hollywood at the New Road Hotel. Set in the iconic East London district of Whitechapel, this hotel showcases exposed brick walls and vintage Hollywood style lighting. After you've unpacked, lounge back and watch your cinematic 49-inch flat-screen TV, before you get dolled up for a steak dinner at the on-site Marco Pierre Whites restaurant. Brick Lane is within an easy walking distance for a little vintage clothes shopping, and make sure you visit the Whitechapel Gallery for a range of unusual exhibitions. Finish your stay with a pint at the Blind Beggar pub, where gangster Ronnie Kray famously shot his rival, George Cornell.
The Hoxton Hotel – Country Comfort with Funky Fittings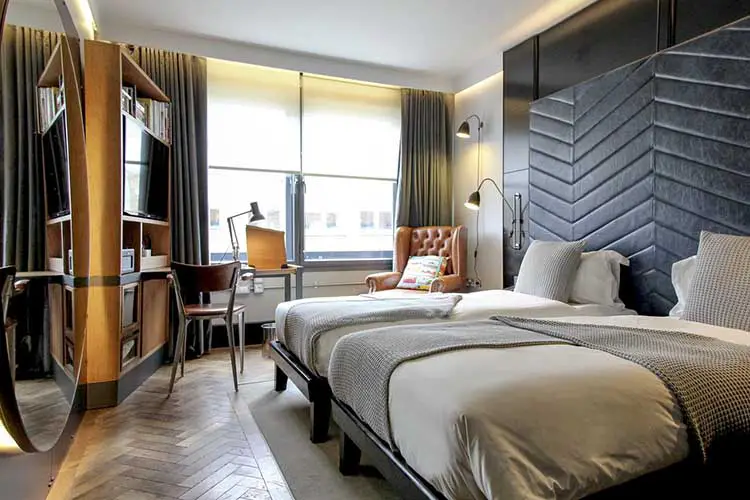 If you love your country comforts like exposed brickwork, raging log fires, leather footrests, and a chunky tree table or two, but you also like a little modern quirk – the Hoxton Hotel is the place for you. Set in one of the hippest neighbourhoods in London; Hoxton, you're within easy reach of London's buzzing centre but also a ton of trendy East London hangouts. Head to the Colours Hoxton for a gig, one of East London's top live music venues, and watch a movie on the roof of the Queen of Hoxton pub.
The Good Hotel – A floating oasis with a community vision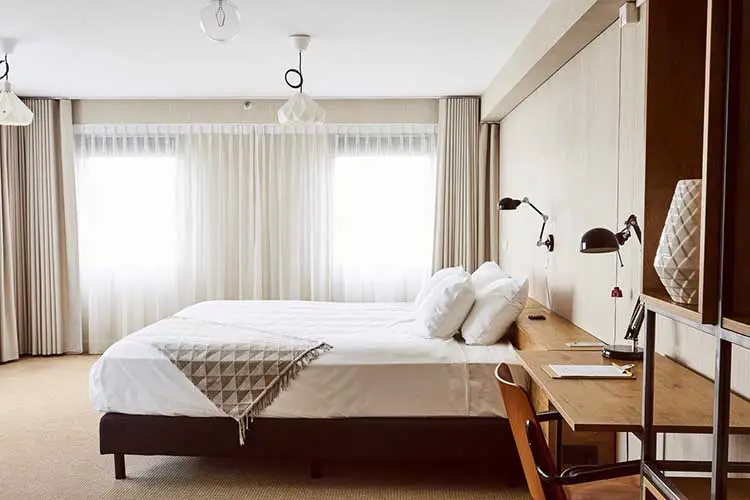 Unlike any other hotel in form or spirit, the Good Hotel is a barge of sorts that floats gently on the water at the Royal Victoria Dock. It features 148 Dutch-modern rooms, a cool roof lawn with bar, communal spaces, offers training and jobs to long term unemployed people, and awesome views across the Thames. This floating hotel was the brainchild of Marten Dresden from Amsterdam, who originally planned to try it out for 12 months, and now it has a residency for 5 years. It's only a 6-minute walk to the Royal Victoria light rail station, where you can zoom to all of London's city centre attractions.
Mama Shelter London – Quirky luxury with a ton of personality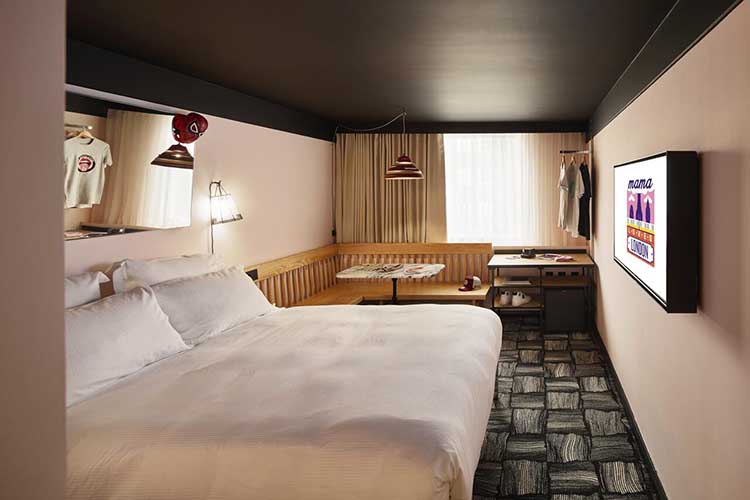 Beginning its life in Paris, the Mama Shelter hotel became so popular it took flight overseas. The English Mama Shelter London, is now a firm funky fixture on the hotel circuit known for its fun, laid back atmosphere and cool, eclectic interiors. Located on the Hackney Road within 15 minutes of Bethnal Green tube station, you can easily find a range of hip cafes, pubs, and shops nearby. Mama Shelter is waiting to welcome you with her cool onsite bar and restaurant and even a few karaoke rooms!
Motel One London Tower Hill – Trendy budget boutique in an awesome location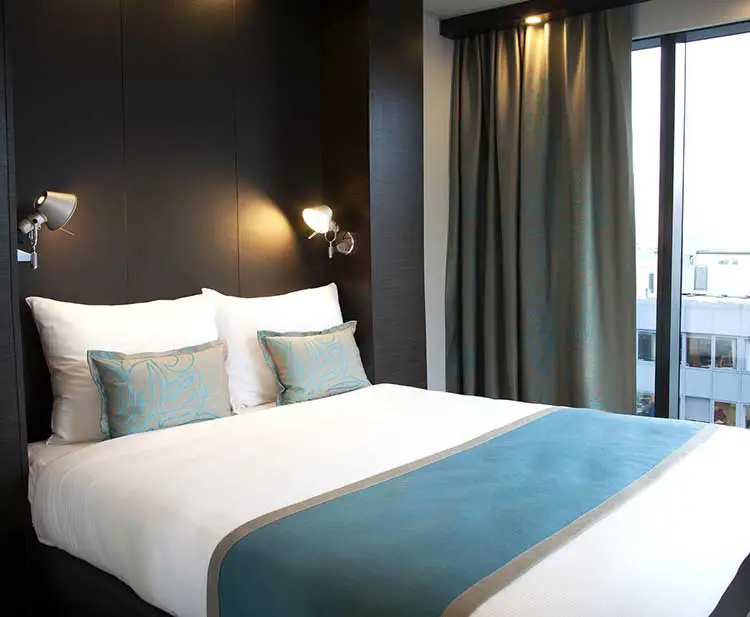 Usually staying in the centre of a city and having trendy, stylish décor, means you pay through the roof. Not at the Motel One London Tower hill! Here you are within walking distance of many major attractions and can also enjoy funky, retro décor, a plush lounge with a roaring fire, and a comfortable room while not breaking the bank. Staying at this beautiful hotel, you are within easy reach of Brick Lane, the Tower of London, the River Thames and the famous London Bridge. Get entertained Victorian style at the Shakespeare at the Globe Theatre.
The Rookery – Victorian glamour from the time of hat-tipping gents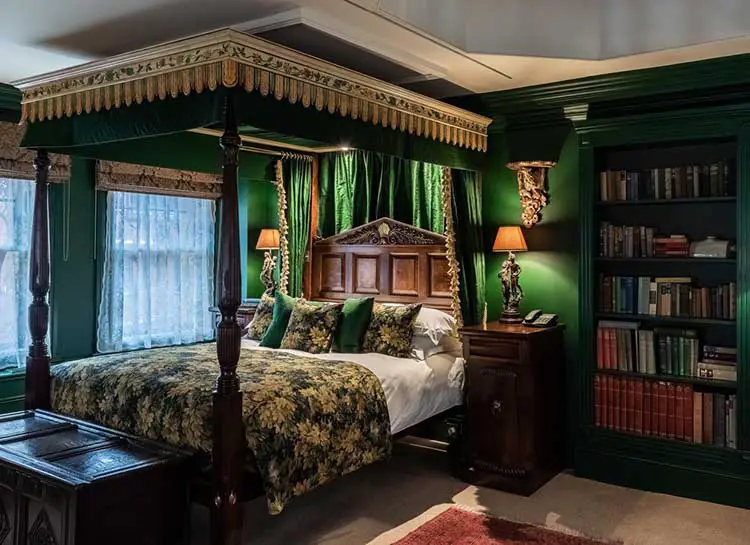 This unique and stylish 4-star London boutique hotel, will literally transport you back in time. It started its life as separate 18th-century Georgian houses and was transformed by local antique dealers. You can see they knew what they were doing, as every piece of furniture and fitting is ornately decorated and finished.
Wood-paneled bedrooms filled with plush Victorian four-poster beds and a cozy conservatory with open fire awaits every guest. Relax back in the sumptuous antique furniture and if you ever make it out of your beautiful quarters, you can explore the delights of trendy Farringdon and Clerkenwell on your doorstep.
The Curtain – Glam punk décor in trendy Shoreditch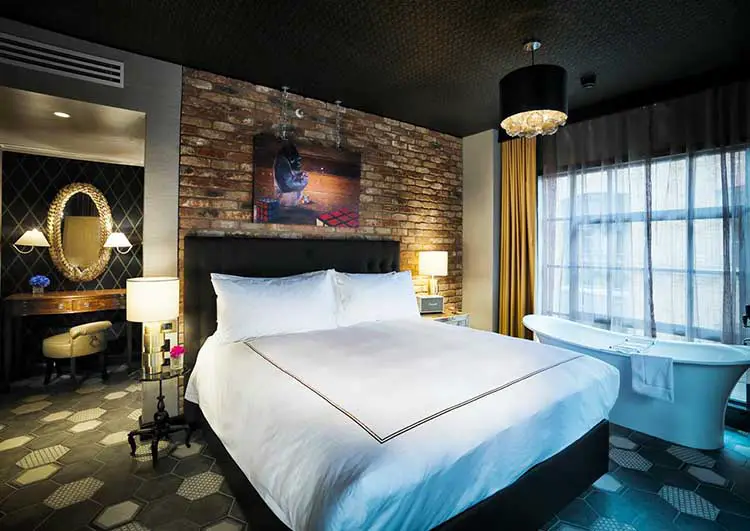 Rockstar wannabes rejoice, as the Curtain hotel is waiting to welcome you in the heart of Shoreditch. Metallic covered lounge chairs and tartan cushions clash trendily against olive green ottomans in every room. Once checked in, you can dance around your room to music from the Marshall speakers that sit next to the bed. To cool down, head up to the Moroccan inspired rooftop pool. Grab a cocktail at the LIDO bar and then venture out into the graffitied streets of Shoreditch.
40 Winks – The most beautiful small hotel in the world (German Vogue)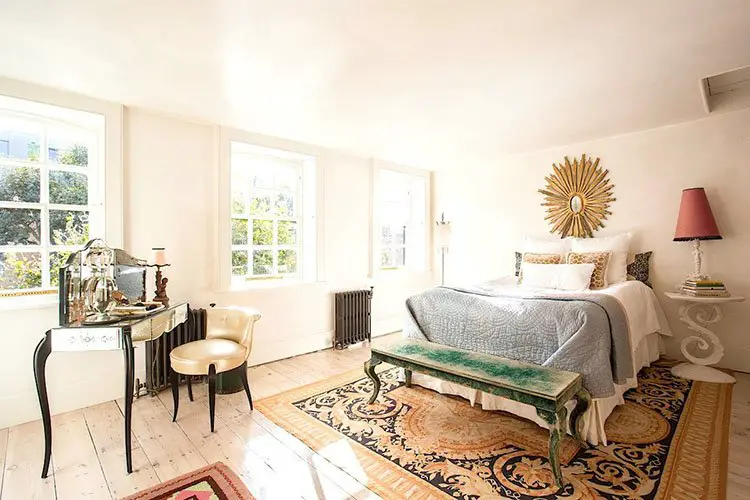 Read Reviews On TripAdvisor.com
For over a decade, this hotel was a popular fashion and celebrity location, playing host to many major advertising campaigns and photoshoots. Describing itself as the world's first 'micro boutique hotel', it really does live up to that name only containing one double room and one single room! What it lacks in bedroom numbers, it makes up for in beauty, luxuriousness, and style.
Each room has been designed with such stunning detail like antique lamps, unique furniture, and plush rugs, you will actually feel like royalty. Situated on Mile End Road, you can easily get a ride at Stepney Green tube station around the city. Book ahead to avoid disappointment!
Lemon Locke – Plush Aparthotel with many amenities
When you're traveling frequently, it's often nice to get a place with more of a homely vibe. The Lemon Locke provides all you could need and more, centrally located in Aldgate. Known as an aparthotel, Lemon Locke rooms have beautiful Scandi design, fully equipped kitchens, washers/dryers, smart TVs, sofas with views, and much more.
When you can tear yourself away from your plush room, you can enjoy a full programme of activities in the building like yoga, meditation, a running club, and even a lesson with the onsite artist. Once out of the hotel, you can enjoy all the cool bustle East London has to offer at Spitalfields market, Brick Lane, Tower Bridge, and Shoreditch.
196 Bishopsgate – A farmhouse feel close to the financial district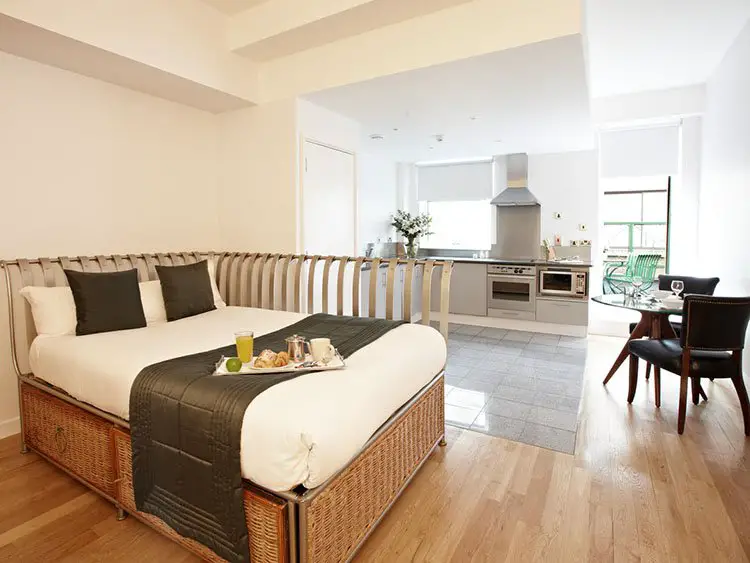 A stone's throw from Liverpool Street station; 196 Bishopsgate is a convenient boutique residence offering a homely stay. The rooms are expansive containing fully equipped kitchens, lounge areas, and luxurious bedrooms. Tastefully decorated, you'll enjoy exposed wooden beams, chocolate leather sofas, and stripped wooden floors. If you need to, you can call the 24-hour concierge service for meal delivery or take a trip over the road to Spitalfields market to taste cuisine from around the world.
Qbic Hotel London City – Cool, comfortable cuboid sleeping stations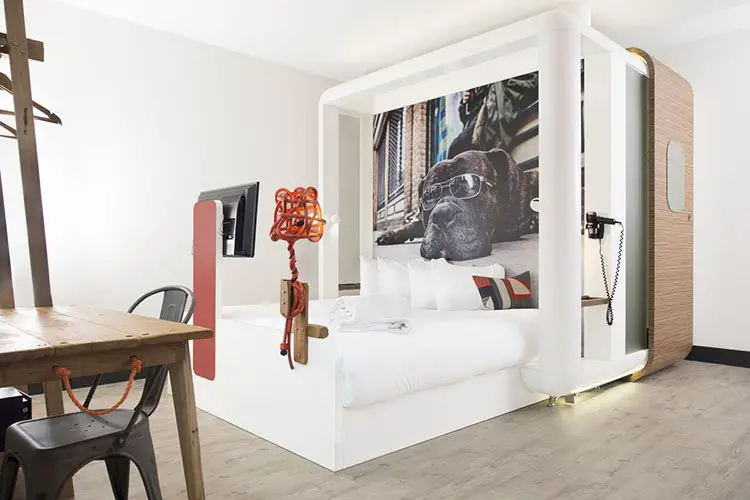 Boring hotels move aside, the Qbic Hotel London City is here to add a little jazz to the industry. Why sleep in a normal bed when you can sleep in a 'cubi' which is a perfectly designed sleeping station with a flat-screen TV, trendy lamp and cool artwork attached. The fun doesn't stop there, as you can also go hang out in the onsite bar and restaurant, which comes complete with eye-catching décor and neon signage. When you finally venture out, you'll be smack bang in the middle of Whitechapel where you can explore tons of hip bars, cafes and restaurants.
Courthouse Hotel Shoreditch – Quirky jail-themed chic with an intriguing history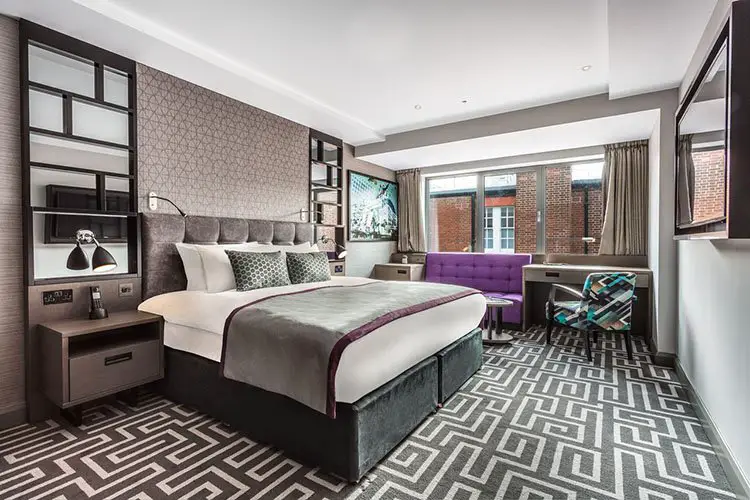 Once a place where gritty gangsters got their day in court, this former courthouse and police station built in 1903, has been transformed into a cool hotel oozing with personality. It still retains a ton of its original features mashed together with striking wall art of famous figures behind bars. Some well-known faces you may recognize are; Darth Vader and Mona Lisa among others.
Relax in the bar enjoying a jail-themed cocktail, take in the views from the rooftop, treat yourself in the spa, and even enjoy some onsite bowling. The hotel is ideally situated to explore Hoxton Square, Old Street, Spitalfields, and the Colombia Road flower market.
Ace Hotel – Playful Design and minimalist décor with a social vibe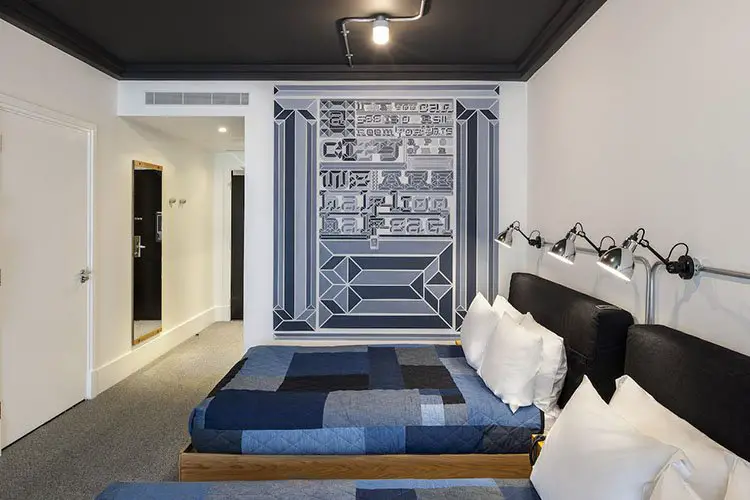 Have you ever wondered what it's like to be a DJ for the night? Well, that dream can become a reality with a stay at the Ace Hotel. This uber-trendy 5-star residence is nestled in the heart of Shoreditch and has many rooms that contain DJ turntables, acoustic guitars and of course a selection of vinyl.
After you've let your inner DJ free, you can head upstairs to be wowed by the panoramic views from the rooftop bar. The Hoi Polloi restaurant on site is open for breakfast, brunch, lunch and dinner and you can enjoy nightly entertainment in the form of standup comedy, live music, a nightclub, and occasionally a popup art gallery.
Bio
Katie Lamb
Katie Lamb is a freelance writer, affiliate marketer and digital nomad currently travelling in the Philippines. She helps other aspiring entrepreneurs make money online by building passive income and learning digital skills.
Follow me on Twitter, Pinterest or Instagram. Check out my website here.
Pin for Later