Located in the South Island of New Zealand, Queenstown is a tourist hotspot. There is no doubt Queenstown should be at the top of your bucket list during your next trip to New Zealand.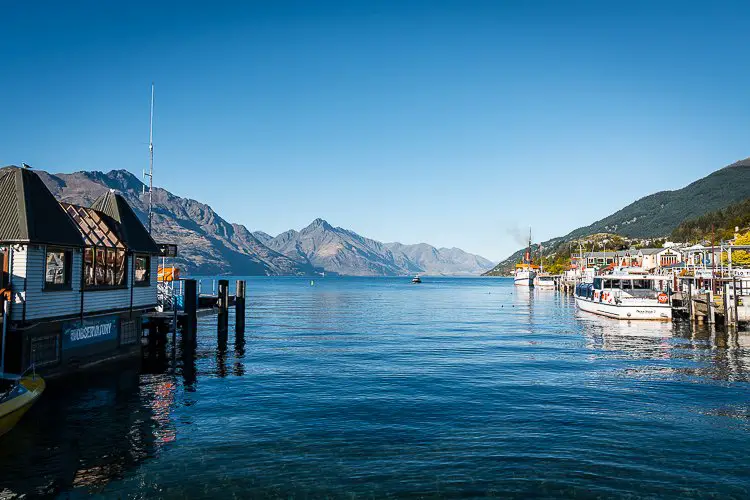 Queenstown is full of great places to eat, drink, and of course, shop. Follow this guide written by a Kiwi herself to get the most out of your Queenstown experience with the best places to eat, the best places to go for a drink, and where to shop.
Eat
Otago is home to some delicious cafes and restaurants in Queenstown to suit all types of travelers. Don't miss out on these great picks during your next holiday.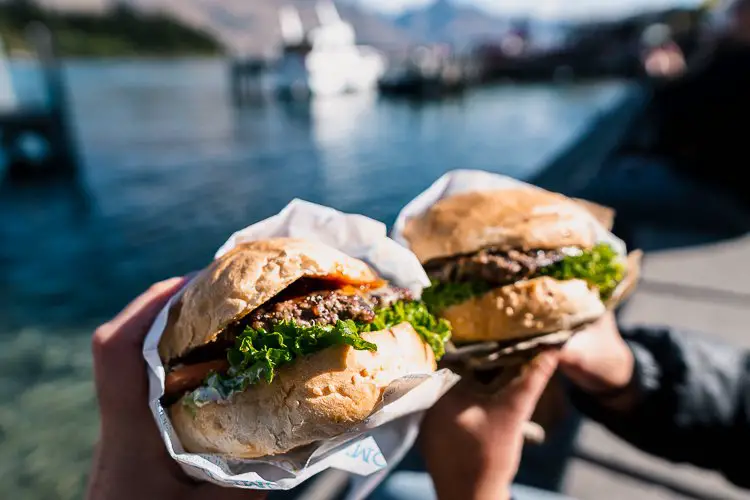 Fergburger is one of the most iconic places to eat in New Zealand. It's so famous with tourists and locals, that lines will literally run down the street.
There are a variety of choices for hearty-sized burgers, including vegan options, so Ferg is perfect for everyone. Grab a burger each, some fries to share, then head down to the waterfront to picnic while you listen to the music by the talented buskers.
If you love burgers, the wait in line will be so worth it. Trust me!
Pizza lovers, this one's for you. Located right in the middle of the shopping streets, you're likely to walk past this restaurant and become enticed by the smell of pizza.
The pizzas come in three different sizes: small, medium, and large. The small size is great for lunch and the large size is enough for two people to share, making it quite reasonably priced. Try the Montonara and Zucha flavours.
Ask for a seat outside on the balcony, so you can watch the view and passersby as you enjoy your meal.
Although this place technically isn't a restaurant, it definitely deserves a place on this list. Cookie Time cookies are sold all over the country, but in Queenstown, they have a cookie bar dedicated to these delicious morsels.
Forget happy hour for alcohol, Cookie Time has an even better deal running. From 6 pm to 7 pm, you can get two hot cookies from the price of one. That's two hot cookies for $4 NZD – perfect for a pre-dinner snack.
Just head on down and they'll heat up the cookies right in front of you so the chocolate starts to melt and the biscuit becomes soft and chewy. I just can't resist their new salted caramel flavour.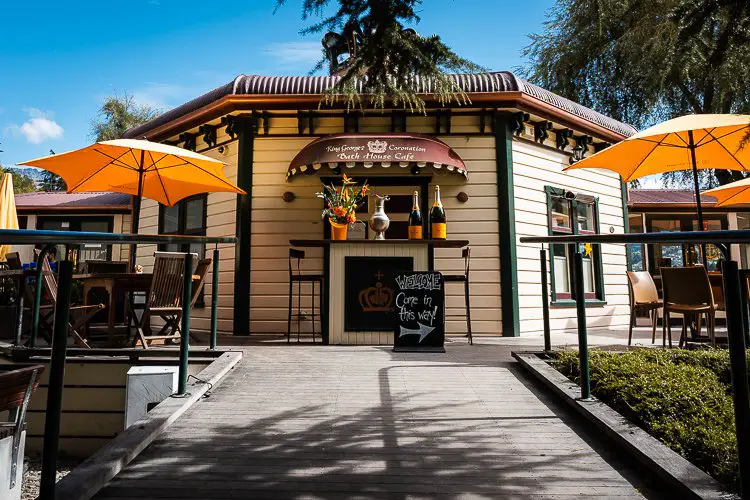 The Bathhouse cafe is my top pick for a cafe. It's located right on Queenstown Beach near Botswana Butchery, listed later in this article.
Having opened since the early 20th Century, the building itself is charming. My favourite place to sit is outside, right on the beach. They have outdoor heaters to keep the place warm, even if it's cold out. Grab a hot drink and admire the view.
Dining here reminds me of brunching outdoors at GYC Glenorchy Cafe, which is one of my favourite things to do in Glenorchy.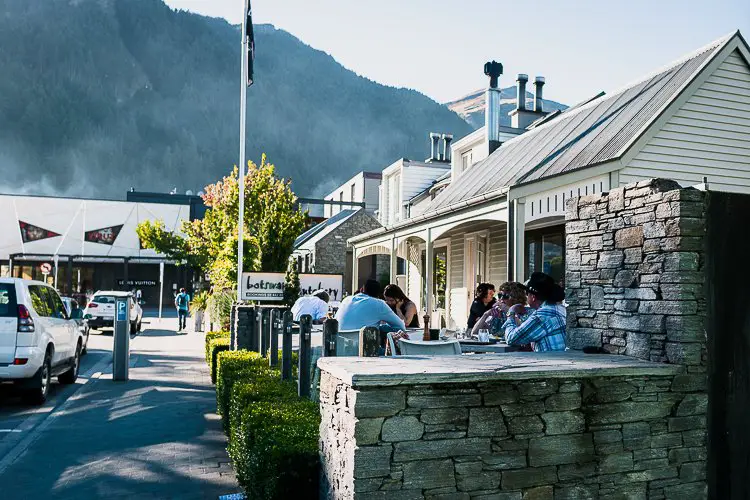 For fine dining and wining, there's one place that stands out from the rest. If you're looking to treat yourself, pay a visit to Botswana Butchery. They have two restaurants, one located in the largest city in New Zealand, Auckland, and one in Queenstown.
The restaurant is located in a historic cottage-style setting near the waterfront and Queenstown Beach. The prices are by no means cheap, but it's a good excuse to treat yourself or celebrate. Try some well-known NZ lamb as your main.
Drink
Being a major tourist town in New Zealand, you can always find great places for a drink in Queenstown.
Wineries
Central Otago, specifically the Queenstown area is known for its wines. There are many wineries scattered around Queenstown itself, the Gibbston Valley, and neighbouring towns such as Arrowtown and Wanaka.
It isn't easy to narrow it down just a few, but here are some of my winery recommendations for Queenstown.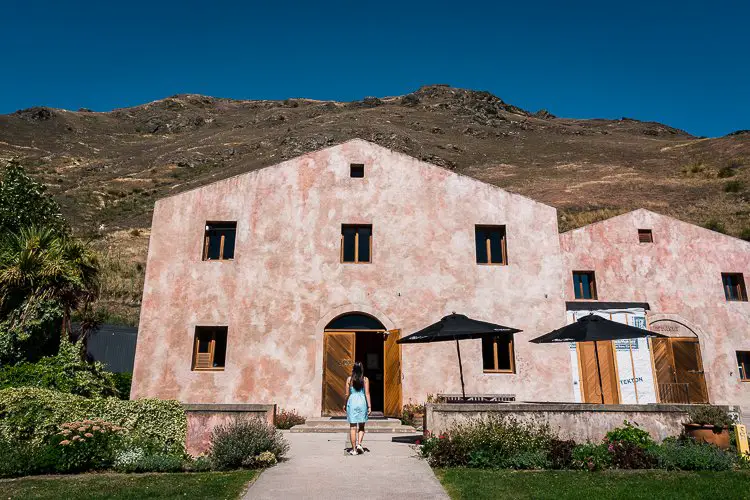 You can't beat the location and atmosphere of Chard Farm. This pink farmhouse-style building is located at the end of a very long driveway atop a cliff. The staff here are knowledgeable about their wines and have great Kiwi personalities. My top pick is their rose wine.
Amisfield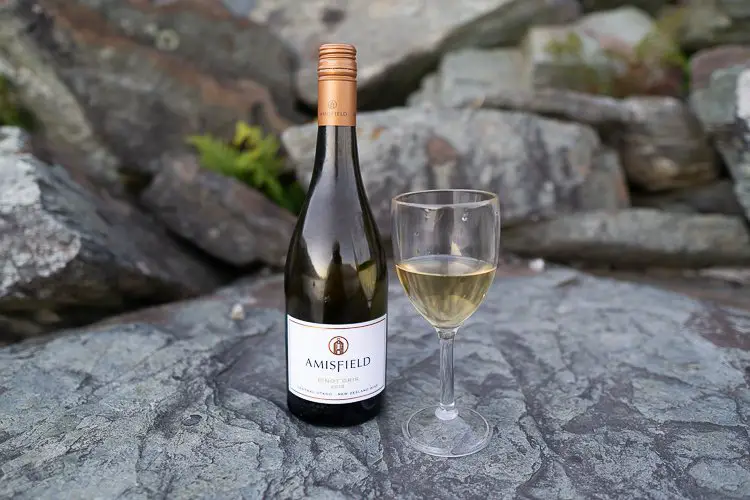 In terms of the taste of the wine itself, Amisfield is my favourite in Queenstown. Their wines are exquisite, and so too the interior of the cellar door – I would expect nothing less! Try the 2017 pinot noir and the 2019 pinot gris.
Tastings are $10 NZD, and you get to choose five wines on the list to sample. Once you've found a favourite, grab a glass and sit in their outdoor patio area to enjoy.
Akarua is one of the biggest wine producers in the country. Their wines are sold extensively in New Zealand supermarkets and range from $24 NZD to $110 NZD for their premium 'The Siren Pinot Noir 2016'.
Last but not least, Wet Jacket Wines is the place to go for country cottage vibes. Their signature 'The Pirate Pinot Noir Reserve 2016' goes down a treat, as well as their 2018 riesling
Bars
Queenstown's bar scene is top-notch. You'll find everything in the middle of the town, from craft beers to the most elegant of cocktails and your classic drinks.
For great craft beers, there are two great contenders. Check out Smiths Craft Beer House and Atlas Beer Cafe. Both locations have pub food to perfectly compliment your beers.
My top picks for bars in Queenstown was Zephyr and The World Bar.
Zephyr is Queenstown's very own rock bar. This bar is both eclectic and snug. The amazing thing about Zephyr is it was constructed from refurbished materials from the big Christchurch earthquake, which occurred in 2011.
The World Bar is the best spot to sit outside with a drink. The outside area is complete with industrial-style wooden furniture and hanging greenery. Sit outside and enjoy a burger accompanied by teapot cocktails.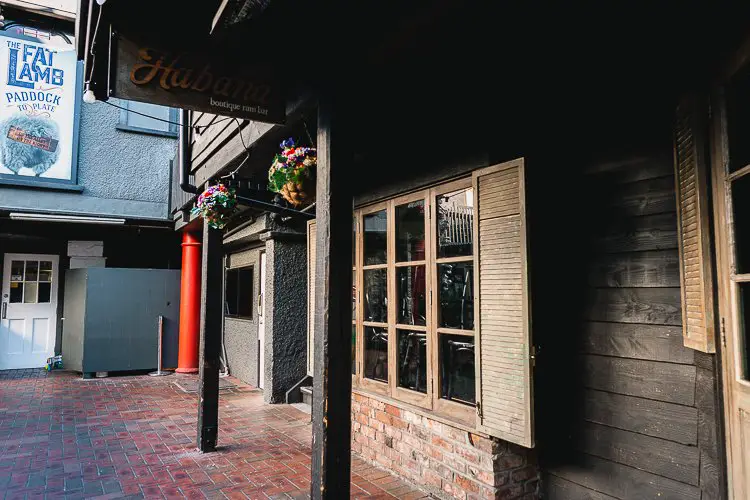 For the fans of rum, there's a great spot for you. Head to Habana Boutique Rum Bar. My favourite thing about this bar is it is hidden down one of the backstreets, giving it a cosy, speakeasy vibe. Try the Wigan Street Fizz!
The two most unique bars that you must visit on your next to Queenstown are Minus 5º ICE BAR and Perky's Floating Bar. 
Minus 5º ICE BAR is a bar filled with furniture and sculptures made of ice! This is a great experience and is family-friendly. You can bring your kids and they can enjoy their very own mocktail. Wear some long pants, and at the bar, you'll be fitted with a jacket, ugg boots and gloves to keep you warm and toasty.
Perky's Floating Bar, as its name suggests, is in fact floating on Steamer Wharf. This is probably not the best choice for those who get seasick! Perky's is one of the cheapest places in Queenstown to get a beer. Some lager and house wines will only cost you $8 NZD – this happy hour deal goes for the whole day!
Shop
Queenstown is a relatively small town of 16,000 inhabitants, but despite its small size, there are still some great places for shopping.
Retail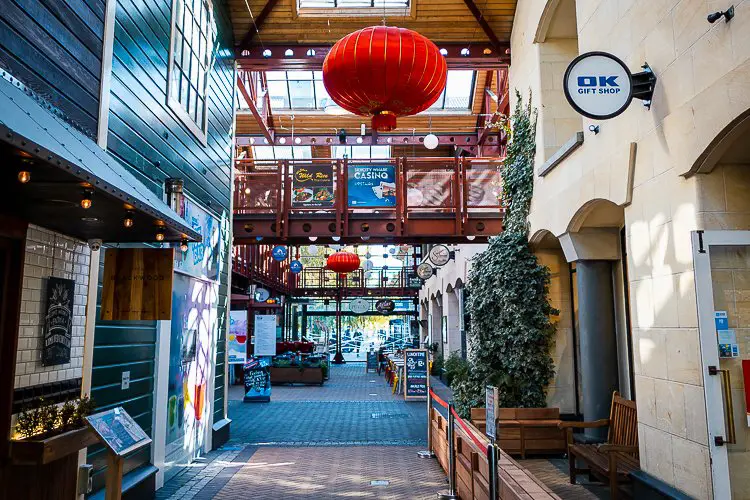 The best area for shopping is in the heart of the town. There are retail shops selling clothing, accessories, homewares, and souvenirs.
For fashion, Kathmandu is a great store for warm clothing. There you can pick up puffer jackets, windbreakers, thermals, and more. Aotea and OK Gift Shops are popular souvenir stores in the area. Outside Sports is a great place to visit for outdoor adventure equipment. There even is Recycle Boutique for thrift shopping.
Another place to shop in Queenstown is the Queenstown Central Shopping Centre. This is located in Frankton, close to the airport so it's a great place to stop at as soon as you arrive into Queenstown, or before you leave.
There are a variety of shops at this mall, including sports, homeware, tech, and fashion stores. Head to Rebel Sports or Stirling Sports for activewear and sports equipment. Visit Noel Leeming for tech gear and Briscoes for affordable homeware. 
Our department stores, The Warehouse and Kmart are great, affordable places to shop and the nationwide supermarket, Countdown, is the best place to buy groceries.
Farmers Markets
The best places to visit in Queenstown for locally-made gifts are the Farmers Market. You'll be able to find great souvenirs to take back home with you.
The most popular market in Queenstown is the Creative Queenstown Arts and Crafts Market. This is also known as the Saturday market in Queenstown. 
The markets are held at Earnslaw Park, right at the waterfront. This is where you'll also find buskers to complete the ambiance. During the warmer months of November through April, the markets run all day from 9:30 am to 4:30 pm. During the cooler months of May through October, the markets close at 3:30 pm. 
Another Saturday market held in Queenstown near the airport is called the Remarkables Market. Take in the views of the snow-capped peaks surrounding the area as you shop up a storm. This market is held during the warmer months of October through April from 9 am to 2 pm.
Bio: Delilah Hart is making her way around the globe, one country at a time. Her travel blog aims to help people travel the world better. Some of her favourite places are Hoi An in Vietnam and Luang Prabang in Laos. Follow her adventures on Instagram and Pinterest.