Portland, Oregon.  Hipster hotspot is known for its liberal, environment-conscious culture. This much (or little) is known of that beautiful port city in the Northwest. But so much more can be discovered next time you visit Stumptown.
"Stumptown", a nickname it was given during a growth period in the 1850s when so many stumps of trees were left behind, is actually a misnomer. Portland, in fact, has over 8000 acres of parks and green spaces protected from development and is often awarded "Greenest City in America". 
You may know about its cool microbreweries and coffeehouses. But have you tried the awesome "brews `n views"? Yes, you can watch a flick while sipping fresh hand-crafted ale and gourmet-dining at any of its fab movie-pubs.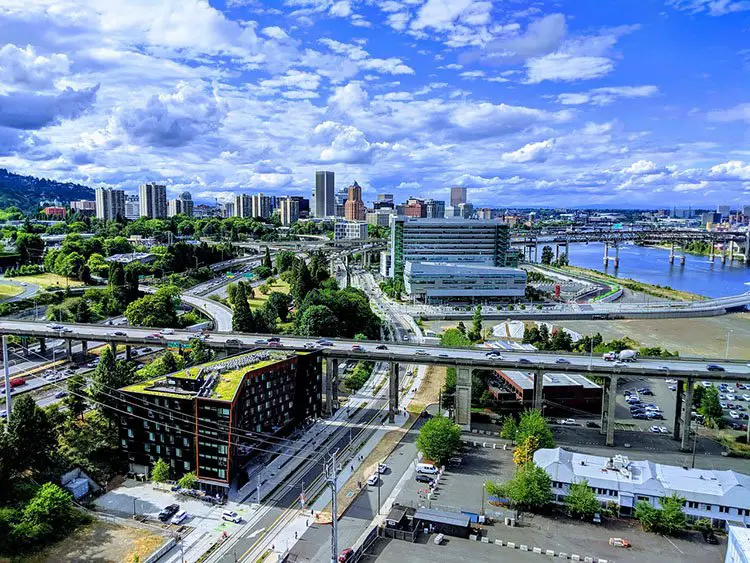 Portland's theater, food, art, and music scene has always had tons to offer. See Pearl District for the art galleries, stylish shops, craft breweries, artisan coffee shops, and fine dining. Visit Powell's City of Books, a massive store selling new and used books — the largest in the world — and the coolest, according to CNN.
Head to Washington Park and visit Oregon Zoo and the famous Japanese Garden. 
Love biking? Portland is one of the most bike-friendly cities in the U.S. with tons of dedicated bike lanes and riding trails.
Hiking, skiing, kayaking, windsurfing — there's plenty to do for the adventurous. Portland sits on the Willamete Valley by the Columbia River Gorge, not far from snow-capped Mount Hood.  It's also close to the stunning Oregon Coast.
No worries if you forgot to bring your gear. Portland is home to Columbia Sportswear whose flagship store is right downtown.
Feel like taking a rain check on the outdoors? Sit down instead to a good brew at Stumptown Coffee, headquartered at Salmon Street. If you go on a Friday afternoon you could catch a free tasting and get a crash course on how to evaluate coffee by its flavor, body, and aroma. Looking for more tips -see our Girls' Guide to Portland here or our top spots in Portland for eating drinking and shopping.
See our list of favorite digs to help you get set up for your next trip.
Portland's Coolest Hotels
Ace Hotel – Eco-friendly boutique hotel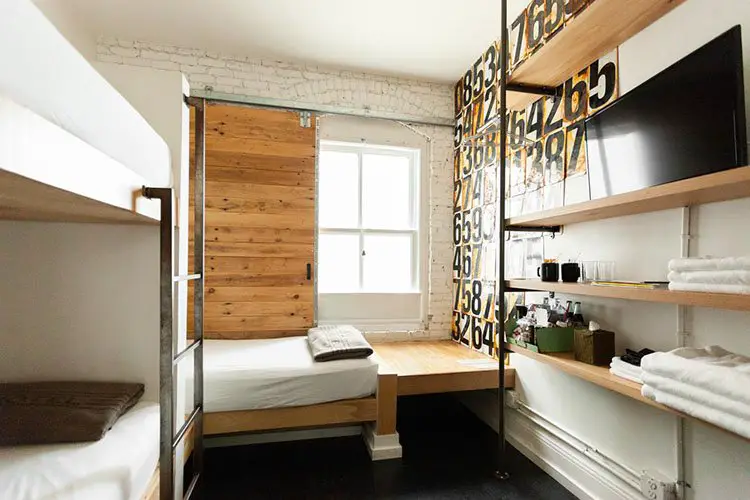 Set in historic Clyde Hotel building, this hip, eco-friendly boutique hotel is located in the center of town, just a block from Pearl District and a 2-minute walk from Powell's Books.
Uniquely styled guestrooms feature original murals by Portland's artists, vintage and locally made furniture, a fully-stocked min-bar, iPod docks, hypo-allergenic mattresses, and organic cotton linen. Options range from budget accommodations with shared bathrooms to upgrades with pull-out sofas, turntables and stacks of vinyl records. All are pet-friendly.
Private bathrooms come with Wings+Horns robes, signature toiletries and either a stand-up shower or a claw-foot bathtub.
Dine at the restaurant which has long, communal tables and an open kitchen offering seasonal fare. It has an award-winning lobby bar popular for its vibrant happy hour scene.
Other amenities include a self-serve laundry and loaner bikes. You can also rent handmade bikes specially made for the hotel by designer Jordan Hufnagel.
Stumptown Coffee is on-site, as are an art gallery and an ATM/banking service.  
The Heathman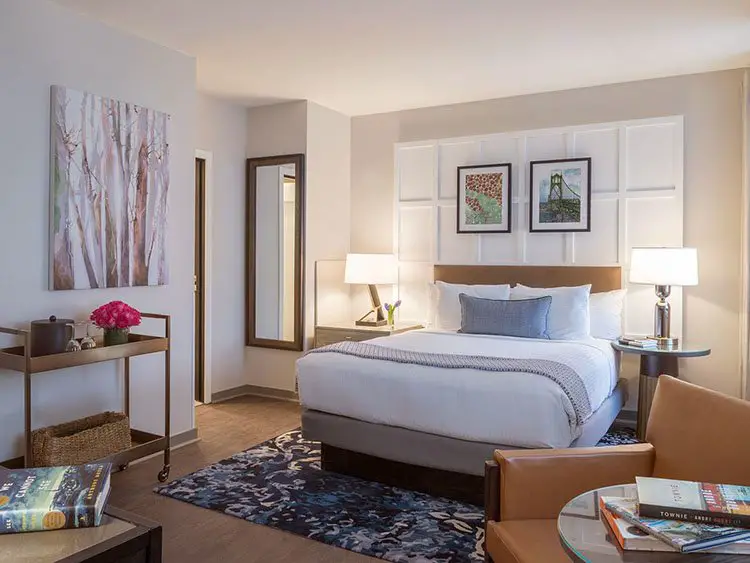 Built in 1927, the recently-refurbished Heathman is one of Portland's oldest, most distinguished luxury hotels. It's at the heart of the city's financial and cultural district, attached to the Arlene Schnitzer Concert Hall, (home of the Portland Symphony) and adjacent to the Portland Center for the Performing Arts.  
It was named one of the "World's Best Places to Stay" by Conde Nast Traveler. At the entrance, expect to be greeted by doormen dressed in English Beefeater attire. Find the statue of Zelda, an English bulldog from Portland also in Beefeater costume.
Heathman's rooms come with a bed menu offering three types: TempurPedic,  European Pillow-top, or European Feather-top. Signature touches include  Lotus Luxury Bed Linen, L'occitane bath products, French-press coffeemakers with a tin of locally produced Portland Roasting Company Coffee, and Steven Smith teas. Twice-daily maid service is available.
Suites feature a separate living room and dining area, 2 TVs, 4-poster beds, pull-out sofas, and whirlpool bathtubs. Guests can request a Well+Fit kit to be delivered to their rooms, equipped with a yoga mat, barre3 bands, weights and core ball, and a workout video-loaded iPad.
There are several dining options including Headwaters, an acclaimed restaurant serving regional cuisine with lots of seafood, masterfully prepared by James Beard award-winning chef Vitaly Paley.
The Heathman is a book lover's paradise. It has a vast library with over 3,000 volumes signed by authors, including Nobel and Pulitzer Prize winners. Russian tea is offered every afternoon at the lounge and library, while wine tasting and craft cocktails are offered each weeknight. 
There's also a fitness center that has a mini rock-climbing wall, several cardio machines, and live-streaming Peloton bikes.
Hi-Lo Hotel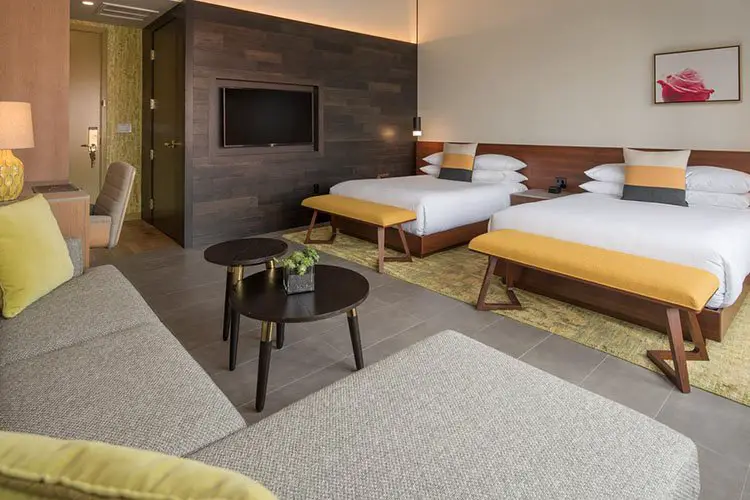 Housed in the historic Oregon Pioneer Building, this chic new boutique hotel caters to foodies, artists, young professionals and savvy business travelers. It's part of Marriott's Autograph Collection.
While the lobby's bright colors and playful decor exude a young, Millenial feel, the modern guestrooms are both warm and calming, featuring soft gray hues and gold detailing. 
Over-sized windows, radiant-heated floors, pillow menus, and rugs under beds provide cozy comfort; while concrete walls, reclaimed wood, and hand-painted wallpaper impart an industrial but organic touch. Locally crafted accent pillows and custom-designed toiletries provide an authentic Oregonian feel.
Suites come with separate living rooms. All 120 guest rooms are pet-friendly.
Dining options include modern Mexican fare at Alto Bajo and regional cuisine at the recently opened CRAFTpdx which serves artisanal meals of locally sourced seasonal food and curated beverages.
There are a casual bar and a 24-hr fitness center.
The Benson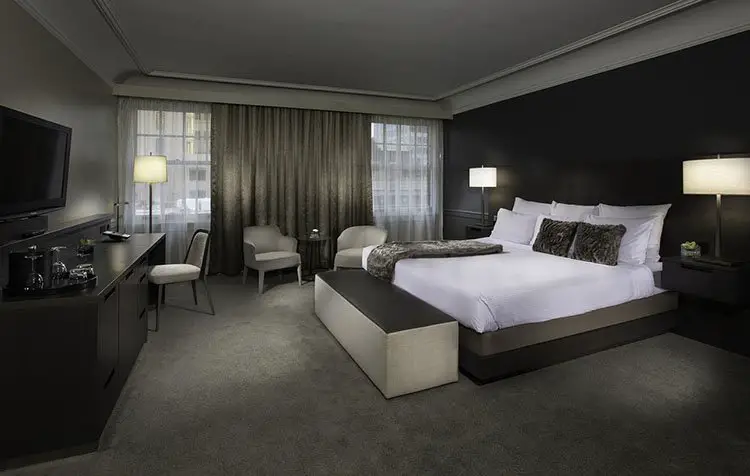 This Portland landmark building was constructed in 1913 and is on the National Register of Historic Places. It has hosted celebrities, CEOs, dignitaries, politicians and every U.S. president since William H. Taft.
With is Italian marble floors, Russian walnut wood and Austrian crystal chandeliers in the Baroque-style lobby, The Benson shows quintessential European elegance.
287 newly renovated guestrooms come with Tempur-Pedic luxury beds, plush bathrobes, and signature toiletries. Adorning the rooms' walls are B&W images of Portland landmarks shot by renowned Swedish architectural photographer Ake Elson Lindman.
Upgraded rooms offer city views, and suites add sitting areas and/or separate living rooms. Room service is available.
At the Lobby, the elegant Palm Court restaurant offers specialties such as tapas, wine and spirits, and complimentary morning Starbucks coffee and tea. There's also an acclaimed steakhouse with a cigar bar and nightly live music.
The Benson is within walking distance of the shopping, dining, and entertainment at Pearl District and Pioneer Courthouse Square.  
The Hoxton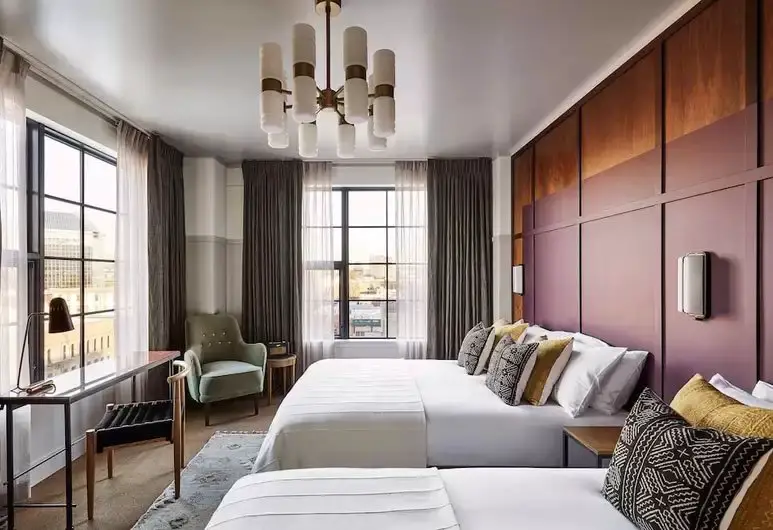 Located in NW Portland which is the cultural hub, right in Old Town Chinatown, Nob Hill and Pearl District, this trendy hotel is set in a restored 1906 building. It is the first West Coast outpost of the stylish London Hotel chain.
119 chic rooms feature deep hues and rich walnut paneling, mid-Century style furnishings and modernist artwork and ceramics. Guest rooms are categorized under the standard Hoxton Shoebox, Snug, Cosy and Roomy. Upgraded rooms come with separate sitting areas, some with floor-to-ceiling windows.
Aside from an upscale Mexican restaurant, there's a rooftop taqueria offering panoramic views of the city and 3 lounges — including the underground Basement Bar which serves up mixed cocktails and Chinese-American dishes.
Perks include an in-room breakfast bag containing a granola pot, juice and fruit, long-distance phone calls, and loaner bikes.
Hotel Zags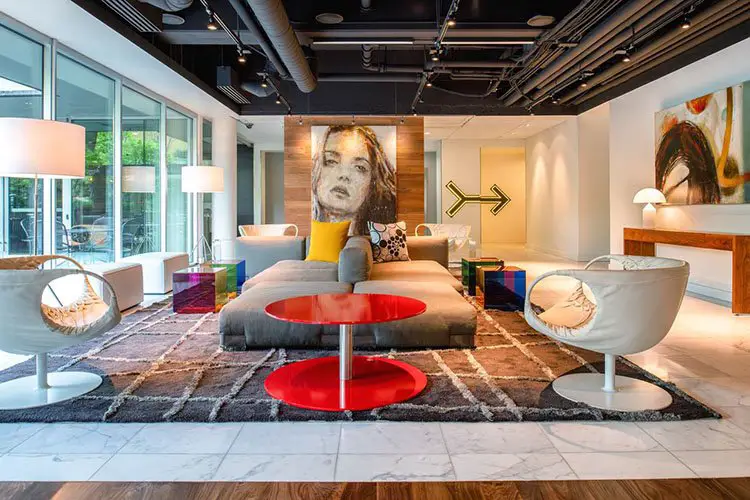 Renovated in 2019, this hotel is tucked away in the city's Fountain District. It's within walking distance of Portland State University, Arlene Schnitzer Concert Hall, the Portland Museum of Art and Waterfront Park.  
Over 500 pieces of local art are housed in The Zags, which has a stylish, colorful lobby with a 24-hr mini-mart.
Its 174 guest rooms provide modern furnishings, vibrant colors, pillow-top beds, ample workspace, eco-friendly toiletries, plush robes, and a complimentary newspaper. Suites add separate living areas with pull-out sofas.

You'd find no reason to feel bored at the Zags. It has a gear shed offering complimentary bikes, cameras, backpacks, boards, fishing rods, binoculars, yoga mats and other equipment — even board games. 
For dining, celebrated chef David Machado prepares French and Italian cuisine at the hotel's restaurant, Nel Centro, using locally grown and seasonal ingredients.
Zags is pet-friendly and has a beautiful courtyard with a lush vertical garden. Guests can recharge there while doing yoga or warm themselves by a fire pit while sipping craft cocktails. 
Hotel Rose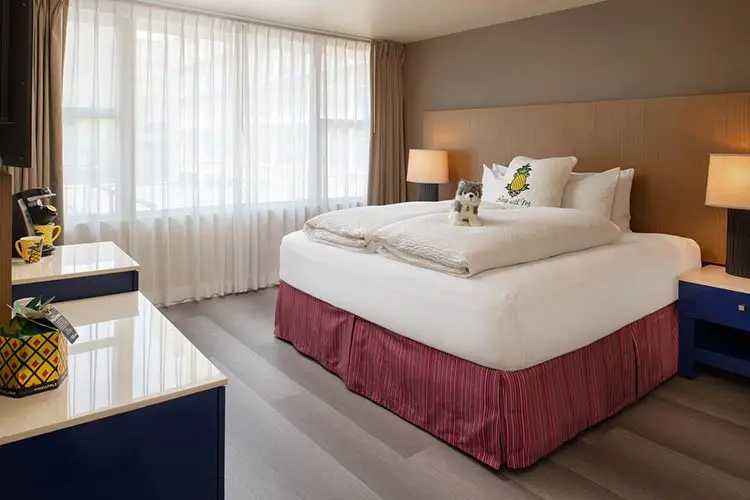 Right across Waterfront Park is Hotel Rose, a modern hotel with hip, colorful decor. 
Its 142 guest rooms feature double-duvet European-style bedding, a work desk with an ergonomic chair, a mini-fridge, and a Keurig coffeemaker. Some of the rooms have private balconies or waterfront views. The suite adds a separate sitting room with a dining table.
The hotel's bar and restaurant, Bottle + Kitchen, has a floor-to-ceiling fireplace and a cool, rustic-chic vibe. It serves breakfast, lunch, brunch, cocktails, and dinner every day, with live music on occasion. Coffee and pineapple treats are served every afternoon in the lobby.
Other amenities include a gym, cruiser bikes, and shuttle service.
The Rose is very pet-friendly and staff are happy to provide guests' dogs with a food bowl, pet bed and treats (fee).
Jupiter Hotel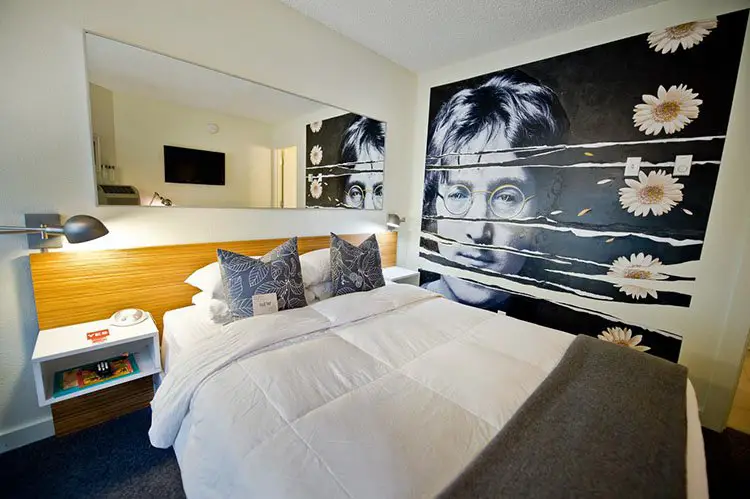 Centrally located in SE Portland and an 11-minute walk from the Oregon Convention Center, this hip hotel is a nod to Portland's creative spirit. The Jupiter has come to be known as a party place catering to the young crowd, with a reputation for being gay-friendly.
It's set in a converted mid-Century motor lodge comprised of 81 rooms with chalkboard doors, photo murals, eco-friendly bath products and mostly platform beds. Suites add separate living areas and/or kitchenettes.

The Jupiter was included in Conde Nast's Readers' Choice Awards in 2019.
It has two restaurants including the popular Doug Fir Lounge, a woodsy-chic bar and club that provides live music almost every night. Guests who prefer fresh air and a more peaceful ambiance can hang out in the bamboo patio right outside which has comfortable fireplace seating.
There's also a hair salon, tattoo parlor and a 24-hour art gallery onsite. Bike rentals are available.
Water Avenue organic coffee is served every morning in the lobby.
Hotel DeLuxe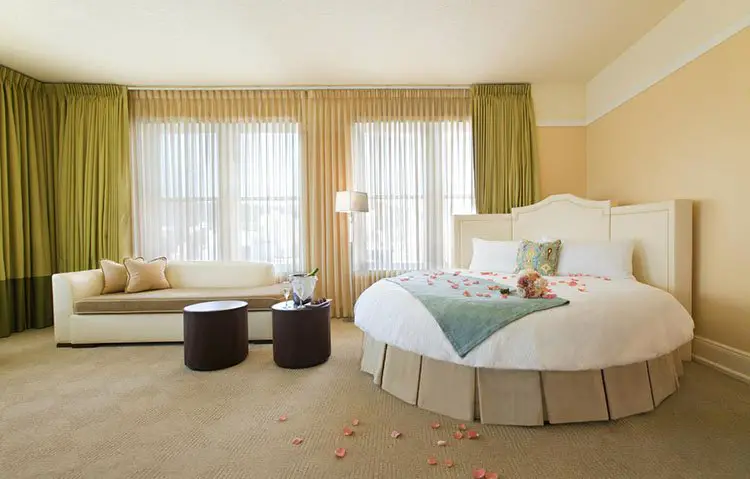 This glamorous Portland icon has a strong cinema and Art Deco theme. Just 3 blocks from Providence Park, the 1912 hotel is inspired by the glitz of Hollywood's golden era. Its lobby features a huge screen with changing pictures, and meeting rooms are called "Screening Room" or "Editing Room". "Do Not Disturb" signs on doorknobs read "Quiet On The Set".
Each of the spacious guest rooms features soft, cheery pastel colors, B&W photos of film stars, a large desk, signature Mada bath products, and a pillow menu with 6 types of options. Suites add separate living rooms, while the Marlene Dietrich showcases an 8-ft. circular bed and rare crystal lamps. Guests can request a Well & Fit kit in their room. 
The fine-dining restaurant, Gracie's, specializes in Northwest cuisine and is open all day. It serves traditional afternoon tea every 3:00, complete with tea sandwiches, scones, and pastries. In the evenings, guests can sample signature cocktails at the Driftwood, a mid-Century style lounge that's been a Portland institution since the 1950s.
Other amenities include Pop-Up Cinema where free screenings of Hollywood classics are held on designated weekends. There's a tasting reception every Wednesday at 5 pm, a library containing spiritual books, and a 24-hour fitness room offering complimentary fitness classes.
Pet amenities are available and so are loaner bikes.
Kimpton Hotel Monaco – Artsy digs in the center of town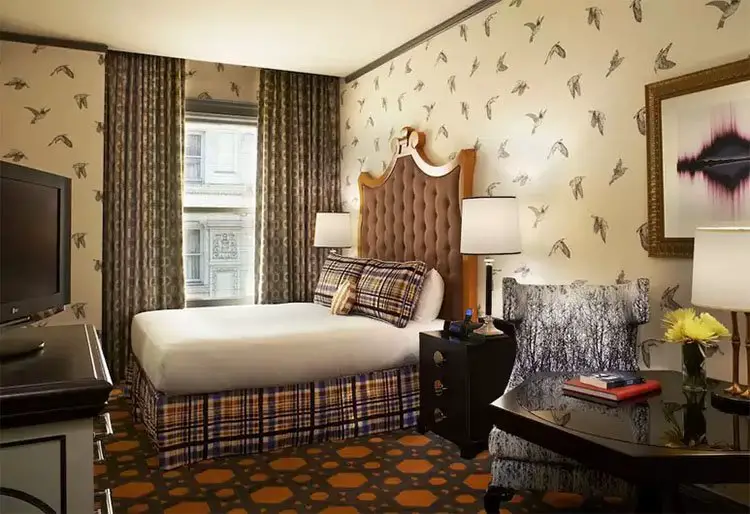 Monaco is a unique, upscale boutique hotel set in a historic 1912 building. Priding itself on its eccentricity, the hotel provides free nightly wine hour at its onsite tavern complete with live music and art supplies — canvases, easels, and brushes — for guests to paint with. Local art is showcased on each floor.
All of the large 221 guest rooms have a bright, whimsical design, eclectic furnishings, bird-inspired wallpaper, animal-print robes and luxury toiletries. Suites have French doors off the bedrooms leading to spacious sitting areas. Some have dining areas, whirlpool tubs, and city views. In-room Wi-Fi is available for a fee.
Perks include complimentary morning coffee or tea, free bike rentals, and a loaner goldfish to accompany guests in their rooms.
Pets are welcomed with treats, bowls, and beds. Grooming and walking services are offered (fees).
There's a fitness center, limo/town car service and in-room spa services (fee).
Vintage Hotel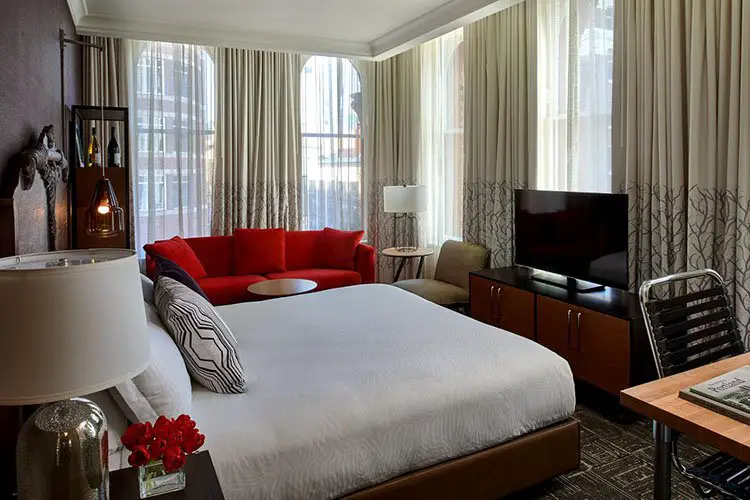 Historically known as the Imperial Hotel, this property was originally built in 1894 and is listed in the National Register of Historic Places. Though it takes inspiration from the pioneering spirit of the West, it has a hip, urban vibe.  
All 117 rooms are stylish and individually decorated with graffiti art. They also come with a curated bottle of wine, a mini-fridge and a yoga mat. Some have sitting areas. Upgraded rooms and split-level suites add whirlpool tubs or terraces with outdoor hot tubs. Suites also have separate bedrooms. 
Onsite there's an Italian restaurant, Pazzo Ristorante, and guests can enjoy room service during restaurant hours.
The Vintage provides nightly wine hour with live music featuring local artists. There's also a game lounge where guests can play shuffleboard, pool and play station.
Other amenities include a 24-hour fitness center, free loaner bikes and Wi-Fi at the lobby. Pets are welcomed with beds, bowls, and toys.
Kimpton RiverPlace – Quiet Elegance by the River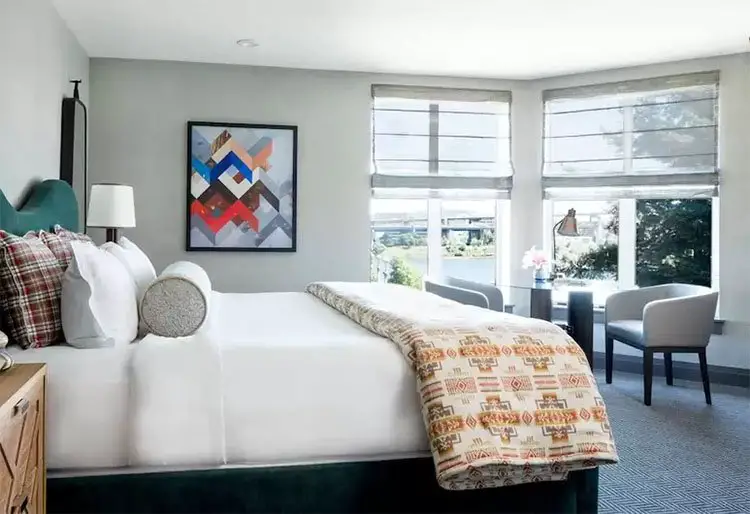 This quiet, refined hotel sits on a scenic spot on the Willamete River overlooking the RiverPlace Marina. It's a few minutes' walks to Keller Auditorium and Waterfront Park.  
If you want rustic-chic comfort with tranquility, you'll enjoy this hotel's casual lodge-like feel. U.S. News & World Report rated it #6 Best Hotel in Portland in 2020, and Conde Nast named it one of the Top Hotels in the Pacific Northwest in 2019. 
84 spacious rooms come with have mini-bars, safes, yoga mats, and flat-screen TVs with DVD players. Suites provide views of the river or courtyard, daily breakfast for two, separate living rooms, fireplaces and whirlpool tubs. 1- and 2-bedroom apartments include full kitchens and washer/dryers. In-room Wi-Fi is available for a fee.

The hotels' onsite bar and restaurant serves fresh seafood and local cuisine. Alfresco dining is available on the large patio outside, with excellent views of the marina. Guests can also sit and relax on rocking chairs while enjoying their drinks.
There is free wine and local beer reception every afternoon including snacks. Coffee, tea, and cookies are available all day in the communal living room.
Though there isn't a gym at the RiverPlace, it gives free passes to a nearby fitness center with a lap pool. Loaner bikes are available at this dog-friendly establishment.
McMenamins Kennedy School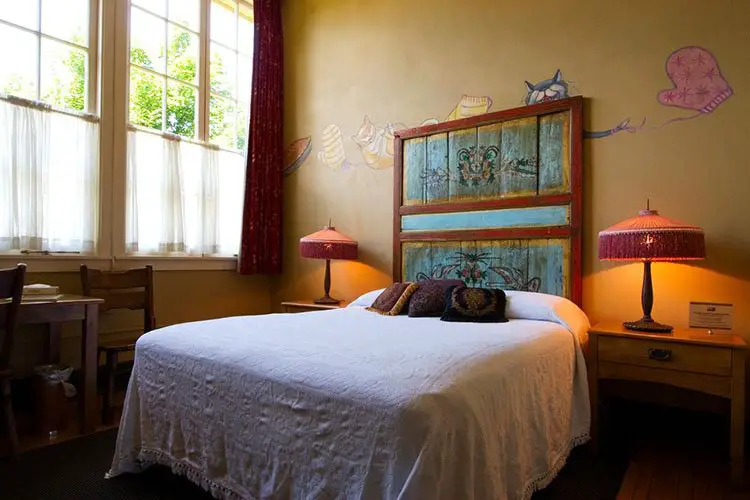 Quirky and fun, the Kennedy School Hotel is a beloved fixture of the NE Portland neighborhood and the city's most unique hotel. Opened in 1915, it is housed in a restored elementary school, a short walk from the trendy Alberta Arts District.
Onsite, the hotel boasts a brew `n view, a courtyard restaurant, a heated saltwater soaking pool, a garden, a gift shop, multiple small bars and a brewery.  
Though individually decorated, all rooms have an old schoolhouse feel. Many of them retain their original features such as chalkboards and cloakrooms. Others have literature-inspired themes.

All 57 rooms of the Kennedy School have free Wi-Fis but no TVs. Original artwork and historical photographs cover the walls, ceilings, and hallways.
Loaner bikes are available.
McMenamins Crystal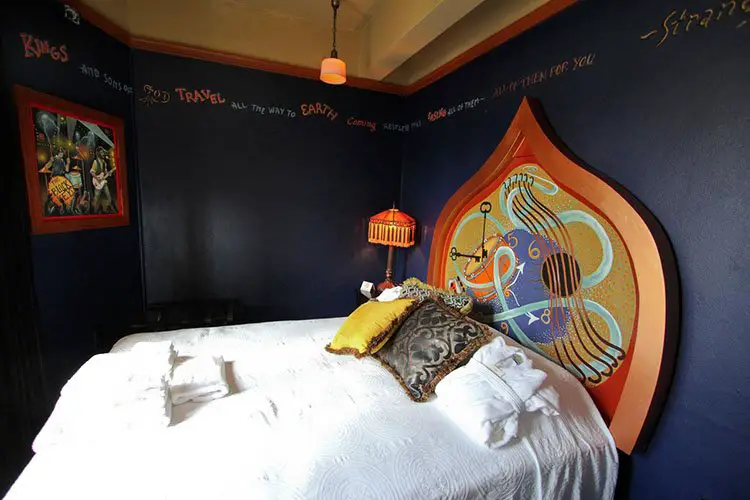 Set in a historic 1911 building, the Crystal is a funky, rock and roll–themed hotel across the road from the Crystal Ballroom. It has 51 musically inspired rooms named after famous musicians. Each has large windows offering city views, colorfully painted headboards and panels, and animal-printed upholstery.
Onsite there's a relaxed restaurant, a casual pub, and a basement bar offering live music and weekend comedy shows. Other amenities include a subterranean saltwater pool and a music-themed art gallery. 
Pet-friendly rooms are in limited number.
Sentinel – a luxury in downtown Portland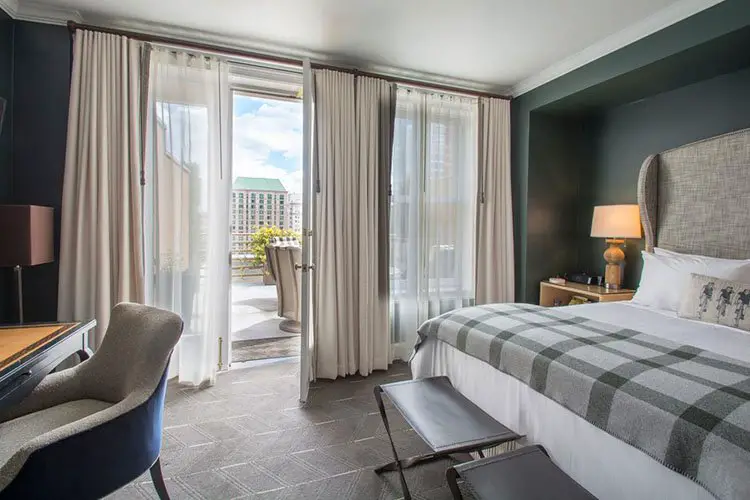 An imposing structure in the middle of town, The Sentinel occupies a historic 1909 building with an Italian Renaissance exterior. This high-end, sophisticated hotel was named after the gargoyles adorning its roofline.
The hotel has its own wine lounge at the lobby with local wines from the Willamette Valley. Onsite restaurants include two of the city's finest: Jake's Grill,  a go-to for steaks and seafood; and Jackknife Bar at the lobby which offers vegetarian fare, great french fries and lots of creative cocktails.
100 elegant rooms feature the early 20th-century. Each comes with a pillow menu, a spiritual book menu, morning coffee and afternoon beverage service, in-room Well + Fit kit,  and iPod docks. Suites add separate sitting rooms with pull-out sofas. Some have terraces, fireplaces and whirlpool tubs.
The Sentinel provides access to outdoor adventures through a partnership with Omni PDX. Other amenities include a gym with complimentary fitness classes, an art collection, and a limo/town car service.
There's a Salt & Straw ice cream menu throughout the hotel and a  Starbucks cafe in the lobby.
Pets are welcomed with bowls, treats, beds, and toys.
The Nines – a luxury collection hotel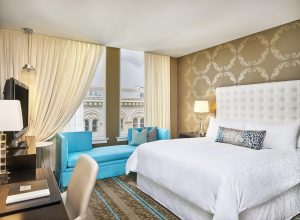 Occupying the top nine floors of the historic Meier & Frank department store building downtown, this modern, upscale hotel has 331 rooms making it the 5th largest hotel in Portland. It's just a few steps away from the Pioneer Courthouse Square.
The elegant rooms feature satin drapes, Tiffany blue velvet upholstery, plush bedding, signature bath products and original artwork. Suites add separate living rooms with desks, and dining tables. Some rooms include complimentary breakfast and evening cocktails.
There's an upscale farm-to-table steakhouse, a library-themed cocktail bar, and a rooftop restaurant serving pan-Asian cuisine. There's also a fully equipped 24/7 fitness center and a billiards room with pool tables, books and magazines.
Featured Image by Wikimedia Commons
Pin for later