Before my continental carry-on even arrived, it occurred to me that Lipault bags appear to be made for the Travel Belle. 
Known for their feather-weight design and offered in a plethora of jazzy colors, their looks alone made us want to hop a plane to somewhere gorgeous and spicy. But first impressions can be deceiving.
We wanted to know how would this eye-catching bag fare when put through the paces of a busy travel schedule?
Lipault (pronounced "li-poe") is named after its creator, designer François Lipovetsky, and originated in France.
Claiming to add "0% excess weight and space to your travels and your life," the suitcase arrived neatly collapsed in its own clear storage bag. It resembled one those space-saving bags for clothing and bedding that you suck all the air out of, then toss under the bed.
Upon removing it, the bright purple color dazzled, but the suitcase itself looked a bit  – deflated? In other words, it begged to be packed! In the meantime, it would fit unobtrusively in my closet.
You may also like: Luxury Travel Accessories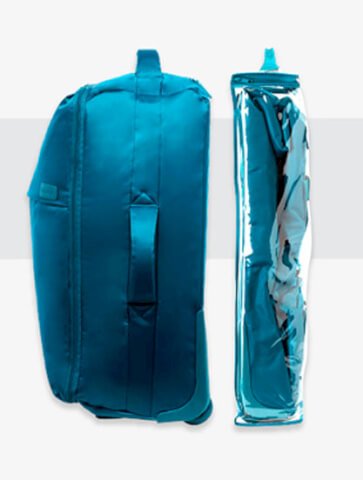 When unfolded, the suitcase measures 20" high and a little wider than a standard 22" sized bag. Shape and size-wise, it reminded me of my husband's go-to carry-on, a Briggs and Reilly.
He claims that his more square-shaped 20" bag holds just as much, but fits better into variously configured overhead compartments than 22" bags. Made of a nylon twill, the suitcase has a nice satiny feel.
Although the Lipault Continental Carry-On doesn't expand, there always seemed to be just enough give to the materials to squeeze in another pair of shoes.
With two common-sense pockets inside, there was no need to worry about underwear flying about pell mell. Overall construction appeared solid with high quality zippers. For me the size proved ideal when packing for up to a five day trip. Fortunately when fully-packed, its deflated looks were gone!
You may also like: A Guide To Fashionably Packing Less
My laptop fit neatly in the outside pocket, but was also easy to slip in and out, making airport security lines a breeze. With the suitcase itself weighing slightly over five pounds, it was a cinch to maneuver around the airport and up into the overhead.
A word of advice: To keep it from tipping forward when not in motion, be sure to pack more dense items such as shoes and cosmetics in the bottom.
For this lightweight bag made of a fabric that redefines "soft-sided," I still had questions about durability. But I found in this department it delivered. After using the bag on three trips, I'm convinced Lipault can endure at least as much ungraceful handling as traditional soft-sided luggage. My only hesitancy would be if I were checking a bag containing a bottle of wine or fragile trinket.
Other than that, I would consider one of the larger Lipault models when travels call for a checked bag. Lipault bags come with a three year warranty that covers manufacturers' defects such as blown zippers.
You may also like: Belles With Baggage
For those embarking on longer jaunts, note that Lipault also features several more roomy carry-on styles.
Travel Belle Tip: If buying more than one piece, instead of choosing just one color, mix and match!
You can purchase a Lipault Continental Carry-On [easyazon_link keywords="lipault continental carry-on" locale="US" tag="tbelles-20″]from Amazon[/easyazon_link] and the Lipault website.
This bag was provided to us for review purposes.