You probably don't give much thought to your wallet, even though you use it every day.  When you're travelling, your wallet becomes far more important as you'll need to carry valuable items such as your passport, credit cards and cash securely across the world.  
If you've ever lost your passport or had the panic of not being able to a credit card, you'll know how stressful it can be.  You'll want to choose a wallet that will keep your items safe and accessible. Being organized on your trip will ease the stress of travel.  A dream trip isn't going to be a dream if you lose or misplace your valuables.
Things to look for in the best travel wallet are size, function, organization and anti-theft features.  In order to choose the best wallet for your trip, think about the key documents and other items you'll need to carry and how you'll organize them. In addition to your passport and credit cards, consider if you'll be carrying multiple currencies and coins.  It's handy to have separate zippered pockets or the right money compartments to hold different currencies to keep yourself organized.
Depending on your destinations, you might also need to consider security more carefully.   If you're going to countries known for petty crime like India  or South Africa 
Consider a wallet with anti-theft features or a neck wallet or money belt for added safety.  If you're going to opt for a neck wallet or money belt, you'll want to carry some cash separately from your wallet, so you don't have to access it from under your clothes every time you need small change.
The best way to avoid theft on any trip is to lessen the opportunity for a thief.  Carrying your essential items in a neck pouch or money belt is going to leave you a lot less vulnerable to theft.  And not storing all your eggs in one basket is always advised. Carrying a small amount of cash in a zipped pocket in your clothes or purse and your passport and other valuables in a neck pouch or money belt is going to keep you safer.
If you're generally concerned about security, read great tips on avoiding pickpockets from expert Bob Arno, co-author of Travel Advisory – How to avoid thefts, cons and street scams while Traveling.
Travel Belles recommends these wallets for your travels 
Best Travel Wallets
Bagsmart Passport Wallet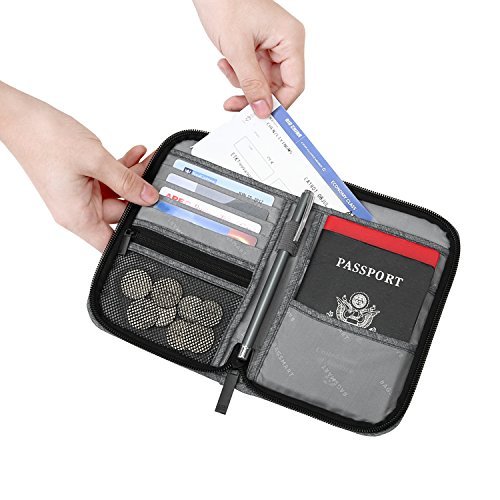 This wallet by Bagsmart provides plenty of organization for your trip – with separate interior compartments for passport, cash, cards, and coins.  It also features an exterior pocket for easy access to a ticket or other document. It even has a place to include a pen – which is so handy when you need to fill out immigration forms or take travel notes.  The wallet zips closed to keep everything secure and features RFID technology. It's made of water-resistant and durable fabric.
Defway RFID Blocking Document Organizer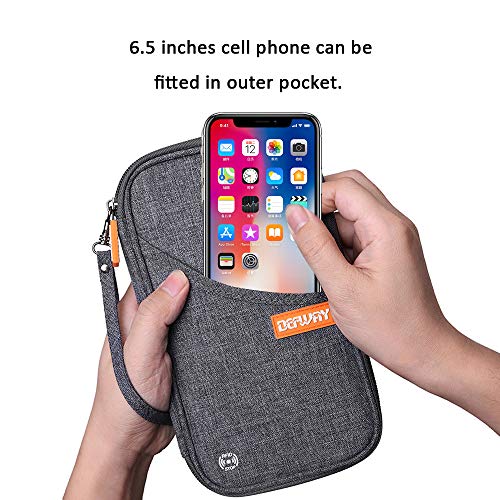 We love the outside pocket on this wallet which is large enough to hold a cell phone (check the dimensions of your phone).  It also has a removable strap which makes it easy to carry as a wristlet. A removable key chain inside is perfect if you need to carry keys on your trip. The design also includes compartments for credit cards and ID, cash, passport and pen.  Featuring RFID technology adds to the security of this wallet. 
Marsyella RFID Wallet for Women with Wrist Strap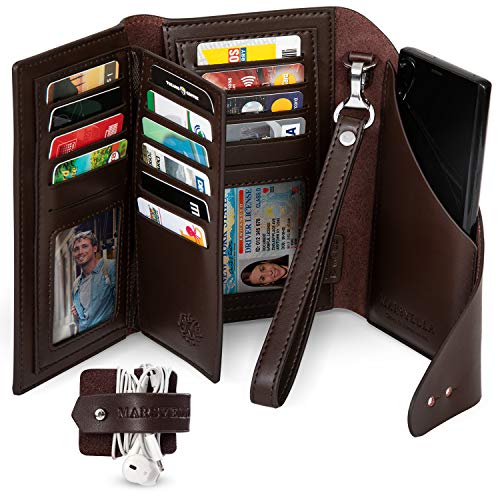 This leather tri-fold wallet has a variety of special features making it great for travel. It includes separate compartments and a large zipper pocket.  It also has a phone sleeve case that is detachable and fits most phones but is not large enough for max or plus phones. A removable wrist strap to make it easy to carry and it also includes a bonus cord organizer for your chargers.
It includes signal blocking to keep your passport and credit cards secure.
Winks Travel Shoulder Wallet Holder for Women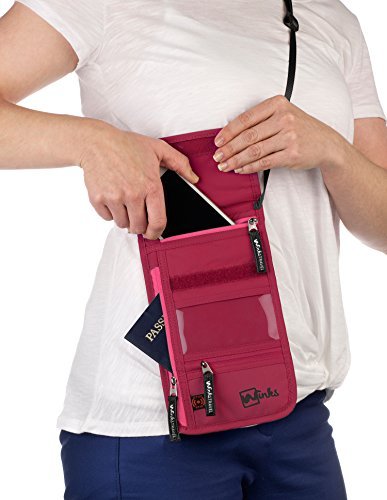 If you are concerned about the safety and want to keep items closer to your chest, consider a shoulder wallet that straps across your body.  This wallet from Winks comes with an adjustable strap that is comfortable on the skin. It includes 7 pockets so has plenty of room for all your essentials including room for multiple passports and a larger pocket for your cell phone.  Includes zippered pockets for change. Great functional design in an easy to carry a model that can be concealed under an outer layer if needed.
Venture Passport Holder Neck Pouch With RFID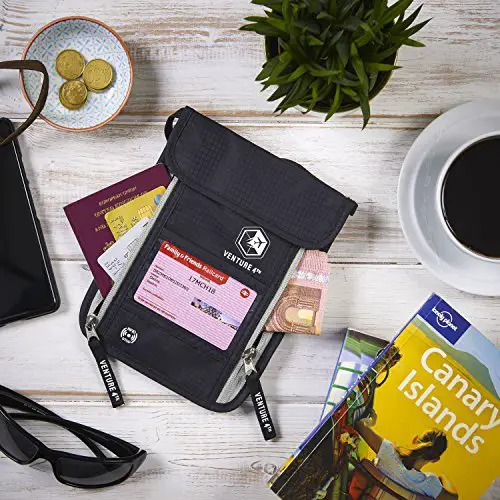 If you really want to hide your passport and other valuables, opt for a slim cut neck wallet that can hide under your clothes, even if you are dressed light for warmer weather.  This Venture Passport Holder and neck wallet comes with an adjustable neck strap that is soft on your skin and is made of lightweight and water-resistant material. It has enough compartments and zippered pockets to hold all your valuables securely and keep your passport concealed. A neck wallet can be perfect to keep all your items safe and hands-free.
Alpha Keeper Money Belt For Travel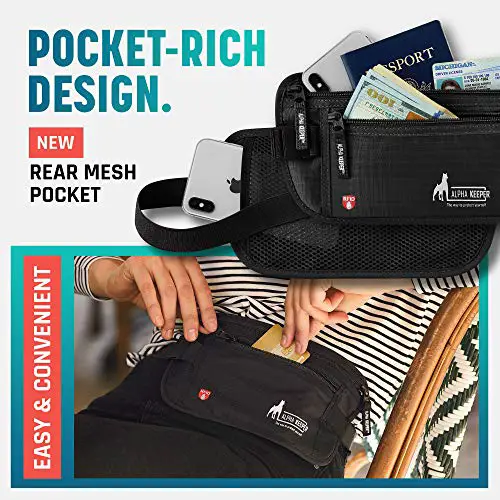 While a money belt might not be the coolest option, it's definitely as a safe one.  And many travel experts won't travel without one. Your money belt is for deep storage – items you won't need throughout the day.  Carry items you need access to in a zipped pocket in your pants or purse. This model by Alpha Keeper features a front snap making it easy to take on and off.  It adjusts for different waist sizes and also features a mesh back pocket to keep skin cool in hot weather.
Buyers Guide
Security – if security is a real concern on your trip, consider a neck wallet or money belt which tucks under your clothes for added protection.  You may also want to consider a wallet with anti-theft features such as RFID blocking technology. 
Size – of course, you'll need to ensure that your wallet will comfortably hold everything you need to transport and that it comfortably fits into your purse without sticking out or becoming cumbersome to carry.  If you're opting for a neck wallet or money belt, you'll want to ensure that it tucks under your clothes comfortably and isn't too obvious.  
Organization – there's nothing worse than fumbling around looking for a credit card or passport or the right currency and not being able to find it easily.  Look for a wallet with multiple pockets and compartments that safely hold all your valuables. Zippered pockets are key for holding loose change or other items that you want to secure.
Style – while you still want fashion, think about the wear and tear that your wallet will take.  Materials that are waterproof or water-resistant such as nylon protect your precious documents if your wallet gets soaked or spilled on.  Leather wallets generally last longer and have sturdy construction.
Pin For Later