In comparison to the buzzing tourist cities and the backpacker heavy East Coast, Tasmania is an unspoiled paradise of calm relaxation.
While Australia's smallest state is growing in popularity with both budget and luxury accommodation options to suit all travellers, a road trip around the island is still relaxed and not remotely overcrowded.
Here's a round up of five places you don't want to miss on your Tasmanian road trip…
Are you planning a trip to Tasmania and Australia? We recommend the [easyazon_link keywords="Lonely Planet Australia and Tasmania guide" locale="US" tag="tbelles-20″]Lonely Planet Australia and Tasmania guide[/easyazon_link] to help you get an itinerary together.
Wineglass Bay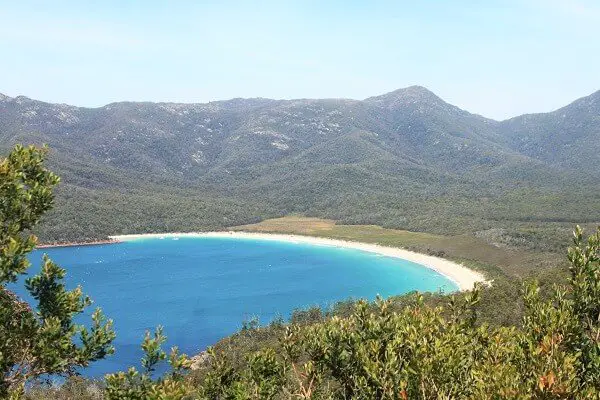 Search for images of Tasmania and Wineglass Bay will dominate your screen. An absolutely stunning arc of white sand surrounded by lush, green forests, Wineglass Bay is undoubtedly one of the most beautiful views in the state.
Get up close and personal with a glass bottom boat tour if you're feeling luxurious or head onto the beach itself! The walk to the lookout point is a 40 minute uphill walk (yep, it gets steep at times) so you'll want to be of a decent fitness level to get down the rocky forest pathway to the beach. It's well worth the walk though – just take plenty of water for the climb back up!
Hobart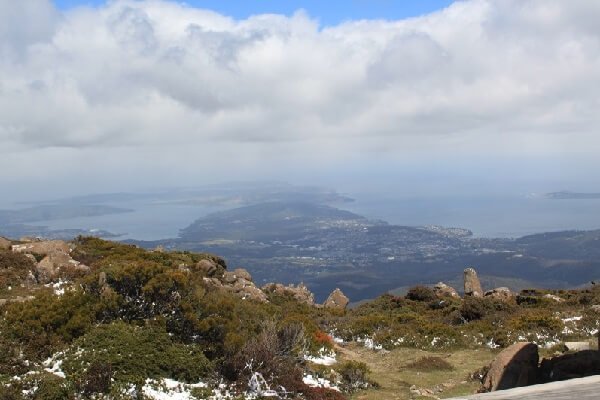 As capital cities in Australia go, Hobart is pretty chilled. While huge skyscrapers that dominate the skylines of Sydney, Melbourne, Brisbane and Perth, the Hobart waterfront has echos of the quaint, seaside towns of England. The foodie scene here is buzzing – if you're a seafood fan, this is one of the best places in Australia to be. In fact, everywhere you go throughout the island advertises fresh oysters and speciality restaurants are dotted frequently along the stunning coastline.
You can easily take in Hobart's best bits in a long weekend, including a day trip to the historic Port Arthur. As the best preserved convict site in Australia, you can expect a fascinating look back in time plus a free ferry ride and 30 minute walking tour with each ticket!
Other Hobart highlights include well-regarded art gallery MONA and Mt Wellington. Drive twenty minutes out of the city and you'll be rewarded with the most spectacular view of the city and surrounding countryside.
You may also like: Feasting and Inspiration at the Australian Good Food and Wine Show
Binalong Bay
For me, Binalong Bay was one of the biggest surprises of Tasmania. Stunning lakes and rolling hills – sure. But the pure white sand at Binalong Bay was completely unexpected and that made it all the more special. Surrounded by small towns, you won't find a hive of activity in the area but it's a gorgeous region to cut off from the world, kick back and relax.
Binalong Bay actaually sits at the end of the Bay of Fires conservation area; famous for its distinctive orange boulders hugging the coastline, it's a photographers dream. Find it two and a half hours from Launceston or fifteen minutes from St Helens town.
Freycinet National Park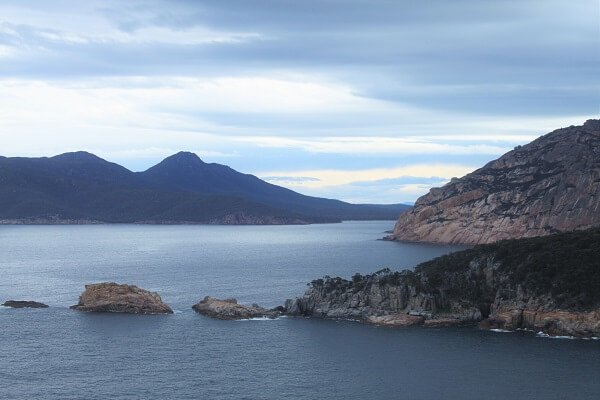 I already mentioned Wineglass Bay above and while it's definitely the most famous part of this sprawling national park, it definitely deserves a mention of its own. If you're the outdoors type, you could spend a good few days staying in the region exploring the different parts of the park.
There are a number of stunning walks, both long and short, around the park that promise stunning views and some wildlife to boot. You may even be lucky enough to spot a wallaby! You can tell them apart from kangaroos as they'll be smaller and a little fluffier than their heavily muscled relatives. If you're a lover of national parks, Tasmania has them in abundance so it may be worth investing in their unlimited pass to save yourself a few dollars!
You may also like: Best Beaches in Australia: Southern Queensland Edition
Cradle Mountain
Cradle Mountain and Lake St-Clair National Park is home to some of the most iconic images of Tasmania. Think New Zealand style splendour when the mountain reflects in the still lake surface! As well as shorter walks, the most famous trips are the two hour stroll around the lake or a full day of tackling the summit of Cradle Mountain itself. Enjoy a picnic here in summertime or wrap up warm to capture the snow-topped peaks in the colder months.
We've barely scratched the surface of the beautiful Australian state of Tasmania but if you are looking for a short and relaxing break, these are the highlights that you definitely shouldn't miss! Now, it's time to go exploring…
Pin For Later