When the winds pick up, the winter rain won't stop and your mood just won't lift in the Northern Hemisphere, you know it's time to arrange a brief sunny escape with your girls to pack up some of that vitamin D before the spring kicks in!
Check those flights and hotels on Twitter of e-Dreams, and pick one of the best February escapes for your girls' trip.
Shortest Flights: Miami
With temperatures of up to 27C and a legendary nightlife scene, Miami is one of the best places to head to for a holiday with your girlfriends during this gloomy and cold February.
Book an Art Deco walking tour down the South Beach, or a Little Havana Food and Walking Tour, to start off your holiday, before moving on to a Party Bike adventure and painting the downtown red. But before heading back home, rent a car and take that famous Ocean Drive along by the ocean to make the end of the trip just as pleasant as its beginning.
Best beaches: The Caribbean
February is a rather popular month to go to the Caribbean, but it will still be a bit quieter than Christmas time or even January. So pack your bikinis and let's go. For centuries, the islands have attracted people in need of total relaxation and doing nothing under the warm and calming sun.
Pick Dominican Republic or Jamaica for your trip to be pleasantly surprised by how affordable these islands are. Here your $1,000 budget would take you very far. In-between those tanning sessions, you'd be able to squeeze a short cruise that can take you between different islands, to make the holiday even more memorable. February is also the month of various festivals on the islands, so take advantage of that.
Adventure: South Africa
Over 10 million people visit this amazing country every year, and there is a good reason for that. It has pretty much every type of adventure you might ask for: from paragliding down the gorgeous cliffs, to beautiful drives down the Western Cape from Cape Town to Hermanus, to safaris, whale watching or diving with sharks – it is a country that truly has it all.
The seasons are flipped here, so February is a hot and friendly month in terms of weather, and it is also much less crowded than January. To truly enjoy your stay, book a walk with elephants in Knysna, a girls' golf session in one of Johannesburg or Cape Town's golf courses or just enjoy the laid back atmosphere, great cocktails and seafood in the centre of Cape Town. And don't forget wine tasting tours in Franschhoek.
Best food: Thailand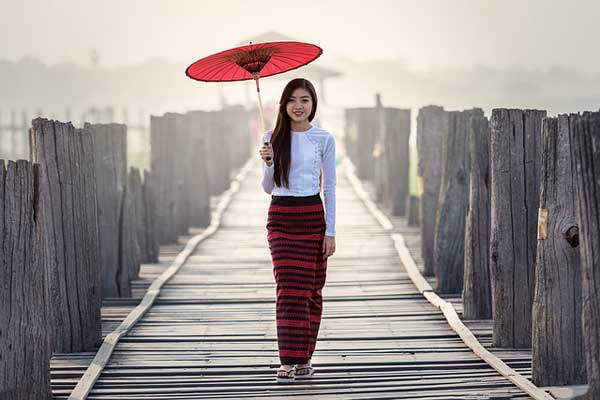 Before hopping on another flight to Krabi or Phuket, book yourselves a night or two in Bangkok. A city is so diverse, vibrant and unpredictable you can never know what's just around the corner. Don't miss out on one of the most exquisite palace complexes in the world that is the Grand Palace with architectural constructions simply out of this world.
When in Krabi, don't book just one place for the entire time, mix and match a few boutique and grand hotels on the sandy beaches. This way you will experience more of the delicious Thai cuisine and benefit from complementary rides to the various small islands (one per stay). Bring your snorkeling gear, as the best way to get your tan in Krabi is by floating on top of the crystal clear waters while enjoying breathtaking marine life of the colorful corals.
Budget: Canary Islands
If you are traveling from Europe and searching for a 4-day escape into summer, then Canary Islands are definitely a place to consider. Only a four-hour flight away from London, the weather here is amazing in February. You might need a light jacket for cooler nights, but other than that take as many summer dresses as you want – they will all come in handy.
The islands are friendly tourist destinations with food and nightlife catering to the younger crowd. It's a good idea to book a place near the hustle and bustle of the island of your choosing but make sure you get a swimming pool, as the water in the Atlantic is pretty brutal in February, and you'd want to cool down after that afternoon sun.
Take a look at the eDreams Odigeo Twitter account to check the travel offers.