Vilnius is one of Europe's best-kept secrets. The capital city is filled with stunning Baroque architecture, cobblestone streets, and cathedrals grand enough to leave a lasting impression.
Within the city, you will find plenty of trendy bars, an edgy neighborhood, as it's own independent republic and fascinating museums. It doesn't end here folks. Try the decadent kibinai, a traditional pastry sure to leave you coming back for more.
The overall trip to Vilnius will leave your wallet content as most of the accommodation, attractions, and dining are relatively inexpensive. In fact, you have found yourself in one of the least expensive old European capitals.
Visit a bohemian republic inside the capital
Claiming a neighborhood, as it's own republic in 1997, Užupis is a trendy and up in the coming area filled with trendy bars, restaurants, and shops. This is an interesting part of town that you cannot miss. It even has its own constitution promoting animal rights and peace.
While in Užupis, stop by Bernardine Cemetery. It is one of the oldest cemeteries in Vilnius started by monks in 1810. If cemeteries aren't your cup of tea, visit one of the art galleries and enjoy some delicious local food along the way.
Roam around Old Town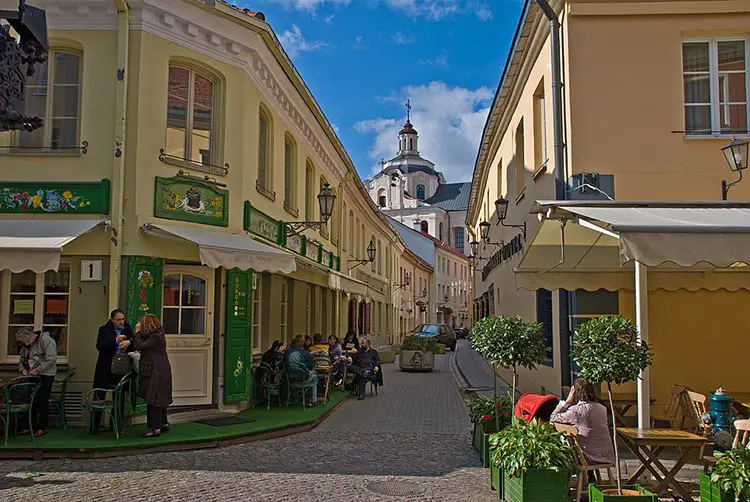 Vilnius wouldn't be as special without its beautiful buildings and quaint streets. The Old town is the perfect place to explore and enjoy the heritage of the old Lithuanian civilization. Within this area, you will find loads of churches, museums, architectural monuments, and living houses.
To get yourself to the city stress-free and have plenty of time to explore, consider taking a direct airport transfer. Airport Transfers Direct offers easy online booking so you can be on your way to an adventure in Old Town as soon as possible.
Take a guided tour around Old Town to learn about the various architectural styles such as Gothic, Renaissance, and baroque. If you are feeling adventurous, there are tours available of the Catacombs as well.
Walk through the Gate of Dawn
Most famous for its breath-taking painting of the Virgin Mary inside and its supposed powers to heal the sick, the Gate of Dawn is shrine visited from all over the world. It is the last standing gate, of the original five that once protected the city between 1503-1522.
Even if you aren't religious, it's an impressive gate to walk through that has been standing for over 600 years. The best time to visit is early in the morning to beat the crowds. There are many charming breakfast cafés that surround the area.
Experience Karaim culture
Most tourists aren't familiar with the Karaim people, as it is a small ethnic group descending from the Crimean family. The best place to experience their traditions is a town called Trakai. The Karaim have their own unique language, religion, and cuisine.
Trakai is the perfect addition when you don't have too much additional time on your trip. Stop at the Trakai Island Castle, straight out of a fairytale and indulge in Kibinai, a traditional pastry filled with meat, potatoes, or cabbage. This is an authentic Eastern European delicacy.
Take a selfie with the street art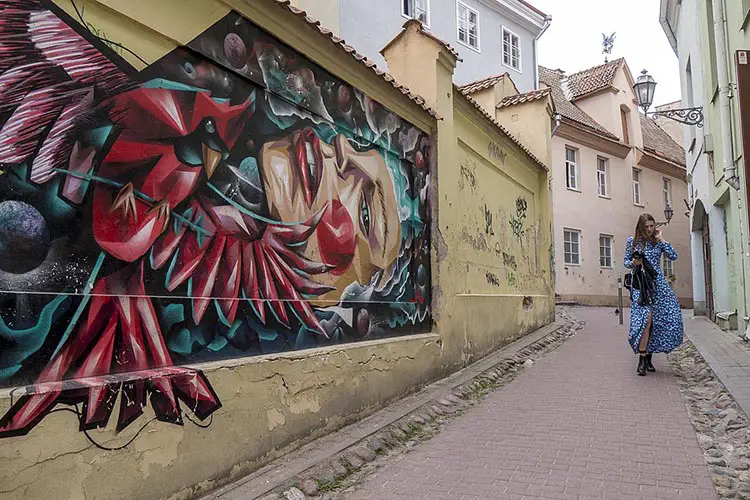 Vilnius is filled with numerous works of art done by the locals. The most famous one is a portrait of President Trump and Putin found on Pylimo Street in Užupis. A selfie in front of the street art is perfect for Instagram but also a blog. It's the perfect opportunity to share the interesting street art you've come across in Vilnius with family and friends.
Another area for incredible artwork is known as the Graffiti Pier. This pier is both legal and encouraged by the city. If you are looking for other famous street art in Vilnius, take a look at this map created by a local tourism board.
Learn about the history of genocide
A museum found in a former KGB building is now open to the public. Within the museum, you will learn about what it was like to live in the times of the KGB and Soviet and Nazi rule. The stories can be difficult to hear but sometimes it is what it takes to fully understand a new country and culture.
The Museum of Genocide Victims is open to the public from 10am-6pm daily and closed on Mondays and Tuesday. There are guided tours also available.
Pin For Later