As the days get shorter, and the evenings longer and colder, my mind turns to Christmas and the wintry travel that this time of year can afford.
Whilst cities like New York and Paris ooze charisma in the run up to the 25th, I think December is the time of year to make a beeline for Germany and its Christmas markets.
There are, of course, fantastic markets to be seen in this vast country's big cities like Berlin and Munich. However, below, are six towns or small cities that I would recommend going to for its market alone, though they all have their own charm and culture in spades.
Travelling to Germany soon? We recommend the [easyazon_link keywords="Lonely Planet Germany guide book" locale="US" tag="tbelles-20″]Lonely Planet Germany guide book[/easyazon_link]
You may also like: Cultures, Cafes and Crosswords In Berlin
Paderborn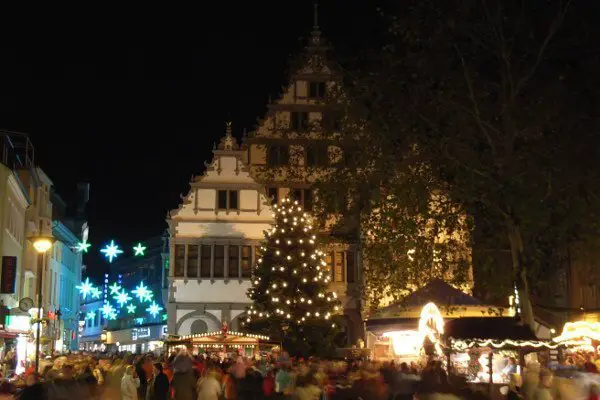 Paderborn is a small provincial city about two hours East of Cologne and Dusseldorf.
To get there, it is best to catch a flight to Dortmund or, if you are lucky, to its own airport though few airlines fly there.
The city is very pretty with the market having an imposing backdrop of the city's cavernous cathedral that dominates Paderborn's skyline. You would need no more than two nights here, but this market does everything a Christmas market should.
There are a plethora of stalls selling homemade wooden decorations as well as delicious food and, of course, plenty of gluhwein, in many different guises.
Dortmund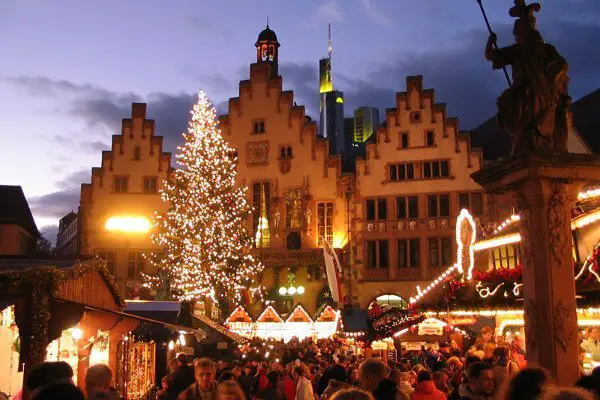 If you fly into Dortmund to go to Paderborn, it may be worthwhile twinning it with a trip into the city itself.
Dortmund's market claim to fame is having the world's tallest Christmas tree and, having seen it, I can attest that it is indeed very tall. (Whether it is the tallest remains to be seen.)
Either way, this market is vast and full of fun. It is set out over at least three of the city's squares with its own indoor bars bursting at the seams with visitors when the street stalls get that little bit too cold in the German winter.
Again, the warming, and ample, gluhwein on offer does a marvellous job of heating up any tourist in between mouthfuls of food at one of the many food stalls – my favourite being the deep fried cheese shop that put me firmly on the healthy eating naughty step one year.
You may also like: The Coziest Little Christmas Markets In Germany
Cologne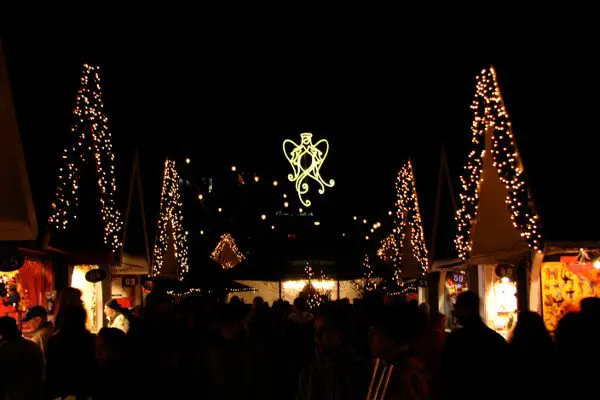 Cologne's Christmas market is just stunning.
It is one of the Germany's oldest and, as such, it lends a certain level of kudos to anyone that attends it. Its formula has been much copied elsewhere, but the city's backdrop, with its awe inspiring cathedral and river, make a trip to this market, in particular, a real treat.
There is simply no better place to sample German culture than Cologne – by trying a stein of beer, a foot long bratwurst with curry sauce (an institution in itself) all washed down liquor infused hot chocolate.
Hameln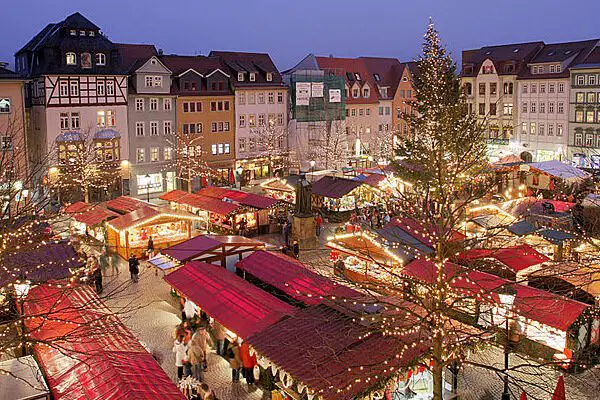 Further to the East than the previously mentioned cities, is the town of Hameln of Pied Piper fame.
Near Hannover for flights, Hameln is a quintessential German town full of timber beamed buildings, cafes dedicated solely to cake and pretty streets that are bedecked in green foliage at Christmas.
Its market takes place in these very streets and, whilst it is noticeably smaller than the likes of Cologne and Dortmund, it certainly makes up for this in its charm. I stayed at the nearby Schlossmunchen hotel, which is a gastronomic and luxurious treat for anyone and is worth a trip simply for its beautiful spa and grounds.
Couple it with a day in Hameln trying all the foodie treats your belly can muster, and you have yourself a perfect pre Christmas trip.
Hannover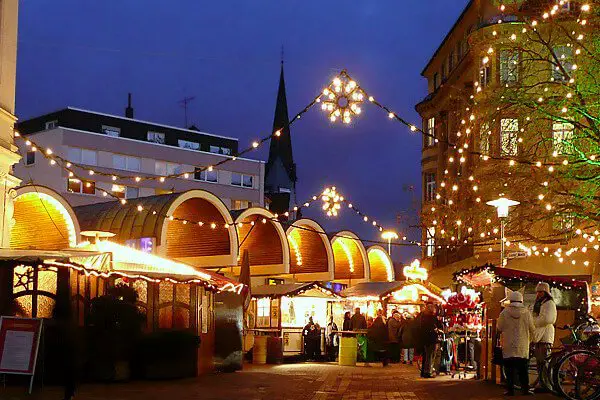 Hannover market is appealing to anyone wanting an easy Christmas market jaunt.
Its airport is well served by many airlines from many different countries, plus the market itself offers something a little different too.
It has a medieval section that sets the market apart from others in the region, whilst not disappointing on the stock items that every German market needs – like the aforementioned sausages and stein.
Hannover is also a great destination for a wide audience of people with its surplus supply of hotels to suit every budget. It has a well-connected train station too for anyone wanting to go further afield, like Hameln for instance.
However, driving on Germany's autobahn, by hiring a car at the airport, is perhaps an opportunity not to be missed.
You may also like: Discovering Christmas In Denmark
To finish, I thought I would share some tips for visiting Germany that I learned the hard way whilst living there for two years.
– A great deal of Germany runs on a cash only basis. Many shops and restaurants won't even accept Visa outside of the big cities like Hamburg or Munich. The only cards retailers and restaurateurs do accept would be for national German banks, so be warned and take Euros out before you even get to your departure airport.
– Germans are an abrupt people, which can easily, and very wrongly, be mistaken for rudeness. Customer service may seem brusque to near non-existent at times, but Germans are actually almost always helpful (hence their efficiency). You just have to ask.
– As an English speaker, I found that trying to speak just a little German to locals went a long way. More often than not, you will receive a reply in perfect English.I found that many German children speak better English than me, but the effort is much appreciated.
– German efficiency does not run to its railway service. In fact, its trains are quite slow and often do not run to time. Perhaps I'm bias, having spent a great deal of my time in the provincial outposts of North Rhine Westphalia, but if I could, I would always drive.
And finally…
– Brunch is a German ritual after visiting church on a Sunday. Most restaurants will offer quite the smorgasbord of breads, cold meats, eggs and waffles to keep you full until the next day. It simply cannot be missed.
Enjoy!
Pin For Later