Denver has come a long way since it's rough Wild West beginnings.  The mile-high city (named for its elevation at 5,280 feet) used to be dubbed a cow-town but is now burgeoning as a hip city. Neighborhoods have been revitalized with hot new hotels, restaurants, craft breweries, art galleries, and vibrant nightlife. 
As a gateway for the stunning rocky mountains, Denver is a perfect urban base camp for outdoor adventures. Boasting 300 days of sunshine a year and gorgeous mountain views, you'll find plenty of reasons to get outside, whether it's a rooftop bar, dining al fresco, catching a show at the iconic Red Rocks Amphitheatre or heading to the mountain resorts for outdoor recreation in any season.
Denver is made of a number of hip neighborhoods like RINO with a slogan of "where art is made" – is a former industrial area with historic warehouses that now house chic bars, restaurants,  art galleries, and street art.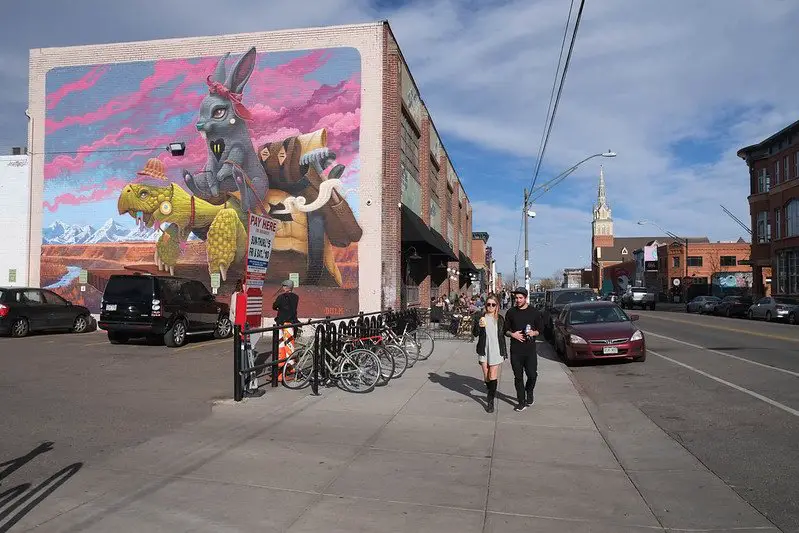 LODO (for lower downtown)s home to popular spots including Larimer Square, Denver's oldest historic block for shops and restaurants, The Museum of Contemporary Art,  
Union Station and Coors Field, home to the Colorado Rockies baseball.  For upscale shopping, head to CHERRY CREEK, a high-end shopping mall as well as Cherry Creek North, Denver's premier outdoor retail and dining destination with splurge-worthy boutiques, galleries, and restaurants – it's 16 square blocks are pedestrian-friendly and fun to explore.
The GOLDEN TRIANGLE  is the walkable creative epicenter of Denver, including the Denver Art Museum, Clyfford Still Museum, and the most impressive museums and galleries in the City.
Denver's hotel scene is booming too – with plenty of cool hotels to book, we rounded up our favorite digs.
Denver's Coolest Hotels – Unique Digs in the Mile-High City
The Ramble Hotel –  Old world elegance meets hipster cool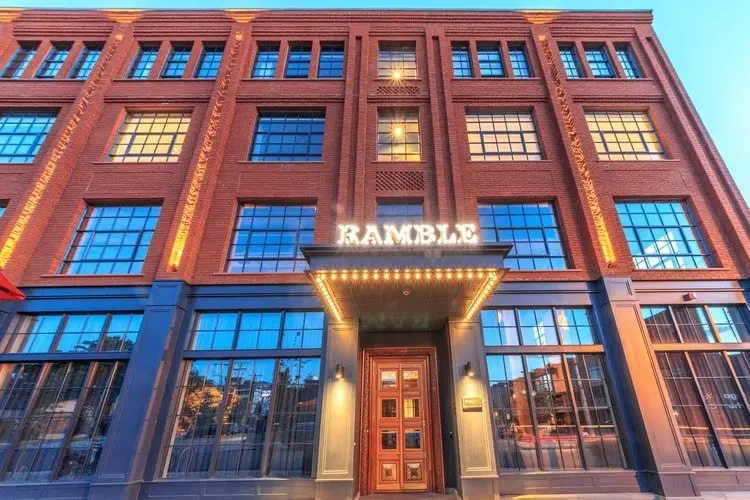 Located in Denver's trendy RINO (River North Art District), this hotel effortlessly mixes elegant inspiration from 17th-century French salons with a hip modern edge.
RINO's historic factory buildings are now home to trendy restaurants, craft breweries, and art galleries, making Ramble a happening base for your Denver stay.  The hotel is also home to Death & Co cocktail bar (the first location outside NYC for this famed hot spot) as well as Super Mega Bien, a dim sum restaurant with a Latin American flair by James Beard-nominated chef Dana Rodriguez.
The Source Hotel – rooftop pool with mountain views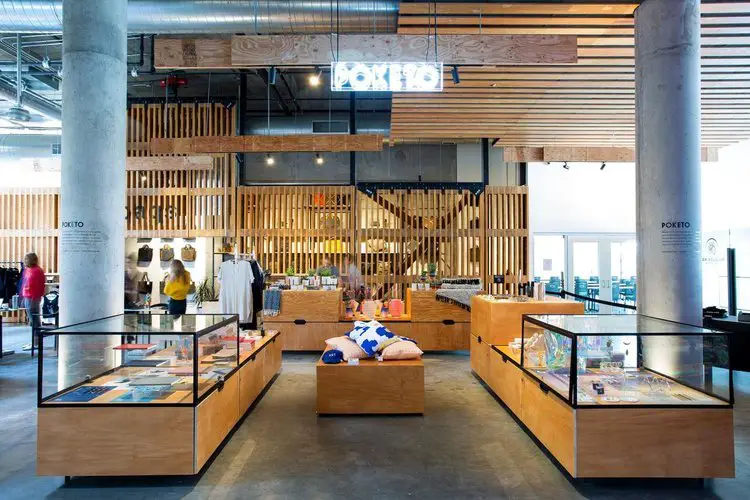 The Source is the newest hotel in ultra-hip RINO but not total newcomers to the hood. The two food markets located next door to the hotel (also called the Source) are housed in a converted 1880s iron foundry that is Denver's original market hall – a culinary complex totaling 45,000 square feet.
The hotel is design-forward but comfy featuring light-filled guest rooms with floor-to-ceiling windows and views.  Check out the rooftop pool with views of Denver's skyline and mountain views, featuring cold plunge and hot plunge pools.  And The Woods restaurant for freshly sourced ingredients paired with craft beer.
The Crawford – unique train station digs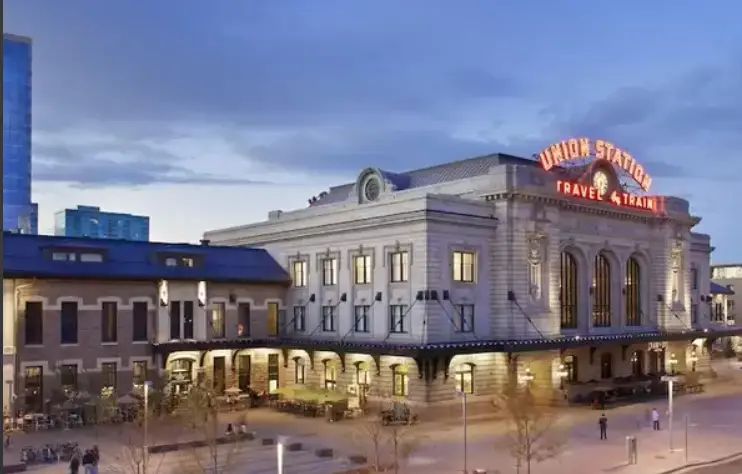 If you are arriving at Denver International Airport (DIA) and want to go carless, take the convenient light-rail from DIA to Union Station and stay at the luxe Crawford Hotel.
Union Station is more than just a train station – it's a landmark building that has become Denver's hottest scene for new bars and restaurants. The Crawford is a vintage cool hotel based in the iconic train station. Enjoy historical details in a modern setting with unique amenities, including courtesy transportation in a Tesla or by e-bikes,  free ice cream, and craft brew from Union Station. During your stay, enjoy a martini at Cooper Lounge – the upscale bar on the mezzanine of Union Station, reliving the glamourous age of train travel.
The Moxy – playful stay in upscale Cherry Creek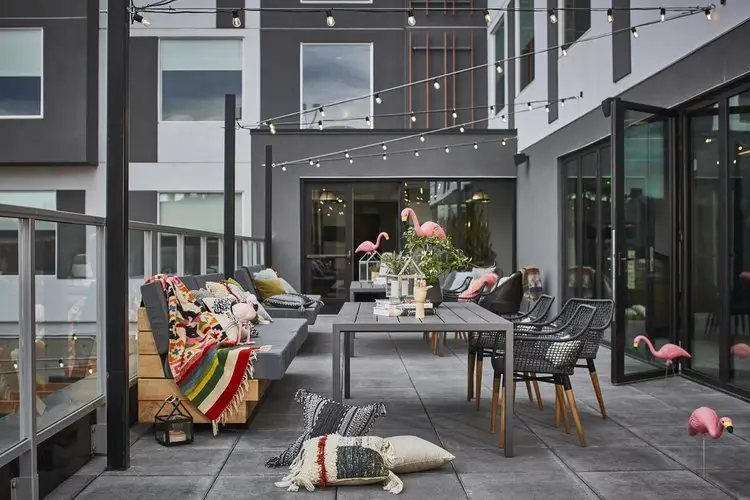 The Moxy provides a fun home-base in Denver's upscale shopping mecca, Cherry Creek. 
The amenities start at check-in with a free drink at the bar. Check out a complimentary bike to explore the neighborhood, which is chock full of splurge-worthy boutiques, restaurants and galleries.  The hotel features stylish rooms with eclectic art – some rooms boasting rocky mountain views. Play games in the living room or enjoy a craft brew or creative cocktail at the cozy fire pit outside.
Halcyon Hotel –
A modern urban oasis with a rooftop pool in Cherry Creek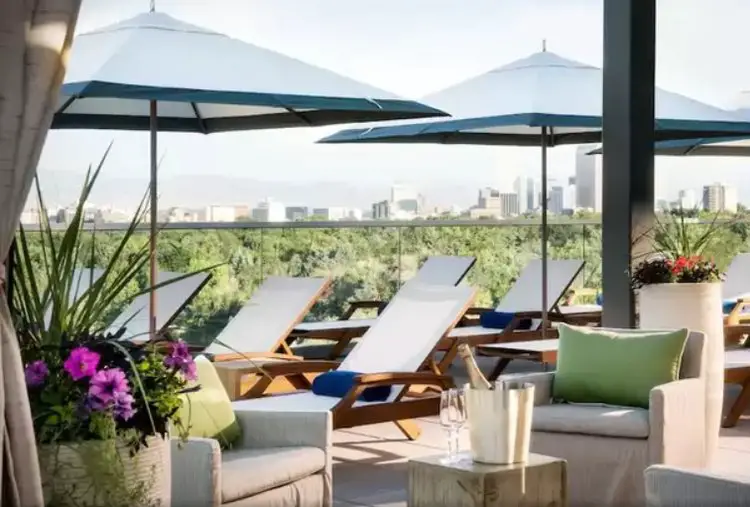 The Halcyon is your home away from home in buzzy cherry creek. 
The modern hotel boasts stylish, comfy rooms – some with large outdoor terraces, a cozy living room with fireplace – complete with board games and a kitchen counter instead of a traditional check-in desk – where a complimentary espresso or glass of wine awaits you upon arrival.  The rooftop pool deck comes with killer rocky mountain views, and their gear garage includes cool complimentary gear including Italian scooters to explore town or cruiser bikes, loaner cameras, or go-pros to capture your outdoor adventures and vinyl records to chill in your room.
Art Hotel – postmodern art hotel in the Golden Triangle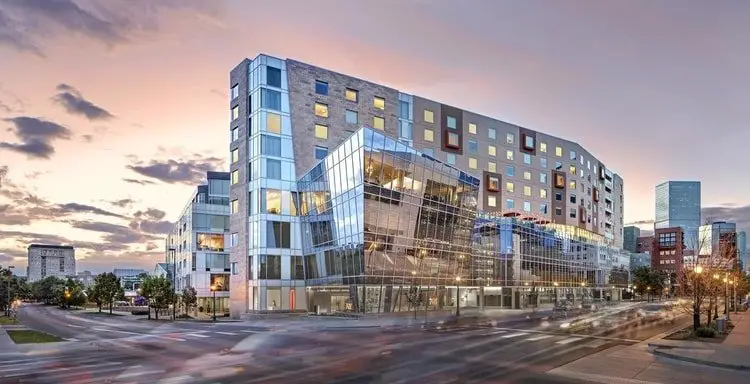 If you're an art lover, you'll want to base your stay at the contemporary Art hotel.  The hotel lives up to its name with a modern angled glass facade and postmodern art by acclaimed artists throughout the hotel.  Its central location puts you in the center of downtown Denver and the Golden Triangle to explore Denver's cultural scene.  The rooftop bar is a hot spot in warmer months.
Maven – gorgeous base in LODO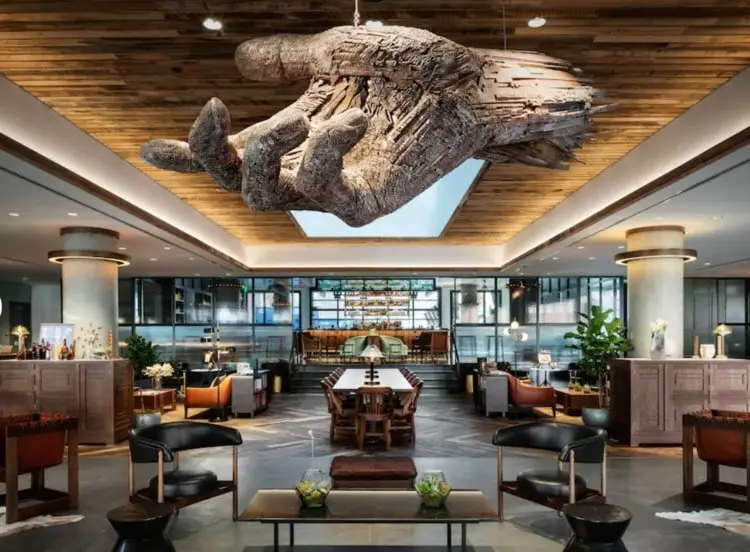 Read Reviews on Travelocity.com
The Maven is a stunning independent hotel located in Denver's new micro-district within LODO, The Dairy Block , and in the center of Denver's vibrant attractions.  The rooms are contemporary and loft-like and filled with art –  over 400 pieces of Colorado art fill the hotel.
On-site restaurants include Kachina Cantina for Southwest Cuisine and margaritas  or head next door to the Denver Milk Market – a food hall with 16 different options to satisfy any food craving 
Nativ –  Downtown party hotel for adults only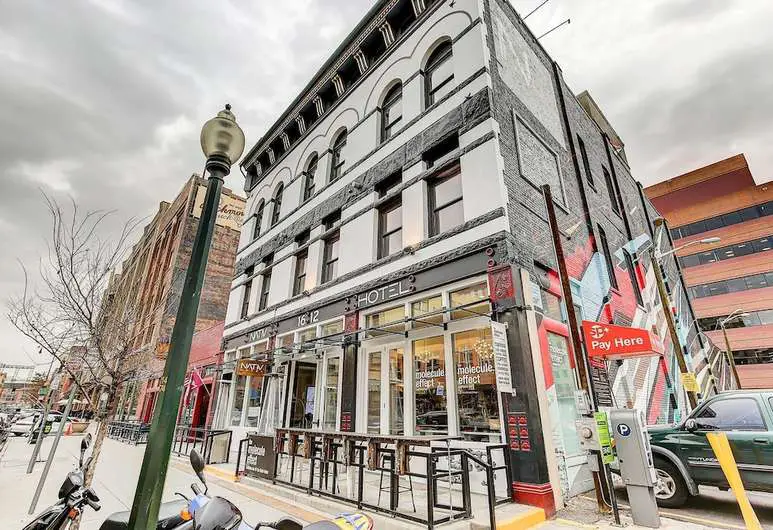 Nativ is a new modern hotel in downtown Denver with a party vibe – known as the most marijuana-friendly hotel and designed with smokers in mind, with half the rooms featuring private balconies. (State law still prohibits smoking in any room). Located in the heart of downtown, this hotel has only 14 guest rooms, all with modern comforts, high-end furnishings, and eclectic art. 
The hotel also features three full bars and a nightclub, and the coffee shop in the hotel lobby sells beverages infused with CBD, for a chill alternative to caffeine.
Kimpton Born – Mountain Modern Downtown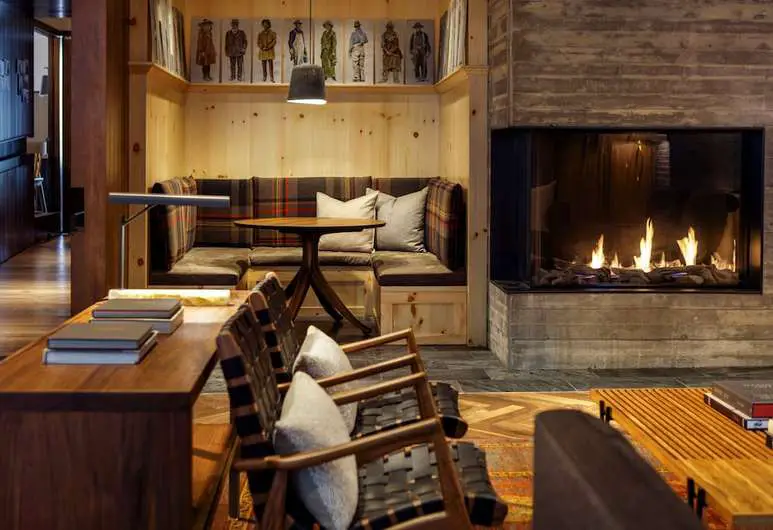 The Born is Kimpton's newest property in Denver, located in the heart of the action near Union Station.  Featuring a modern alpine aesthetic with a cozy mix of hip and rustic elements. As you would expect from Kimpton,  there are plenty of amenities, including complimentary wine hour daily, free bicycles and yoga mats in the room.
A daily amenity fee covers Tesla transportation around downtown, access to the nearby Colorado Athletic club and the Denver Museum of Contemporary Art. Speaking of art, 32 of Denver's top artists are on display throughout the hotel adding to the cool factor of this property. 
Inside the hotel, you'll find Citizen Rail– one of Denver's hot dining spots with rustic wood-fired fare, a dry age room and a heated patio.  Adjacent to the hotel, you'll find Union Station's newest Italian restaurant, Tavernetta considered one of Denver's best restaurants.
Kimpton Monaco – Denver Classic with spa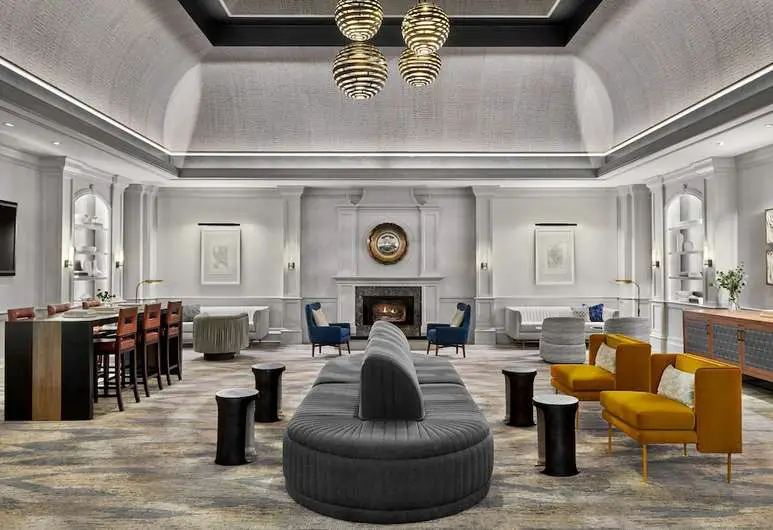 The Monaco is a much loved Denver classic with a chic remodel. It's playful yet sophisticated decor mixes Denver's western history with urban cool featuring rugged leather pieces, bold metallics and modern local art that is the epitome of the Denver aesthetic. You'll find spacious rooms and all the creature comforts that come with a Kimpton property, including luxurious linens, gourmet mini-bar and an in-room yoga mat.
If you need some extra pampering, there's Veda – an onsite Aveda salon and spa. The hotel is also home to Panzano – an award-winning northern Italian restaurant.
Hotel Teatro – Historic digs in the City's cultural center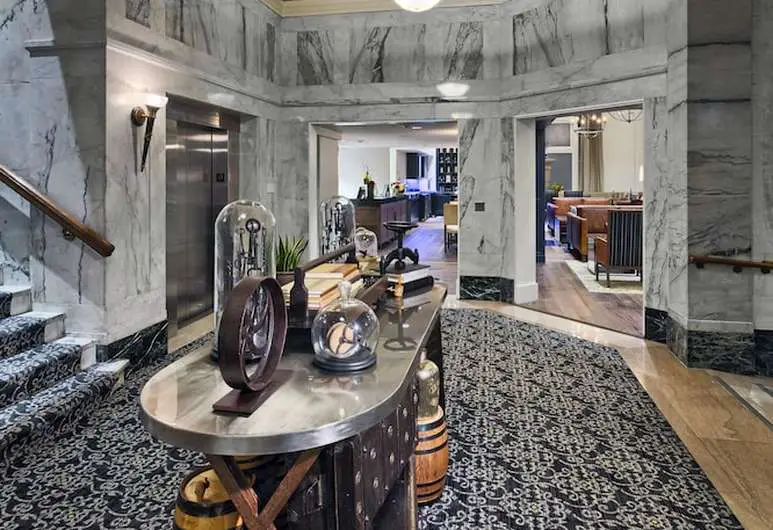 This hotel is set in a landmark building in the heart of lower downtown, LODO.
This is one of Denver's original boutique hotels, but it's updated and modern – the lobby features a luxurious but comfy vibe.  The hotel features spacious well-styled rooms with high ceilings and oversized windows, giving it a light and airy feel. As the name implies, its located right next to the Denver Center for Performing Arts and walkable to many restaurants and bars. 
The hotel also boasts a farm to table restaurant, The Nickel, where you can start by building your own charcuterie plate from local meats and cheeses paired with a craft brew or classic cocktails.  The Study is a cozy room featuring fireplace, bookshelves and comfy leather chairs where guests can enjoy coffee and pastries in the morning or evening cocktails, beer and charcuterie in this inviting space.
Hotel Indigo – Buzzy Union Station with Whiskey Bar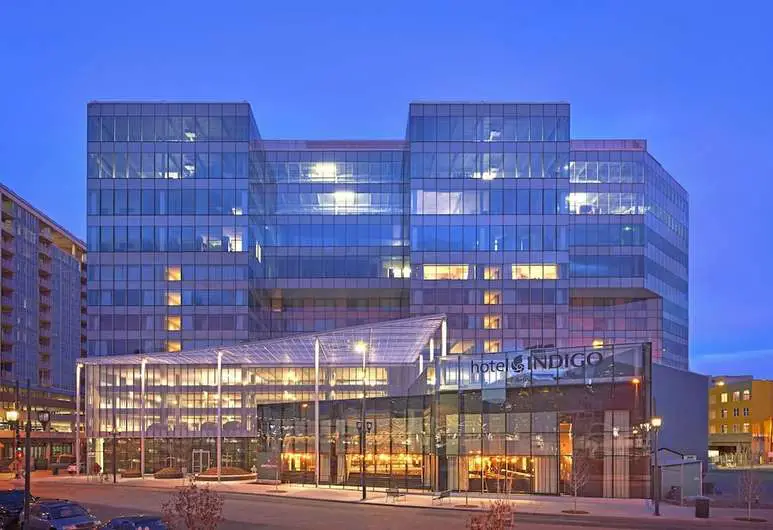 Located near buzzy Union station with many shops, bars and restaurants in easy walking distance. The hotel has stylish modern rooms – some with city views. Amenities include a 24-7 fitness center.  The onsite restaurant, Hearth & Dram, is a modern saloon with wood-fired American fare and the largest selection of whiskey. If you're not a whiskey drinker, there's plenty of local beer on tap, wine and crafted cocktails.
Brown Palace Hotel & Spa -Rich history in Denver's iconic hotel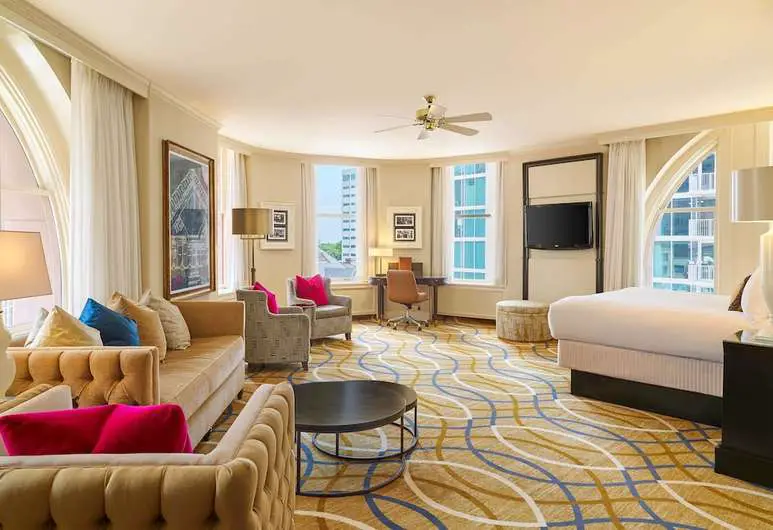 One of Denver's most iconic and beloved spots since it's opening in 1892 when people flooded to Denver to seek fortunes in gold and silver.  Throughout the years, the hotel has hosted celebrities, royalty, rock stars and every U.S. president (except Calvin Coolidge) since Theodore Roosevelt visited in 1905. History buffs will enjoy the historical tours available at the hotel or reserve one of their custom tours, including Enduring Spirits (yes, we're talking ghosts),  Affairs of the Heart, Presidential Visits, or Ladies of the Brown.
The decor is mostly old fashioned charm, but rooms feature modern comforts, including free wifi, coffee makers, and flat-screen TVs.The hotel is home to 6 restaurants and is best known for its afternoon high tea and decadent champagne brunch.  It also has a full-service spa with pampering treatments including therapeutic soaks with water drawn from an artesian well, 750 feet below the hotel
The Curtis – Pop culture-themed hotel in downtown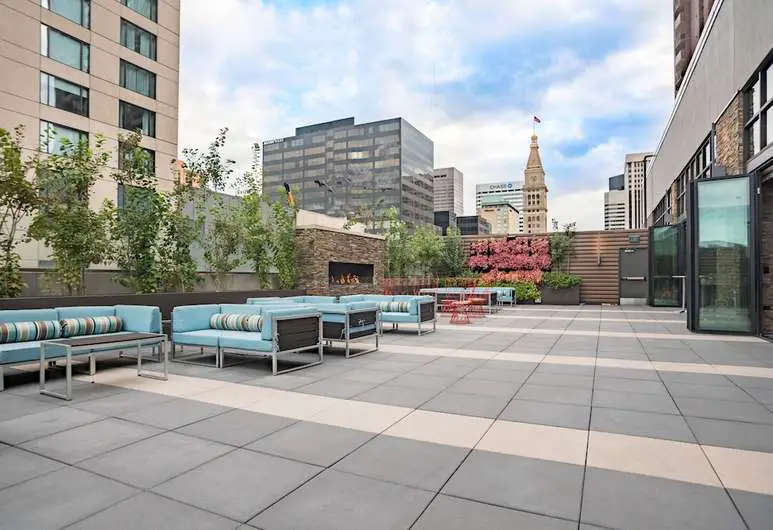 The Curtis is a fun, playful property with a retro-chic lobby and pop art rooms that are full of imagination.  13 of the floors have themes from pop culture and hyper themed suites including Ghostbusters, Barbie and Star Trek.   Located in downtown Denver – just two blocks from the 16th street mall and across from the Denver Performing Arts Complex.  Enjoy a martini at the hotel's retro bar, The corner office and martini bar on-site Starbucks and fitness center.
The Oxford – Denver's Grande Dame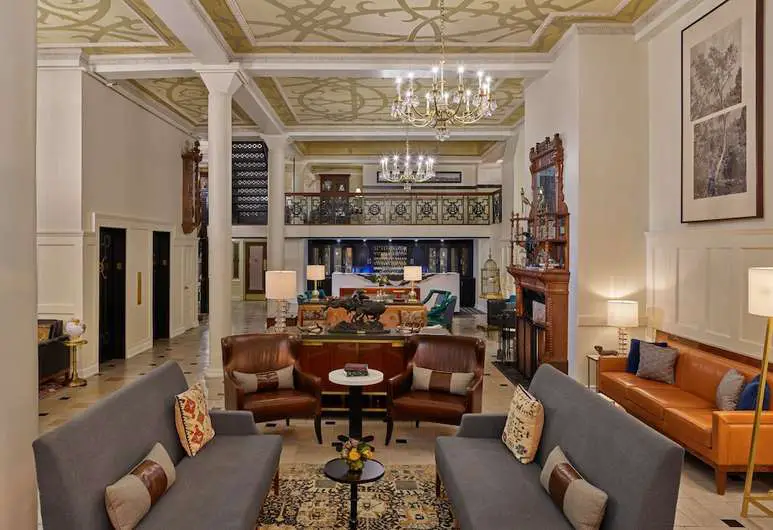 Denver's oldest hotel opened in 1891 and tells the story of Denver's history through the ages.  The decor is a modern representation of the city's rich history with grand fireplaces, leather sofas and comfy chairs.  No two guest rooms are alike, each furnished with unique art and antiques and design is always evolving. The hotel bar, The Cruise room, is the oldest running bar in Denver – founded after the end of Prohibition in 1933  – you'll enjoy classic cocktails in this chic historic gem. The Urban Farmer is a premier steakhouse located inside the hotel. The Oxford also features a full-service spa and salon.
Pin for Later