Baguio City is 206km away, taking approximately four to six hours to travel from Manila. Famously known as the Summer Capital of the Philippines, Baguio City is situated in the province of Benguet with an elevation of 1,400 meters. This high elevation that comes with being located atop the mountainous region of Benguet gives Baguio City an average temperature of 20 degrees Celsius, with the lowest hitting the single digits. 
As a popular tourist destination, Baguio City provides visitors with many unique experiences other than its cool temperatures. Also known as the City of Pines, Baguio is home to a beautiful tropical pine forest. The city also holds its tradition close to heart, with many old buildings and houses still dotting its streets. 
Suppose you are planning on visiting Baguio City. In that case, we highly recommend you check out and check in into these stunning and unique boutique hotels to enjoy everything that Baguio City has to offer fully. 
High Point Boutique Inn and Restaurant – Comfort and Convenience at the Heart of Baguio City
Focusing on a rustic and comfy environment, the High Point Boutique Inn and Restaurant is a place that exudes tranquility and is relatively close to some of Baguio City's well-known landmarks such as the Bell Church, Baguio Botanical Garden, Laperal White House, Tam-Awan Village, The Mansion, and the Pink Sisters' Convent and Chapel. Furthermore, if you want to experience the best pub in Baguio City, the Baguio Craft Brewery, you can as it is also located within a short distance of the inn. 
The High Point Boutique Inn and Restaurant offers a unique mix of convenience and comfort, a perfect place to rest after touring around Baguio City. Additionally, it is surprisingly affordable despite the grand interior vibe and an excellent list of amenities. The entire area has free Wi-Fi for guests, and there is an on-site restaurant that offers a pretty good menu selection. 
What makes this particular boutique hotel special is its strategic location, which makes all the must-see tourist landmarks accessible. 
The Podium Boutique Hotel – A Touch of Luxury at a Budget-Friendly Price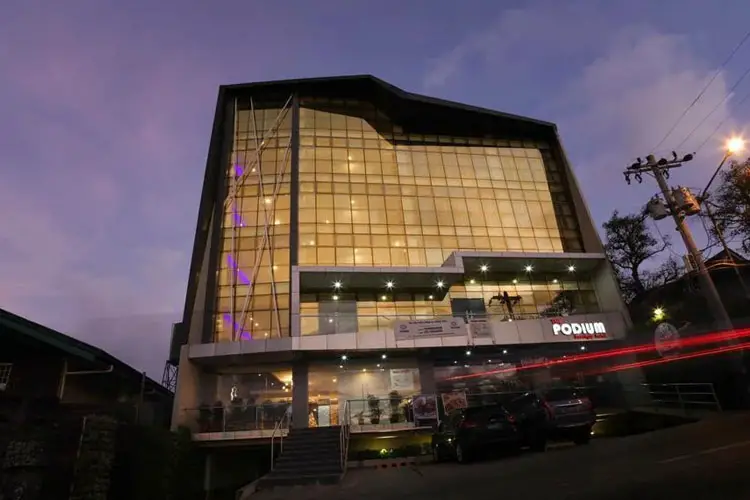 Another fantastic boutique inn with a little more dash of luxury, The Podium Boutique Hotel, comes with amenities such as free Wi-Fi, complimentary breakfast, and an on-site restaurant. What separates this boutique hotel from the rest is the jaw-dropping view of the city from its restaurant balcony, especially at night. 
The Podium Boutique Hotel is also within walking distance from The Tasting Room at Baguio Craft Brewery and the lovely green museum, the Maryknoll Ecological Sanctuary. As for what to expect regarding the amenities, all guest rooms will have their flat-screen TV and access to a coffee shop, bar, and the restaurant, as mentioned earlier, located on the second floor. 
3BU Hostel – A Minimalist and Modern Boutique Hotel 
The first capsule hotel or pod hotel in Baguio City, the 3BU Hostel, focuses on delivering comfort, efficiency, and cost-effectiveness in spades. You might have already heard about these modern inns that originated in Japan. Well, if you are in for a unique lodging experience and on a tight budget, these types of accommodation are a godsend. 
Located near Mines View Park, the 3BU Hostel offers air-conditioned rooms and a shared lounge that feature a minimalist and chill environment. In addition, the 3BU Hostel is nearby some key Baguio points of interest, such as SM City Mall Baguio, Session Road, and Burnham Park.
Guests will have access to a luggage storage space and free Wi-Fi within the property. This type of accommodation is also perfect for adventurous couples. Checking in at a capsule hotel is worthwhile in itself as it pretty much encapsulates, no pun intended, the modern lodging experience and, quite possibly, the future. 
Microtel by Wyndham Baguio – A Beautiful Rustic Mountain View Lodge
Conveniently located beside the Victory Liner Passenger Bus Station, the Microtel by Wyndham offers fantastic accessibility to everything that Baguio City has to offer. The Microtel by Wyndham is within walking distance from SM City Mall Baguio, along with the handful of restaurants surrounding the commercial district. 
Featuring 60 rooms, all air-conditioned with flat-screen televisions and window benches, Microtel provides guests with comfortable breathing space after a day's worth of adventure. The colonial design of the lodge certainly adds to the atmosphere and charm of the place. Additionally, there is a lovely tapas restaurant for those who want to spend some time relaxing with friends and kicking back a cold glass of beer. 
A complimentary buffet breakfast is served in the morning, plus free coffee in the lobby 24/7. However, the biggest draw of Microtel by Wyndham is how it makes touring Baguio City incredibly easy and accessible seeing that it is right beside the PUV (Public Utility Vehicle) station. 
City Center Hotel – Strategically Located within Baguio City's Best Spots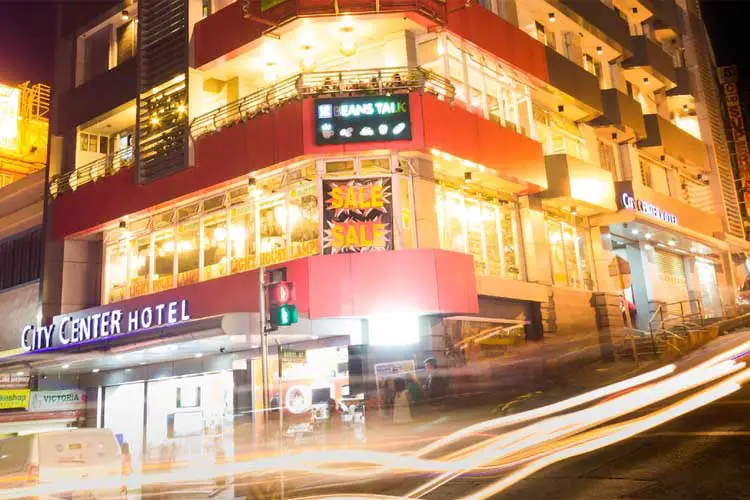 Practical, economical, and smack-dabbed in the heart of Baguio City's commercial and business district, the City Center Hotel is a family-friendly option for tourists who wish to maximize their stay in the Summer Capital of the Philippines. 
What makes the City Center Hotel special is its slew of functional amenities, such as its restaurant located on the ground floor. Additionally, I highly recommend checking out the Fortune Hong Kong Seafood Restaurant, just 8 minutes away from City Center Hotel, for some delicious crab dishes.
Other popular locations that are within walking distance from City Center Hotel include Burnham Park. At the same time, places such as Tam-Awan Village and the Diplomat Hotel are a couple of minutes away via vehicle.  
Whitehouse of The Lord of Scents – Exquisite Hotel with a Serene Environment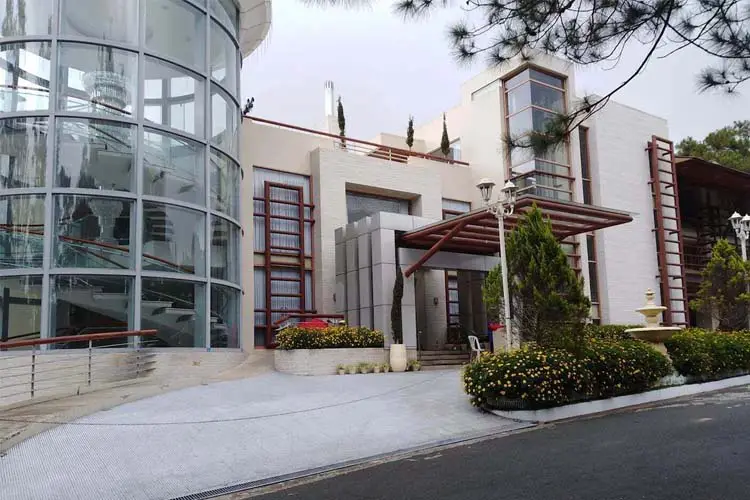 What better way to enjoy the perks of Baguio City than staying in one of its finest lodgings? The unique charm of the Whitehouse of The Lord of Scents, aside from its attention-grabbing name, is its outstanding rooms that incorporate a blend of tradition and modern aesthetics. 
The hotel is located near popular destination spots in Baguio City, such as Burnham Park and Teachers Camp. Additionally, an indoor pool is the "icing on the cake" for the R & R factor that vacationists will be looking for in the lodge. 
The rooms are spacious and incorporate a touch of elegant décor with dashes of contemporary design here and there. Overall, if you are looking to maximize both your tour of the city and the level of relaxation you can achieve in between, the Whitehouse of the Lord of Scents is a fantastic choice. 
Metro Pines Inn – Modern, Functional, and Comfortable with a Nice View of the City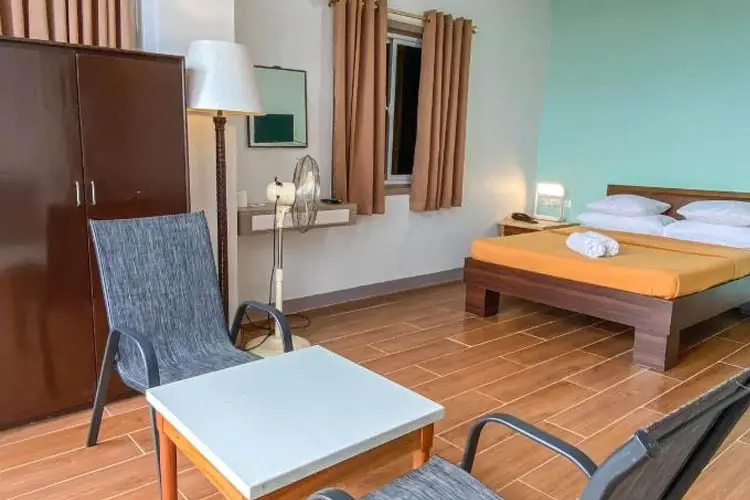 Located near the boardwalk of Baguio City and within throwing distance of Burnham Park, Metro Pines Inn featured a more contemporary design aimed at practical adventurers. The place is also nearby the Baguio Cathedral and Bell Church, the Baguio Botanical Garden, and the Strawberry Farm. 
The rooms in Metro Pines Inn are unexpectedly larger than their promotional images would suggest, which is a welcome surprise. You can ask the front desk for tour assistance if you don't know where to start, and there is a lovely relaxing garden on the premises if you wish to unwind.  
Kamiseta Hotel – An Extravagant and Eccentrically Charming Hotel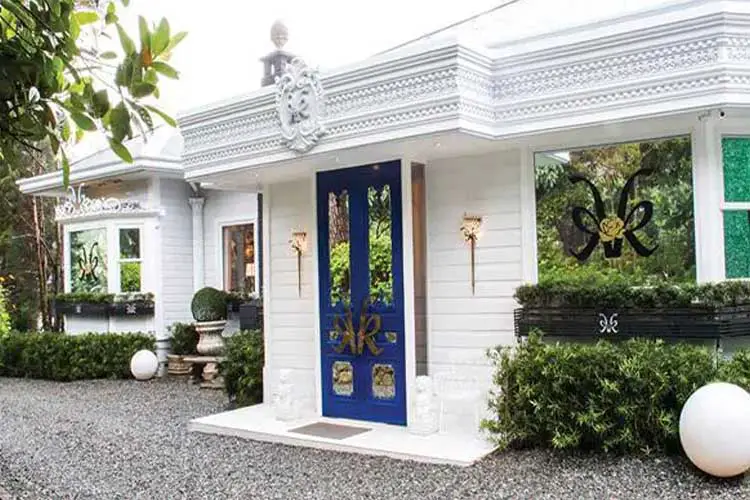 This is quite possibly the most "Instagrammable" hotel in Baguio City. The Kamiseta Hotel blends the sophistication of a French interior design with a pinch of quirkiness. This eccentric charm is most prominent in the Vanilla Café, satisfying those with a sweet tooth with its handful of desserts and sweets. The Vanilla Café also provides American and Mediterranean cuisine and classic Filipino food. 
The rooms are pretty vibrant to the eyes with their floral wallpapers, and elegant curtains give Kamiseta Hotel its unique character and appeal. The rooms are also complete with everything you'll need with flat-screen TVs, luxurious beds, and comfortable pillows and blankets. It is literally like living in a kaleidoscope with how much eye candy this hotel has to offer. 
The Forest Lodge at Camp John Hay – A Mountain Lodge that Captures the Unique Charm of Baguio City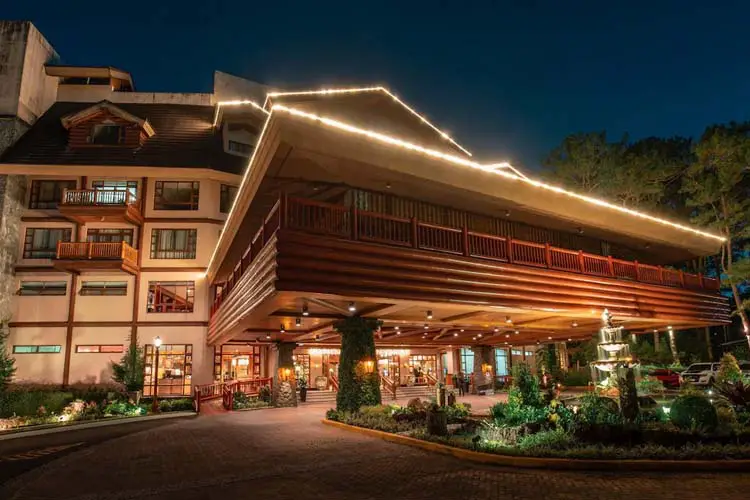 For those looking to get the best possible Baguio City experience, there is no better way to achieve that goal than by staying in at Camp John Hay's The Forest Lodge. Despite being a bit further away from the heart of Baguio City, where all the fun is, taxis are fortunately quite accessible in and out of The Forest Lodge. You can ask the lodge's front desk that you will need a ride, and they will contact a taxi for you. You also won't need to worry about the taxi drivers ripping you off as Baguio City taxis have a good reputation.
Fortunately, there are several restaurants and convenience stores around The Forest Lodge, which means you won't need to go out of the camp to buy necessities. As for amenities, The Forest Lodge offers several activities such as paintball, zip lines, rappelling, and wall climbing. There is also a hiking trail for those who wish to go on a refreshing walk amidst the lodge's lush forest. I also highly recommend you check out the butterfly sanctuary as well. 
Le Monet Hotel in Camp John Hay – The Epitome of the Baguio City Experience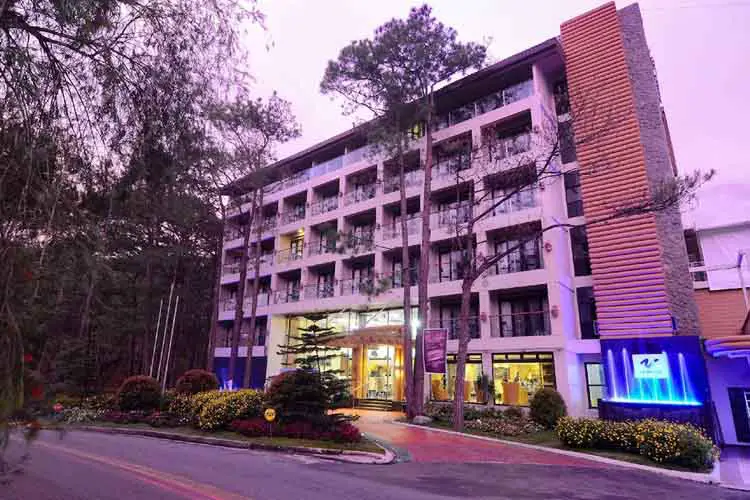 With a total of 70 rooms and luxurious amenities, few can compare to Le Monet Hotel in Baguio to offer its guests the good life. The six-story building even has one of the best sceneries in the area with its panoramic view of Baguio City. 
Since Le Monet Hotel is also located within Camp John Hay, you will have the same access to the many activities available with The Forest Lodge. The rooms are stunning, with a breathtaking view of the lush pine tree forest. Wake up early to see the blanket of fog roll through the forest; it is definitely a sight to behold. 
The breakfast buffet is one of the highlights of Le Monet Hotel, with dozens of pastries and dishes to choose from to prepare you for the day. There is also a heated indoor pool that will help you relax after a day of activities within the camp.