Phnom Penh is often a place, weary travelers will stop for a night or two, just to lay their backpacks down. But, as soon as possible a new ticket will be booked to the more popular beaches or Siam Reap for the impressive architecture. The thing is, Phnom Penh is a fast developing city and over the last few years, a lot of money has been spent building beautiful hotels and improving entertainment areas.
As the hotel scene has developed, so has the restaurant scene. Phnom Penh had decades of French Colonial rule and you'll find many top-class French restaurants, brasseries, and cafes serving fresh baguettes. You'll also find a plethora of local and European restaurants dishing out Khmer food, local Kampot pepper crab, and even a tarantula or two if you're brave enough!
Phnom Penh has no shortage of entertainment either. There is something to suit all budgets and tastes. Drink 50c glasses of beer in any local restaurant, or head to an upmarket hotel for champagne and cocktails if that takes your fancy. Some popular Phnom Penh neighborhoods to note are; BKK1, Toul Tom Pong, Daun Pen, and the Riverside.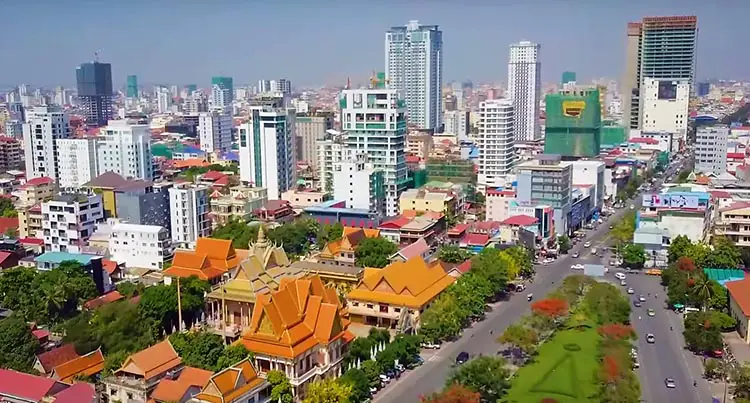 BKK1 is popular with expats and NGOs. Because of this, it is one of the most gentrified areas of the city and one of the more expensive to stay. Great to book a hotel in, if you want the comforts of the west and a plentiful supply of specialty coffee shops, yoga/beauty studios, excellent restaurants including vegetarian/vegan, and a ton of nightlife nearby.
Toul Tom Pong encompasses the Russian Market and the Toul Sleng Genocide Museum. It has an awesome mix of local and international restaurants plus street food to try out. The area has more of a relaxed, charming local vibe than BKK1 with many quaint streets to explore.
The riverside is a continual buzz of activity filled with many restaurants, hotels, street sellers, and views of the Mekong. Stay here to be amongst the action and to be within easy walking distance of local markets, the Royal Palace, Wat Phnom temple, a massive range of food choices, streets full of nightlife and multiple craft shops.
Phnom Penh's Coolest Boutique Hotels
iRo Ha Garden Hotel and Resort – Modern Lodgings with a Tropical Twist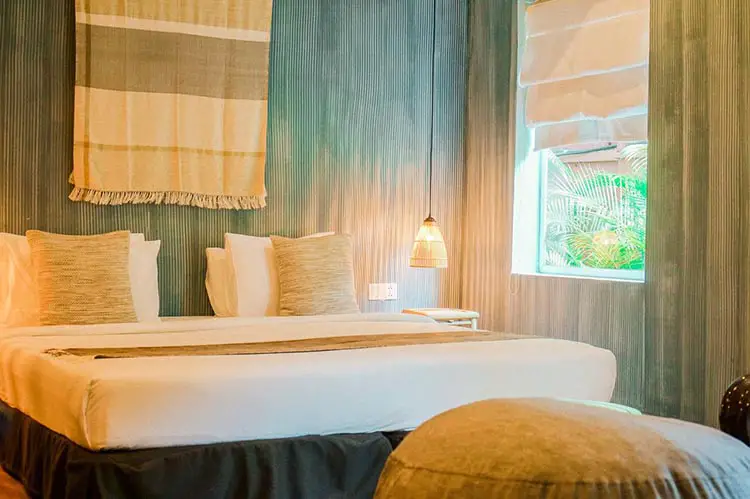 Situated in the Tonle Bassac area which is an easy reach of the Royal Palace, the Sovannah Phum Art Association & Art Gallery, and the Russian market, the iRo Ha Garden Hotel is a beautifully modern residence. Each room is decorated with rustic beige and cream walls, chunky wooden furniture and wall hang. Enjoy lush plants in the tropical gardens and a dip in the pool to cool down. Chow down on Asian and western dishes in the onsite restaurant which is set in a restored 1930s mansion.
The Pavillion – Relax and Indulge in a Private Jacuzzi Bungalow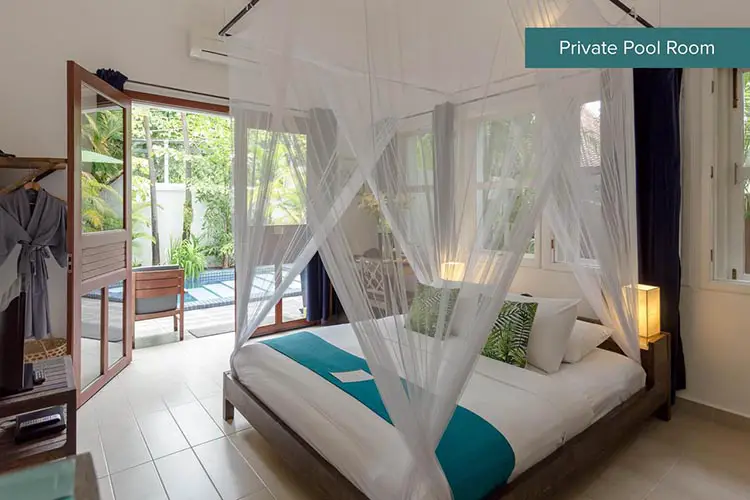 At the Pavillion, you can enjoy a little pampering, in the heart of buzzing Phnom Penh. Select from basic double rooms right up to impressive private pool rooms and private Jacuzzi bungalow rooms. Every room is decorated with fresh modern décor, cool tiled floors, iPod docks, and a fluffy bathrobe. Lounge by the pool and enjoy an in-house spa treatment. Explore the local area with complimentary use of the hotel's bicycles.
White Mansion Legend – Spacious Living in a Former American Embassy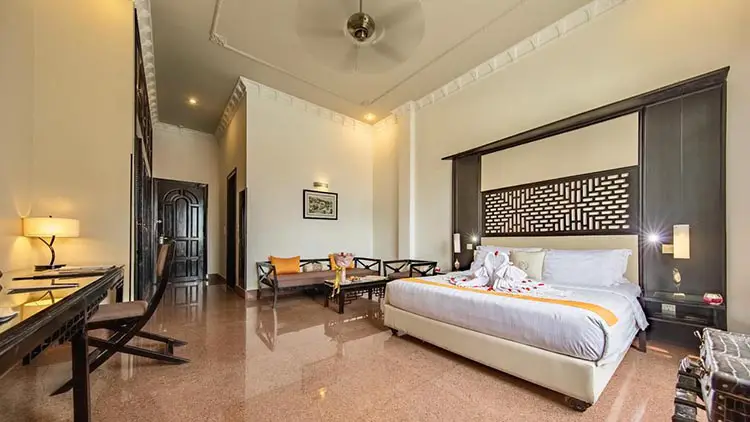 Situated in the heart of Phnom Penh's city centre, the White Mansion Legend is an impressive place to stay with its spacious rooms, winding staircases, and column clad walls. You are within easy reach of the Independence Monument, the National Museum, and the Royal Palace. Most rooms feature high ceilings, Italian marble bathrooms, and a flat-screen TV. Enjoy elegant, modern surroundings while sampling the tasty fresh-baked pastries and fine dining in the Eric Kayser on-site restaurant.
The Plantation Urban Resort and Spa – Colourful Interiors and Fresh Fittings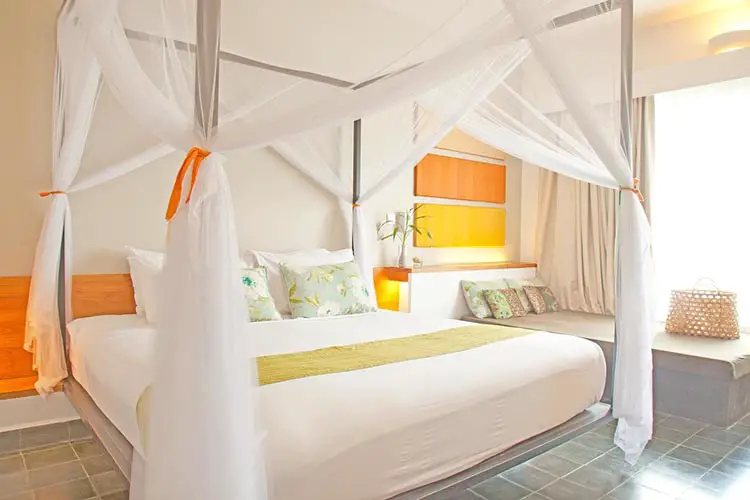 The Plantation Urban Resort and Spa glows with light and airiness. Each room is decorated with fresh yellows, oranges, and greens and is perfectly presented with comfy sofas, floor rugs, and hanging wall art. Take a swim in one of the two outdoor pools and fuel up at the Pergola poolside restaurant featuring Chef Olivier Guillon's fusion cuisine. Take a trip to nearby attractions like the riverside, the Silver Pagoda, Daughters of Cambodia Visitor Centre and the Central Market.
The Quay Boutique Hotel – Chic, Minimalist Decor with Views of the Mekong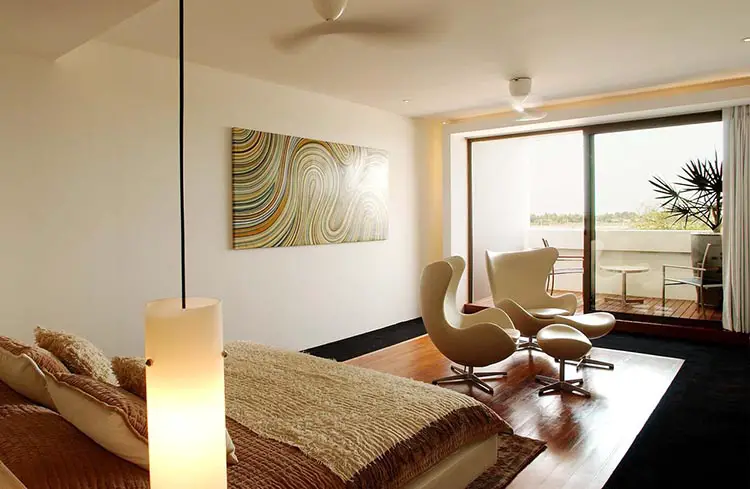 The Quay hotel offers modern digs in a great riverside location. Enjoy well furnished, stylish rooms with plush rugs, white leather lounge chairs, a comfy sofa, and your own private balcony to enjoy the views. Treat yourself to a pampering spa treatment onsite or lounge in the rooftop pool while the sunsets. Southeast Asian cuisine is served up in the onsite Chow restaurant and you can enjoy the buzzing area of the riverside that really comes to life at night with a bustling bar scene and even some riverside Zumba!
House Boutique Eco Hotel – Tranquil Oasis with an Environmentally Friendly Ethos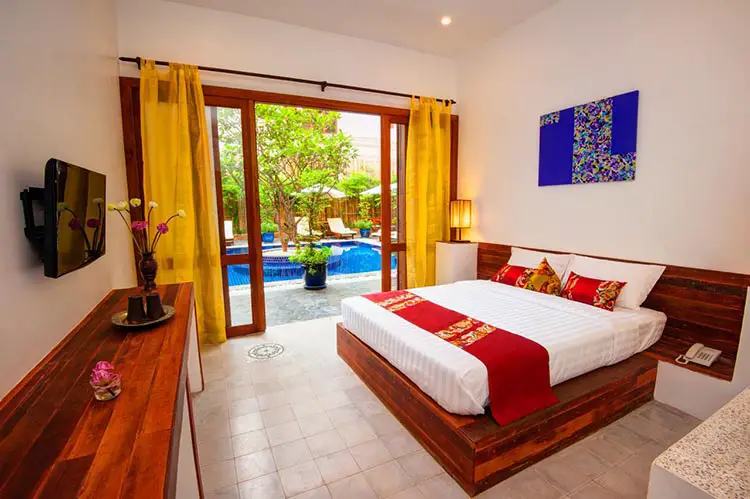 This tranquil hotel is committed to responsible, sustainable tourism and respecting Cambodia's culture and community. Each room has been decorated with cool modern décor and flashes of Khmer influence. Enjoy breakfast on your balcony, lounge by the pool, and enjoy a cocktail in the onsite bar while viewing the tropical gardens. Grab a free bike to visit nearby Aeon Mall, Tuol Sleng Genocide Museum, Wat Lanka, and the Russian Market.
Mango Bellana Boutique Hotel – Simple Comfort and Khmer Styled Accessories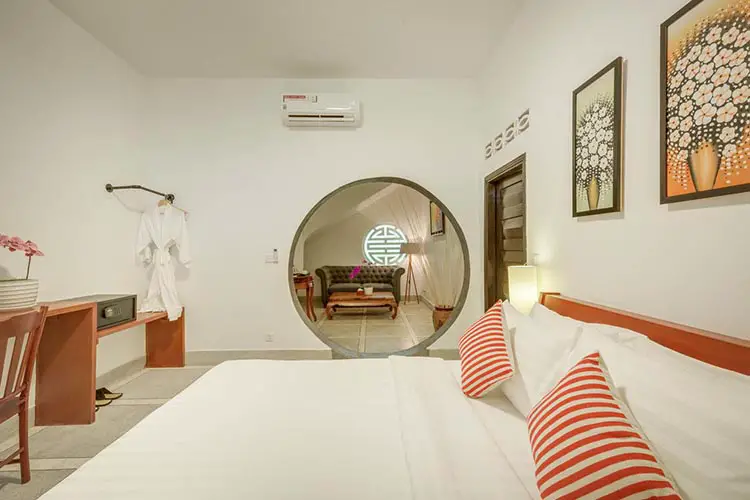 The Mango Bellana Hotel has a fresh, modern feel and is quirkily decorated with Cambodian furniture and Khmer styled accessories. Each room has either a balcony or a terrace and you can enjoy the onsite pool, restaurant and massage services. There are plenty of cafés and restaurants nearby to try out, plus you can easily reach Wat Lanka, the Russian Market, and Aeon Mall.
Bamboo9 Boutique – Sleek, Modern Amenities in a Great Location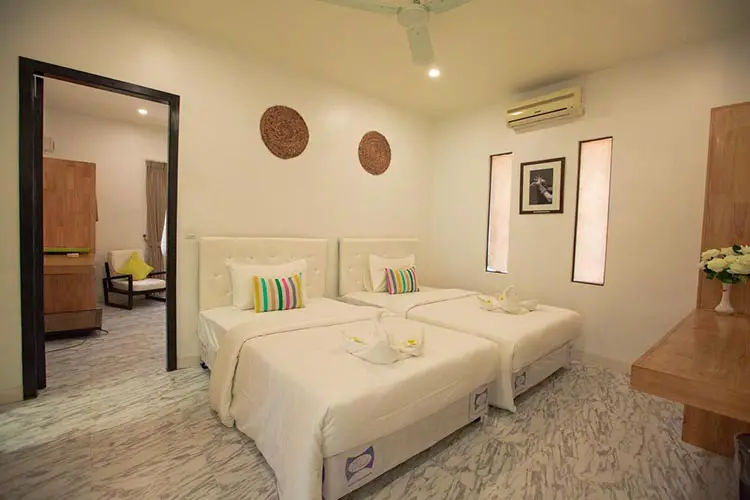 This property was originally built to house officials from the United Nations. Since then, it's been refurbished and re-named to give it a cool, boutique image. Rooms are decorated simply with fresh white linen, a coloured throw, and cushions plus strategically placed wood panels. Cool off in the tropical garden pool and then head out to nearby NagaWorld Entertainment Complex, the Royal Palace and the bustling riverside.
Raffles Hotel le Royal – Old World Charm with a Splash of Luxury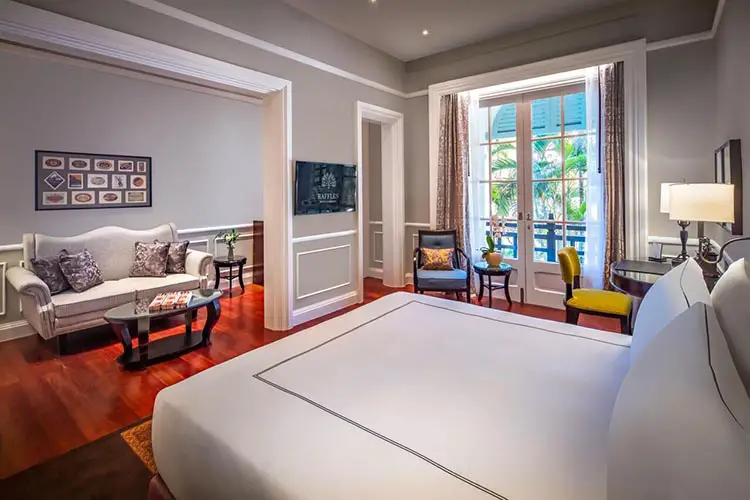 If you're looking to really give the credit card a workout, Raffles is a great choice featuring ornately decorated plush rooms, a fine dining restaurant, and their own line of cocktails that are a true treat for the taste buds. Get all dressed up for dinner in the Restaurant Le Royal or enjoy all-day dining in the Café Monivong. Two pools and a fitness centre are onsite to work off a few calories. Must visit sites nearby are; Wat Phnom, Central Market, and the Tonle Sap River.
Villa Grange – Grand Colonial Style Meets Modern Art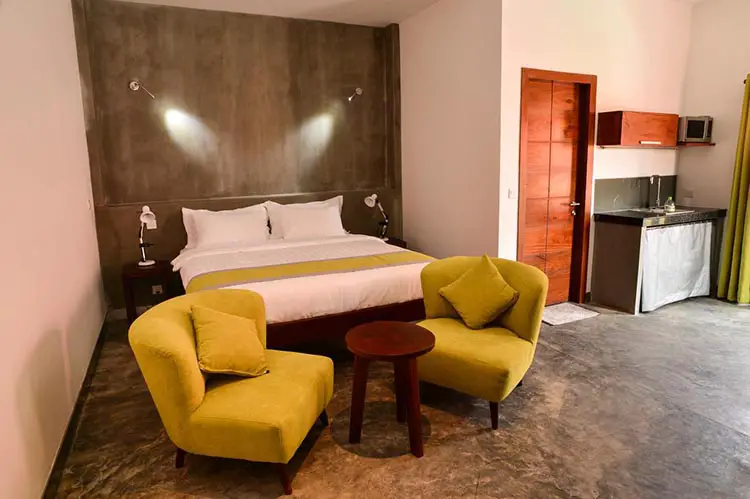 Villa Grange is truly an impressive sight to behold. The building features grand colonial architecture, surrounded by lush tropical grounds and a pool. Rooms feature a mix of Khmer style décor and flashes of modern wall art. Relax with a beer on the outdoor terrace and enjoy Cambodian style meals in the onsite restaurant. Nearby you can enjoy a ton of other great eateries including the Artillery Arts café, Red Apron, the Backyard Café, Friends the Restaurant and many more.
The 252 – Locally Inspired Décor in a Spacious, Leafy Setting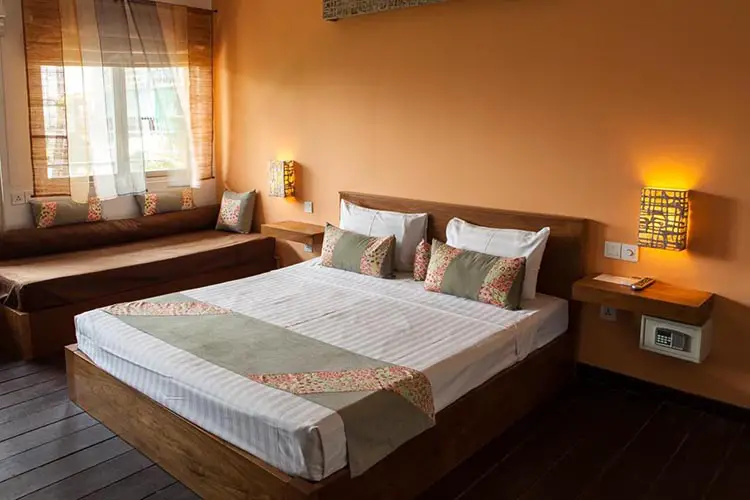 A stay at The 252 Phnom Penh means you'll enjoy beautifully decorated rooms by local designers Tendance Khmere. These guys produce bedding, pillows, home décor, and table runners from Khmer woven silk. Lounge by the impressive outdoor pool and enjoy delicious local and international favorites in the onsite Al La Carte restaurant. Nearby you can explore many cafes, restaurants, the Cambodian Independence Monument, Orussey Market, and Wat Lanka.
Double Leaf Boutique Hotel – An Oasis of Calm with Impressive Wall Art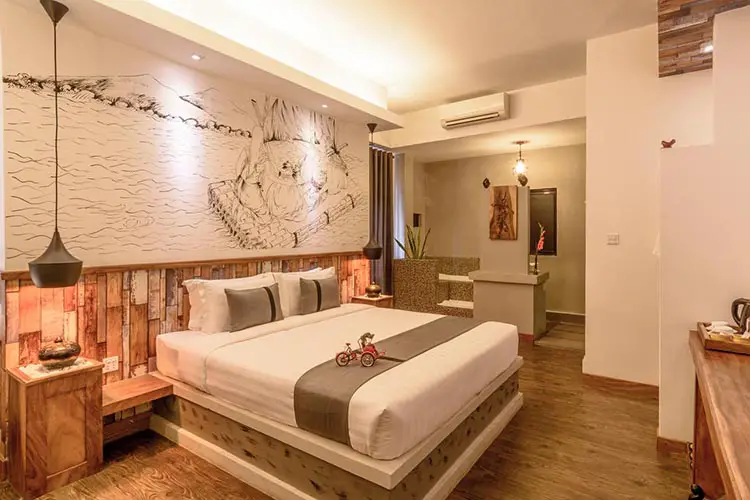 Double Leaf Hotel rooms really are places of beauty. Enjoy stripped wooden floors, a marble encompassed sink and plunge tub, modern furnishings, and locally inspired, unique wall drawings. After you've settled into your luxurious quarters, you can cool off in the pool and enjoy a meal in the buffet restaurant or occasionally a barbeque. Jump in a Tuk Tuk to cruise around Phnom Penh's sights including the Russian Market, Sisowath Quay, Wat Botum Park, and the Moha Montrei Pagoda.
Tea House – Retro Chinese Style in a Central Location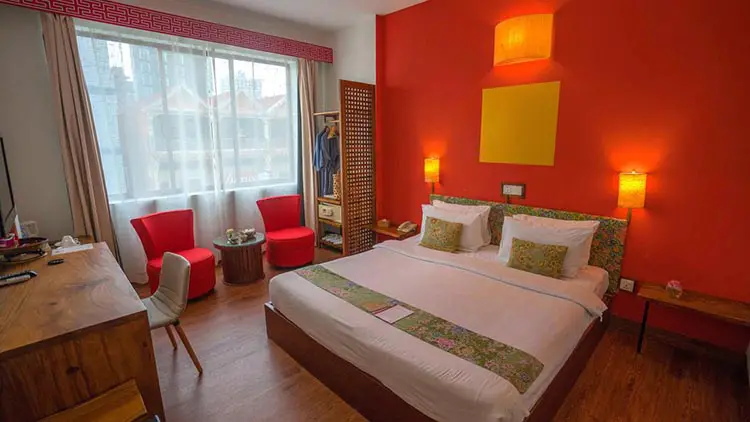 A stone's throw from the Independence Monument; the Tea House offers simple modern rooms with dashes of Chinese flair. Fresh white linen and bright runners and cushions cover each bed. Expect hardwood floors, a small seated area, and even a partition screen if the room is large enough. The pool is compact, surrounded by lush tropical foliage and comfy lounge chairs. Enjoy the daily afternoon tea ceremony while surrounded by Chinese tapestries. You can even bag yourself a free sunset boat ride on the Tonle Sap river which docks at the Flotation bar/bungalows owned by the same hotel group.
Kabiki – 'Jungaloo' Eco Glamping in a Tropical Oasis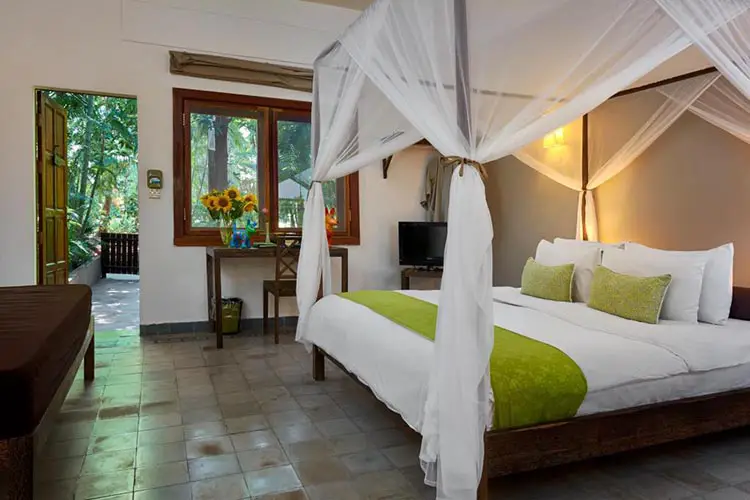 A stay at the Kabiki, will feel like you're a million miles away from the craziness of the Cambodian capital. This beautiful retreat encompasses a period villa where the main rooms sit, a pool with sun loungers and 'junglaoos'. These are basically bio-climatic tents with full air conditioning and air-flow control, ceiling fan, and bathroom. Enjoy meals at the fairy light clad poolside restaurant and head out to the nearby Silver Pagoda, National Museum, the Night Market and the bustling riverside.
La Rose Suites – Indochina Aesthetics and Smiley Service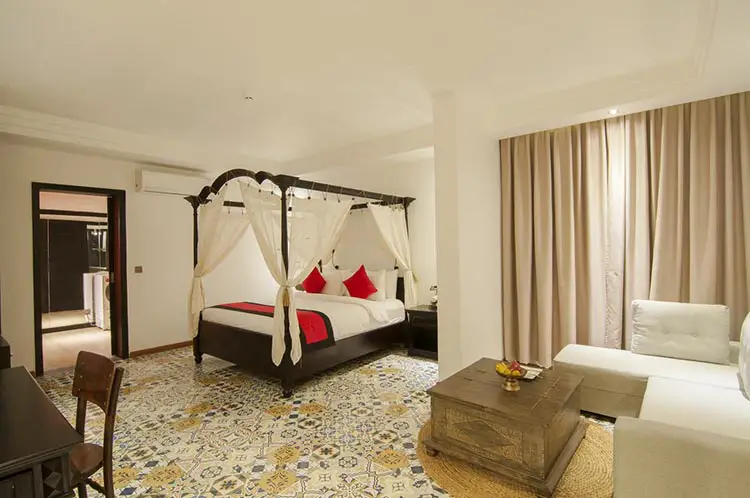 Spread across two buildings, La Rose Suites offers exceptionally large and beautiful rooms plus a one-bedroom apartment. The building is a classic Colonial style with modern amenities. Expect a dark wood four-poster bed, a lounge area, locally made wall art, and a pretty tiled floor. 80 percent of the staff are trained by PSE, an NGO teaching local youngsters the hospitality trade so expect non-stop smiles! Enjoy the hotels two pools and you even get a one-hour free massage with the room! Enjoy food at the Banana Tree restaurant on site which serves up local, Asian, and Western foods.
Featured image by michael clarke stuff
Pin for Later