The Glamour Granny travels to Hasankeyf, one of Turkey's most ancient historical sites, before it is gone for good.
I firmly believe in this: If you are meant to visit a place, you will. Sooner or later, and maybe in a roundabout way, you will be drawn there by invisible strings firmly rooted in your heart and mind. I'm waxing a bit lyrical here, but that's what Hasankeyf, Turkey, does to you.
I first learned about Turkeys ancient settlement on the banks of the river Tigris in Turkey's part of Mesopotamia, when I visited the Rezan Has museum in Istanbul.  One room of the museum near the Golden Horn is dedicated to modern day Turkish photographers and there it was: a photo series of Hasankeyf and the trademark remains of a medieval bridge spanning the river Tigris. What made the picture so outstanding was, that the artist managed to get water in front of the lens and the result was it looked as if the bridge had already sunk into the flood, which is exactly what's going to happen in 2013 when the massive Ilisu hydroelectric dam will be completed. I remember thinking: I must go there and see this before it's all gone. Then I  forgot all about it.
More than a year later, I was on a flight from Athens to Istanbul leafing through Turkish Airline's in-flight magazine and what should catch my eye?  A story about Mardin, Urfa, and…Hasankeyf! That's all the incentive I needed and my travel plans were made.
I 'm living part of the year on the Aegean coast about 1000 miles west from my starting point Mardin. Mardin does have an airport and I could have flown, but I much prefer to travel in Turkey by long distance coach. I have done it before and the fun of the matter is not only that you get to see a lot of the country but also the further east you go, the fewer the number of foreigners who use the coach.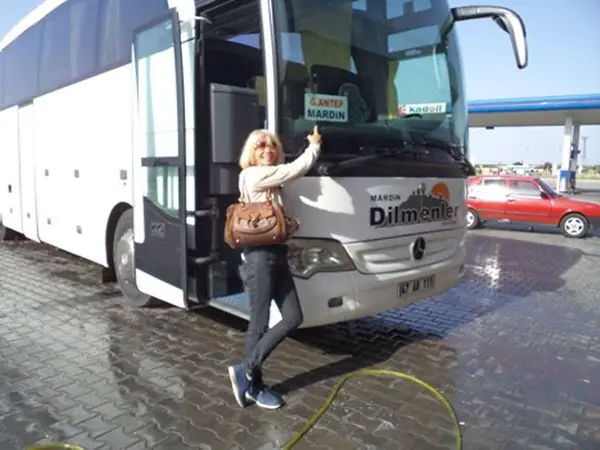 Polishing up on sign language and the smattering of Turkish I speak, I really got to know the locals. In my case, my co-passengers were very interested to see a single woman making her way to a destination few tourists go to, or even know about. With their innate hospitality, they needed to look out for me and…feed me. My neighbor (men and women sit separately on Turkish buses unless they are a couple) was well prepared for the 23-hour journey with a huge food basket full of homemade goodies and insisted I partake.
The bus stopped every 4 hours for a half hour break,  which was much needed to stretch our legs and use the powder room because the one drawback of Turkish coaches is that they have no toilets. But the seats were comfortable;  they have AC and TV and a smart assistant who comes around with coffee, tea, snacks and gallons of lemon cologne which is sprinkled onto your hands to keep you fresh and sweet smelling.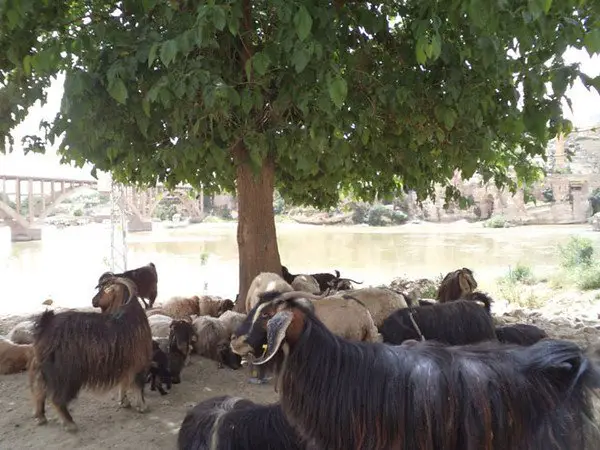 Even so, I was a bit stiff legged when I finally alighted in Mardin, also known as 'The Window to Mesopotamia'. My fatigue vanished in the blink of an eye when I checked into my fabulous boutique hotel, looked out of my window and saw the biblical plane of Mesopotamia stretching out below, all the way to Syria. The Zinciriye, in the old town of Mardin is perched high up the hill, just below a mosque,  and itself a converted madras, which means it is an historical Islamic school. A museum in itself it features fine examples of the elaborate stone carvings the region is famous for, antique furniture, stone staircases and ample terraces, chandeliers, cushions and carpets; in short: a dream. To top it all: this luxury accommodation cost only  EUROS 50 per night with breakfast included.
It was such a romantic and timeless sight, that I asked Yussuf if we could go down there, mingle with the locals and maybe take some pictures. That's the great advantage of having your own driver who also speaks the language.
Even though there is a lot to see and admire in Mardin, my heart was set on my visit to Hasankeyf, located around 90 miles northeast from Mardin in Batman province.  In this case my preferred means of getting around is by hiring a car and driver. Traveling this way I don't need to pay attention to roads and traffic, can go where I want, stop where I want, and have an interpreter and bodyguard thrown in. As it turned out, I found a knowledgable guide as well. The hotel called and the next morning at 8am on the dot, Yussuf appeared in the lobby, big smile in place, freshly washed car at the curb and off we went to Hasankeyf.
The name of the settlement translates into 'Hasan's joy' or 'Hasan's fortress' and it's indeed a 4th century Byzantine castle that dominates the limestone cliffs high above the river Tigris. But Hasanekeyf is much older than that; in fact, some are of the opinion that it's the oldest continually inhabited settlement of the world.  Like everywhere in the historic region, no less than 20 cultures (!) have passed through, leaving their mark with over 300 monuments, houses and other landmarks that can be admired in this small town alone. The Selcuks built a stone and wooden bridge over the river in 1116, and the ancient remains of this bridge are what has become the most emblematic  landmark of Hasankeyf,
Apart from the bridge, Yussuf and I looked at the Palace of the Artukid kings, the El Rizk mosque, the blue-domed hamam, to name but a few. What's more, thousands of caves are carved deeply into the mountainside, most of them inhabited.
The views over the river below with cattle coming to drink are incomparable. Needing a rest, after going up and down steep alleys and climbing many stone steps, we sat down in a lovely little café and restaurant with views over the old and new bridge. We fortified ourselves with a very tasty and juicy Mardin kebab.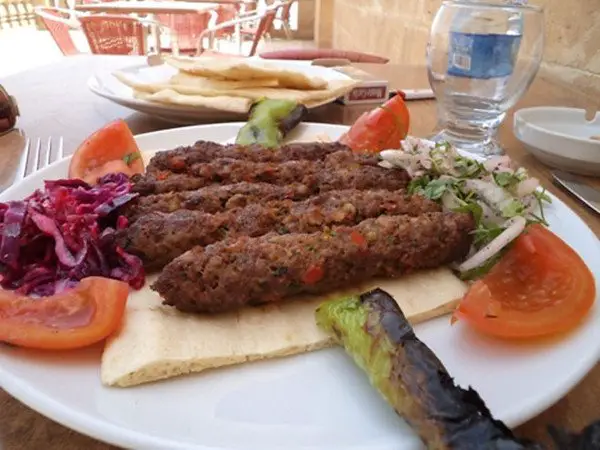 As we drove on over the new bridge, I looked down and saw a flock of sheep, their shepherds lounging lazily in the shade of big trees on the river bank. It was such a romantic and timeless sight, that I asked Yussuf if we could go down there, mingle with the locals and maybe take some pictures. That's the great advantage of having your own driver who also speaks the language. Down we went and had a ton of fun with the sheep, the girls milking them and none of them was averse to being photographed.
I took the last picture of part of the bridge and, maybe it's my fancy, but I think the empty holes in the arch look like accusing eyes, seeming to say: How can you allow this wonderful site to disappear?
Hasankeyf: 12,000 years of history in Eastern Turkey
Header Photo by Free-Photos
Pin For Later