The exact history of Frogmore Stew has long been a topic of debate in the South Carolina Lowcountry. Most recently credit is given to Richard Gay, owner of the Gay Seafood Company on St. Helena Island, SC, for inventing the recipe in the 1960s.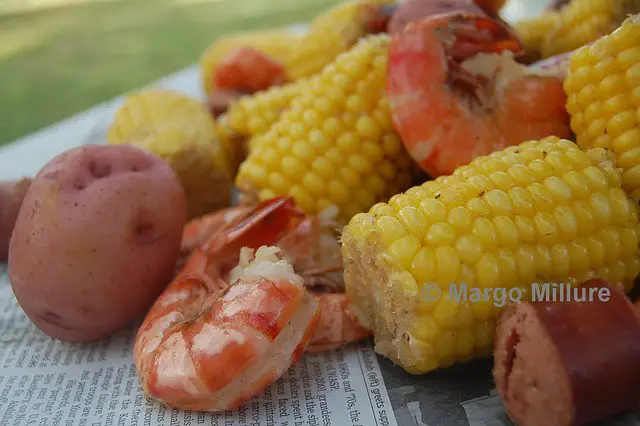 The story goes that one weekend while on duty with the National Guard he made the stew to serve over 100 of his fellow guardsmen. The stew was given the name of "Frogmore" because that is the name of the small town on St. Helena that Gay was from. The tradition of combining the improbable ingredients of shrimp, smoked sausage and corn on the cob, most likely had already been going on for many years and could be traced back to the sea island's rich Gullah heritage.
These days Frogmore Stew is something like the coastal version of barbeque, the go-to warm-weather dish of choice when entertaining a crowd. Enough Frogmore Stew to feed 2400 people is prepared for 10-day Beaufort Water Festival that is held each July (this year's dates are July 16 – 25.) That recipe calls for over 1200 pounds of shrimp, 2400 ears of corn and 600 pounds of sausage!
The recipe is straightforward, and except for the possibility of overcooking the shrimp, practically impossible to mess up. The major ingredients are tossed in stages in a large steam pot generously spiced with Old Bay Seasoning.  For best results, shrimp are left unpeeled. I've heard of people cooking it in beer, and seen it eaten with cocktail sauce and melted butter (I couldn't bring myself to dip the sausage in). Frogmore stew is usually served on tables covered with newspaper, which makes clean up a breeze. And prepare ye-self if you are attached to cutlery  – best eaten with your hands.
Homemade peach or strawberry ice cream is the perfect dessert to follow this South Carolina classic.
Frogmore Stew (12 servings)
6 quarts water
3/4 cup Old Bay Seasoning TM
2 lbs. new red potatoes
2 lbs. hot smoked or kielbasa sausage links, depending on taste
12 ears corn, shucked and cut into quarters
4 lbs. large fresh shrimp, unpeeled
In large steam or stockpot bring water and Old Bay Seasoning to a boil. Add potatoes and cook for fifteen minutes. Add sausage and cook for five minutes, then add corn and cook for another five minutes. Stir in the shrimp and cook until shrimp are pink, around five minutes. Drain immediately and serve on newspaper with lots of cocktail sauce and paper towels.
 Pin for Later