The best brunch in Rome, with a little art thrown in, for a perfect Sunday in the eternal city
Ahh, Bella Roma.  Perhaps no other European city is as much a delight for the senses as this sprawling Italian capital.  Enough art, beauty, and culinary wonders can be found within the square-mile that constitutes the city center to make any well-intentioned traveler's head spin; and as the old Italian saying goes, "Roma, non basta una vita" – Rome, a lifetime is not enough.
I had my first-ever experience of "love at first sight" with my debut trip to Rome in 2004, and decided to pursue my newfound amore by moving to the city in 2006.  Although I still feel like I barely scratched the surface of the many layers of this remarkable city, I did make quite an effort to try to get to the heart of Rome's eternal appeal.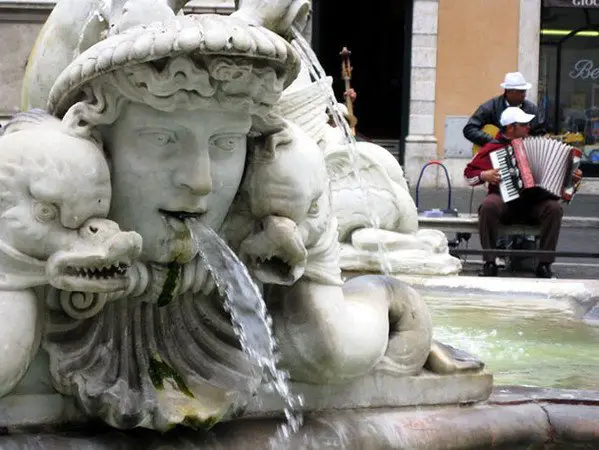 More often than not, cutting through all of those layers involved furtive searches for tucked-away churches, visits to niche art galleries, and feasts at trendy trattorias – and sometimes, a combination of all three. It wasn't exactly Angels & Demons, but I do think I ate enough to make even Tom Hanks blush.
One of our best finds, and one that became somewhat of a Sunday tradition, was brunch at the Chiostro del Bramante.  Although relatively close to Piazza Navona, the Chiostro itself remains a bit hidden – set back behind the characteristically narrow streets that lead off of the piazza to the church of Santa Maria della Pace.  Worth a visit for the Chigi chapel alone, the church is known for its Baroque façade and more famous still for its adjoining cloister designed by Donato Bramante; his first official work in Rome.
The Bramante cloister has since been turned into a gallery – primarily showcasing modern art but with recent exhibits ranging from the art and artifacts of Julius Cesar to works from Italian Impressionists who resided in Paris. What's more, the Chiostro del Bramante is one of the few places to get a quality brunch in Rome. And perhaps the only place to get eggs and bacon in Rome (believe me, we spent many a hungry Sunday searching).
And if you don't wish to opt for the mega-brunch plate (pictured above) you can order eggs, omelets, and even baguettes off their breakfast menu.  Did I mention they even have mimosas?  Nothing like a pre-gallery splash of orange juice & Prosecco to get you in the art-viewing mood.  Well, at least that's how I got through one late fall's trip through Caesar's victory over the Gauls. Bet those folks could have used a good brunch; barbarians, the whole lot of 'em.
Chiostro del Bramante
Via della Pace -00186 Rome
Tel: +39 06 68809036
* all photographs by Tuula Mattson ©
Pin for Later