I would not have believed in the existence of Tivoli Gardens in Copenhagen if I had not seen it with my own eyes: an amusement park in the middle of a European capital. was commissioned by King Christian VIII of Denmark in order to raise the spirits of his people. It is said that he declared something along the lines of, "If the people are amused, they will not think about politics."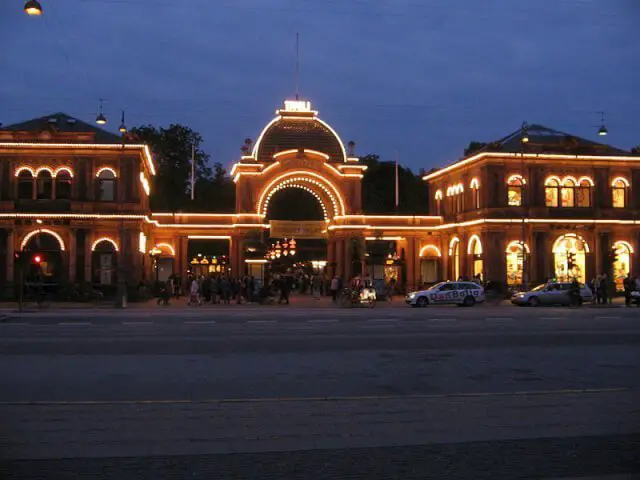 Located in the center of the Danish capital across from the Hans Christian Anderson House, the entrance gate is not spectacular (except at night, when hundreds of thousands of lights illuminate the park.) Admission is 75 DKK (around $7.50) for adults and 35 DKK (about $3.30) for children. Whether you are young or old, I dare you to be charmed once you enter the gardens.
It is said that he declared something along the lines of, "If the people are amused, they will not think about politics.
Outdoor cafes will be on your left, replete with outdoor heaters and chairs draped in sheepskin for chilly days and colder nights. On the right you will come upon the recently renovated and highly acclaimed The amazing, Chinese-style Pantomime Theatre – the Pantomimeteatret – offers daily free performances of ballet and classic theatrical comedies in the open. One such piece, which is repeated regularly, and to which we were treated, is the classic ballet of "Harlekin and Columbine." Following Act I huge puppets of the main characters were carried across the park accompanied wbymusic – so that the audience should follow – to another stage at the other end of the park for Act II.
On a side note, The Beatles played at Tivoli in 1964 and Jimi Hendrix played in 1967. Michael Jackson liked it so much that he offered to buy it.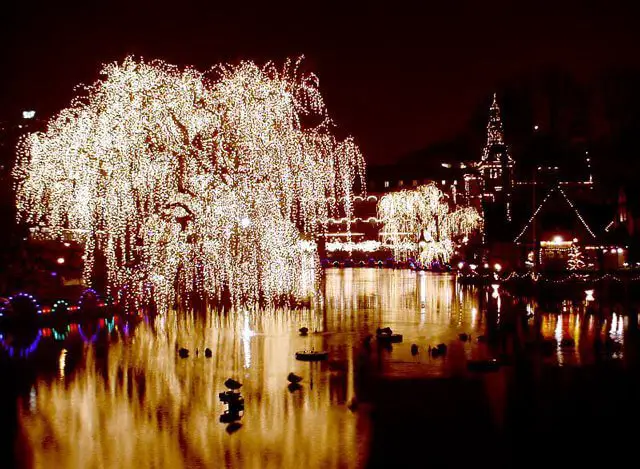 Walt Disney, in fact, was planning Disneyland when he visited Tivoli. He found the park "happy, with an unbuttoned air," a concept upon which he wanted to emulate his famous park. Those familiar with the Disney theme parks will recognize where he borrowed from Tivoli's whimsy and sweetness, in the shape of Tivoli's shops, the Chinese dragon boats, and in the characterization of the roller coasters and rides. Instead of Mickey Mouse balloons, you can purchase balloons of ladybugs.
During World War II, Nazi-sympathizers burned down several of Tivoli's buildings, hoping to break the spirit of the Danish people. They closed the park for a few weeks – and spirit undaunted, opened again.
To snack on, there are black licorice stands everywhere. Black, salty licorice of various flavors is a favorite treat in many northern European countries. Cotton candy, called "Candy Floss," is also popular and sold in small buckets around every bend.
You would think that this would be the most perfect place for a family, and yet we were a couple, away from our children, having a wonderful afternoon and evening.
When the clock struck five, scores of people in conservative dress and business suits flooded through the front gate. It seems that the cafes and restaurants of Tivoli provide fantastic evening networking and entertainment for the Copenhagen business community.
On Friday nights, contemporary music is offered in a regular gig called Fredagsrock (Friday Rock). In the past artists such as Sting, The Smashing Pumpkins, and The Beach Boys have been featured along with a wonderful set of popular Danish groups.
See More Tips on Visiting Copenhagen:
Eating & Drinking in Copenhagen
Hop On/Hop Off Bus in Copenhagen
Information and tickets can be found at www.tivoli.dk.
Photos: 1. By Antony Stanley from Gloucester, UK (Tivoli Gardens, Copenhagen  Uploaded by russavia) [CC-BY-SA-2.0 (http://creativecommons.org/licenses/by-sa/2.0)], via Wikimedia Commons 2. By Mark S Jobling (Englich Wikipedia) [Public domain], via Wikimedia Commons
Pin For Later