Heading off to university is a pretty nerve-wracking time for everyone involved. But for some it is even more so when university is overseas and away from your home country. However, we've got just the list of what to pack when travelling to study overseas to help ease those nerves and keep you prepared for the adventure ahead.
1. Documents
It's best to get the boring stuff over with first, so make sure you've got all your documents with you. These include the documentation you might need to get into your country of study and also the documents your university or institution has sent out to you.
If your place of study has also sent you packs about what it's like to study there and if you have a prospectus, we'd recommend bringing it with you. On the journey you can have something to read to either make you really excited or quell your nerves.
Photocopies of important documents should also be put in your hold bag if you're flying out so that you're double-prepared. Now you can't go wrong.
You may also like: 10 Things To Do When Adjusting To Life In A New Country
2. Travel toothbrush and toothpaste
I used to think that only divas brought toothpaste and a toothbrush with them on flights. Until I went long-haul and realised that they are a gift from the universe.
For a tiny price, you might as well invest in the small yet life-saving toiletries. They'll make you feel so fresh when you use them and they're also just cool to look at. Also, if you're heading to your place of study straight from the airport you will most likely want to feel fresh and have clean teeth so that you meet your new best friends looking as decent as you can after a long journey.
3. Snacks
Nothing is as dull as a long journey with none of your favourite snacks. Whether it be a big bar of chocolate or a bag of your favourite sweets (ahem, Werther's Originals), you need to take them with you.
It's also a good idea to take some with you for when you're actually living at university and studying so that home is never too far away really. Food should always be up there with your top priorities.
4. Music
So when I said that nothing is as dull as a journey without your favourite snacks, I meant to add 'without your favourite music' too.
However you listen to your music, before you head off to travel it's a good idea to add all of the music you want on the device so you don't arrive in your new home wishing you'd really downloaded that High School Musical 2 soundtrack. You may laugh, but it's true.
Music is important for the journey and beyond, so ensure you've stocked up your library with everything.
You may also like: Ways To Learn A New Language Before You Fly
5. A diary and a pen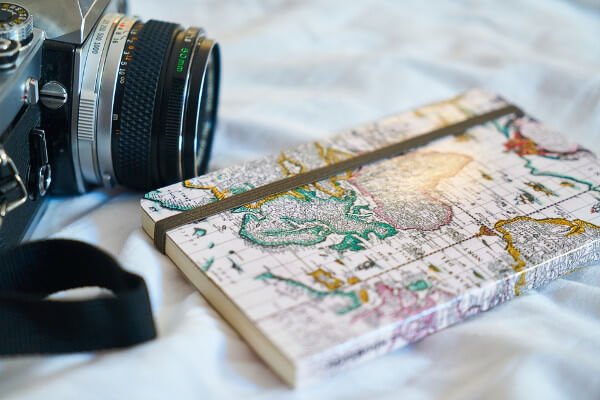 Obviously when you're thinking of what to bring to college, you're going to have stationery on the list. But you'll definitely need a pen for the journey – and a diary too.
Whether you're studying overseas for just one year or for the whole length of your course, it's a really clever idea to take a diary with you. That way you can record all of your feelings and experiences so that one day (most likely when you're old and wrinkled), you can look back at what will be the time of your life and remember it vividly.
6. Your favourite toy as a child
While Andy in Toy Story might give away his toys when he goes to college, you don't have to. And you shouldn't, either.
Most of us will have had a special toy when we were growing up and still have it at the bottom of our beds when we're 18. So it's only right that our special and inanimate friend makes the trip to university with us.
Home comforts are special, so bring them with you.
You may also like: How To Satisfy Food Cravings In A New Country
Good luck with your studies!