When I tell people I live in Myrtle Beach they get all kinds of images in their heads about my family's and my lifestyles. Taking them to Margaritaville only serves to reinforce the nonsense.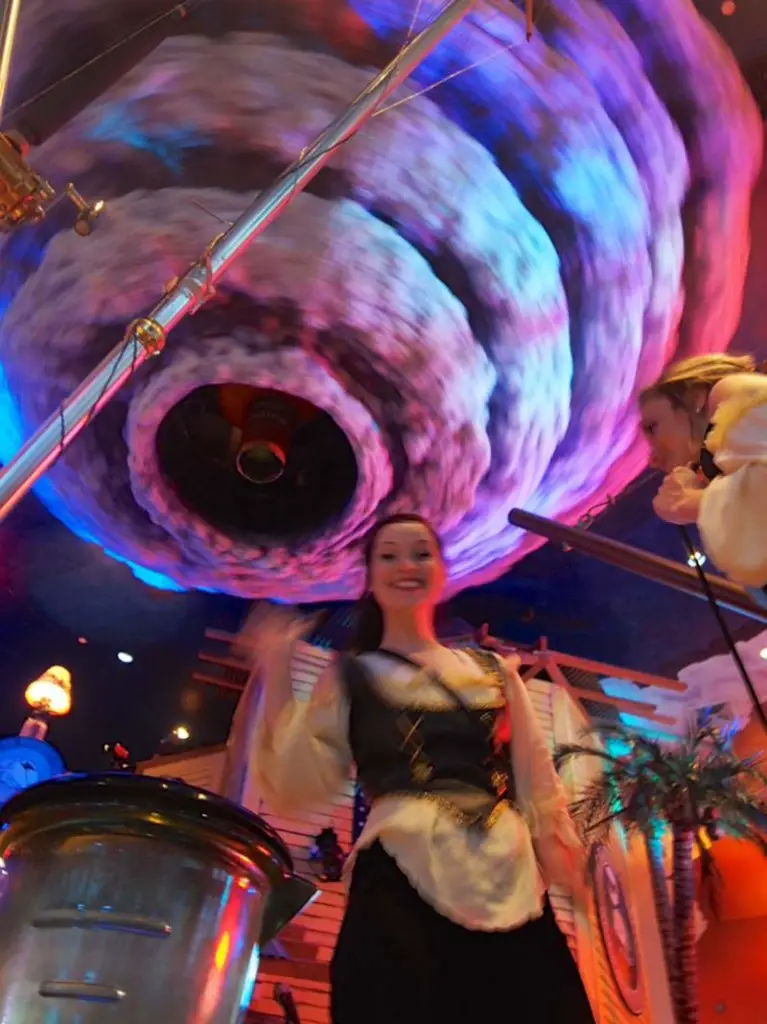 Yes, after the pilgrimage to Jimmy Buffett's Margaritaville, there is little chance of us dispelling our guests' preconceived notions. The Millure family is destined to be fondly remembered as existing in a constant state of chilled out, self-indulging, sunny day vacation bliss. In perpetuity we have margaritas and shakers of salt always at the ready, plates of nachos on their way, and even though I have never worn one, balloon hats on our heads, expertly whipped up by an affable guy on stilts.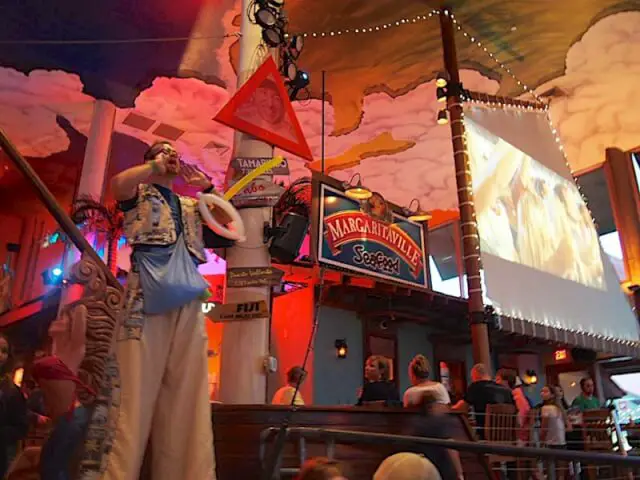 No, we don't go nearly as often to Margaritaville, waterparks, and miniature golf courses as out-of-towners like to think we do. I can say that until I'm as blue as a Fins to the Left margarita.  But over the years we have come to terms with what others see as our our  "fins up" lifestyle. We've accepted that we can't convince them otherwise. This blog definitely won't help.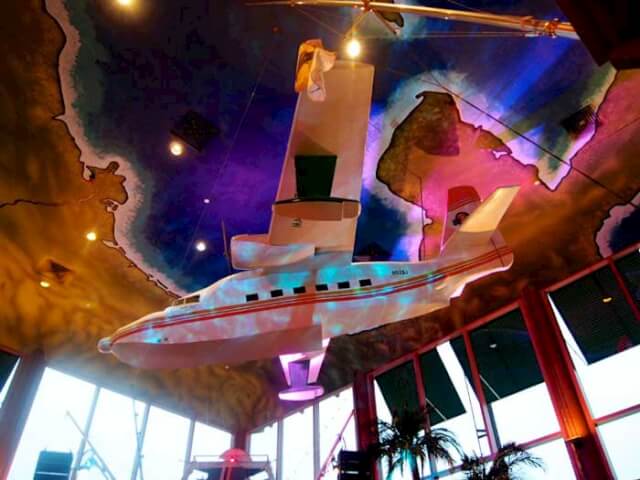 The fact is everyone from families with young children to Dave's visitors, which consist of European and Asian business people, love coming to this Myrtle Beach hot spot located at Broadway at the Beach. Over the past 8 years, it has become one of the must-go traditions of visiting the Grand Strand.
So Dave and I felt it was our duty to check out Margaritaville's refreshed menu this past weekend at the restaurant's invitation. We'd never been there without out-of-town guests or children.  It was a real treat!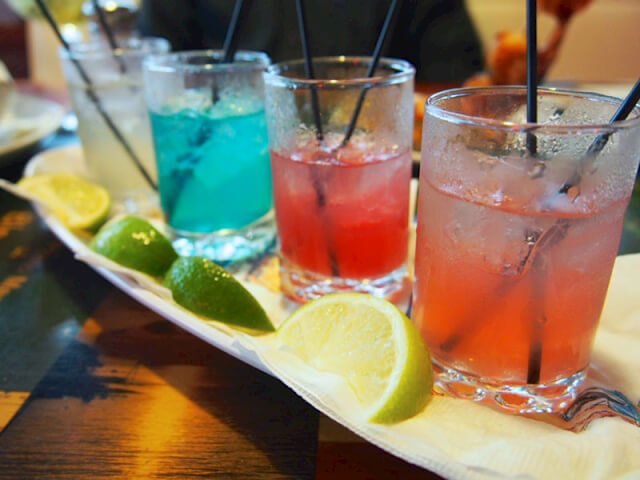 We started out our evening with  – what else?  – but margaritas. Dave had the Perfect Margarita made with Gold and Silver tequilas, triple sec, orange curaçao and lime juice. Being indecisive, I had the Margarita Flight, which consist of four of the house favorite margs. My favorite was the "Fins to the Left" (the blue one!) made with Silver tequila and blue curaçao. (If you take a picture of your Margarita Flight, be sure to tag it with #Margaritaville and #Flight and @Margaritaville may even come visit you.)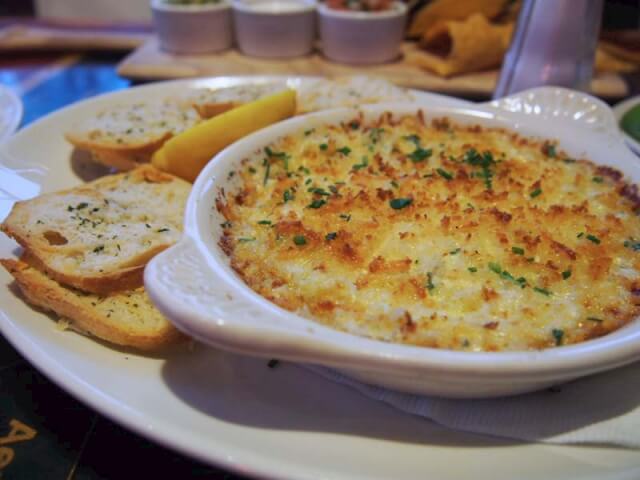 Next up were the apps. We both particularly enjoyed the Key West Quesadillas with incredibly tender carne asada steak and tasty lime creme – so much so that they disappeared quickly and I didn't get a photo of them.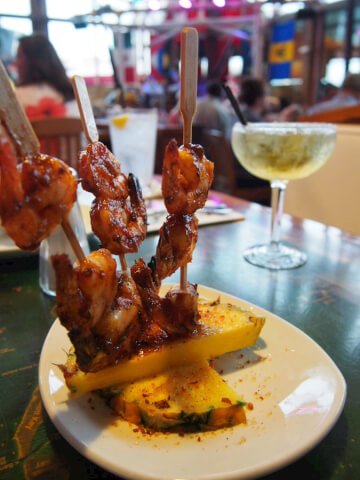 Other appetizers we tried included white cheddar cheese curds, asagio crab dip, jerk glazed shrimp skewers, and a "Drunken" shrimp skillet, with sauteed shrimp and vegetables and baguette slices for dipping.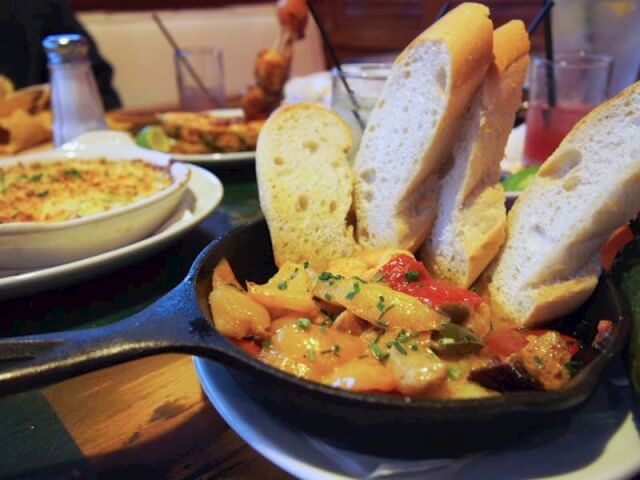 At this point our waiter, Tim, reminded us that we still had more food coming out that they wanted us to try. Thankfully, he also was armed with an embarrassingly large supply of take out boxes and bags that appropriately said "Feeding Frenzy."
For entrees, Dave had the Rancho Deluxe Burger with Applewood smoked bacon and Monteray Jack and at the urging of Tim, I enjoyed the new Landshark Lager Fish and Chips. Both were good, especially my fish and chips, which were both extra crispy and flavorful.
Now would have been the time to roll ourselves out of there, but under these circumstances it would not have been a very "Fins up" thing to do to leave before dessert! You may already know that the Margaritaville way says that it is always 5 o'clock somewhere, but did you know that it also says there is always room in your stomach for dessert? Ok, I made that last part up, but that dessert thing should be in the next Jimmy Buffett song.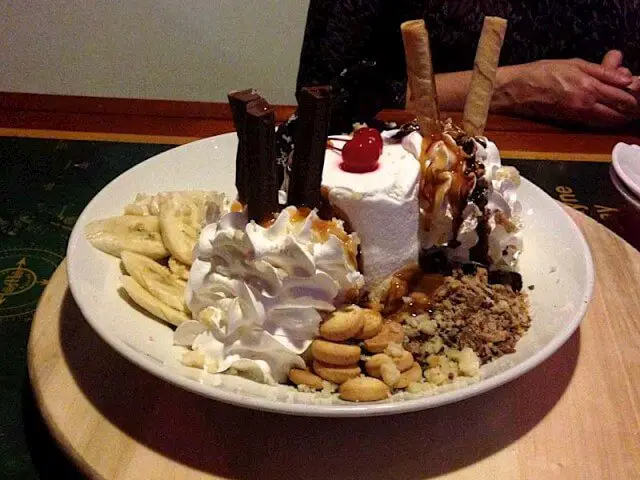 I present to you the Margaritaville Chocolate Hurricane consisting of a pint of vanilla bean ice cream served with brownies, Kit Kat and Heath bars, pirouette and mini shortbread cookies, sliced banana, whipped cream and chopped macadamia nuts. It is presented on a lazy susan.
I burned 1/8 of a calorie spinning it for Tim and manager, Anna, to swirl the carmel and chocolate sauces evenly on the top. In case you were wondering, it is meant for sharing. It is also meant for people who haven't just tried everything on the menu.
No, we didn't finish it. But we took one for the team and did a pretty good job. We also squeezed in a few bites of the Key Lime Pie, relatively light and refreshing with a delicious graham cracker crust.
As always, we left Margaritaville having dined more than sufficiently, and this time, with leftovers that would sustain us through the weekend.
If you go:
Jimmy Buffett's Margaritaville/Myrtle Beach
Located in the Heroes' Harbor section of Broadway at the Beach (follow the lighthouse!)
They don't take reservations but do offer priority seating. Call (843) 448-5455 for information and availability.