Cagayan Valley is a region in the Northern part of Luzon in the Philippines and is one of the few locations that encapsulates the country's natural beauty. The lush majestic beaches, stunning waterfalls, evergreen forest, breathtaking mountains, and rolling hills are synonymous with this region. Without a doubt, Cagayan Valley can be considered one of the best places to travel in the Philippines. 
Along with its natural beauty, though, is a collection of unique local dishes that are not even common outside the mountainous region. In this article, we will be going on a delicious parade of buffets featuring all the local dishes that Cagayan Valley offers. 
10 Delicious Local Dishes in Cagayan Valley that You Must Try
Cagayan Valley is also another excellent location for foodies out there to satiate your taste buds. The region provides a slew of exotic and unique meals simply bursting with flavor. Check out this list of all the must-try dishes in this beautiful Philippines region. 
Pancit Batil Patung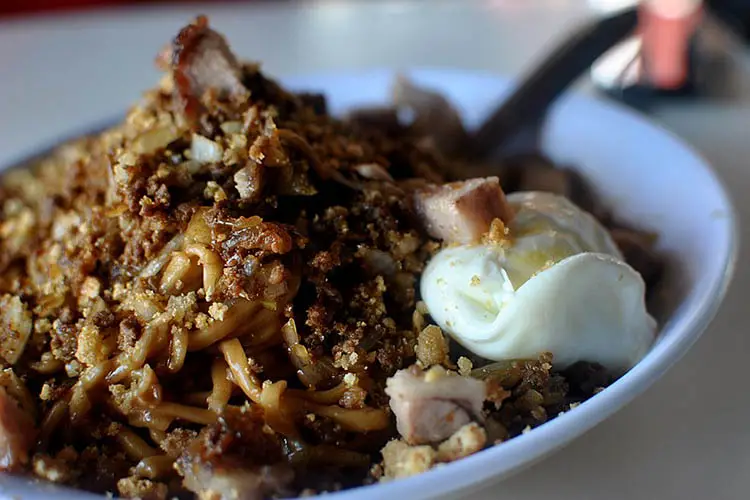 Let's start with one of Cagayan Valley's most famous dishes, the pancit batil patung. This is the region's most iconic noodle dish, and it is pretty excessive with its ingredients. In addition, this particular noodle dish uses carabao meat which gives it a rather distinctive gamey flavor that other types of meat do not offer. 
This was the first Cagayan Valley dish I ate when I visited the region, and the amount they serve is somewhat intimidating. You see, they fill a regular-sized plate with panic batil patung, which is for a single-serve. I couldn't finish mine as I felt my stomach was at its bursting point, but it was one of the best-tasting noodle dishes I've tasted, bar none. 
Pancit batil patung incorporates miki noodles, minced carabao beef, poached egg, chopped onions, and carajay. It is typically paired with batil soup. Dozens of restaurants serve this signature Cagayan Valley dish in Tuguegarao City. Some restaurants also do pancit batil patung with their unique take. 
I recommend Jomar's Panciteria for the definitive and best pancit batil patung version. 
Sinanta
We have another unique noodle dish from Tuguegarao in the form of sinanta. This is another famous cuisine in Cagayan Valley and is typically served during special occasions such as birthdays. Utilizing a mix of miki and sontanghon noodles with pork, chicken, and clam – sinanta is one of the most flavorful noodle dishes that you will find anywhere. Top it off with a teaspoon of fish sauce to add a bit of kick to its taste, and you are all set. 
Sinanta is generally eaten along with sweet rice cake to further add to the mishmash of the mouthwatering palate on hand. Ta Laguerta ni Cella serves this delicious dish and other Cagayan Valley meals. Head over there for the complete Tuguegarao dine-in experience. 
Pancit Cabagan
Again, we have yet another unique variety of noodles dish from Cagayan Valley; the pancit cabagan is vastly different than the generous toppings of pancit batil patung. Instead, the pancit cabagan focuses more on vegetables and spicy condiments. Also, expect to have a full-plate serving of pancit cabagan when you order one from the local restaurant. So prepare your tummy whenever you order a noodle dish in Tuguegarao, is what I want to say. 
I highly recommend dropping by Josie's Pancit Cabangan for the best-tasting (in my opinion) version of this local favorite noodle dish. 
Ybanag Longganisa 
Ybanag longganisa or Tuguegarao longganisa is a Filipino pork sausage recipe with a peculiar twist that gives it a unique flavor from the traditional longganisa. This pork sausage recipe uses ground carabao beef, garlic (a lot of it), salt, black pepper, and cane vinegar. It uses a ton of garlic, but the cane vinegar balances out the garlic flavor to prevent it from being too overpowering. 
Also, if carabao beef isn't your thing, Ybanag longganisa comes in a ground pork version. Drop by Kaelyanngrei Tuguegarao Longganisa for some of the best-tasting authentic Ybanag longganisa around. 
Lumot
Next up, we have one for adventurous foodies looking for that exotic cuisine. Lumot is Tagalog for moss or algae. So Lumot is a seaweed dish that comes from its algae-like consistency and appearance. The name is pretty on-point as seaweed is a type of algae. 
This dish has a very distinct salty flavor, like ocean salty. Due to its salty flavor, it is best paired with something to counteract the taste. I recommend pairing it with other seafood such as lobster or grilled fish. 
I recommend dining in at Dampa Express if you want to take a bite out of this unique and briny seafood dish. 
Chicharabao
Chicharabao is the Tuguegarao version of chicharon (pork rind), but instead of using pork, Chicharabao uses, you guessed it, carabao beef. The Chicharabao is a unique Cagayan Valley region snack that is lighter on the tummy than traditional chicharon. However, it is still as crunchy as its porky counterpart, making it a great snack with beer. 
There are three flavors of Chicharabao that you can buy in Tuguegarao: garlic (the classic), onion and vinegar, and hot and spicy. Besides being a favorite snack in the region, Chicharabao is also a popular souvenir that all visitors to the area should get before heading home. 
Head on over to the many stores in Tuguegarao to buy this crispy and puffy snack. I recommend the Lighthouse Cooperative, a church-based store that sells famous Cagayan Valley snacks and other delicacies.
Pawa
Are you looking for something sweet? Try the region's popular rice cake snack, the pawa. Pawa is made using glutinous rice with a filling made from sweetened ground peanuts. Combining a neutral chewy rice cake with a sweet filling hits all the right spots for those with an insatiable sweet tooth. 
Pawa is commonly sold around the municipality of Piat, Cagayan. If ever you visit the area, sample some of these delicious local rice cakes. You can also find a couple of stores in Manila that sell pawa, such as Vincent's Pawa – if ever you want to try it now, you are nowhere near Cagayan Valley. 
Putoflan
Puto is a classic Filipino snack: steamed rice cake, while Leche flan is caramel pudding, which is a favorite dessert in the Philippines. Combine those two, and we have putoflan. The putoflan is a great way to top off a filling meal of pancit batil patong. It is a sweet and tasty dessert that combines two Filipinos' favorite delicacies into one delightful bite. 
Carabao Milk Candy
This is another must-try snack and souvenir if you ever visit Cagayan Valley or its city, Tuguegarao. This candy is made from carabao milk and is similar to pastillas. However, while pastillas are sweet and creamy, carabao milk candy is sweet, creamy, and chewy. 
This delicious confection brings a new layer of consistency to the classic pastillas recipe and should be on your shortlist of souvenirs in Tuguegarao City. In addition, Alcala Sweets sell many delicious candies and sweets, so make sure to check that store out if ever you are in Tuguegarao City. 
Camaru
Of course, we can't end our list without at least one entry that will truly test your mettle as a foodie. So, on this occasion, let me introduce the fried camaru dish, a favorite amongst locals and is best served with a cold glass of beer. If you didn't know, camaru is the local term for mole crickets. So, yeah – this is fried mole crickets. 
Camaru is also not a niche cuisine in Cagayan Valley as some of the more prominent local restaurants in the area serve this crunchy and savory delicacy. It is prepared in two ways, either the standard fried camaru or adobong camaru, wherein it is marinated in several ingredients and then simmered to perfection. 
I had tasted camaru when I visited Cagayan Valley, and I have to admit it is pretty delicious once you get past the image of eating the legs, mandibles, antennas, and wings of an insect. Local markets around Tuguegarao City sell mole crickets during certain seasons in bulk, and you can cook them yourself.