Florence, Italy, July 23, 2011, Hotel Torre Guelfla, travel journaling in the sitting area on the third floor. On a trip with my two daughters.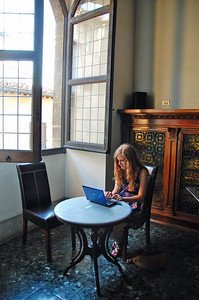 Even in an 800-year-old hotel (well, structure, anyway) things can change a lot in six years. Since last time I stayed here at the Hotel Torre Guelfa, in Florence, the reception desk moved to the entry-level floor instead of being a ride up the old antique elevator. Old is a relative term in Florence. The elevator at some point during one of these centuries years was placed in the open shaft located in the middle of the wide staircase that winds its way up. Guests now have the pleasure of riding ye' old elevator, which I certainly hope is not anywhere near even 100 years old (more like 50?) after check-in.
I have mixed feelings about the huge Ilia coffee machine and a breakfast buffet that now takes place in what once was utilized as the lobby.  On one hand, I want to take this huge coffee-making contraption home with me – can you imagine how much USAirways would charge for this? But what I think I miss even more is table service with the two silver pitchers from my last visit – one bearing thick Italian coffee and the other, frothy warmed milk. Breakfast is still held in the same sunny atrium adjacent to what was once the "lobby."
We walked by the Duomo six times today. Forget climbing up the dome, the line was impossibly long even to just walk in the front door, so we could look up at it. It was ridiculous. The hours equally ridiculous: opening at 10 am and then closing at 2 pm. All of it was ridiculous in the way that it seems only things can be in Italy. Every now and then I look at Holly and Meg when something "Italian" happens, such as a full floor of a museum being inexplicably closed, or a clock at a train station being stuck on some far away hour, and say, "How does Italy even work?" They, bless them, think it's kind of funny.
So instead of going to the Duomo, we went to the Galileo Museum. Comments include Daughter the elder says, "Electromagnetism is my life," only half-joking.
"There is no such thing as centrifugal force," daughter the younger says. I did not know this and say so. Both daughters look at me as if I am completely ignorant when I confess this.
I do know that this museum tells a story of the talent, curiosity, and ambition that brought the world to this technologically advanced place that we are today. Still, I left  the museum even more confused by this question of "How does Italy even work?"  Frankly, I'm just not getting how, not just the country of Italy, but we, as a planet, ever got it all together to be where we are today, for better or worse. We spent a couple of hours looking around at the museum's immense collection of objects of scientific precision, importance, and beauty.
We didn't even get to the Duomo today. I did have an "Italian moment" or two and came back this evening with a couple of things: A better understanding of my daughter who will sometimes say things like "electromagnetism is my life," and a few more questions about how the hell this whole universe of ours works at all.
Note: Back in September I came across this headline: Error and Trial: Italian Scientists Face Prison as Earthquake Manslaughter Hearing Resumes this Weekend. I don't know how it's related to this journal entry about science and how Italy works, but I sense that somehow it is. The Galileo Museum is the former History of Science museum and was redone several years ago. It was a big highlight of our visit to Florence –  a great place to visit, especially on hot days when all the stops on that long list of Florence "musts" are really busy.
Pin for Later