With over 30 beautiful beaches, fabulous festivals and spectacular sightseeing Phuket offers travellers all the pleasures of a tropical island experience… and much more.
Phuket Island, which extends south of Thailand into the blue green depths of the Andaman Sea, is truly a powerhouse destination for the sophisticated wanderer who wants to experience it all.
At 282 square miles, Phuket is a booming destination location with a rich cultural history. It offers stellar amenities, from fine dining to luxury Phuket villa rentals.
Magically, it is also a place where you can feel time dissolve as you bliss out on a beautiful, uncrowded beach or experience a sacred place where Buddha meets the sky.
Phuket Island is a majestic mix of modern times and historic wonder, world class dining and authentic down-to-earth local eats and Thai culture meets settlers and travellers from around the world.
Beautiful Beaches
Over eons of time, Phuket was shaped by its geologic foundation and the deep waters of the Andaman Sea. It's near perfect beaches were created by coral reefs and shells that were ground down for centuries into fine white sand. The magnificent beaches seem to caress the water's edge and dance with the deep blue skies.
There are many popular beaches on Phuket Island, ranging from the world famous Kata Beach to the seemingly endless 5 mile long expanse of sand at Bang Tao. Even on a popular beach like Bang Tao you can find quite and peace if you travel to the northern end. Each beach offers daily rental of lounge chairs, and often a table where you can get beverages and food delivered without ever having to leave the comfort of your oceanfront seat.
If you are seeking a great place for high tide swimming you may want to select Kamala Beach, where the white sand slopes gently to the sea. There are popular restaurants and bars along the south side of the beach, while at the northern end there is more solitude. Karon Beach offers stunning sand that is soft and fine and the water is crystal clear. This long beach is great for extended walks.
For those preferring hidden treasures and sought after gems, Phuket Island offers several alternatives. Freedom Beach is best accessed by long boat and is like a scene right out of a Hollywood movie. There the bay is nestled against the jungle hills and the pure white sand.
You may also like: 3 Must-See Bangkok Temples
Snorkeling is popular at Kata Noi Beach, one of the most gorgeous hidden gems of Phuket. Although there are plenty of services, the quiet will appeal to many travellers. Nai Harn Beach is in the most beautiful bay in Phuketand is blessed by lofty hills and an offshore island replete with coconut palms. Phuket Island beaches will satisfy the most intense longing of any ocean loving soul.
Amazing Sights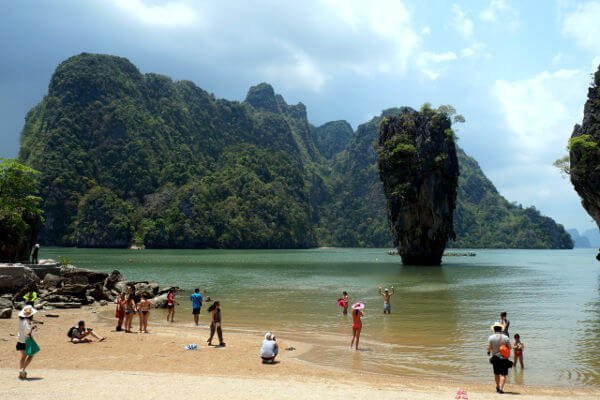 Although Phuket is mainly known for its amazing beaches, it also offers visitors a wealth of sightseeing opportunities. After being melted into bliss by endless vistas at the beach take some time to explore the island's natural wonders, sacred places and its amazing nightlife.
Phang Nga Bay is part of the newly formed Ao Phang Nga National Park. Part of its immense beauty and wonder comes from the sheer limestone karsts that are just offshore and rise precipitously from the sea. One of the islands is known as James Bond Island as it was featured in the 1974 film The Man with the Golden Gun. If you are planning on visiting Phang Na Bay, the best way to tour this spectacular natural wonder is by taking a boat that departs from the north end of Phuket.
You may also like: Splashing Into Thai New Year In Thailand
Rising atop the Nakkerd Hills like a sacred sentinel nestled against the luscious blue sky, the Big Buddha is covered in beautiful white Burmese jade marble that reflects the brilliance of the Sun. Standing some one hundred forty-seven feet tall the Big Buddha gazes out to the sea and surveys the earth and ocean below.
As you approach this sacred place you hear the sound to tinkling bells and the gentle flapping of yellow Buddhist flags animated by the wind. Dharma music drifts in the air and there is an immense feeling of peace everywhere. All the funds for this project come solely from donations and often visitors write very poignant messages of love and remembrance on the marble slabs or bricks they buy for this sacred place.
You will find numerous Buddhist and Chinese temples and shrines scattered across Phuket Island. One of Phuket's most revered Buddhist sites is Wat Chalong. Each year thousands of travellers visit there and experience the beautiful temple, which is decorated with glass pieces that reflect infinitely across the pagodas. The most popular Chinese shrines are located in Phuket Town, a city that is blessed by these spiritual centers and alive with the mix of Chinese and European cultures.
If you are looking for an experience that takes you beyond the typical tropical island, then Phuket Thailand is the place for you. It will captivate you with its beautiful beaches, its spectacular sites and dining, and its amazing cultural experiences. Like so many other travellers, you will find yourself coming back time and time again.
Pin For Later