Besides the lush natural wonders and stunning beaches, the Philippines is also known for its delectable cuisine. For travelers wanting to engage with the Philippines' culture in its entirety, tasting the popular Filipino dishes is a must. However, exactly where can you get the full palate experience? Well, we will begin our foodie adventure on the country's largest island, Luzon. 
The Best Foodie Destinations in Luzon
Luzon offers a mixture of different cultures and, as such, has a pretty diverse cuisine to offer. To help you on your chow-filled journey, I made a list of the must-visit places in Luzon that offer unique dishes that are 100% Filipino. So, list down these destinations for your Philippine food tour. 
Manila
–  A Melting Pot of Different Cultures
We can't have a foodie guide in Luzon without having Binondo, Manila, on the list. Specifically, the Chinatown in Binondo is also the oldest Chinatown in the world. This place is a melting pot of exotic foods that combine Filipino, Spanish, and Chinese cuisines. You can find a slew of Filipino dishes in this place and Chinese delicacies. 
For the more adventurous food enthusiasts, maybe you can hunt down the mysterious Soup No. 5. I'll let you research what that soup is for yourself. Plus, if you are looking for the best siopao or hot bun in the country, Binondo is where it's at. 
I highly recommend you check out Ying Ying Tea House, Dong Bei Dumplings, and Café Mezzanine when going through Chinatown, as these offer some of the best foods in the area. Also, you can check out this Binondo Food Tour for a more comprehensive guide through the dizzying and colorful streets of Chinatown in Binondo, Manila.
Cavite
– Home of Classic Countryside Filipino Dishes
A two-hour drive from Manila in the province of Cavite, another top-notch tourist destination thanks to its beautiful beaches, mountains, waterfalls, caves, and delicious food. Cavite is one of the most historically relevant places in the country. This is where the Philippines declared its independence in 1898 and is also home to its first president, Gen. Emilio Aguinaldo. 
Foodie adventurers will be pleased to know that the place is also known for its delectable delicacies with such a rich history. Most of the cuisines in Cavite are deeply influenced by Spanish culture. However, a must-try Cavite specialty is the pansit, noodles coated in black squid ink with various ingredients mixed in. There is also a variation of the pansit called the pansit puso, which uses thin noodles with banana blossoms as toppings and other veggies and meat. 
If you prefer something meaty, I recommend trying their famous sinampalukang manok and the mouth-watering Morcon. Cavite is also known for its wide selection of delicious seafood such as squid, shrimp, and oysters. If you are looking for the best-tasting pansit in Cavite, I recommend looking for Bernies Kitchenette and Asiong's of Cavite. 
Batangas
– From Soothing Delicious Beef Soup to Strong Filipino Coffee
Next to Cavite is Batangas province, which is also two hours away from Manila. Batangas not only has some of the best-looking beaches in the country. It also holds a cavalcade of delicious exotic cuisine, most notably their beef soup bulalo and noodle soup lomi. Besides the breathtaking vistas such as the Taal Volcano and Lake, Batangas can also satisfy your food cravings. 
Batangas indeed loves its soup as besides the two dishes we stated earlier, this province is also home to the goto soup, a savory beef soup mixed in with veggies and spices. Besides the delicious soup selection, Batangas is also known for its kapeng Barako, a strong coffee grown and blended within the province. 
For my most recommended restaurants in Batangas, I highly recommend checking out Lomi King, Robusta Café and Restaurant (their pork binagoongan is a must-try!), and Jorjhanes House of Special Bulalo. After a filling food tour around Batangas, why not relax and bask under the sun in the province's own Little Boracay with its picturesque blue water and white sands?
Laguna
– Breathtaking Views and Delectable Sweets
Laguna is part of the Calabarzon region of the Philippines and is well-known for its stunning natural wonders and is also the birthplace of Dr. Jose Rizal, the Philippines national hero. Besides the popular tourist destinations dotted around the province, Laguna is also home to the country's favorite snacks and sweets. 
Laguna has its famous buko pie (Coconut Pie) if your sweet tooth is craving something fresh and satisfying. Bibingka (traditional Filipino rice cake) is also a favorite snack and dessert in Laguna. Espasol (Extra soft and chewy rice cake) is another signature snack/dessert in Laguna. Laguna has a delectable collection of snacks and sweets that will surely be a treat for those wanting to satisfy their craving for sweets. You can visit Orient – The Original Buko Pie Bakeshop or Meligian Sweets to taste Laguna's beloved pastry. 
Here is an excellent Laguna Day Tour that you can check out if you wish to visit some of Laguna's most breathtaking landmarks. 
Ilocos Sur
– A Fantastic Selection of Porcine-Dominated Cuisine
Located in the Northwest part of Luzon is Ilocos Sur. Besides having a pretty rich history, Ilocos Sur is home to one of the all-time favorite Filipino dishes, the longganisa, a pork sausage blended with different savory flavors. The very best longganisa in the country can be found in Vigan City (capital of Ilocos Sur). I highly recommend dropping by Three's Bagnet and Longganisa or Jeannie Piamonte's Vigan Longganisa and Bagnet for the best-tasting longganisa in the city. Bagnet is also a must-try Ilocos Sur specialty dish which is boiled and deep-fried pork belly, giving it a satisfyingly crispy texture. 
For something more exotic for your taste buds, you can hunt for the dinardaraan; a dish made up of pork, pig's blood, and a variety of spices. First, you can check out Salmon's Pansitan Pasuquin for the province's famous dinardaraan. Then, over to another Ilocos Sur city, specifically Batac City, you can also get a favorite of mine, the delicious Batac empanadas. I suggest Lanie's Batac Special Empanada if you want to try this classic Spanish cuisine with a unique Filipino twist. 
I also recommend checking out this Three Day Ilocos Sur Tour that will provide you with a full appreciation of the beauty of this historic province in the Philippines. 
Bicol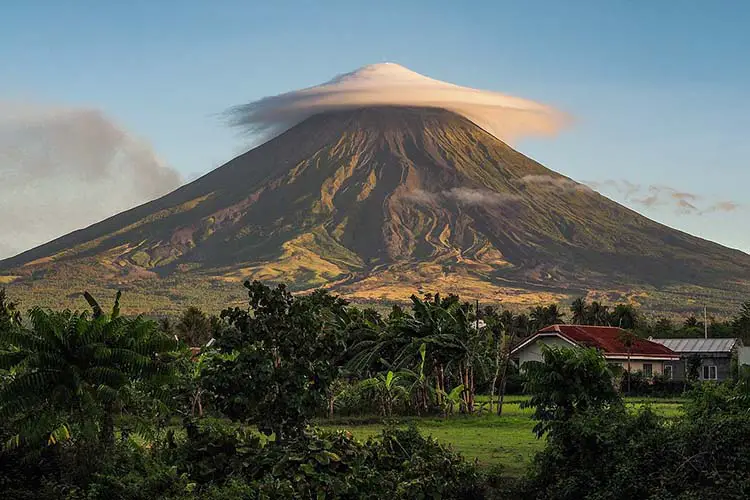 – A Spicy Lover's Paradise
The Bicol region comprises six provinces, and one province, in particular, Albay, is home to one of the Filipino's favorite dishes, the Bicol Express. The region sure loves their coconut milk and chili as all of their dishes revolve around those two core ingredients, such as the Bicol Express, which is pork cooked in coconut milk and chili. 
Legazpi City in Albay is always a treat for food lovers who want something uniquely different from the typical dishes. You can go around the city and find pretty interesting chili-flavored ice cream and chili shakes.
If you find yourself in Legazpi City, Albay, and looking for a place to eat, I highly recommend going to 1st Colonial Grill for the best Bicol Express in the region. The restaurant also has Bicol's famous chili ice cream for those who want to try this unique frozen dessert.
Pampanga 
– It's Not Called the Culinary Center of the Philippines for Nothing
If we are talking about a food tour for the entirety of the Philippines, you can bet that Pampanga will always be present in that list. Also known as the "Culinary Center of the Philippines," Pampanga has undoubtedly earned that moniker with its vast unique dishes that are 100% Filipino. In addition, there is a saying here that those who marry someone from Pampanga are lucky as they are excellent cooks. 
Some of the most popular dishes that originated from Pampanga include sisig (made from bits of pig's face and belly seasoned in calamansi and chili peppers), pancit, and suman (type of rice cake). These Pampanga dishes have ingrained themselves into Filipino culture that you can find themes almost everywhere in the country. However, as they say, nothing beats the original, so you have to visit Pampanga for the best versions of these dishes. 
Most of these classic delicious gastronomies can be found in San Fernando City. I recommend checking out Aling Lucing's Sisig, Ged's Pansit Malabon, and Susie's Cuisine (for a delightful variety of suman and other sweet delicacies). If you want something more exotic such as roasted stuffed frogs and fried crickets, you can go to Apag Marangle to get your fix. After a heart food tour, why not end the day by visiting Pampanga's famous Sky Ranch Amusement Park to burn those accumulated calories away?