The Vienna Christmas markets
Glühwein, Punsch, Bratwurst, Wiener Schnitzel, Applestrudel mit Vanille Sauce, Sacher Torte, Wiener Melange, Waffen mit Zimt und Zucker…
All of them belong to the Vienna Christmas Markets, the Wiener Christkindlmarkt. Vienna, Austria, has always been amongst my favorite capitals especially because it is very close to Hungary and easy for me to get there. But I had never visited this wonderful city during Advent.  Finally last Saturday I did. The weather was cold and snowy, but this did not dissuade me from looking around and discovering the city and its beautiful Christmas markets.
I started my walk at the Graben, one of the most famous streets in Vienna's first district. No market is held there, but the square is dressed up with huge Christmas lights and chandeliers. This is where you can find Julius Meinl, the culinary epicenter and premier address for gourmets. The finest materials and ingredients from all over the world are available here over three floors in a wonderful atmosphere.
In the Meinl Café, you can treat yourself with the famous Viennese Melange, a combination of coffee with steamed creamy milk and foam. I also stopped by the Demel Bakery where I picked up a slice of chocolate cake that I saved for my train trip back to Budapest. Yum, it was so delicious!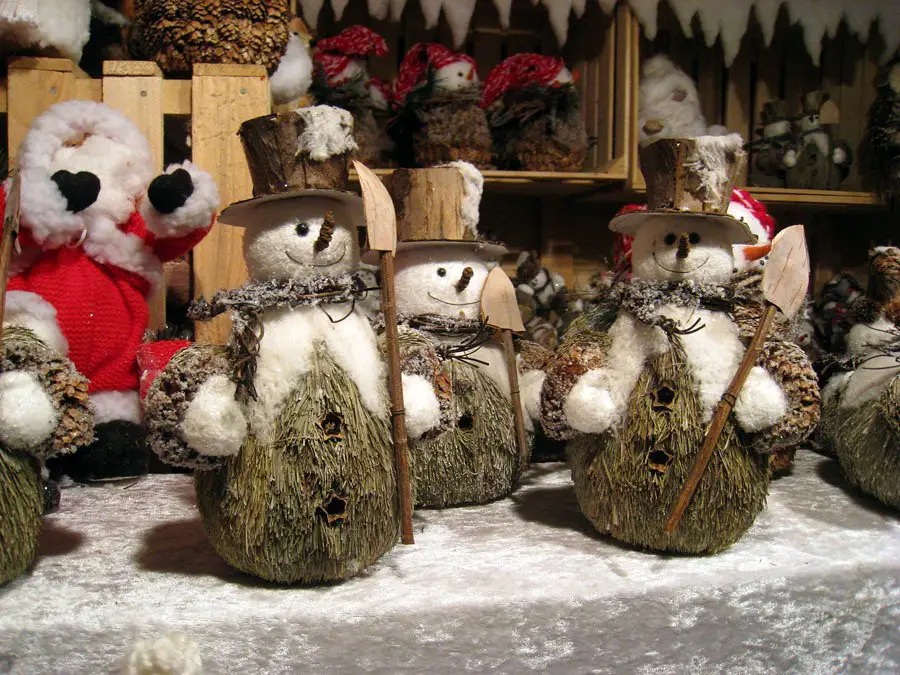 Walking through the Burg takes you to Maria-Theresia Square (Platz) where more than 60 stands offer traditional goodies, handmade jewelry, books, candles and Christmas decorations.
You need to stand in a long queue to taste a Bratwurst roll with mustard and a hot mug of Glühwein but they are worth it.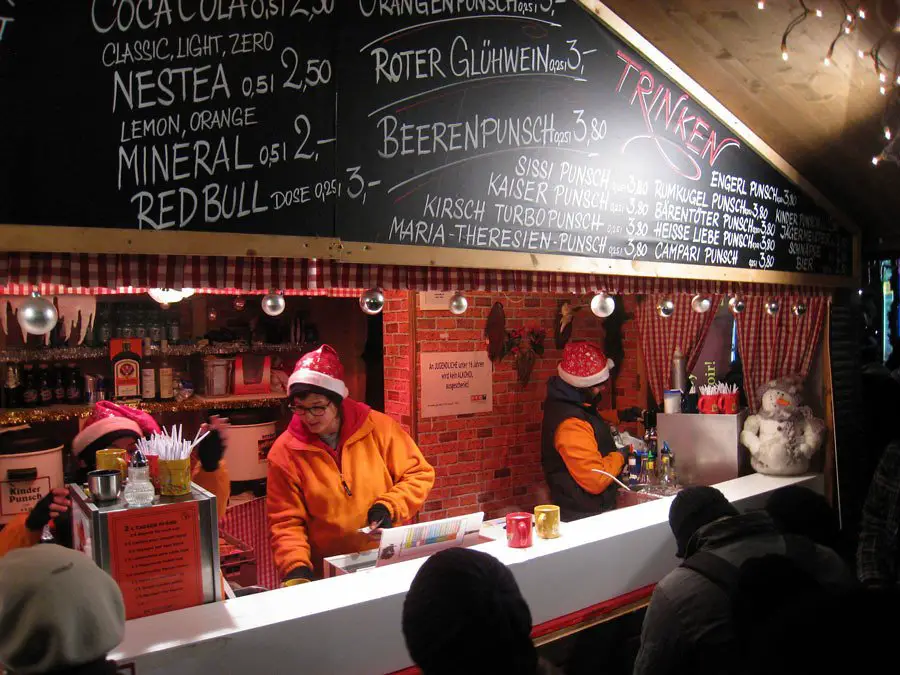 Very close to this Christmas village is the City Hall Square Christmas market. Each year the square is transformed into a magical Christmas wonderland. Many shopping booths offer all kinds of gifts, food and drinks. You can smell the delicious aroma of punch, cinnamon, roasted nuts and traditional gingerbread everywhere.
There is a giant Advent wreath in the centre of the square and in the neighboring park the trees twinkle with festive lights. If you were not in the Christmas spirit, all these will put you in the mood.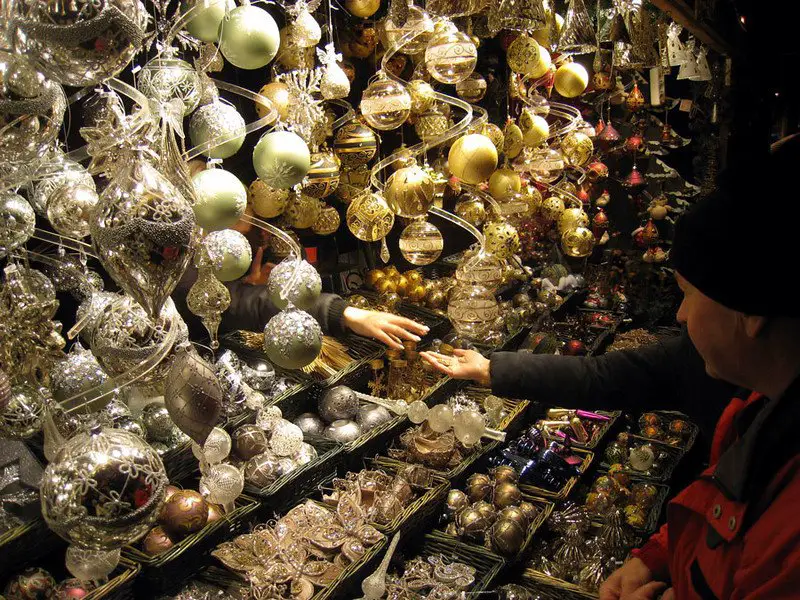 The third market I visited is the "Altwiener" at Freyung. This Christmas market has been held here every year since 1772.
You can find all kinds of itsy-bitsy Christmas decorations, ceramics, glass handcrafted pieces. A festive Advent Christmas music rings out in the square from 4 pm in the afternoon.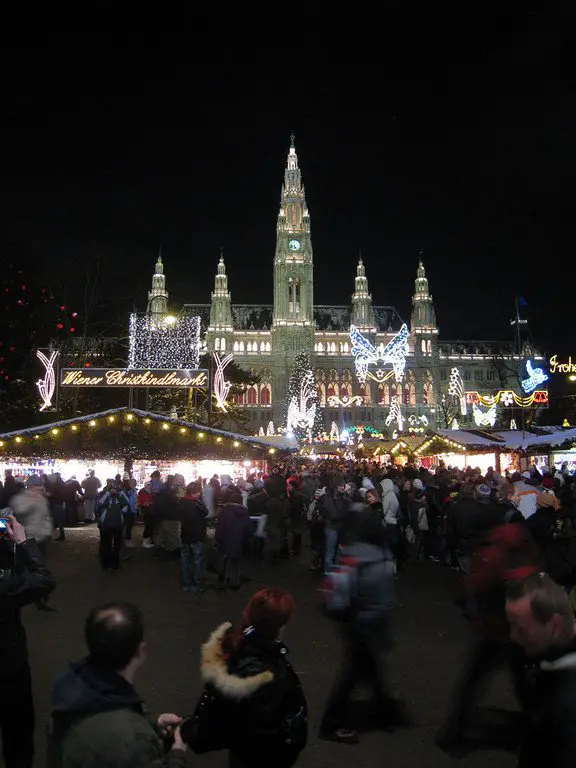 Walking around the Vienna Christmas markets in the freezing cold in my rubber boots trampling with my feet into the deep snow took me back to my childhood.
The Viennese really do their best to make people feel like they are kids again, with all the twinkling sounds and blinkin' lights and Santa Claus flying around the city in old tram carriages with the elves waving and smiling at everyone.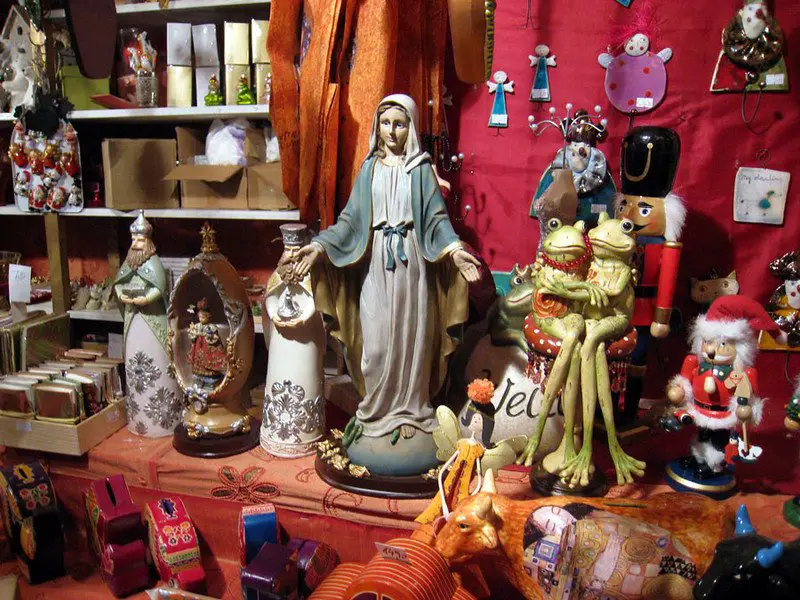 It felt like those special moments that fill you up with hope, that despite the world's fast pace there are people out there who still care about bringing magic moments to others' lives, where sharing laughter and joy is the most important. The Austrians are very good at this, their hospitality and care for others is quite amazing.
Go and see it for yourself, you won't be disappointed.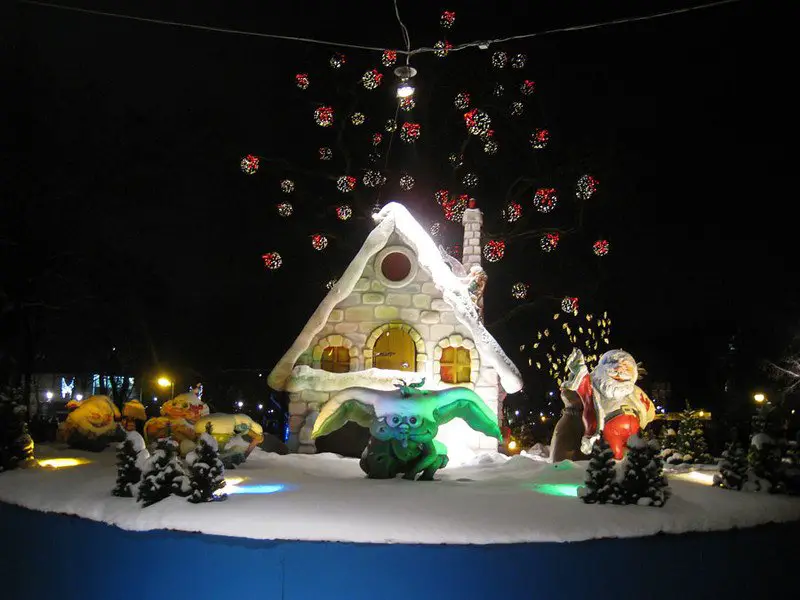 There are obviously more Christmas markets in Vienna's public squares, but I wanted to leave something for next time around too.
Related Articles:
Merry Christmas from the land of sunshine, beaches and sundresses
Swiss Family Robinson of Basel
* all photographs by Zita Nagy, all rights reserved ©
Editor's note: Be sure to see The Shady Christmas Characters of Europe, for a look at some of the darker traditions of an Austrian Christmas.
Pin for Later