Are you thinking of heading to Spain this year? Well, doubtless you're imagining golden sand, the warm sun on your skin, and a glass of sangria to look forward to in the evening.
However, deciding which beaches to spend your time on is an important factor worth proper consideration. After all, it's probably where you're going to spend most of your time.
Luckily, we've put together a list of some of our favourite beaches in Spain, stretching from the Costa del Sol to Gran Canaria, right through to Lanzarote and Ibiza. Take a look and decide where you'd like to go…
1. Ancha beach, Costa Del Sol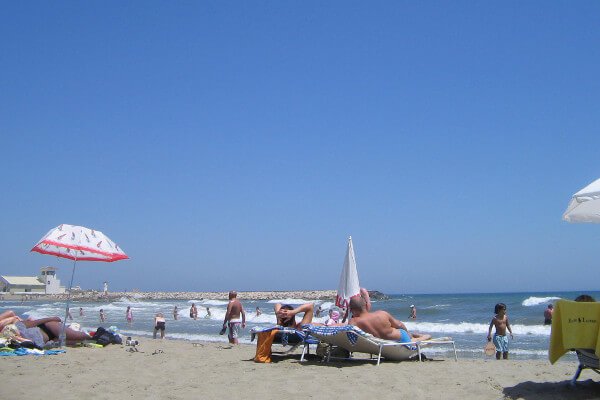 Ancha beach is popular with sunbathers and snorkelers alike. The water is so calm and pleasant, and the watchtower at Torre de la Sal (a 16th century structure) is perfect if you're a bit of a history buff and fancy getting your teeth stuck into exploring something old while you're on holiday too. This beach won a blue flag in 2016, marking the fact it's extremely well cared for, so look forward to enjoying 1,300 metres of stunning shoreline if you head to this part of Spain.
You will also like: Seville, Sip by Sip
2. Maspalomas beach, Gran Canaria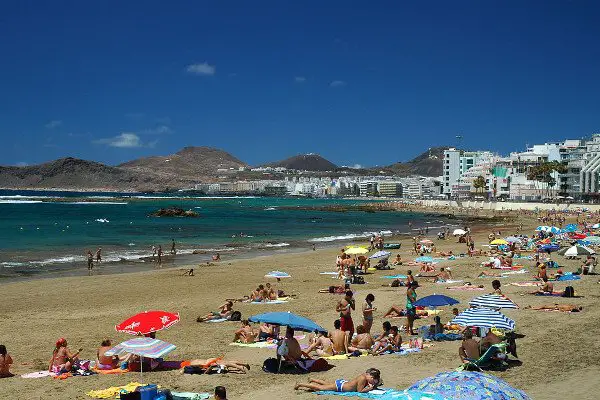 Despite being the most popular beach in all of Gran Canaria, Maspalomas beach feels spacious and relaxing. That's due to the fact that the beach is so vast: it's over six kilometres long and boasts some huge golden dunes. These dunes are perfect if you fancy a romantic evening stroll on the beach before dinner, and even in the middle of the day, Maspolomas beach offers families, couples and singles plenty of room to sprawl out and enjoy the sun.
You will also like: Canary Islands Vacation with the Glamour Granny
3. Cala D'hort, Ibiza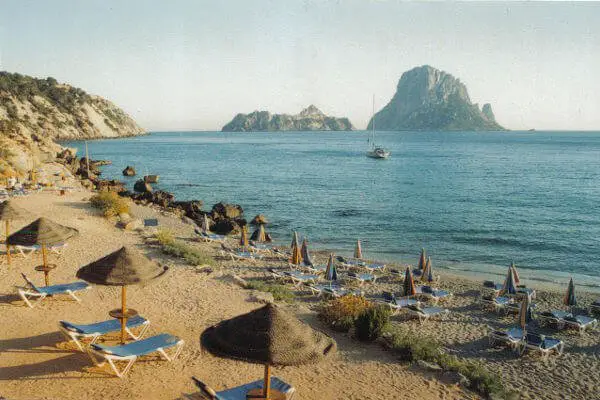 While some parts of Ibiza are famed for their energetic parties, other areas are tranquil and majestic. Cala D'hort is situated in one such peaceful part of the island, sitting at the bottom of a beautiful hill. The islands of Es Vedra are on the horizon and beach-goers like yourself will get a front-row seat of this beautiful spectacle if you sink your toes into the sand. The beach is only a 20-minute drive from Ibiza town, so follow the signs to Cala Carbo before taking a right turn at the T intersection and keep going down the road down until you get to the sea.
4. Papagayo, Lanzarote
Is Papagayo the most beautiful beach in all of Lanzarote? Well, if the number of people who pay it a visit are anything to go by, possibly so. The beach is a stretch of white sand and is sheltered by cliffs on the southern tip of the island, and there's even a nice little restaurant beside the car park if you want a bite to eat. Consider staying in Playa Blanca if you want this beach to be your regular haunt while you're in Spain, and get on the beach early – it gets quite crowded in the tourist season.
5. Playa de Las Teresitas, Tenerife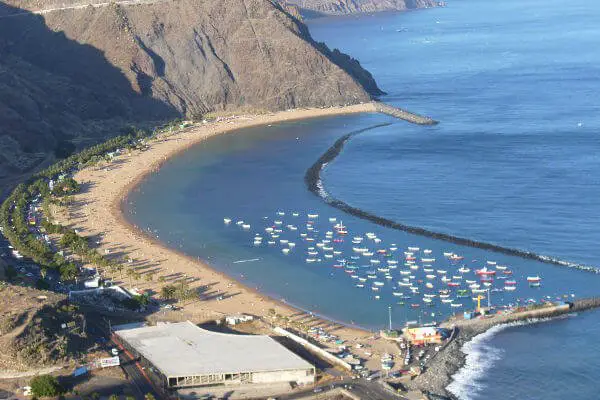 Unlike most the beaches in Tenerife that consist of black volcanic sand (which is very beautiful in its own right), Playa de Las Teresitas is a lot whiter. That's because the beach was rejuvenated by sand from the Sahara, and many locals and tourists regularly flock here to swim in the sea or do a spot of sunbathing. Set up camp under one of the beach's palm trees if you want to catch some shade, and be sure to get there early on the weekends if you don't want the locals to beat you to the best spots!
You will also like: Spring In Tenerife
6. Playa de Levante, Costa Blanca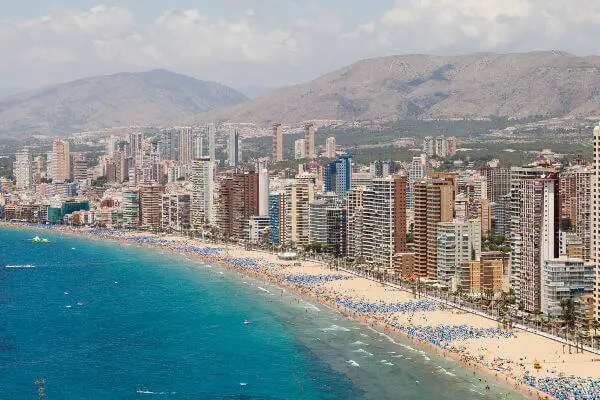 Playa de Levante is one of Benidorm's best-loved beaches, with sun-seekers relaxing by the sea across a couple of kilometres of golden sand. In fact, it's so well loved (by Brits in particular) that there's a British Quarter just behind the beach selling English food and drink if you want a little taste of home. Of course there are plenty of Spanish restaurants and cafes along the seafront too, and this coupled with the fact that the beach is cleaned every day makes it a perfect beach for families to visit.
Does Benidorm sound like somewhere you want to lay out your towel? If so, take a moment to compare the best deals before you go ahead and buy anything – it's the kind of destination where you could go cheap and cheerful, or a little more glam depending on your budget. Check out the best deals for these other locations too and look forward to slipping into those flip-flops!