When it comes to historical town centers, few have the storytelling potential of Marrakech's old city. Once you pass through the walls of the Medina, it's almost like being transported back in time. From the Mosque of Ibn Yusuf to Bahia Palace, the circular layout of this major citadel encloses centuries of Saharan and Arab-influenced architecture and a rich, multifaceted culture.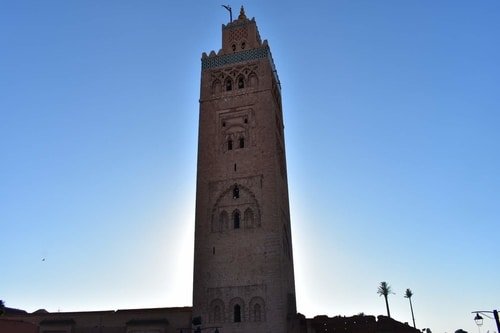 Get an early start.
No matter where you're staying, Djemma El Fna square is a great place to begin your tour of the city. This is the main shopping district and one of the most congested areas, so it's helpful to check this region out early in the morning. You can also end the day here, but I always loved seeing the square come to life as the vendors set up their shops for the day. If you head out before 8:00, you might even catch a few moments of quiet before the hustle and bustle.
Another site that is perfect for a morning visit is the Le Jardin Secret botanical gardens. It's a bit less popular than the Jardin Majorelle, and for 80 dirhams total you get access to the grounds and the tower. If you want to learn a bit about the history of Morocco, and specifically the women who helped to build it, the Musée de la Femme is less than 200 meters away.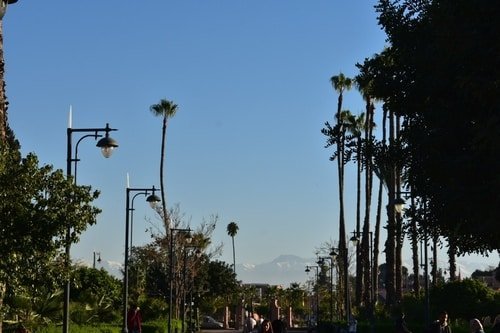 Grab a bite and some scenery.
From the main square, you're close to a few different main attractions. If you want to really take in the third call to prayer, plan to stay outdoors around lunchtime. There are rows and rows of vendors throughout Djemma El Fna, so you can grab a plate of tajine or a doner wrap from just about any one of them. I'd recommend heading east and eating with a backdrop of palm trees in Cyber Park before making your way to the Koutoubia Mosque. Unfortunately, non-Muslims are not allowed to enter mosques in Morocco, but you can still enjoy the beautiful construction and tile work from outside the building. Before traveling in Morocco, read more about Muslim Etiquette.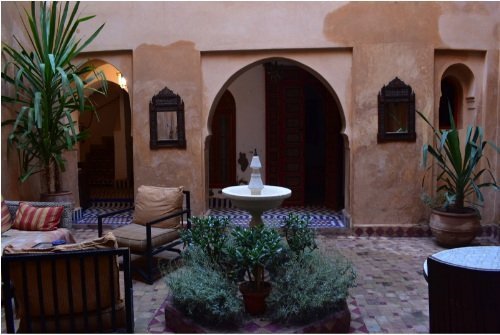 Take a royal tour.
About 800 meters southeast of this area, you'll find a few different palaces that have stood for 500 years or more. The most popular is probably the Bahia Palace, which is a great place to start. Entry fees are fairly modest compared to most European attractions, so you might be able to fit a couple of tours into your afternoon. Just 400 meters from the Bahia Palace is the El Badii Palace, as well as the Moulay El Yazid mosque and Saadian's Tombs. Pair your sightseeing with a quick history lesson by learning about the once-hidden mausoleum. The Royal Palace does not allow visitors, but you can still admire it from the outside.
Once you're ready to head back, the center is a 20-minute walk if you take Rue de Berrima. You can top off your night with dinner, a juice cocktail and a bit of shisha from one of the Medina's many nighttime cafes, such as Rouge Cafe. Or, you can enjoy a quick meal from one of the snack stands while watching the crowds snake their way through the outdoor markets.
While it isn't a particularly large city, the Medina is packed with history, beautiful art and fascinating culture that you could spend days and days trying to absorb. But its compact, car-free layout and low cost make it the perfect place to plan a day trip.
Pin For Later