Oh so colorful Provence, France, I'm talking to you!
There is a very serious peril traveling to certain places.
The colors of Provence constantly make a play for my attention. This Southern France favorite seems to know exactly what it's, doing, teasing me with views everywhere I look, in all its dilapidated and freshly-painted splendor. There I was peacefully eating a salade niçoise in Apt, a market town in Provence. I look up and what do I see but this. Did the neighbors get together and decide to each paint their buildings and shutters a different yet harmonious color?
Tell me: Did someone park the Citroen there just so? Seriously is that cat for real? Admit it: A  painter visited in the middle or the night to paint that door lipstick red. He did it just to make it even more impossible than it already will be in a few days for me to board a plane home. His friend the set designer sneaked in those potted plants on stage left when I wasn't looking.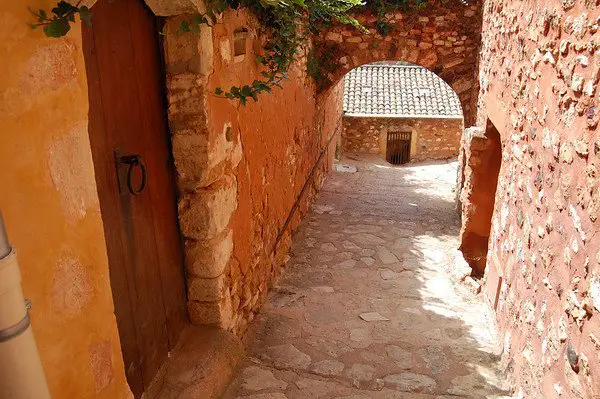 Big surprise: Provence goes showing off again. Buildings in this part of France don't even always need paint. Provence's earth near Roussillon makes for stunning building materials, so people get to live where earth and light come to play.***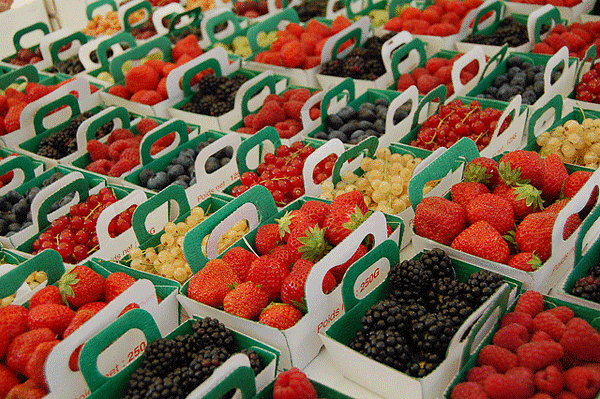 Orderliness, care and love out of the chaos of mixed berries is found at the Lourmarin market. I told the farmer who took the time to line up his berries like this, thank you. He didn't look at me as if I was crazy. It seemed to make him happy.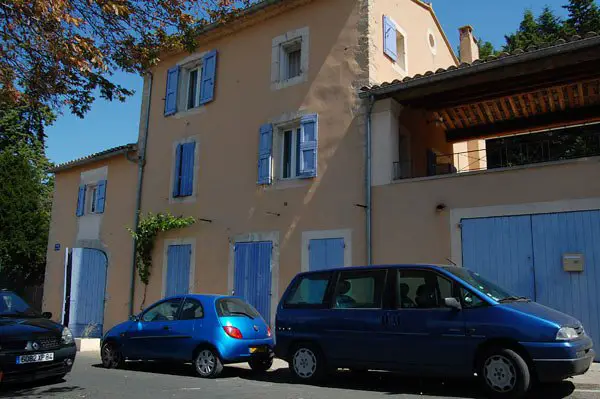 What did I wonder when  I saw this blue house with blue cars near Bonnieux? What their house and cars would look like if they lived in the United States. Answer: possibly not so pretty.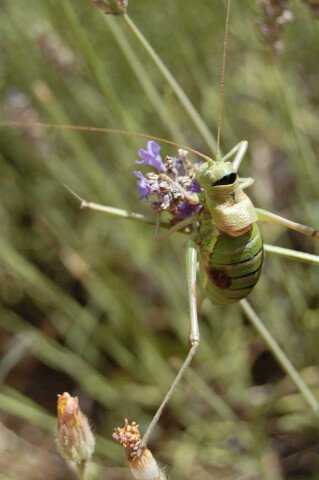 Even this bug who lives in oh so colorful Provence is smiling. He's a pretty shade of green and would rather eat lavender than me. Imagine how cute he would be if I could Photoshop in a beret for him. How can any other bug compete?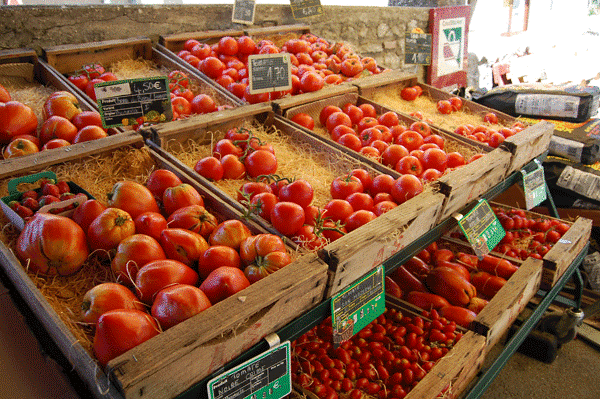 We get it; Provence has many varieties of tomatoes. For future reference, it doesn't really take so much to show up the Piggly Wiggly. I'm glad about the region's myriad tomatoes, but once again, I'm foiled in my efforts to stay in the present moment here. I don't want to get ahead of myself. I want to stay right here. Forever maybe.
Yes, there's a peril to visiting places like Provence. Just ask my husband who always has to drag me on the plane home.
Getting ready to go to Provence? You may enjoy this photo essay from Provence with pictures of some of our favorite towns including Goult, France.
*All photos by Margo Millure
Pin for Later