There is no shortage of great choices when it comes to eating, drinking and shopping in Santa Monica.  
Eating in Santa Monica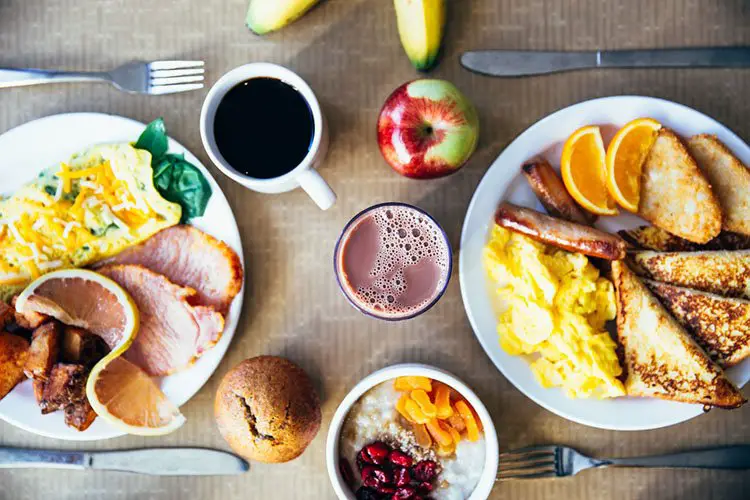 For breakfast or brunch, try popular Blue Daisy Cafe for fresh homemade fare that's organic and delicious or Urth Cafe is known for organic coffee and teas and healthy fare as well as decadent bakery items and deserts with outdoor seating and an upbeat vibe. Huckleberry Cafe is a buzzy market and breakfast spot that attracts a crowd for their bread, pastries, and desserts that are baked fresh daily.
You can try their recipes at home from the cafe's gorgeous cookbook, Bru's Wiffle has brunch covered with everything from waffles with chocolate sauce, chicken and waffles to burgers or salads. For lighter fare, The Hive is a hot spot for fresh juices, smoothies, and healthy breakfast bowls. 
For burgers and American fare, Father's Office serves delicious burgers and sweet potato fries along with 36 beers on tap. HiHo is famous for serving the only burger that is 100% grass-fed Wagyu beef and there's also R&D Kitchen for burgers, sandwiches, and salads.
If you're feeling indecisive, visit The Gallery food hall – perfect if you're not sure what you're in the mood for as it has delicious options for everyone from fish and chips at STRFSH, modern beach tacos at Azule Taqueria, pizza and wine at Paperboy Pizza, Spanish tapas at Cada Vez or the first West Coast location of Fuku (by Momofuku) for fried chicken and waffle fries. Guests can also try a 20-course tasting menu experience from Dialogue with Michelin star chef, where the compact dining space is created to foster conversation.
A vacation at the Pacific Ocean calls for some fresh seafood and Santa Monica has plenty of choices.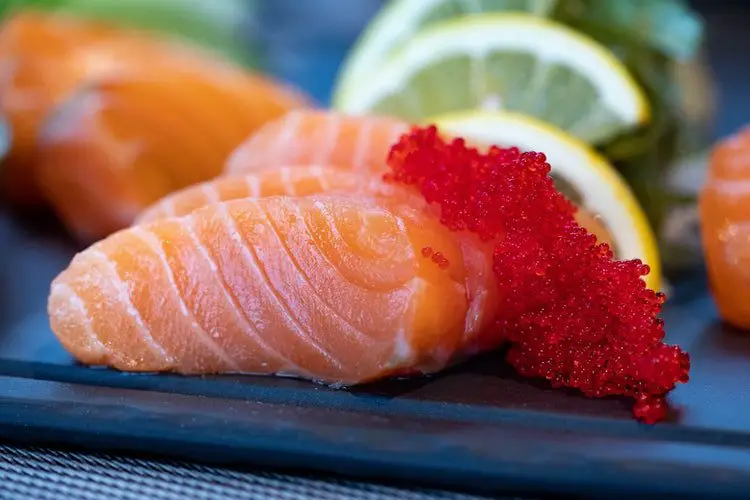 Santa Monica Seafood Market & Cafe is a Santa Monica institution with a history spanning four generations. The market and cafe offer fresh seafood fare from fish and chips, oysters, scallop tacos and cioppino.
Herringbone offers daily happy hour from 4-7 p.m. with $1 oysters, handcrafted cocktails and delicious small bites. Known for oysters, the restaurant also has a full seafood-inspired menu, raw bar, outdoor seating in a pretty garden setting and nightly live music.
Sushi Roku offers modern creative sushi which is not your traditional sushi – incorporating ingredients from Latin America and Europe into edible works of art.
If you're craving Italian, Fritto Misto, is your neighborhood Italian cafe featuring seafood options, build your own pasta dishes including plenty of vegetarian options.  If you're looking for more of a scene, Elephante, is a chic destination for elevated Italian cuisine on a rooftop with ocean views.
Drinking in Santa Monica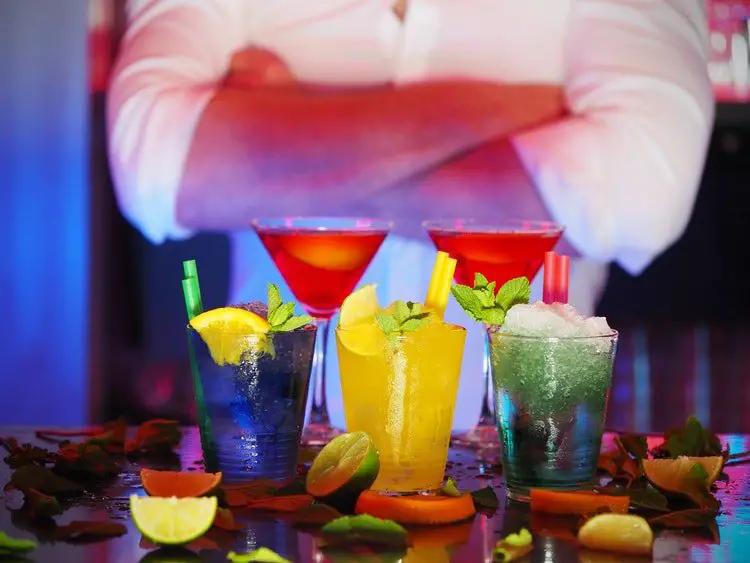 For casual fun, The Gaslite is a classic Santa Monica dive bar for karaoke, free popcorn and dancing. Chez Jay has been called the most glamorous dive bar. This little nautical shack is located near the Pier and has been designated a historical landmark. Its history goes back to 1959 and it bears the nostalgia of old Hollywood. This bar and restaurant are known for celebrity sightings, stiff cocktails and steaks, and seafood.
Bar Chloe is an upscale bar with vintage flair with classic cocktails. The decor features elegant wallpapered walls, banquettes, and vintage bar stools. The bar also serves cheese boards and small plates.
Wine lovers will enjoy Bodega Wine Bar with an abundant wine list and small plates. Coffee and beer are also served in this neighborhood favorite.
Santa Monica also serves beer enthusiasts with their first and only brewery, Santa Monica Brew Works, where you can sample beers and enjoy food from their rotating food trucks.
For drinks with a view, hit one of Santa Monica's rooftop lounges – The Onyx is a hip indoor-outdoor rooftop lounge on the top of the Hotel Shangri-La with craft cocktails and small plates with ocean views. Calabra on top of the Proper hotel is a chic rooftop restaurant and bar with an ocean backdrop, featuring seasonal cocktails and small-batch spirits paired with Mediterranean and California cuisine.
Santa Monica Shopping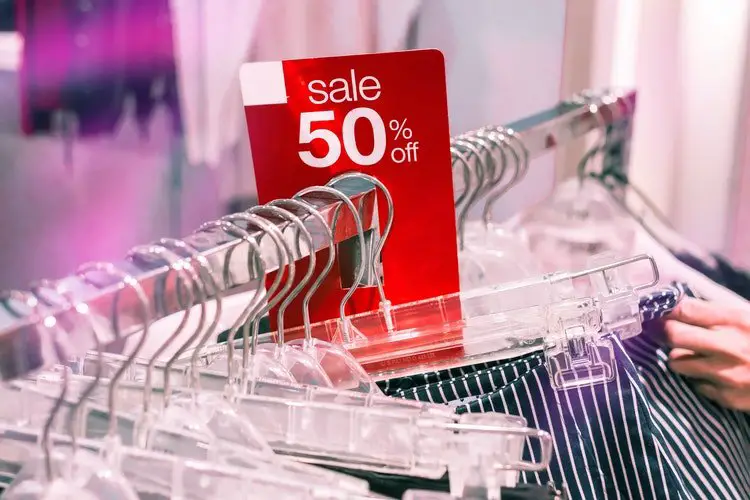 Santa Monica is a shopper's paradise with a wide range of shops within walking distance, shopping has a relaxed vibe but carries everything from beachwear to designer labels.
The famous Third Street Promenade serves as one of the main shopping arteries for Santa Monica with brand name shops, cafes and street performers in a lovely al fresco setting.  The outdoor mall is anchored by Santa Monica Place with department stores including Bloomingdale's, Nordstrom and brand names including Nike and Louis Vuitton. You'll also find a food court and a movie theatre.
On the north end of town, Montana Avenue is a pretty tree-lined street reminiscent of a European boulevard with an eclectic mix of over 150 unique shops, cafes, and bakeries.
Another not to be missed shopping destination is just down the road from Santa Monica in Venice, Abbot Kinney where you can stroll a mile of hip shops, restaurants, and galleries with a unique mix of old bungalows and modern buildings. Here you'll find a mix of locals, tourists, celebrities, foodies and artists in this space.
If you're looking for a keepsake, try Lost and Found, an off the radar shopping destination that offers unique clothing, accessories and home goods curated from all over the world.
The Detox Market offers curated shelves of the best green beauty products to detoxify your beauty routine. Mohawk General Store is a modern shop for trendy apparel and lifestyle products for men and women, as well as a great stop for gifts.
If you prefer browsing for second-hand finds, browse consignment store Haute Seconds, where you might find a deal on some designer digs.
Bergamot Station is a one-stop-shop for galleries and creative businesses. Record Surplus is a leading independent record store and a favorite destination for music lovers and record collectors with over 50,000 new and used vinyl records.
Featured Image by Gerson Repreza
Pin for later