While East London was historically one of the poorest districts in London, its growth of cool hipster hangouts, quirky gastronomic experiences, and vintage markets have pushed the rent up. People have flocked to the area to live and new businesses are popping up all the time hoping to entice people inside.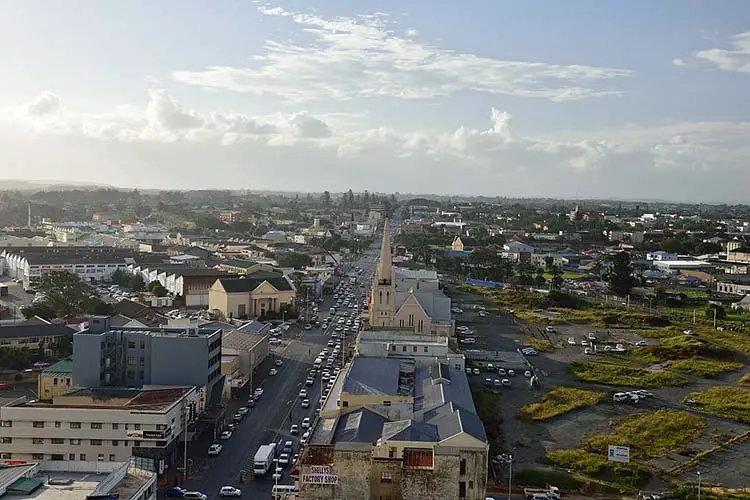 Just when you think you've heard it all in regard to a new type of cuisine, a fashion statement, or an unusual experience – East London will blast something new onto the scene. Literally anything goes in the East of London and once you've visited, you probably won't want to leave.
At the very least, you'll have a ton of incredible stories to tell friends and your Instagram feed will be bursting full of colourful Banksy street art, tasty food shots, and fun pics of you perusing the latest pop-up vintage market.
The Best Places to Eat, Drink and Shop in East London
Eat
There is a dining experience to suit everyone when visiting East London. Street food markets have exploded in quality and popularity in the last few years. No longer is the only choice a low quality, questionable burger — East London has a wealth of tasty street food options that will give any Michelin starred restaurant a run for its money.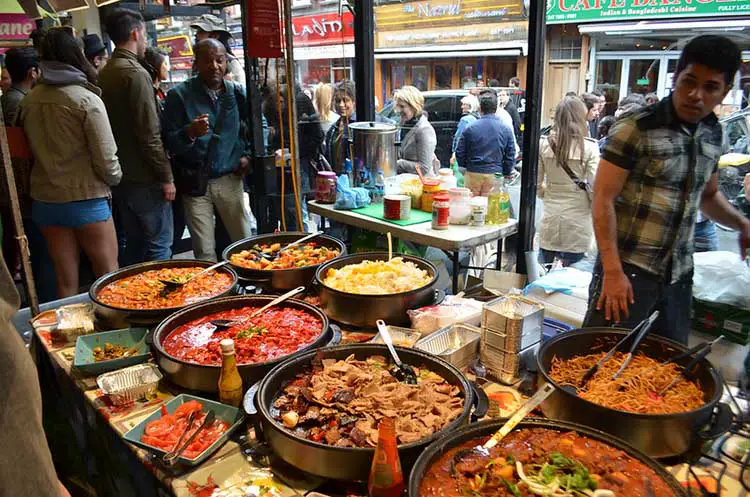 Head to Brick Lane Market on a Sunday, which is one of East London's most renowned street food markets. It features cuisines from around the world including; Pad Thai, Venezuelan cachapa, Ethiopian wraps, International sweets, and much more.
On Fridays, take a visit to Kerb at Spitalfields, which is a one-day market featuring 6 or 7 traders which rotate weekly. Expect food trucks offering tasty organic frozen yogurts, traditional paella, and melt in the mouth beef in a box.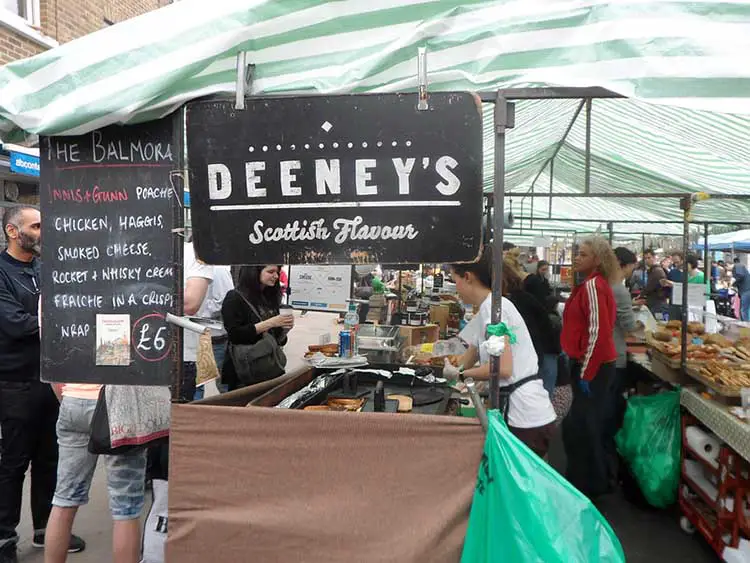 Other East London food markets worth a mention are; Exmouth Market, Leather Lane Market, Whitecross Street Market, and Broadway Market.
Brunch lovers, you will spoilt for choice in East London. Café Miami in Hackney is an Instagram influencers dream showcasing retro furniture, heart-shaped sugar cubes, and pretty pink pastel walls. It's a popular spot serving up Mexican influenced cinnamon roll pancakes, breakfast tacos, and quesadillas.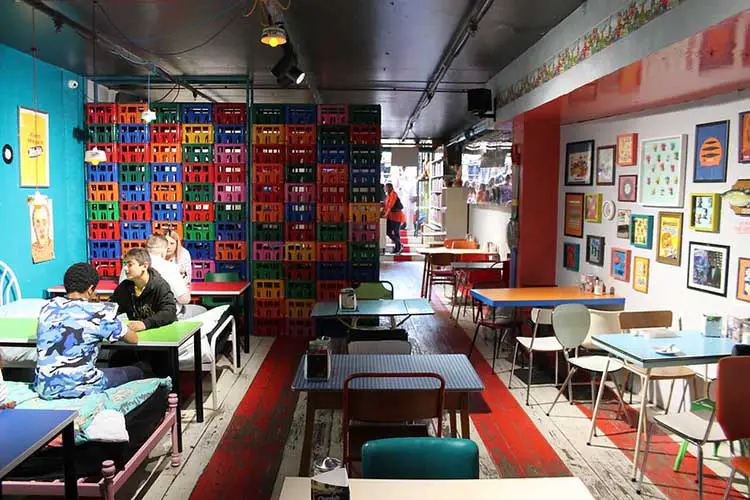 For something truly off the wall, head to where the hipsters eat brunch at the Cereal Killer Café on Brick Lane. Here you can create your own cereal bowls from a choice of 12 types of milk and 20 different toppings.
If you like to relax with a view, try out the Duck and Waffle Liverpool street. Sitting on the 40th floor of the Heron Tower you can choose something light like eggs and pastries, or try one of their signature duck dishes.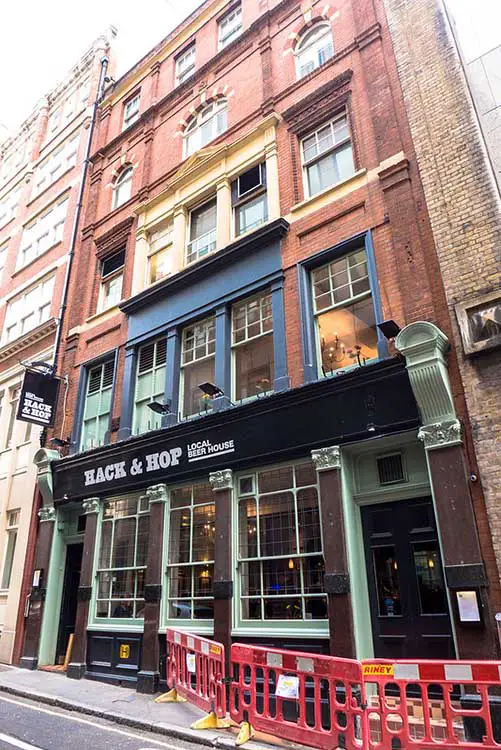 Later on in the day, head to Bistrotheque in the Cambridge Heath area. Its design is an open plan giving it a light, airy feel. Food is a mix of up-market fine dining dishes, but you can also opt for less fancy British classics. Wash everything down with a bloody Mary or Bellini from one of the onsite expert mixologists.
When visiting England, you have to try out a traditional Sunday roast. And, luckily being in East London you'll find some of the best Sunday roasts in the country. Drop-in at the Hack and Hop in the city, where you'll be served hearty portions and an impressive selection of craft beers.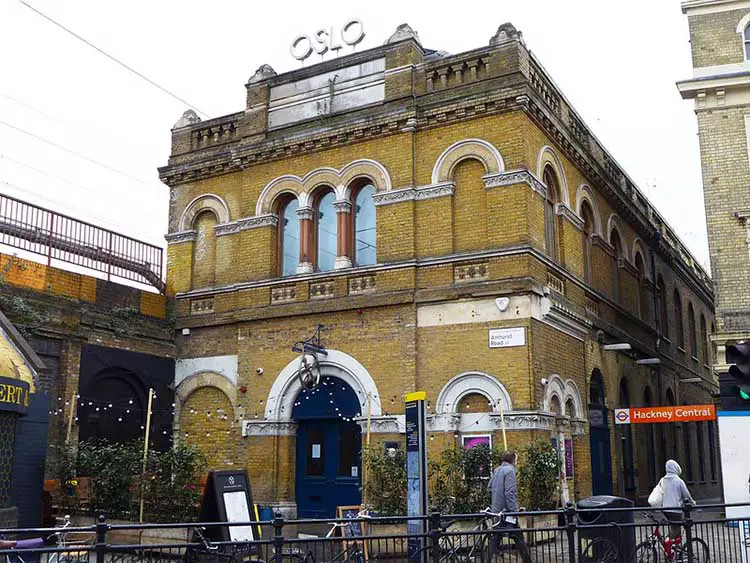 The Oslo Bar and Restaurant near Hackney Central station is another great choice where you can choose either half a chicken, a delicious bavette roast beef, roasties in duck fat, and a selection of buttery greens.
If you fancy something a little different, book a table at Campania and Jones near to Colombia Road. Being a former dairy, this restaurant has kept a lot of its original features for a truly rustic experience. Choose from a menu containing Italian favourites like Gnudi with sage and butter, Ravioli, Wild mushroom Tortellini, and home-baked bread.
Drink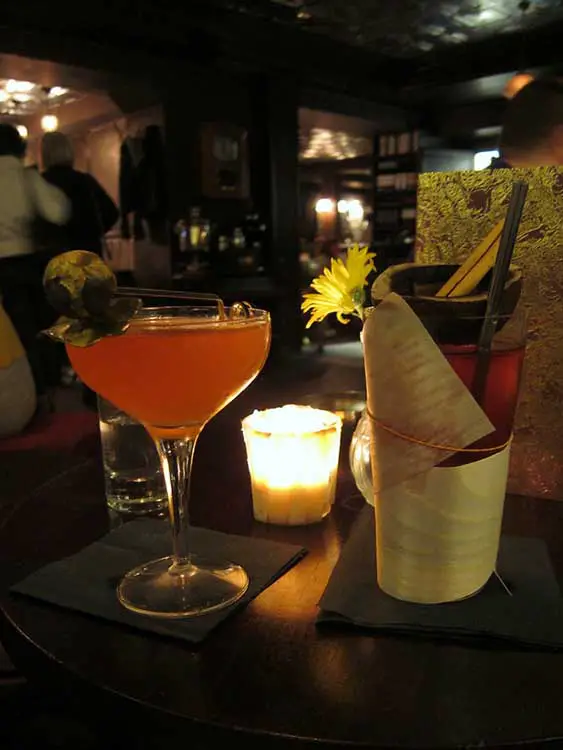 The bar and pub scene in East London has become legendary. Cocktail bars with outrageous décor mix with pubs containing secret parties and gangster pasts plus a sprinkling of quirky, hipster hangouts. It's literally a place where you go on a rollercoaster of a night out and wake up with so many stories to tell and maybe a tiny headache.
Live music, traditional pub, brewery bar, posh cocktails in a hip hideout, eclectic basement bar – the list is literally endless for unique watering holes to visit in East London.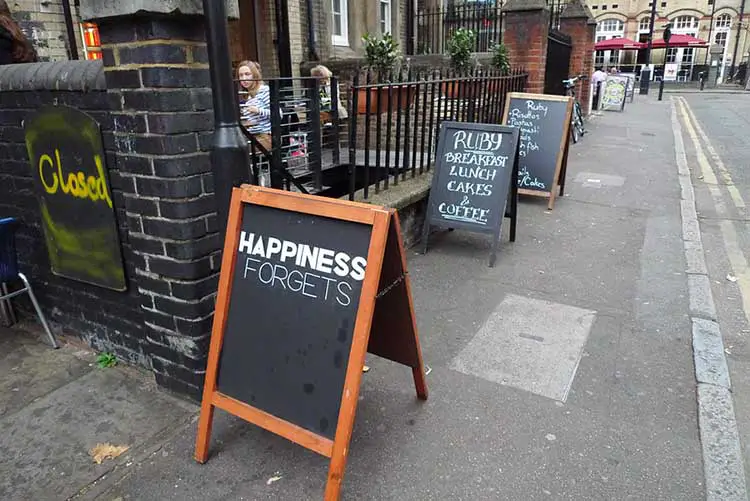 Girls and guys who thrive on glitter, head to the Tonight Josephine Bar in Hoxton Square. Here you can snag yourself 3 cocktails for £16 and soak up the 80s vibes.
If you're looking for a bit of live jazz to keep you moving, while sinking the cocktails, Nightjar is a must-visit on the City road. Another cocktail haunts not to be missed is Happiness Forgets in Hoxton. Here the mantra is; ''great cocktails, no wallies'' and they entered the top 10 of the world's best bar list in 2016!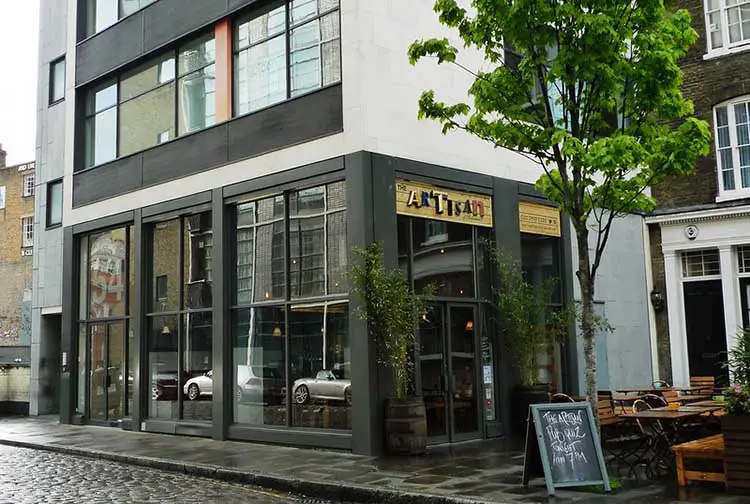 If cocktails aren't your thing, do not fear as East London has plentiful awesome pubs. Edgy, stylish retro interiors wait to welcome you at The Artisan Clerkenwell. This pub is routinely packed out, especially in the Summer where drinkers spill out all over the street.
For something a bit more laid back, try out the Old Tea Warehouse in Aldgate. This diverse gem has a huge beer selection, a menu full of tasty British classics, and darts in the basement.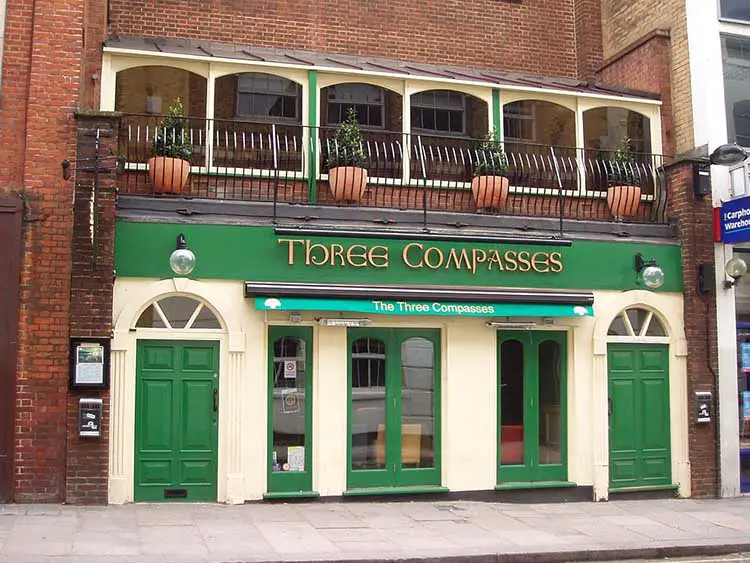 Head to the Three Compasses in Dalston where the cool kids hang, eating delicious burgers, and stroking cats. It has its own microbrewery so you can enjoy a range of unique ales. After scoffing a burger, relax and play one of their many board games strewn about the pub.
If you love your uniquely brewed beers, the Beer Hawk Charterhouse is a must-visit. They boast 12 lines on draught, 2 cask ales, and 150 different bottles in the fridge.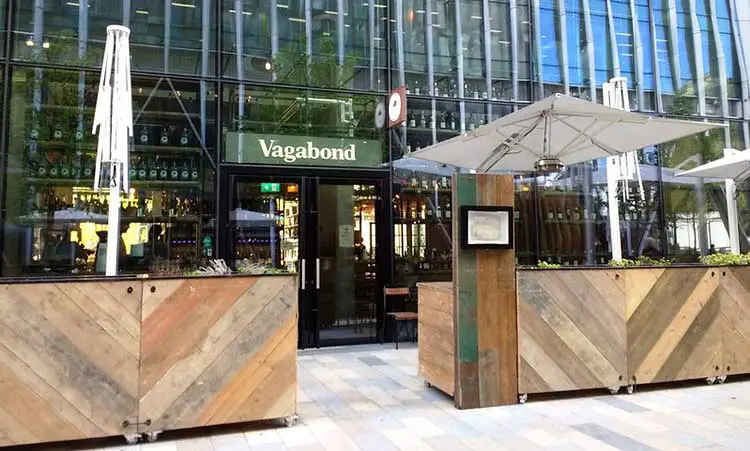 Wine lovers, do not despair! There are many gorgeous wine bars across East London. Head to the Sager + Wilde Hackney where they do their own version of wine and cheese night. Order from a huge selection of wines and a side of grilled cheese sandwiches!
The owners of The Remedy, Fitzrovia, believe wine is a cure for everything as you can see by the name. Check out this cheeky bar for great wine and a buzzing, warm atmosphere.
Other wine bars not to be missed in East London are; Vagabond Wines in multiple locations, P Franco Hackney, and the 10 Cases Covent Garden.
Shop
You will be spoilt for choice on places to shop at in East London. I'd actually go so far to say it's overwhelming!
But the best thing is, you won't just be bombarded with all the normal chain stores. East London is a mecca for unique boutiques, cool vintage clothes shops and a ton of trendy markets.
If your style is something a bit off-track to the mainstream, you will literally be in heaven shopping around East London.
Brick Lane, Whitechapel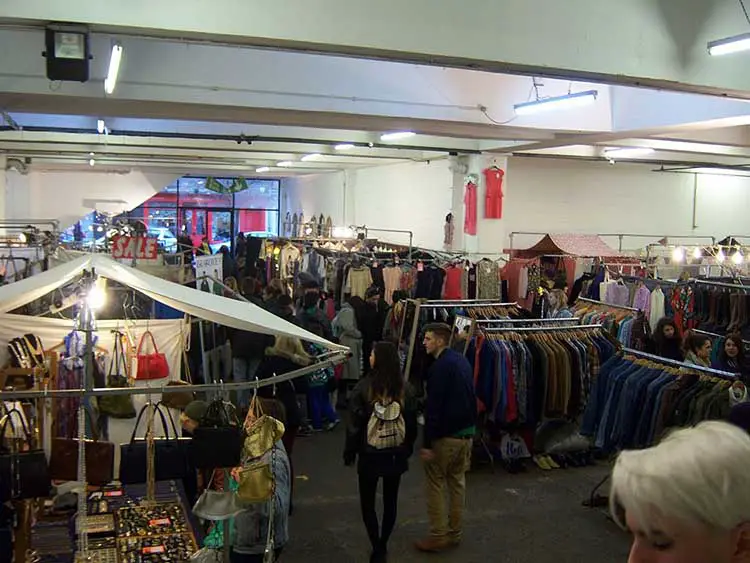 Visiting Brick Lane on the weekend means you can explore multiple vintage markets. The Old Truman Brewery opens its doors to its own Sunday Up Market. Other markets nearby are the Vintage Market, the Backyard Market and the Tearooms Antique market all of which have awesome vintage and boutique stalls you won't find anywhere else.
Markets are not the only place to shop on Brick Lane though. There are great shops on the main road and off side streets. One of a kind shops not to be missed are; retro emporiums like Blitz and Beyond Retro, the Here After Shop, Nordic Poetry, and Hunky Dory Vintage.
Hackney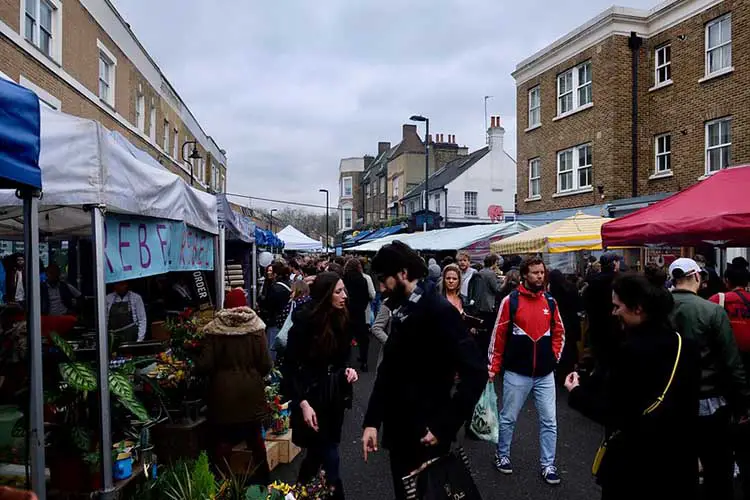 Hackney is home to the cool kids which is why you'll find shops containing cutting-edge fashions and many vintage surprises. Peruse Broadway Market for vintage bargains and stop off at the Black Truffle shop, famous for its trendy unique bags and shoes.
For distinctive textile designs, stop at Fabrications where you can rummage through their unusual haberdashery section and grab a few crafty gifts. Trendsetters and vintage brand lovers head to; the Other Side of the Pillow north of London Fields. Here you'll find vintage sportswear, new and old designer sunglasses, tea sets and even a few pairs of vintage Italian socks.
Dalston
Dalston is another cool East London area, with a ton of interesting boutique shops. Walk down an alleyway off Dalston's Shacklewell Lane, to check out the luxury fashion boutique LN-CC (Late Night Chameleon Life). You'll feel like you're walking into another world as you make your way through the extremely long, tunnel-like entrance.
Pelicans and Parrots is another cute vintage store not to be missed. Nestled on the edge of Dalston, here you can rifle through clothes, accessories, furniture, and bric-a-brac.
Metro Retro is a must-visit vintage shop in Dalston. Spend hours here trying on Japanese Silk Kimonos, Nepalese Grandad shirts, and a huge selection of quirky pieces. Their gear is ethically produced and handmade, so you really will get something unique.
Pin for Later