Nashville, Tennessee, is one of America's fastest-growing cities and is steadily becoming a top tourist destination thanks to its food, museums, historical sites, and of course, live music.  It's often referred to as Music City.
While Nashville is known as the Capital of Country Music, you can find music of all genres – it's also the birthplace of bluegrass, has roots in R&B and has a lively pop and rock music scene. So expect plenty of boot-tapping and dancing.  The ultimate city for music lovers and no visit is complete without a trip to the legendary Grand Ole Opry, the home of country music.
Nashville's popularity and its economy is steadily booming, adding to the visitor experience.  It boasts an eclectic blend of art galleries, shops, thrift stores, and top-tier restaurants.  Famous for its Southern cooking and comfort food, you'll want to try some Nashville barbecue. 
There are plenty of cool hotels to stay in for your visit to Nashville – in true Southern style, the city certainly knows how to welcome guests in style. Also, be sure to check out our Girls' Weekend Guide to Nashville here.
Cool Hotels in Nashville 
Nashville is filled with stylish hotels that range from budget to luxury. This list includes some of the best hotels that Nashville has to offer to start your perfect getaway on the right cowboy boot.
Westin Hotel
– One of the Most Stylish Hotels in Nashville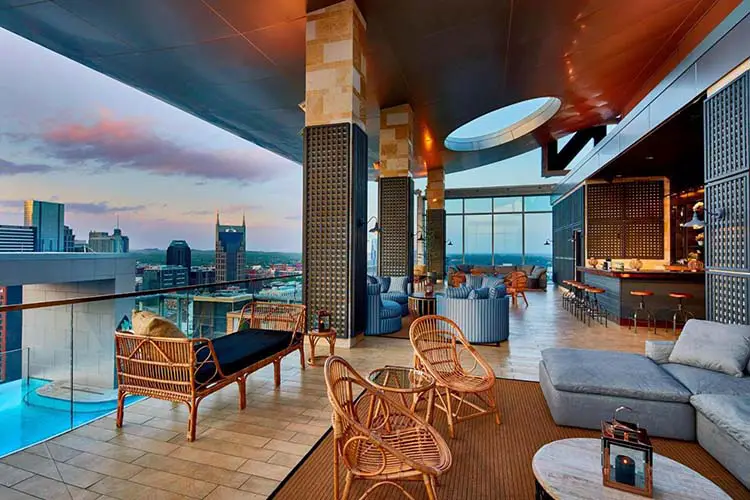 Let's hit the ground running with the Westin Hotel. This swanky four-star hotel features a stunning modern aesthetic and excellent luxury accommodation. The Westin is right across from the Music City Center, which is a huge plus if you are a music lover. 
The hip, contemporary interior décor complements the grand architecture of the Westin.
No expense was spared for amenities including a gym, a swimming pool on the rooftop deck, a bar, and a spa. The in-house restaurant, Decker & Dyer, serves creative cuisine and live music.
This boutique hotel with exceptionally rated service provides the perfect home base for your adventures in Music City.
Bobby Hotel
– A Cool and Quirky Retro-Inspired Hotel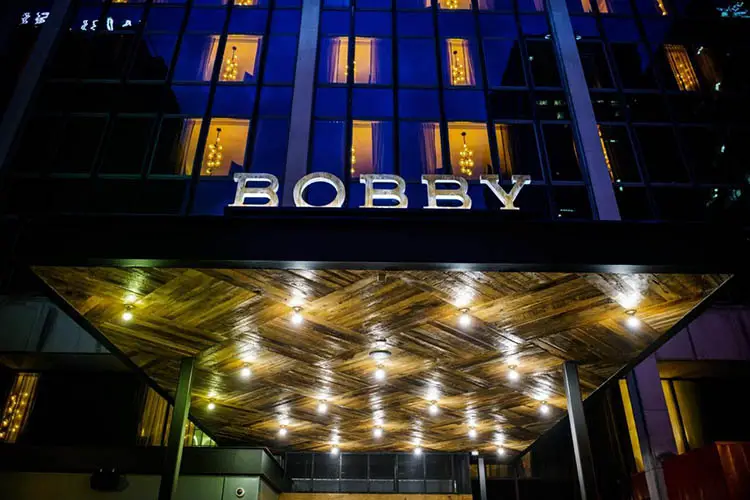 The Bobby Hotel is one of the unique hotels in Nashville, thanks to its creative aesthetic and charm. The fabulous rooftop bar is possibly the best part of this boutique hotel. The bar features a swimming pool and cocktail bar with amazing views and genuinely comes alive at night with a retrofitted 1956 Scenicruiser bus is just one of the cool attractions on the rooftop.
As for the rooms, Bobby Hotel offers cozy and spacious suites to its guests. The beds are all incredibly comfy, and the rooms are decked with retro décor, like vintage typewriters and quirky souvenir trinkets collected from different parts of the world.  
The Bobby Hotel also has four onsite restaurants and bars, each offering different specialties. So you can grab a cup of joe at Café at Bobby, dine at Union Tavern, sample handcrafted brew at Bobby's Garage Bar, and enjoy craft cocktails on the rooftop bar. 
Another bonus is that it is located right in the heart of Nashville. So whoever Bobby is, they have a winner hotel here. 
Virgin Hotel
– A New and Trendy Luxury Hotel in the Heart of Nashville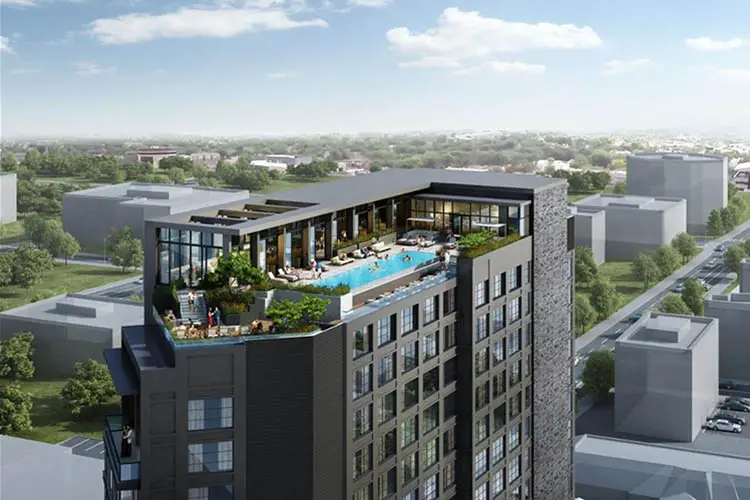 The Virgin Hotel is a relatively new property in Nashville that quickly rose in popularity thanks to its strategic location and sleek modern architecture. The modern aesthetics of the Virgin Hotel makes it one of the more visually striking hotels in Nashville.
It also delivers excellent amenities, including a lounge, fitness center, rooftop bar, and an infinity pool on the roof deck. The Virgin Hotel certainly delivers in regards to guest comfort and convenience. 
Another high point of the Virgin Hotel is its location near Tootsie's Orchid Lounge and the Country Music Hall of Fame and Museum. 
The Graduate Nashville Hotel
– A Grand Hotel for Music Lovers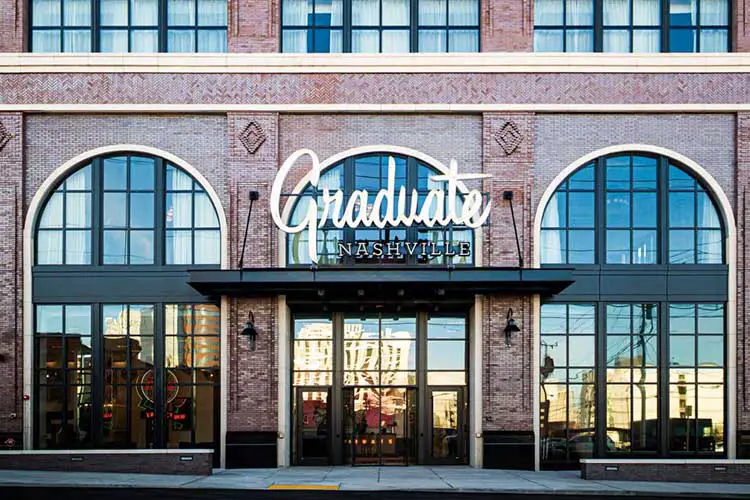 The Graduate Nashville Hotel is another popular option for those wanting to soak up the Nashville experience. This property takes the musical spirit of Nashville to heart, and you'll feel it the moment you step through its doors. 
Starting with the lobby which incorporates a design that resembles a stereo cabinet! How cool is that? Taking the music theme further, much of the furniture has a similar vibe and there are portraits of iconic country singers such as Dolly Parton throughout the hotel. There is even a Dolly Parton Suite that features a king-sized bed, fur carpets, and a disco ball. 
Other amenities include a rooftop swimming pool and bar. But, of course, what is a hotel that honors the musical roots of its city without a karaoke bar? 
Thompson Nashville Hotel
– A Hotel that Captures the Classic Southern Style and Hospitality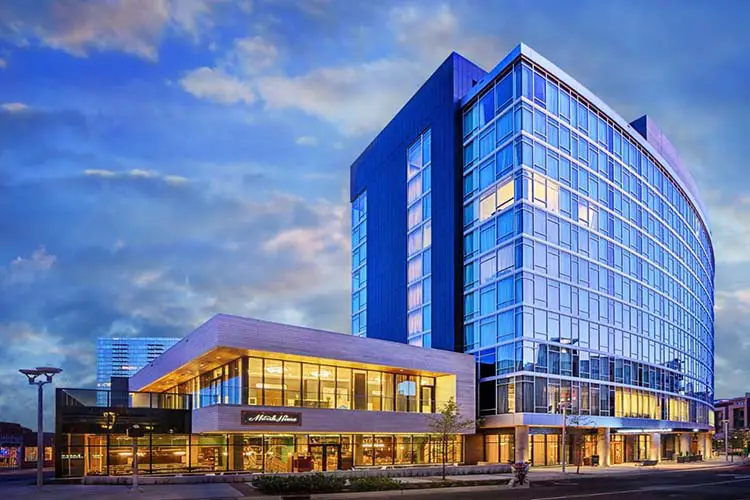 Located in one of the liveliest parts of Nashville, the Thompson Nashville Hotel is a trendy choice. It is also a perfect option for music enthusiasts as it is located near the Bluegrass Music Venue. The Thompson Nashville Hotel is also one of the newer accommodations in the city, and it has quickly gained a reputation for a trendy stay but keeping true to its Southern roots. 
The Thompson Nashville effortlessly blends the classic rugged spirit of Nashville with its hardwood floors and sliding barn doors with a more contemporary twist. When it comes to ambiance, this hotel feels like a modern saloon. 
Besides being incredibly stylish and comfortable, the hotel is also a short drive away from popular destinations such as the Country Music Hall of Fame Museum and the Ryman Auditorium. 
Margaritaville Vacation Club
– A Fun and Hip Hotel with a Southern Twist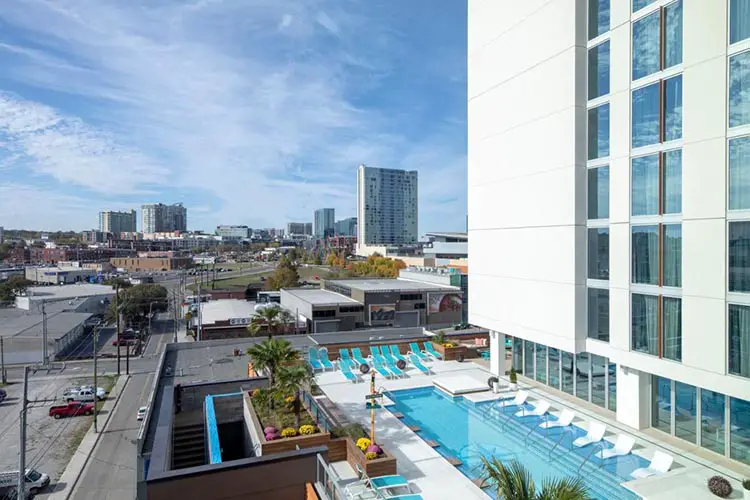 With a name like Margaritaville, you will already know what to expect. Margaritaville Vacation Club focuses on creating a fun and upbeat atmosphere for its guests, and it certainly delivers.
The hotel boasts an onsite restaurant, bar, Starbucks café, and a rooftop pool with breathtaking city views. The pool and lounge area at the roof deck features live bands every night. One of the best reasons to stay in Margaritaville is its proximity to the museum of the Man in Black himself, Johnny Cash.  
Kimpton Aertson Hotel
– A Classic Hotel with Hosted Wine Hour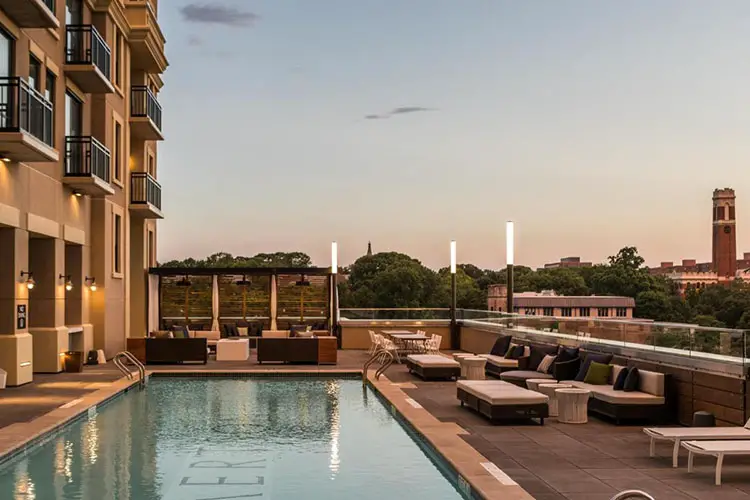 Located within the famous Music Row district, the Kimpton Aerston Hotel is another superb hotel on your shortlist of places in Nashville. In addition to stylish décor, the hotel features excellent amenities including a sponsored wine hour every evening.
Other amenities include a seasonal rooftop pool, a luxury spa, a modern gym and cruiser bikes available for use. The hotel offers complimentary coffee and serves breakfast, dinner, and a snack cart whose contents change each day. There is also a bar that offers various cocktails, local handcrafted beer, wine, and a classic Tennessee whiskey.  The hotel is also pet-friendly if you love to bring your furry friend along for the ride. 
Along with a cozy bed, you'll get a large 50-inch flat-screen HDTV and (depending on the room) a stunning window view of downtown Nashville. 
The Dive Motel and Swim Club
– A Stylish Vintage Motel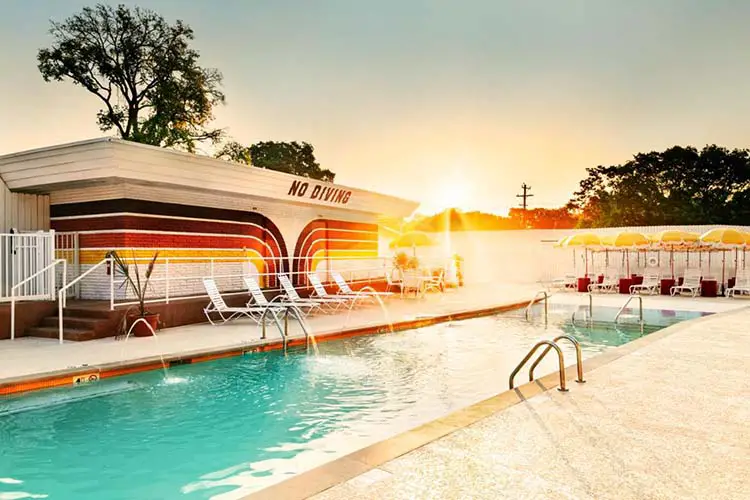 A fun and unique stay awaits you at The Dive Motel which was originally called the Key Motel – a dilapidated 1956 motor inn.  Legends including Johnny Cash, Dolly Parton and Hank Williams all frequented the motel in its heyday.
This lodge is inspired by its vintage roots and comes with a fun vibe – with music playing and a party atmosphere – there are good times to be had here.
The Dive Motel went all-in with a vintage theme including the furniture, a party switch that turns on a disco ball in every room, a heated pool and hot tub with retro-inspired vibe.  
Along with the Instagram-worthy aesthetic, The Dive Hotel also features a fun dive bar that is open to the public, making it a great spot to hang out and get to know some friendly locals.
Van Dyke Bed and Beverage
– One of the Coolest Hotels in Nashville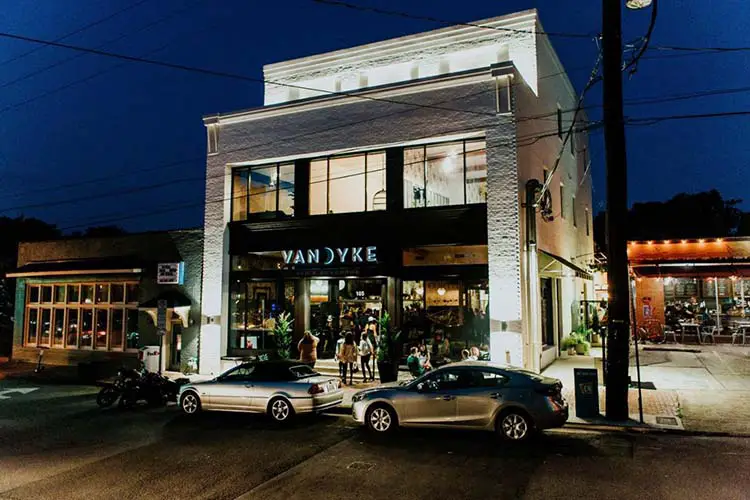 The Van Dyke Bed and Beverage is located in East Nashville, specifically at the Five Points intersection. Its location makes it easily accessible to downtown Nashville and all the great bars and restaurants. 
The property features alcohol-themed rooms so pick your poison whether it be beer, gin or champagne and you'll find a unique aesthetic in each room.  Its playful decor makes it Instagram worthy.
The hotel features a fun pop-up wine bar featuring rotating natural wine selections, signature cocktails, beer and check the schedule for live music.  With the fun vibe here, it's a popular choice for a girls' weekend.
The 404 Hotel
– Boutique Hotel with Flair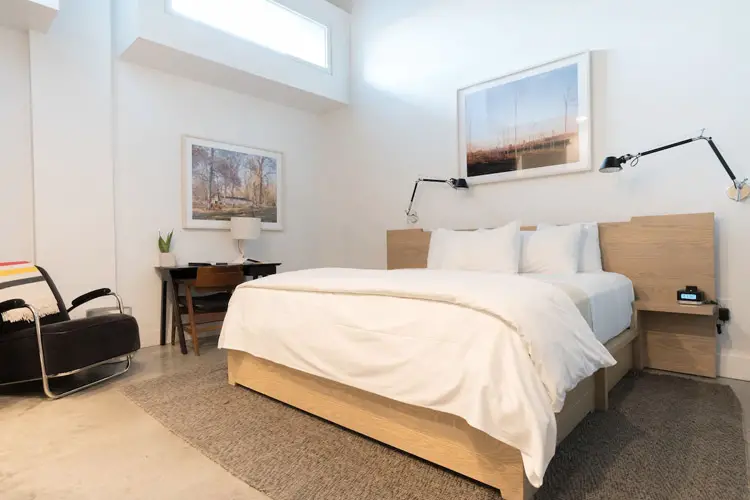 The 404 Hotel redefines the boutique hotel category with only 4 guest rooms. Located in the popular Gulch neighborhood of Nashville. 
The decor is classic with an industrial aesthetic – exposed timber beams, vintage leather furniture, steel trusses and a rotating gallery of artwork.  The hotel features a James Beard-nominated restaurant – the 404 kitchen – which serves a modern take on classic European cuisine and a whiskey bar.
The hotel delivers guest services with keyless entry and "invisible" service.