Known as the City of Smiles, Bacolod City is one of the must-visit places in the Philippines. It is situated on the island of Visayas in the province of Negros Occidental and is considered one of the most progressive cities in the country. It is a center of modernization in the region; it is also a place that has not forgotten its heritage and tradition. 
Bacolod City offers a collection of fantastic tourist sites rich in culture and heritage. It is also the location of one of the most famous festivals in the country, the Masskara Festival. If you are interested in dipping into the City of Smiles experience, there are dozens of outstanding hotels that you can choose from within this beautiful city. 
Best Boutique Hotels in Bacolod City (Philippines)
Looking for a unique place to stay as you enjoy the beautiful vistas offered by Bacolod City? Here are some of the best boutique hotels in the area that you can stay in.
Palmas del Mar Conference Resort Hotel
– A Cozy Instagram-Worthy Spanish Colonial Style Hotel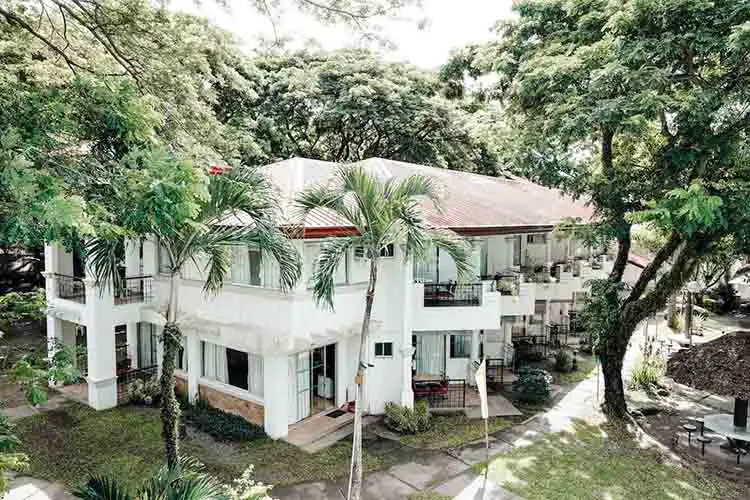 The interior aesthetic of the Palmas del Mar Conference Hotel provides a unique ambiance; it is also situated beside the Guimaras Strait. The Palmas del Mar, bar none, offers one of the best sunset views in Bacolod. With such a stunning view shown in its poolside area, you can bet you can fully unwind and relax by the pool after a day of touring around the city. 
Besides the hotel's excellent Spanish-style colonial architecture design, you can also choose between budget-friendly rooms or their more luxury accommodations. There are three adult pools and two children's pools available as well. Other notable amenities include a nice jogging path and a gym.
Seda Capitol Central Business and Staycation Hotel 
– A Modern and Accessible Hotel at the Heart of Bacolod City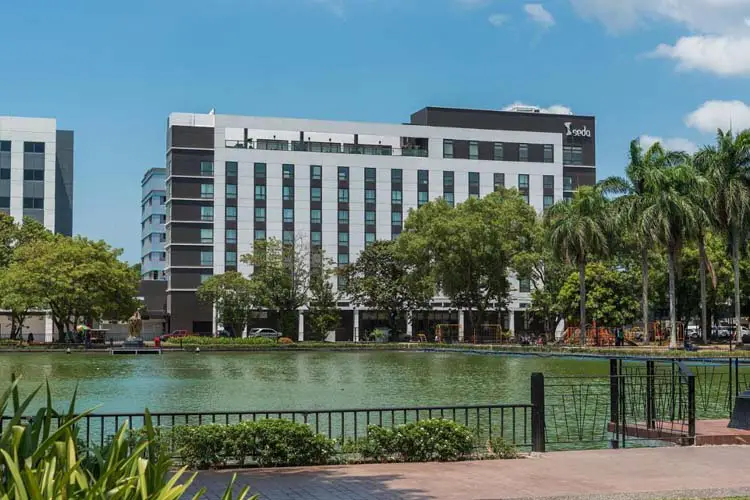 The Seda Capito Central is an economically-minded hotel that focuses on providing guests with R&R. You can choose between two room types: Deluxe and Premium rooms. The Deluxe offers a guest a cozy king-sized bed, a big-screen HDTV, and a media panel where you can connect your gadgets. The Premier room expands the overall pampering with a larger space, a dining area, living room, and bathtub. 
I also love the variety of dishes offered by the Misto restaurant within the hotel itself. At night, I recommend going to the Straight Up Bar at the roof of the Seda Capitol Central, which offers drinks and a nice view of Bacolod City at night. 
Additional amenities offered by the Seda Capito Central include a gym, an E-Lounge, and a swimming pool. Also, this nifty modern hotel is situated nearby SM City Bacolod for those whose staycation must consist of a mandatory shopping spree. 
L'Fisher Hotel
– Offering A Touch of Elegance and Sophistication to Your Accommodation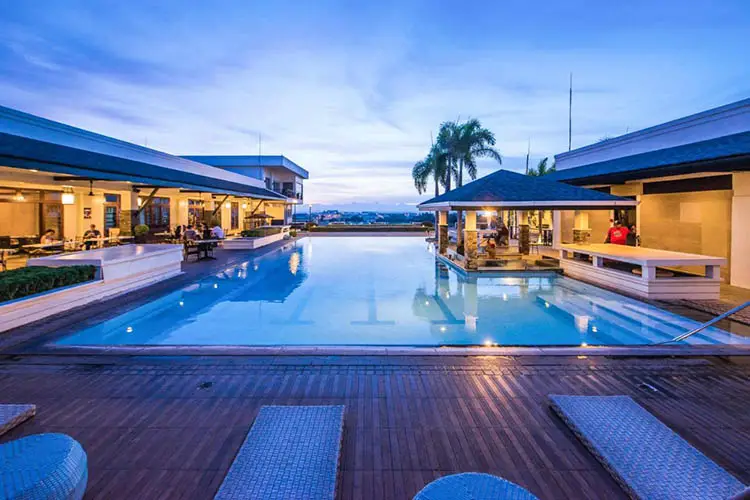 L'Fisher Hotel is located in Lacson Street, which is the site where most of Bacolod City's famous festivities are set. L'Fisher Hotel is one of the best hotels to stay in if you want to participate in some of the City of Smiles' festivities. This breathtaking and tranquil hotel is also nearby some of the most popular tourist destinations in Bacolod City. 
L'Fisher also offers fantastic amenities such as a spa and a roof deck pool with its swim-up bar. There are also a variety of accommodations available to guests, depending on their needs. The L'Fisher offers luxury suites for couples and families as well budget-friendly accommodations.
Overall, the L'Fisher is an excellent place to rejuvenate after a day of adventure. The hotel is also strategically located to offer guests the ability to complete the Bacolod City experience. 
Stonehill Suites
– High-End Luxury Boutique Hotel to Indulge in Life's Pleasures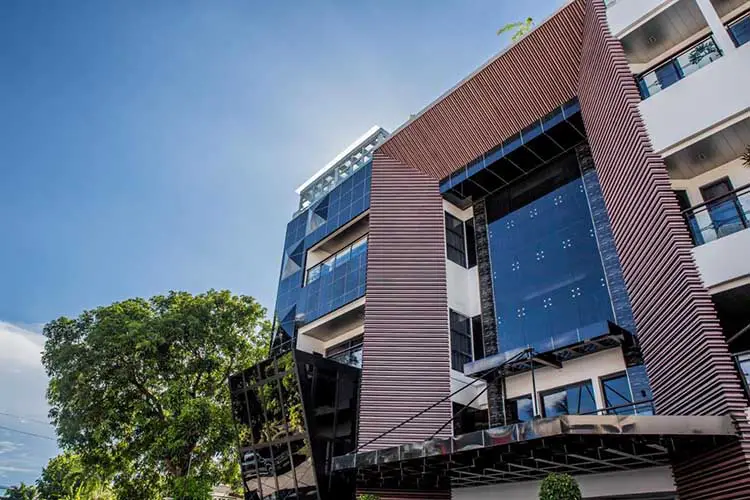 With only 25 rooms available, the Stonehill Suites is designed to create a highly intimate experience for guests. If you are looking for the best boutique luxury hotel in Bacolod City, then Stonehill Suites is yours. 
The hotel comes with elegant aesthetics and a private balcony. The Executive Suite is best suited for long-stay cations as it comes with all necessary amenities such as its kitchen. Note that guests staying for more than ten days will be viable for special promos and discounts. 
The Stonehill Suite is a personal favorite as it offers a perfect blend of comfort and luxury. For some delicious local and international dishes, I recommend checking out the Vue Restaurant, located at the suite's roof deck. The Sky Bar is also a nice place to stay at night as it provides a fantastic view of the city. 
Other notable amenities in the Stonehill Suite include a spa and gym to enhance your staycation experience fully. 
Bantug Lake Ranch
– A Peaceful Lodging for Nature Lovers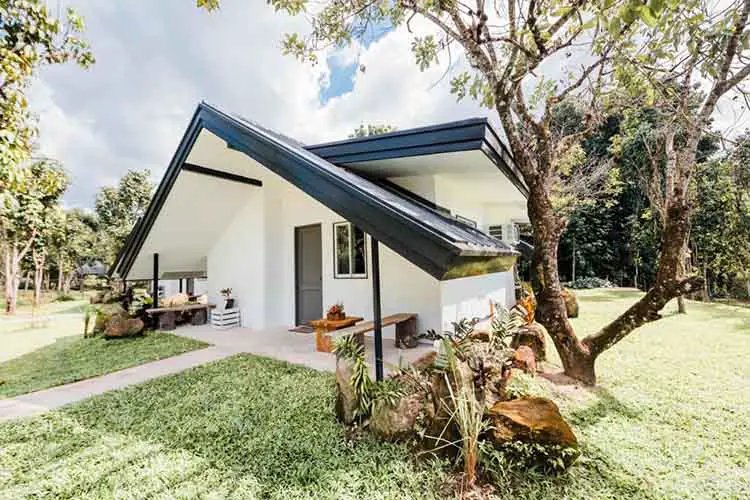 For those looking for a nice nature getaway staycation in Bacolod City, I recommend checking out the Bantug Lake Ranch. This lovely and cozy spot, far from the hustle and bustle of the city, offers a slew of excellent amenities, which include a swimming pool, a relaxing garden, a restaurant, and a playground for the children.
Additionally, some of the units available have a nice lake view, so I suggest you go for those. As for amenities, the Bantug Lake Ranch provides everything you would need to make your stay as comfortable as possible. 
Sugarland Hotel
– A Hotel as Sweet as its Name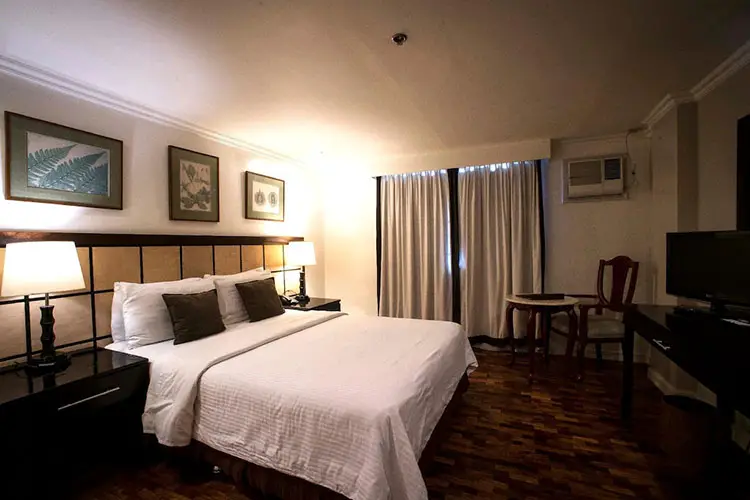 Besides the historical heritage sites and unique festivals, Bacolod is also known for its hectares of sugar cane plantations. Enter the aptly named Sugarland Hotel that embodies this specific element of Bacolod City. 
Featuring a traditional hacienda (plantations) architectural design, the Sugarland Hotel feels like going back to the Spanish-Era. But, of course, the nostalgic décor comes with some modern amenities to create a comfortable experience for guests. 
The Sugarland Hotel comes with a swimming pool, a massage parlor, and a spa available for its guests. 
Acacia Hotel Bacolod
– A Cozy Boutique Hotel with a Unique Nature and Contemporary Aesthetic
One notable aspect of the Acacia Hotel Bacolod is its exclusive use of wood-theme on all its elements. The Acacia Hotel features up to 86 units with a selection of deluxe rooms to budget-friendly ones to accommodate all types of travelers. 
The Acacia Hotel is also relatively nearby several commercial districts and is accessible for transportation to several famous Bacolod City tourist sites. The hotel also has a cozy lounge café and a Masskara Bar for those who love to unwind with a drink on hand. There is also a lovely Acacia Wave Pool within the lodging for guests to enjoy.
MO2 Westown Hotel 
– Comfy Economic Hotel in the Middle of Bacolod City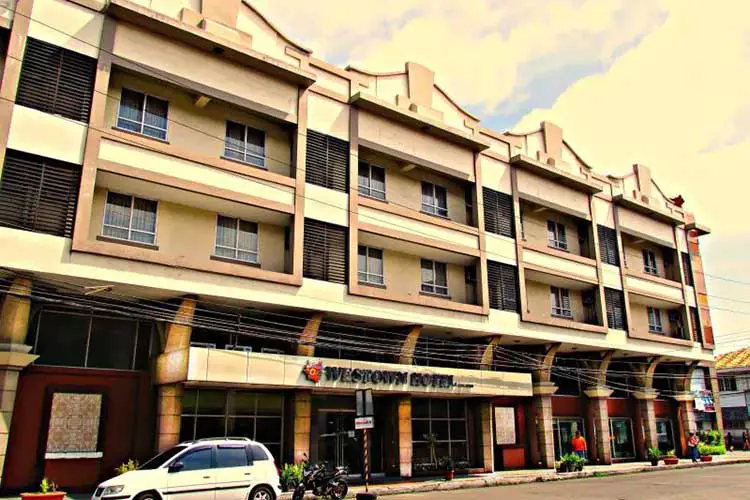 If you are looking to optimize your tour of Bacolod City and its many tourist destinations, might I recommend the MO2 Westown Hotel? This accommodation is located nearby key Bacolod City sites; it is also interconnected with other famous Bacolod City landmarks. 
The MO2 Westown Hotel is a perfect central hub during your travels through the City of Smiles. I would also like to highlight that besides the comfortable reservations, the MO2 Westown Hotel also provides guests with a spa service and two in-house restaurants that offer a broad selection of delectable meals. 
Caribbean Waterpark and Resotel
– Offering an Adventure within Your Adventure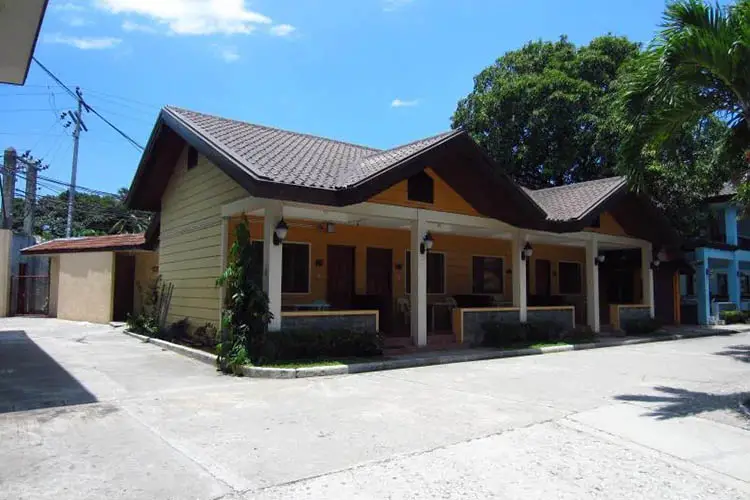 Why not go a step beyond your accommodation by adding a waterpark resort in the amenities as well? Check out the Caribbean Waterpark and Resotel, which is located smack dab at the heart of Bacolod City. It is conveniently located within most key Bacolod City hotspots; this hotel also offers respite from the summer heat with its waterpark attractions. 
Guests will have full access to several nifty amenities within this resort hotel that includes an outdoor Jacuzzi, two swimming pools, and the biggest water slide this side of Negros Occidental province. The place is also large enough to act as a function hall for special occasions and celebrations.
Roost Hotel
– An Eco-Friendly Boutique Hotel
The Roost Hotel is a trendy hotel in Bacolod City that features a soothing "Mother Nature" vibe with its interior décor. In addition, it features an impressive indoor garden and incorporates solar panels as one of its primary power sources. Further expanding on its eco-friendly goals, the Roost Hotel also utilizes reused wood material for most interior furniture and décor. 
Sticking with the environment-friendly theme, all the rooms feature a comforting nature aesthetic that adds to the overall relaxing vibe. The Roost Hotel in Bacolod City is still relatively new. Still, the establishment's eco-friendly and "go green" mentality has pushed the competition forward as one of the freshest; no pun intended boutique hotels in the City of Smiles.