Tagaytay is a city in Cavite, Philippines, and is among the most visited places in the southern portion of Luzon. Tagaytay City is often compared to Baguio City due to its cool weather and stunning vistas, attributed to its elevation of about 2,000 feet above sea level. The average temperature of Tagaytay is around 25 degrees Celsius. One of Tagaytay's most iconic scenery is the Taal Volcano, one of the world's smallest volcanoes. As Tagaytay overlooks Taal Lake, people can get a breathtaking view of the Taal Volcano. It is undoubtedly a must-see if you ever visit Tagaytay City. 
The relaxing and cool weather of Tagaytay also makes it a great place to unwind and is a popular place for a staycation for both tourists and locals alike. It is also an excellent alternative to Baguio City as Tagaytay is only about 2 hours away from Manila. The former will take you around 6-8 hours to reach by car. Are you planning on soaking in the beauty and serenity of the City of Tagaytay? Let us help you with your itinerary by giving a list of the best boutique hotels in Tagaytay City. 

I've been to Anya Hotel a couple of times now, and it has been one of my favorite boutique hotels in Tagaytay. This lovely lodge is near Tagaytay's best tourist spots, the Sky Ranch and Picnic Grove. As for the hotel itself, the amenities include a restaurant, bar, library, fitness center, and outdoor swimming pool. 
The 7.2-hectare property is surrounded by lush greenery that will evoke a soothing ambiance for guests. The rooms available are all spacious and designed for comfort and convenience. You will get your fill of rest and recreation at Anya Hotel. 
Crosswinds Resort Suites – A Classy Boutique Hotel Designed for Business and Pleasure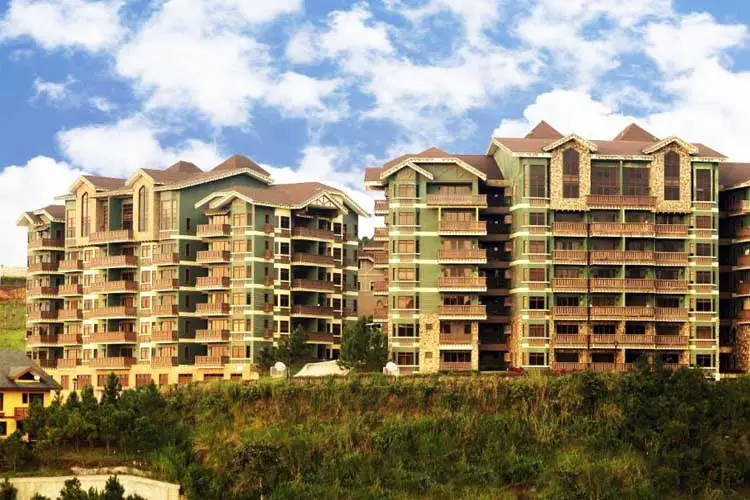 Crosswinds Resort Suites can be found atop one of the highest points in Tagaytay City. It goes without saying that this lovely little boutique hotel offers some of the best views in the city. The area is surrounded by lush green pine trees, which further enhance the stunning ambiance of this lodge. 
The hotel incorporates a nice blend of class and tradition regarding its aesthetics. All the rooms are designed to provide optimum comfort and convenience. Also, this place is relatively near key landmarks and tourist spots. Guests can also take a dip in the lodge's outdoor pool, which offers a breathtaking view of the city.
Inn at Cliffhouse – A Stylish Hotel that Evokes that Soothing and Comforting Home Vibe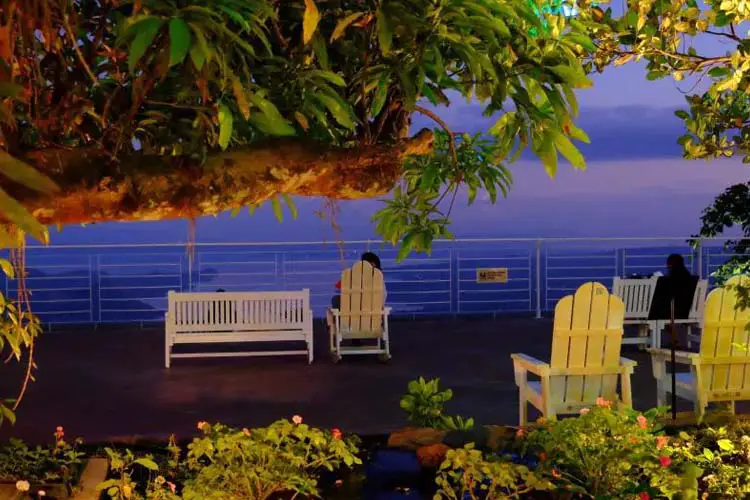 The Inn at Cliffhouse offers an unparalleled experience for guests with its ability to capture the calming essence of peace and quiet. Combine that with Tagaytay's cool weather, and you have yourself a recipe for success when it comes to a perfect place to unwind and take things slow. 
Of course, the Inn at Cliffhouse also offers a balcony with a breathtaking view of Taal Volcano, my favorite spot during sunset and sunrise. Additionally, guests have access to a Jacuzzi to further improve your overall relaxation during your stay at this inn. 
The overall design of the Inn at Cliffhouse captures the feel of a lighthouse which adds to its charm. There are also several fantastic restaurants nearby that provide an outstanding selection of delicious dishes. I swear, I think I gained a couple of pounds after staying here for a couple of days. 
The Boutique Bed and Breakfast – A Romantic and Unique Boutique Hotel Experience
The Boutique Bed and Breakfast offers a unique experience to guests with its rather fun gimmick. Also known as the "Boutique of Emotions," this hotel focuses on crafting an experience based on the emotion of your choosing. What does that mean exactly?
Well, there are seven different rooms that encapsulate specific feelings. You will find rooms with the following labels: I Dare, I Desire, I Escape, I Dream, I Love, I Surrender, and I Lust. The last one is undoubtedly intriguing. 
Additionally, The Boutique Bed and Breakfast is reasonably accessible as it is located along the national highway and is right in front of the Ayala Mall. So, if entertainment is a factor for you, you won't be disappointed if you check in as there is a shopping mall in front of the inn. 
Additionally, there are two restaurants inside the Boutique Bed and Breakfast, one of which is the Hawaiian Bar-B-Que which also has a branch in Boracay. The menu available is mouthwatering, to say the least. 
I also love that the hotel features an in-house masseuse available for those who want to relax both their mind and body. The massage is simply euphoric, and the cold stone facial massage is quite invigorating. I highly recommend you try out. The therapists are also trained to offer shiatsu, Swedish massage, aromatherapy, and reflexology. 
If you are looking for a place in Tagaytay that offers complete body and mind relaxation with a unique and romantic presentation, I recommend checking out The Boutique and Breakfast. 
The Lake Hotel – A Refined Hotel that Captures the Beauty of Tagaytay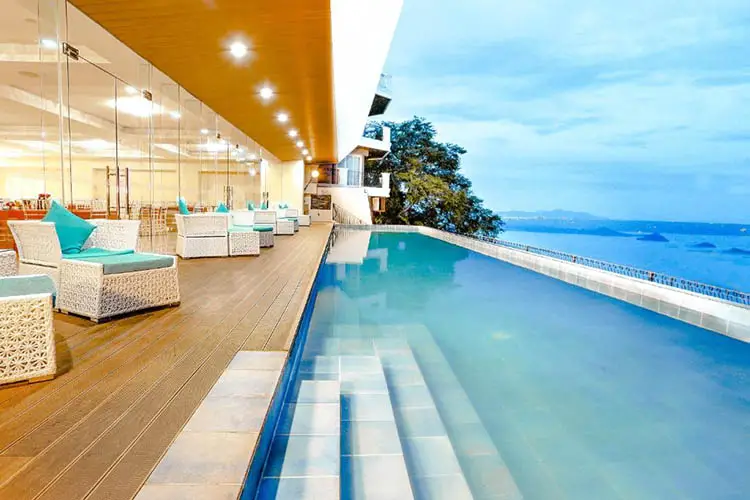 The Lake Hotel oozes style and finesse in its presentation and function. With 60 elegant rooms and providing an outstanding view of Taal Lake and Volcano, The Lake Hotel is the epitome of that signature Tagaytay City experience. 
Amenities provided in The Lake Hotel all focus on creating a relaxing environment with the majestic view of Taal Volcano being the crème de la crème of the overall experience. The surrounding area comprises a gorgeous pine tree forest that rustles as if whispering when a cool breeze blows through the hotel. Quite simply, it is a magical and mesmerizing experience to stay at The Lake Hotel. 
Also notable are the indoor pool, fitness center, karaoke room, and spa center to complete your staycation experience. As for the famous tourist spots, most are within a 20-minute drive from The Lake Hotel. There is also a casino about 5-minutes away for those who wish to try their luck. 
8 Suites by Fat Jimmy's – A Cozy Boutique Hotel for Nature Lovers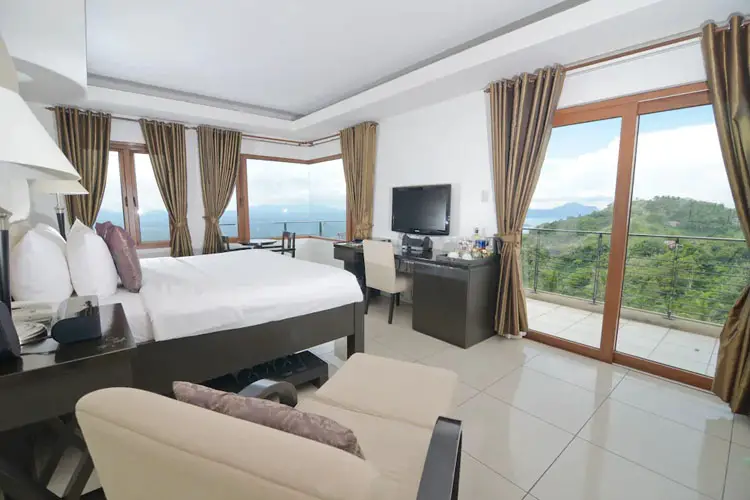 Featuring a minimalist contemporary outdoor aesthetic, I love how the interior completely flips your expectations with its luxurious and posh design. 8 Suites also offer glamping packages for those who want to enjoy camping outdoors while still having access to key amenities for comfort and convenience. 
Along with the option for glamping is an expansive and chill garden with a top-notch view of Taal Lake and Volcano. Pro tip: if you are going to stay at a hotel in Tagaytay, a great view of the Taal Volcano is mandatory. 
One of the best offerings in 8 Suites is its impeccable selection of Filipino favorite dishes, from chicken tocino to daing na Bangus. Also, you can get your hands on their signature Classic 8 Suites Burger. 
If you are looking for a quick break from your hectic everyday life, I suggest you try glamping in scenic Tagaytay. Specifically at 8 Suites by Fat Jimmy's. 
The Carmelence View – A Slice of the Simple Life with a Genuinely Splendid View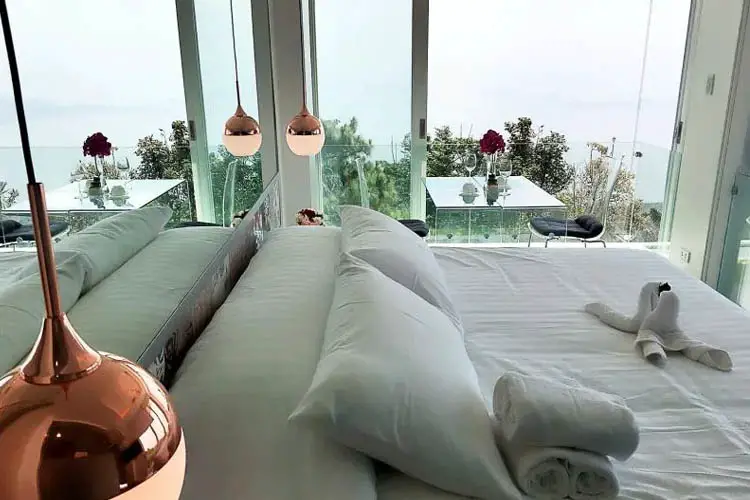 The Carmelence View offers a romantic getaway for couples looking to spend some time together and away from the hustle and bustle of everyday work life. I love the balance with the simplicity of the location with the high-end furnishing of the interior décor. The Carmelence View indeed finds a nice balance between the two polarizing styles. 
All the rooms here come with a great view of Taal Lake and Volcano. So it is certainly worth waking up early to see the first ray of sunshine illuminate the landscape. The place is also nearby key Tagaytay tourist spots such as the Picnic Grove and Zoori Safari. 
Hotel Kimberly – A Nature-Focused and Vibrant Boutique Hotel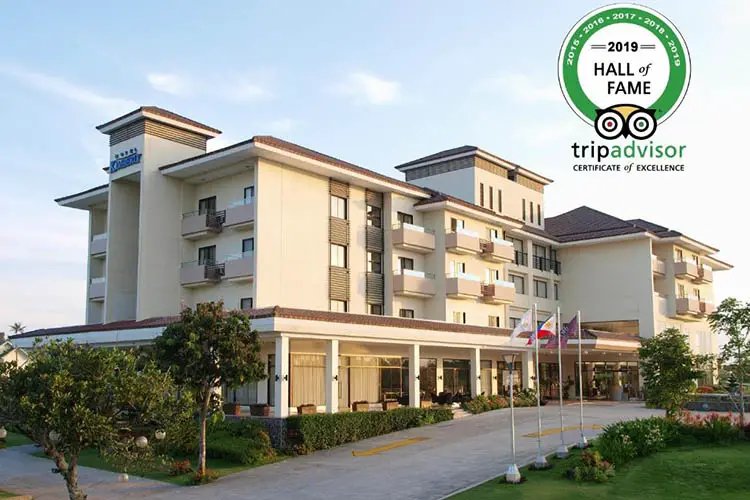 Hotel Kimberly is an excellent hub for tourists as it is interconnected to Tagaytay's must-see landmarks and provides some wonderful amenities. Not content by being just a place to relax, Hotel Kimberley also offers some great activities such as an animal farm/petting zoo, recreational area, outdoor sports area, and a swimming pool. 
The hotel's interior décor and room incorporates vibrant colors, which are aimed at younger guests. I love the chic color combinations, though, and it certainly has that artistic charm making the place highly "Instagrammable," as the young kids say. 
There is also a vegetable garden here wherein the produce are the actual ingredients used by the on-site restaurant—a very eco-friendly and healthy decision by the hotel. 
Taal Vista Hotel – An Intimate and Classy Hotel with a Long-Standing History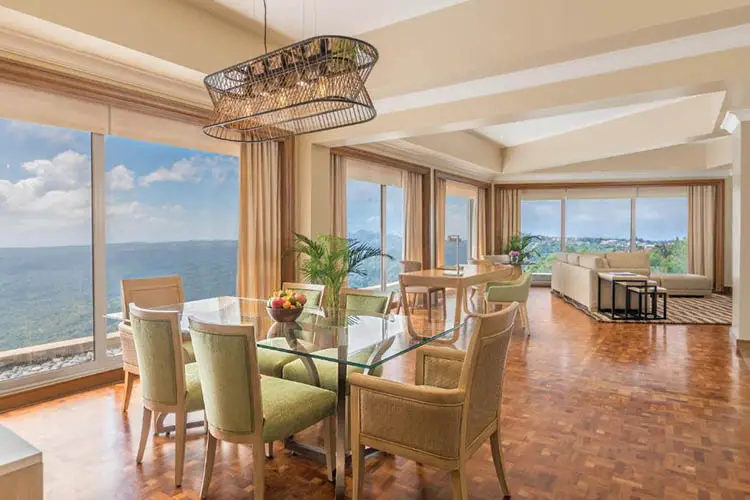 Founded back in 1938, the Taal Vista Hotel has certainly been around the block more than the other boutique hotels on this list. With age comes experience and the Taal Vista Hotel certainly knows how to present the beauty of Tagaytay to its guests properly. 
Guests will have a fantastic view of Taal Lake and Volcano and the mountains that separate Tagaytay and Batangas. In addition, there is an indoor swimming pool, restaurants, and bakery so that food lovers will have their fill. 
Taal Vista Hotel is also about a stone's throw away from the PAGCOR Casino for those who wish to spend some time with Lady Luck. Another special amenity is the in-house spa, wherein guests can indulge in a relaxing massage by professional and skillful therapists. 
Taal Vista Hotel's on-site restaurant also offers several heritage cuisines that feature a selection of classic Filipino dishes with a particular twist exclusive to this hotel.
Twin Lakes Hotel – Spectacular View and Luxury Lodging at its Finest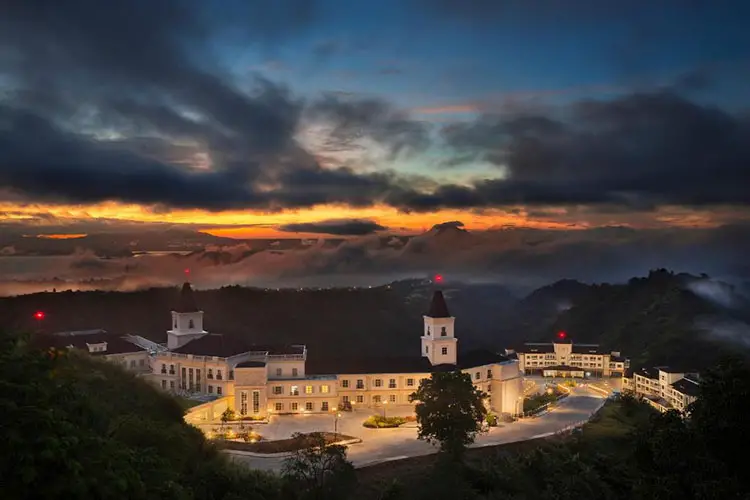 If there is one particular hotel in Tagaytay that is often spoken of as the best, it is Twin Lakes Hotel. The prestige that Twin Lakes Hotel has is thanks to the overall presentation. Unlike other hotels in the area, Twin Lakes is designed to capture the appearance of a European town. The terrace cliff is also one of the record books in its awe-inspiring view. 
The place is also jam-packed with fantastic amenities such as an infinity pool, a recreational game room, a playroom for children, and a gym. There is also an al fresco restaurant that offers a stunning view of Taal Lake and Volcano, and I have to say it is one of the best views of the famous landmarks you can find. 
Additionally, Twin Lakes Hotel has an on-site spa (I recommend you hunt for a promo for this service as it is a bit pricey) and a lovely botanical garden. Try to book your stay during the grape harvest season so that you can go grape-picking in the garden.