A tip for the Louisiana, Creole, and Cajun food tour: if it seems too complex, just keep on eating.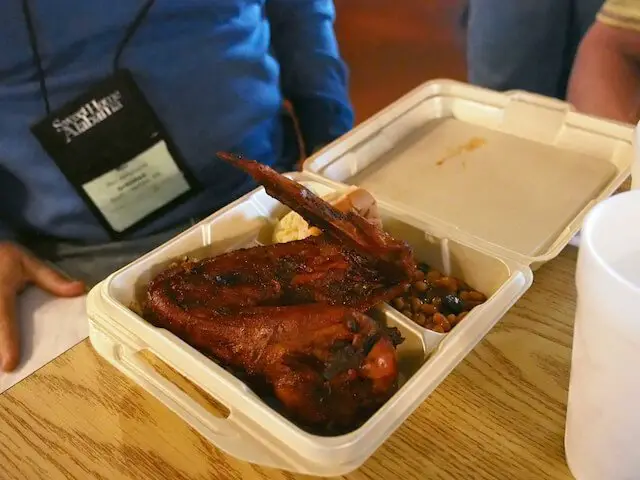 If there is one thing I learned during a journey through Louisiana, it's that I'm pretty sure Louisianans are the original foodies.
Thanks to a long history, a unique terrain, and at least a half a dozen cultural influences including two Gallic, these people know how to eat.
With each passing mile, pig part explored, and ice water downed (because much of Louisiana's Cajun and Creole food specialties are indeed spicy), the cuisine landscape deepens in complexity. Sorting it out can be a bit confusing, but fortunately, when it comes to food, all you have to do is keep on eating.
Here are just some of the Cajun, Creole, and other Louisiana foods to put on top of your must-try list.
You may also like: Shopping For Treasures In Oaxaca, Mexico
Cracklins – "fancy" and fresh pork rinds
We passed at least a hundred billboards exclaiming things like "Stop! Cracklins!" before I even learned what they were. But instead of being found in the potato chip aisle at convenience stores, these pieces of fried pig skin are served on paper plates or for takeaway in a brown paper bag.
I finally tried them at Famous Foods near Lake Charles. At this Cajun cooking hotspot, they were available in several varieties including soft, original, and smoked.
I think I must have sampled the original (not soft) because a bus mate sitting at least five rows away from me commented, "Is that Margo eating a cracklin back there?"
You could break a tooth on one of these, but as long as you're careful it's definitely worth it.
Boudin

Also receiving top billing on those billboards touting Cajun cracklins was Boudin. Boudin is a sausage where the casings are filled with a combination of rice, pork, and spices. The version below was sampled alongside cracklins at Famous Foods.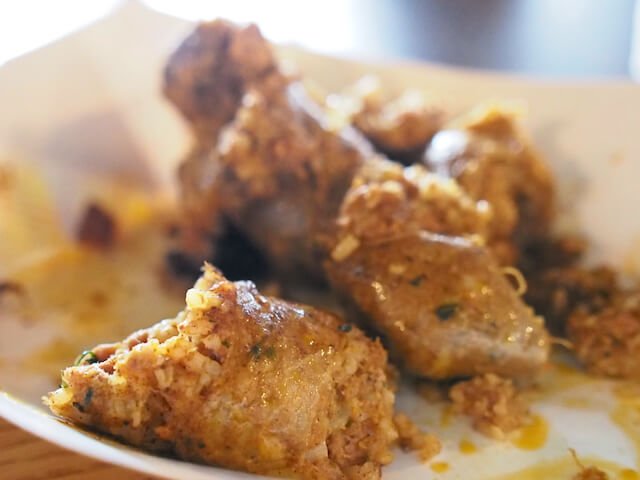 Crawfish,  aka crawdads, mudbugs, crayfish, freshwater lobsters
Long a symbol of Cajun culture, crawfish don't come from the sea even though they are often called "seafood."
Rather southern Louisiana's bayous, marshes, and prairies supply the shellfish-loving population with the official state crustacean. Usually they are served up boiled or in a crawfish pie (does that remind you of a song?). I learned how to eat them at Randol's in Lafayette.
Those unfamiliar with eating shellfish such as crab and lobster will want to get a quick lesson. (See video below that inadvertently demonstrates how NOT to eat them!)
Turtle Soup
Turtle soup is a classic Creole dish. 
The beginnings of traditional Creole cuisine can be traced to the French aristocracy who settled New Orleans. Turtle soup most famously is still served at restaurants such as Antoine's, Commander's Palace, and Galatoire's.
But the version pictured below was sampled in Baton Rouge at Stroube's Chophouse while on a downtown restaurant tour with Baton Rouge Food Tours.
Turtle soup recipes utilize the Louisiana "Holy Trinity," which is a twist on the traditional French mirapoix. Instead of containing onions, celery and carrots, the Louisiana version contains onions, celery and bell pepper.
Made with real turtle meat, I have ambiguous feelings about it.
Red Beans and Rice

Just when I thought I had this Creole and Cajun food thing sorted out, we met Chef Pansou. A Creole chef originally from the southern coast beyond New Orleans, we were introduced to her in Northern Louisiana near Shreveport. Her cooking style can best be described as "country Creole." Confused yet?
You may also like: Things To Do In Shreveport, Louisiana
Remember that since Louisiana's cuisine history is so long, it has branched off in many directions. Cooking styles vary not so much from region to region, as from family to family.
One way to tell if a cooking style is Creole or Cajun is that if it has tomatoes in it, as red beans and rice do, it is definitely Creole.
True Cajun food never has tomatoes! Jambalaya comes in Creole and Cajun versions. Another thing Chef Pansou introduced us to were:
 Crawfish-n-corn Fais do-do fritters and bread "buttered" with cane sugar syrup

Louisiana has been a major sugarcane center for over 200 years with the industry originally based in the plantation economy. This may account for the over-the-top local sweet tooth.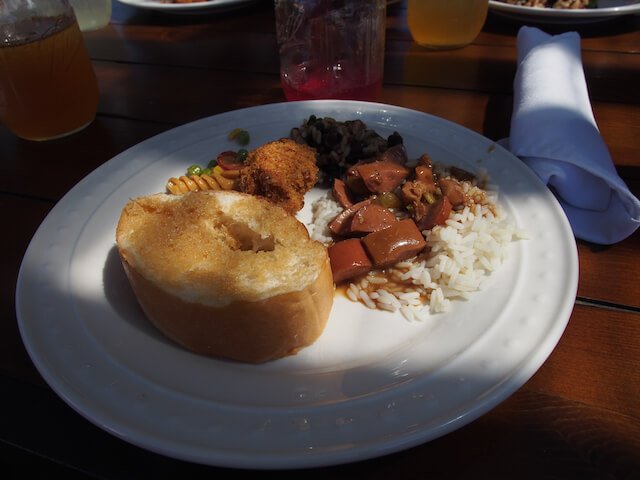 Trout Amandine
In New Orleans on our last stop, we indulged in a refined lunch New Orlean's style, at Antoine's.
Open since 1840, the restaurant celebrates their 175th anniversary this year as the longest family run restaurant in the U.S.
Along with dishes such as turtle soup, oysters Rockefeller, and Bananas Foster, Trout Amandine exemplifies traditional Creole cuisine. Although less serious than French cuisine, Creole cooking seems to represent the melding together of French and American culinary traditions.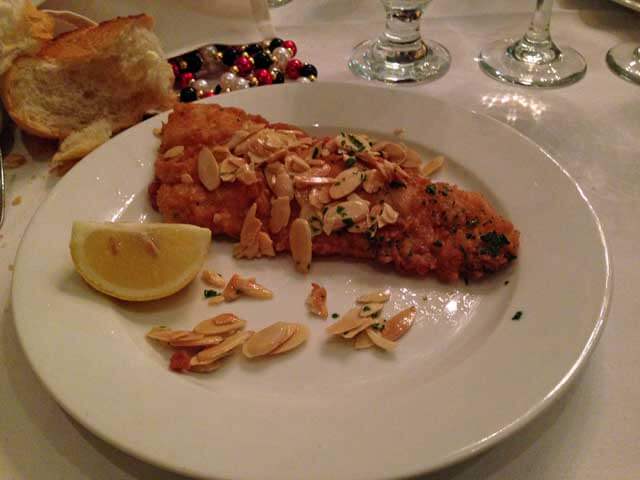 Baked Alaska
This showy dessert merely requires meringue, ice cream, cake and a blowtorch. Antoine's invented Baked Alaska. I only wish I got to see the blowtorch part. This was the first time I'd had Baked Alaska and I hope it won't be the last!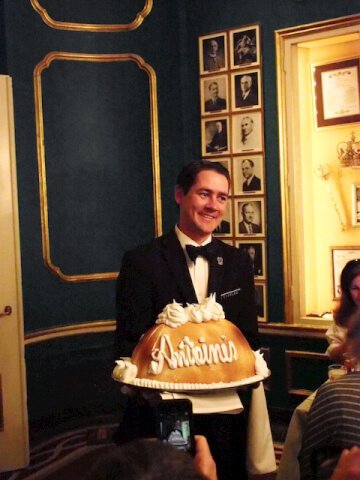 Beignets
Even if you've never been to New Orleans, it's likely you've heard people carry on about the beignets at Cafe du Monde.
The square doughnuts without holes in the middle were brought to Louisiana by the Acadians who would later become known as the Cajuns.
I want to thank my friend, Debi Lander, for encouraging me on our last day to go  – an go early   –  in spite of my massive food hangover from our unforgettable week of indulgence.
You may also like: Five Quirky Things To Do In The U.S.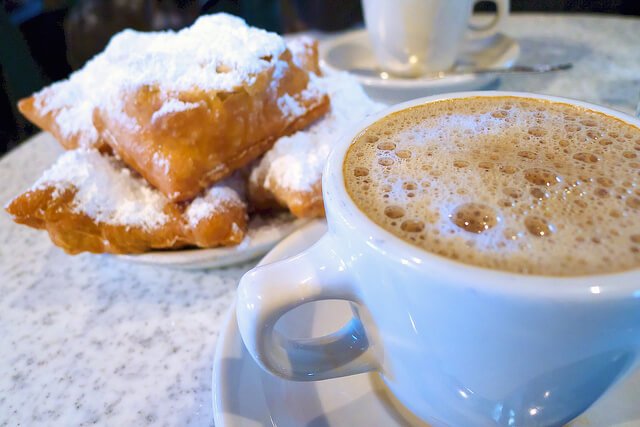 I leave you with this video showing Californians encountering Louisiana cuisine for the first time. I think they should have at least told them what parts of the crawfish you aren't supposed to eat!
All photos Margo Millure © except of beignets
* This visit was hosted by several parties, including the Louisiana Dept. of Tourism, and part of my visit to the Travel South Showcase held in Shreveport in March 2015