Besides being a lovely place for sightseeing, Edinburgh is a great place to travel because there are oh so many ways to indulge
Although there are enough attractions to see when visiting Edinburgh to keep even the most demanding of sightseers occupied for weeks, there's also plenty for those who like to indulge. Whether your downfall is a delicious dinner and you're wondering where to eat in Edinburgh, or you're looking for that expertly-crafted cocktail or a sparkly new purchase, Scotland's capital can cater to you. Wallets, watch out!
First things First: Where to eat in Edinburgh
There are plenty of choices in the city center, but prices often match the prime locations. Venues worth seeking out include Café Andaluz, a smart yet lively tapas bar serving up tasty, authentic Spanish dishes in decent-sized portions, all for a fair price. If you're looking to sample some Scottish fare, you can't go wrong at The Kitchin, which was awarded a Michelin Star in 2010. Chef Tom Kitchin's menu is composed of simple yet expertly-prepared seasonal dishes sourced locally where possible – expect delicious mains such as wild North Sea turbot roasted on the bone and served with braised chard rather than clichéd tourist-pleasers like haggis.
Vegetarian visitors will be delighted to dine at David Bann, a chic spot offering a menu so tempting that even the staunchest carnivores won't mind the absence of meat on their plates – and they'll be sure to banish soggy tofu stereotypes. Just outside the city center, the trendy Stockbridge neighborhood has a wide choice of dining options to consider when choosing where to eat in Edinburgh – from cozy cafés ideal for brunch and lunch to relaxed restaurants perfect for whiling away an evening. For a low-key dinner on a budget, head to Bell's Diner on St Stephen's Street.
Is it cocktail hour yet?
Stockbridge is also a perfect destination for a few drinks with friends: pubs such as Hector's and The Bailie have a local feel that's harder to find near the Royal Mile. That said, you can't beat the city center for glitz and glamour: The Dome on George Street is a former bank that boasts more bling than P-Diddy's crib, and a chandelier that could certainly do some serious damage if it ever took a tumble. Nearby Le Monde combines influences from stylish cities around the world, making it possible to sip coffee in Vienna, sup a glass of vin rouge in Paris and finish with a Milanese martini – all without leaving the building.
If it's daytime drinking you're after, try Edinburgh institutions The Hub (a church-turned-café on the Royal Mile), Chocolate Soup (a café that's just as indulgent as its name suggests) or Black Medicine, a chain of three coffee shops scattered around the city. And if you're still hankering for hot chocolate after dark, head to Favorit: this late-night café will cater to your cravings until 3 am.
Girls Gotta Shop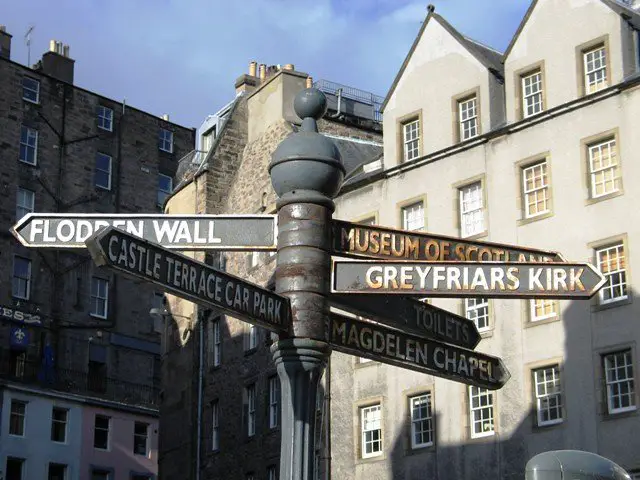 New Town's main drag, Princes Street, is the top spot for chain and department stores, with more exclusive shops on and around George Street. If you're looking for something a little quirkier, head over to Grassmarket in the Old Town. There are no stalls here these days, but plenty of chic boutiques and cool vintage shops, including Armstrong's Vintage Emporium.
Where to rest your head after all that
Edinburgh's popularity can be a curse as well as a blessing, particularly during the Festival season and at New Year. Perhaps consider a self-catering option with a villa rental in or around Edinburgh for your best luxury on a budget option. Decent backpacker accommodations are available at Brodies Hostels, while reliable UK chain Apex Hotels have four comfortable, modern hotels in and around the city center.
*Today's post is brought to you by Home Away UK. 
** Top photo courtesy,  David Bann website; and photo of Grassmarket property of and by Andy Hayes
Pin for Later