There are seemingly endless options for where to stay in Charleston, SC. Here's a guide to just a few.
When visiting a new city, one of the most important decisions you make will be where to stay. Grand hotel? Quaint inn? Tourist central or "off the beaten path?" Traveling on a tight budget, or are you planning a special splurge? Or as is often the case, are you looking for somewhere  in between?
As a frequent visitor to Charleston, I'm always amazed by how profoundly where I choose where to stay determines my experience. Note that in this multifaceted American city with its large historic district and so much to do, each visit to Charleston is generally not better or worse, just different.
Frankly I enjoy staying in new places. I've racked up quite a few imaginary hotel points this way. In the end I may be left without a free hotel room night, but hopefully these points are the kind that may help you get a quick start on your research on where you may want to stay when visiting Charleston.
The Mills House Hotel
The pink federal style hotel, designed by famed architect, Robert Mills,  is one of the storied grandaddies of Charleston, SC, places to stay. Located on Meeting Street in the historical heart of the city, many of the city's best attractions and fine dining restaurants are just a short stroll away. Walking through the lobby you can almost imagine spotting a strapping Robert E. Lee, or hearing the swoosh of a hoop skirt as a belle heads out for the evening cotillion.
Personal notes: I always have enjoyed staying here with my family because of the memories we've brought home with us.  Once our eldest daughter was of babysitting age, my husband and I would go out to wine and dine at a nearby restaurant, leaving our daughters with a cell phone and permission to eat at the hotel restaurant. Their experience of being dined (minus the wined) under the watchful eye of the hotel staff, feasting on the finest chicken nuggets and pasta with butter served by a waiter wearing a tuxedo without their parents, made for some very special memories.
Additionally the Mills House Hotel is located right across the street from one of my favorite small parks in Charleston, Washington Square Park, and the Historic Charleston Foundation where lots of Charleston's walking tours meet.
The Cottage at 9 Limehouse Street
The "cottage"  is actually a renovated boathouse on the large property of the William Pinckney Shingler House, one of the grandest homes in Charleston that you've probably never heard about.  Located "South of Broad," mere blocks away from the main tourist path in a residential neighborhood, it is remarkably easy to walk almost everywhere you will want to go in Charleston's historical area.
Particularly suited for travelers who arrive by car, the cottage comes with its own private parking (and your own wrought iron entrance gate.) The fully equipped and tastefully decorated accommodation features a kitchen, dining and seating area, making it an ideal choice if staying in the area for more than a day or two or if wanting the option of self-catering.
Personal notes: The homeowners, longtime residents of Charleston, can offer their guests  a precious insider's perspective on their city. They may even give you a tour of the downstairs of their house or invite you for a beverage on the piazza. The overall experience is personal, while  being much more private than that of a traditional inn or bed and breakfast.
Holiday Inn Riverview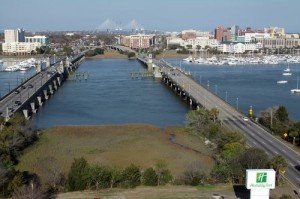 The 14 story circular high-rise may not be exactly what you think of when picking your ideal place to stay in a city known primarily for its historical attractions. However being located a ten minute drive from the densely packed tourist track makes for some interesting advantages.
First the rooms have all been beautifully updated, with luxurious beds and nice bathrooms. The rooftop bar and restaurant with views across the Ashley River towards the twinkling lights of the historic center is a great place to enjoy a cocktail after a long day touring. For families or those who like their vacations to come with an option to cool off and expend any remaining energy in the summer after a day of heavy touring, there is an on-site pool.
Personal notes: Charleston is a very walkable city, but I found it nice to be able to park in the downtown parking garage most accessible to the places I was planning to visit on a given day. Upon returning to the hotel, it was extra easy to wheel my car into a free parking spot, retreat to my well appointed room, and have the option to visit the rooftop bar for a nightcap and enjoy the new perspective on the city.
Depending upon the dates, this hotel can be an excellent value. Just be sure when booking to check all the descriptions of what's included in the room rate. On a booking website, once you've made your date selections, check for packages that include breakfast, which on the Holiday Inn website may be located down towards the bottom of the page.  A nice full breakfast with a view towards Charleston's numerous steeples to the east is a great way to start your day.
Andrew Pinkney Inn
Located next to the Charleston market, the Andrew Pinkney Inn is a great choice for those who appreciate staying in the midst of a bit of hustle and bustle in a hotel coupled with historic charm. Decorated in the West Indies style typical of an earlier era, the inn has many features one would expect in an upscale hotel. Rooms come in various configurations, making it a good choice for both couples and families, with lots of privacy, nice touches and amenities.
Personal notes: The continental breakfast served on a fifth floor terrace, weather permitting, made for what I would call a golden breakfast experience, offering charming views and atmosphere. I often recommend the Andrew Pinckney to anyone who is either in Charleston for only a short amount of time or doesn't have a car.
And now for a suggestion of where to stay in Charleston that isn't really in Charleston, but is:
The Inn at Middleton Place
Located on the banks of the Ashley River, less than a half hour's drive from downtown Charleston,  visitors to Middleton Place plantation are often unaware that this Inn is located on the same property. The green facilities are built to blend in seamlessly with the natural surroundings of moss-draped live oaks and pine trees. The modern award-winning design, featuring floor to ceiling windows in each room, offers a surprising and rewarding juxtaposition to the historical features of the plantation.
Rooms include a healthy and adequate breakfast with a la carte extras available for a reasonable charge. Admission to most of the attractions of Middleton Place plantation also are included in the price of the room. Also located on the grounds in Middleton Place Restaurant, which features regional cuisine prepared with organic products and serves both lunch and dinner.
Personal notes: As someone who has been to Charleston at least a dozen times, this is the facility  where I would like to visit with either my husband or family for three or four days. In addition to having easy access to Charleston, visitors get to experience the Lowcountry landscape. Whether by kayak, bike, horse or a simple hike, there is a great deal to do that allows visitors to experience the sublime and wild setting that is integral to the area's rice plantation history. After a day of touring or outdoor activity at Middleton, each room's huge, spa-like bathtub complete with bath salts is most welcomed!
For more information about where to stay  in Charleston:
The Cottage at 9 Limehouse Street
Planning a trip to Charleston? Here are some other stories you may enjoy:
History, Cooking, Walks and More in Charleston, SC
The Face of Spring at the Charleston Farmer's Market
Macaroon Madness in Charleston, SC
Make Him Think Woodlands Inn in Summerville was his Idea
*Photos: 1 -3, Margo Millure;  4 -5 courtesy of hotel websites; 6, Margo Millure 
* Disclosure: The Travel Belles received media room rates at the Inn at Middleton Place and the Holiday Inn Riverview.  This in no way affects our editorial content. Full disclosure policy.
Pin For Later