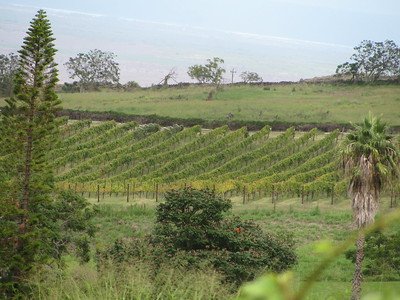 Image: Forest and Kim Starr
Maui wine? What do they make the wine with, pineapples? Mangoes? Passion fruit? Well yes, they do make several pineapple wines—even sparkling wine. But they also make several grape wines with names you'll recognize, like Syrah and Chardonnay, and one you may not: Carnelian.
Maui's Winery, also known as Tedeschi Vineyards, planted its first vines in 1974, led by vintner Emil Tedeschi from California. While waiting for the vines to mature and begin producing grapes, Tedeschi developed a sparkling Maui wine made from Maui pineapples. This wine received such public acclaim that the winery made a still wine from the native pineapple. Tedeschi Vineyards' first wine made from their own grapes was a dry (brut) sparkling wine released in 1984.
As you drive through Maui's upcountry to the winery (only one road, Highway 37, leads there), the peak of Haleakala volcano looms to your left. Rows of vineyards stretch down to your right, where rocky volcanic pastures lead the eye to the oceanfront hotels, the bright strip of sandy beach, and finally the Pacific. Hundred-year-old trees line the road into the Ulupalakua Ranch and up to Tedeschi Vineyards.
The best place to start your visit is the tasting room, in the former guest cottage of Hawaii's last monarch, King Kalakaua and his wife, Queen Kapiolani. Step up to the 18-foot-long bar, made from a single mango tree, for your tasting. Tedeschi Vineyards now grow several grape varieties for their wines, including Carnelian, Syrah, Chenin Blanc, Chardonnay, Malbec, and Viognier. Ulupalakua Red, named for the ranch where the vineyards and winery sit, is a medium-bodied blend of Merlot and Syrah. Upcountry Gold is an unoaked Chardonnay, which is my preference—lighter than your typical house Chardonnay— and aged French style in stainless steel tanks. Tedeschi's Rosé Ranch Cuvée is a sparkling rosé made from a blend of Pinot Noir and Chardonnay, also made in the classic French "méthode champenoise."
Let's not forget that we're in Hawaii: What about those tropical fruit-flavored wines? Tedeschi's famous sparkler, Hula O'Maui, is 100 percent pineapple, as is the Maui Blanc, a still wine. Maui Splash blends pineapple with passion fruit for a fresh, vibrant flavor, and Framboise combines raspberries with grape spirits for a rich dessert wine (I'm thinking dark chocolate for a perfect pairing.)
Your friendly Hawaiian wine guide leads you on a tour around the winery grounds on the Ulupalakua Ranch. The ranch's previous owners farmed taro, sweet potatoes, corn, and sugar cane here, and Ulupalakua is now a cattle ranch. Among the fun factoids in the ranch's history are its famous visitors, including General Patton and Robert Louis Stevenson, and the secret to Tedeschi Maui wines' unique flavors: the volcanic soil. With no cold winter for vines to go dormant and no hot summer for grapes to ripen, the wines take their characteristics—tropical fruit and warm spices—from the lava-based soil.
If all that wine tasting and walking have left you famished, head across the road to the Ulupalakua Ranch Store for a Maui beef or elk burger. They also serve deli sandwiches, salads, and ice cream during lunch hours. Local alcohol laws prohibit consumption on the winery premises, so you may want to take your picnic to go. Now, who's ready for a glass of Hula?
*Editor's note: Did you know we now have our own wine columnist? On the fourth Wednesday of each month wine expert, Elizabeth Schneider will be writing about two of our favorite things: wine and travel. Here's her first piece: Wine and Travel: The Perfect Pairing for Travel Belles and other Normal People.  
Top photo by Tony Novak-Clifford courtesy of Tedeschi Vineyards, others by ewen and donabel
Pin for Later