El Paso, Texas, is just a short drive from Mexico, and its border town, Ciudad Juárez,  El Paso is steeped in history from the Wild West days of Billy the Kid to the spot where the Mexican Revolution played out just over the border in 1911.  Located in the Chihuahuan Desert, one of the most biologically diverse deserts in the world.
The Rio Grande River, one of the longest rivers in North America, creates a natural border between El Paso and Juarez, Mexico.   The Rio Grande Riverpark Trail system spans 21 miles for walking, running and cycling.
Nicknamed "Sun City" for its  302 days of sunshine every year, El Paso offers plenty of opportunities to enjoy the outdoors including hiking to the peak of the Franklin Mountains.  At 7,192 feet above sea level, you'll be rewarded with a 360 view of El Paso and the Mexican border.  On a clear day, you might even see the Organ Mountains of New Mexico.  Other adventures include the off-road variety – rent a Utility Terrain Vehicle (UTV) to explore El Paso's Red Sands, an area that was once under an ancient sea 34 million years ago. Or discover the Aztec Caves in the Franklin Mountains State Park.
Culinary adventures also abound in El Paso, known for delicious Tex-Mex cuisine, BBQ and so much more, sure to satisfy every taste bud.  And if you're a fan of margaritas, legend has it that it was invented at Tommy's Place Bar in the El Paso-Juarez region on July 4, 1945, by Francisco "Pancho" Morales.
El Paso is known as the boot capital of the world, so if you're in the market for a pair of authentic cowboy boots, you've come to the right place.  Boots made in El Paso include Tony Lama, Black Jack Boots, JB Hill Boot Company and more.
If you're ready to book your trip, check out the best places to stay for your visit to El Paso.
Cool Hotels You Should Stay at in El Paso, Texas
Check out one of these hotels for your base camp in El Paso.
Stanton House
– Is This a Modern Art House or a Hotel? Why not Both?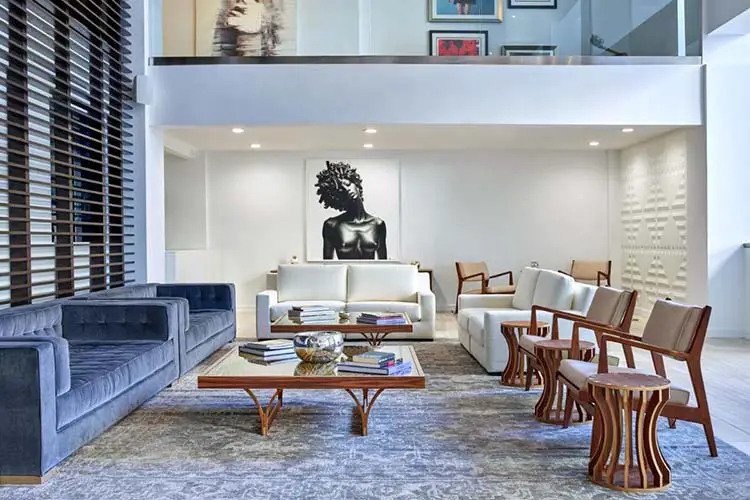 The Stanton House features a collection of modern art pieces used to decorate its 42 room building.  Renovated in 2018, The Stanton House was transformed from a furniture store into one of El Paso's most visually appealing boutique hotels. 
Each of the 42 suites incorporates unique art pieces, which gives each room a distinct vibe. All of the art pieces in Stanton House are made by local and international artists to provide the hotel with a diverse visual aesthetic. 
Besides the distinctive décor of Stanton House, this hotel also has an in-house restaurant that commemorates the meeting of then presidents William Howard Taft and Porfiro Diaz of Mexico. The Taft Diaz restaurant includes a varied menu including traditional Mexican dishes and All-American favorites like the ribeye steak. 
Aloft El Paso Downtown 
– An Instagram-Worthy Stylish Art Deco Hotel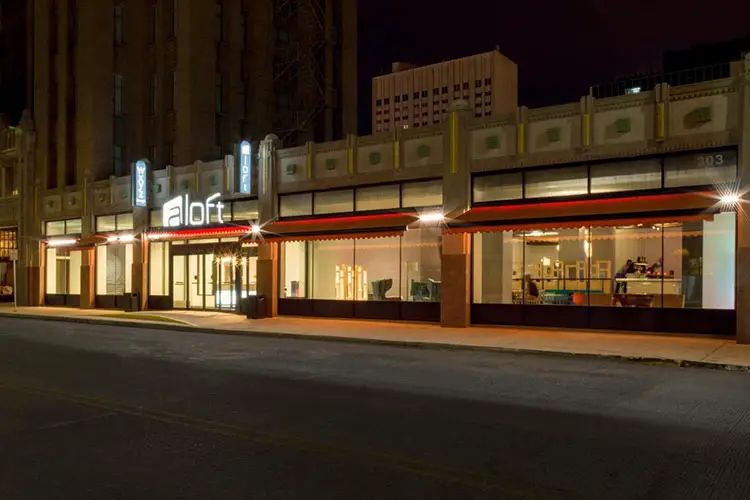 The visually stunning architecture is seen both in the exterior and interior design of the Aloft El Paso Downtown Hotel.  This hotel retains its original Art Deco architecture blended with modern touches for a boutique hotel experience.  
Neon lights splash color to the on-site WXYZ Bar, which offers a broad menu selection and music. The hotel also features a gym and pet-friendly rooms.
The Aloft El Paso Downtown is well situated  – just a stone's throw from the San Jacinto Plaza, the historic park in the heart of downtown celebrating the history and culture of El Paso.  Enjoy ping-pong, chess and a cafe with local snacks. 
Hotel Paso Del Norte
– A Heritage Hotel with Key Moments in History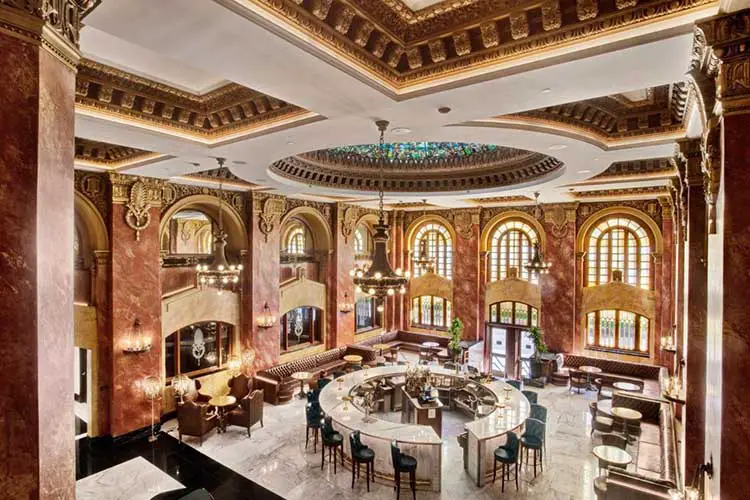 The Hotel Paso del Norte is a historic hotel that feels like traveling back to the 1920s. Built in 1912, it bears witness to some of history's most notable events, such as the Mexican Revolution. El Paso residents went up above the roof deck of the Hotel Paso del Norte to watch the revolution unfold across the border. 
A veritable collection of famous figures clienteles, from U.S. Presidents to Hollywood A-Listers have all stayed at the hotel adding to the glamorous old-world vibe.
As for amenities, guests will have access to a swimming pool, restaurants, and a bar. The Hotel Paso del Norte is a true gem of Texas history and is not to be missed.
Plaza Hotel Pioneer Park
– El Paso's Finest Boutique Hotel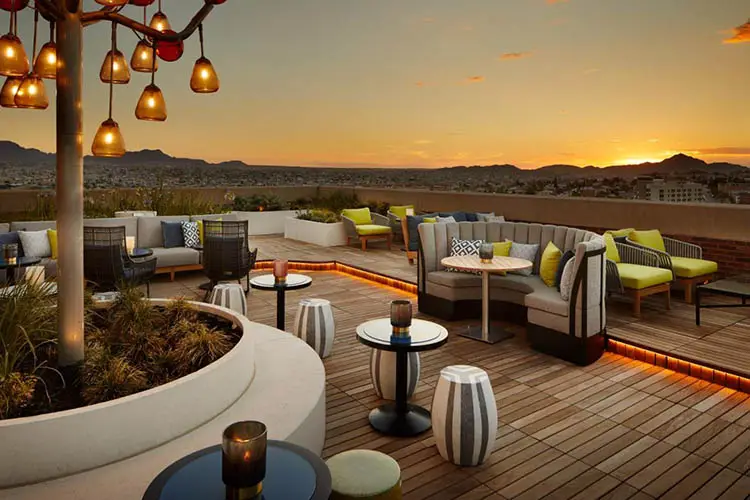 The Plaza Hotel Pioneer Park is modern luxury with Art Deco inspiration, taking its design cue from the Pueblo Revival Art Deco style and inspired by the stunning scenery surrounding El Paso including wide open skies and the rugged peaks of the Franklin Mountains.
Visitors will enjoy luxe details like channel-tufted headboards, Matouk linens and Caffe Bruno marble along with an extensive art collection that rivals museums.
A stay here will bring you back to old world glamor when the likes of  Hollywood royalty graced the hotel.  The striking rooftop bar was once the penthouse suite of Elizabeth Taylor.  Visitors will enjoy an in-house Mexican-inspired restaurant and the rooftop views of the city.
This historic landmark property has been reborn as El Paso's most luxurious boutique hotel.
Gardner Hotel
– Travel Back in Time at the Oldest Operating Hotel in El Paso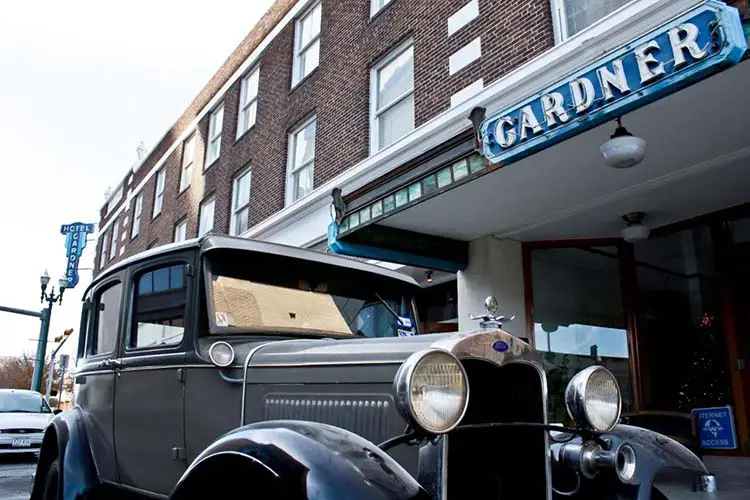 The Gardner Hotel started operation in 1922 and is still operating today making it the oldest continually working hotel in El Paso, Texas. Checking in at the Gardner Hotel feels like jumping back in time with its old world interior design including a marble staircase and antique furniture.
History buffs will appreciate the lobby which is loaded with memorabilia including a 1930s phone booth and highlights infamous guests of the Gardner Hotel such as the notorious bank robber John Dillinger. 
Despite its long history, guests will enjoy modern amenities such as a Wi-Fi connection, air conditioning and a swimming pool.  However, please note the elevator is as old as the hotel and is not currently operational (hotel staff will carry your luggage up the stairs for you). And while some rooms have private baths, others are hostel style.  Rooms feature a classic 1920s design and the history of the hotel is its charm, making it one of the most unique accommodations in El Paso. 
The speakeasy bar complete with bartenders in 1920s attire is a great place for a drink and the hotel is also within easy walking distance of the downtown bars and restaurants.
Hotel Indigo
– Mid Century Architecture meets Modern Design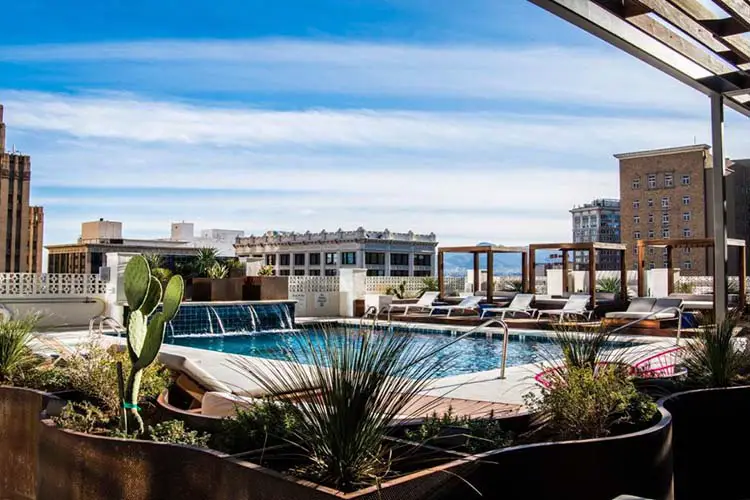 The Hotel Indigo is one of the most visually stunning hotels in El Paso. Built in the 1960s as the Downtowner Motor Inn, the hotel still retains much of its original design mixed with a contemporary aesthetic.  The combination of old-school architecture with a modern art-house vibe makes for an elevated stay.
Featuring an outdoor pool with a cocktail bar and breathtaking sunset views from its fifth-floor location. The hotel also features a restaurant – the Downtowner – offering cuisine that is a crossroads of Mexican and American dishes.
After a day of exploring the Franklin Mountains, the Chihuahuan Desert and the Rio Grande, the hotel welcomes you back with luxurious guest rooms; unique décor, plush linens, spa-inspired showers and spacious work areas.
Hotel El Capitan – Road Trip From El Paso
– A Charming Boutique Hotel with a Wild West Vibe
If you are continuing on your way from El Paso, especially if you are headed east towards Dallas, Austin or San Anotion, the Hotel El Capitan is among the most uniquely designed boutique hotels in El Paso, Texas.
It is an accommodation with 50 rooms and an on-site restaurant and features architecture that harkens back to the wild west era. 
The Hotel El Capitan offers different room types, and the establishment is designed to accommodate disabled individuals. Notable amenities include Wi-Fi, pets are allowed, and an ADA-certified elevator. 
Overall, this pretty picturesque bed and breakfast in El Paso takes its motif to heart.