Double points if you avoid writing "I went to the Louvre today" in your travel journal while actually in Paris. Quintuple points if you never write a full sentence at all.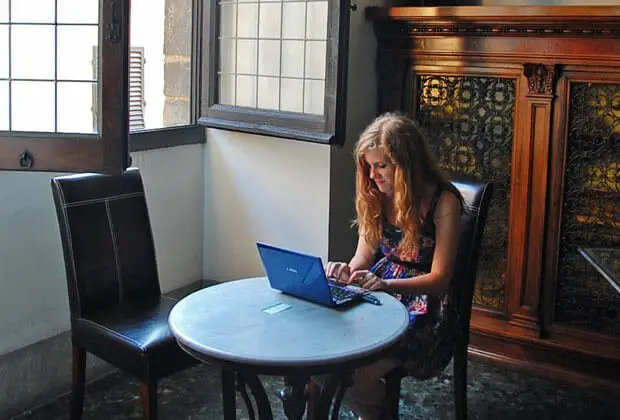 If you plan to use your travel journal after returning home, you want it to be useful.
Perhaps you plan to glean things from your journal entries for creative or professional writing projects, or maybe you simply intend to use it as a place to record and someday spur the memories of your trip.
So why is writing "I went to the Louvre today" not such a great idea? Well, because as you sit there at a cafe in Paris, you most likely will remember that fact tomorrow.
You may also like: Bistro, Brasserie, Cafe or Wine Bar -The Difference 
Heck  – even ten years from now you will probably remember that not so small detail that you "went to the Louvre today" in Paris. What you probably won't remember ten years from now (or even tomorrow, if you don't take the time to record it somehow) is much else.
I have several different techniques I use for travel journaling on the road, depending on my situation, but there is one practice that I make myself do every night before I go to bed.
Not just a good technique for travel journaling, but for journaling in general, I often do this when I am at home as well. It may seem hard at first, but gets easier with practice. The best news is it only takes a few minutes.
All you have to do is write down a "list of ten," ten details from your day. These details can be one word, or fifteen.
They can be a thought, a sensory detail or snippet of dialogue. Beyond writing down ten of them and doing it quickly, I don't really have any other rules. (When it comes to travel journaling I don't like those.)
So what does this look like?  I'll share with you an example from a trip a while back to Charleston:
Charleston, SC  June 19, 2010
ladies in linen
dappled sunlight under giant live oaks
camera lens gets foggy in humidity
cobblestones are pink
Tradd Street – can see water in both directions
real estate signs are in all my best photos
smells like crabcakes and candy
native's sadness and wistfulness … cynicism?
cold blast of air conditioning in hotel lobby – could create it's own weather system
Gullah guy saying he's really from Detroit and screaming on the corner of King and Market that there are only Christians and Gentiles.
You may also like: Favourite Things To Do In Charleston, SC
Always listing ten items makes me push myself just that little bit harder through to the end, while writing speedily keeps me from over-thinking things or trying to write sentences.
Remember my list above is one of my favorites  – reading it puts me right back behind my own eyes on that very day. Often they don't turn out so well, but that comes with the territory.
Maybe next time I'll share a really bad one!
Most importantly over time the practice itself has helped me be more observant. Some days whether I'm traveling or not, I will see things that I know I want to write on my "list of ten".
Walking around with my camera does the same thing insofar as I often see things, I wouldn't otherwise have seen,  but it's different. I try not to use the fact that I am also taking a lot of photographs as an excuse for not writing my list.
You may also like: Rediscovering Paris
If you can't stand not writing in full sentences. (I've heard you're out there), adapt the practice of "list of ten" to be a list of ten sentences at first. I think  letting go of the need to write in full sentences will most likely come to you naturally with a little practice.
I promise if you make this a habit you'll have plenty of material that will aid you in remembering the most personal and special parts of your travels. Then if you are a writer of any sort you will have plenty of inspiring fodder to work from for years to come.
Let me know if you try this… I'd love to hear how it works for you!