A Wales Itinerary for a vacation in the Land of Lace Curtains and Big Voices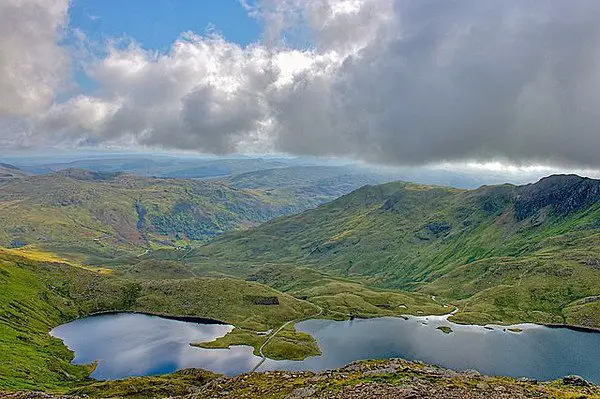 "Noooo!" the man sitting across from me boomed, cheeks puffing out in indignation."I'm Welsh!"
This was the reply to my polite question if he was English, which just goes to show that you have to mind your words carefully when describing where Wales is located. It forms a big part of the extreme southwest of the British Isle, and with more than 700 miles of coastline along the Irish Sea and the Atlantic Ocean, Wales is an ideal vacation destination – in the summer, that is; the maritime climate makes it a very rainy place. It is also, as my encounter made me realize, a country with its own identity, language, culture, and history.
Thankfully, the man, who was my chance travel companion on a train ride from London to Cardiff, continued the conversation in plain English rather than his native Welsh.
I can assure you, it is a language nobody but a person born and bred in this land of green valleys, castles, snow-covered mountain peaks and fat, black cows can pronounce without putting a knot in their tongue. Just look at a few of the place names: Cymru, Llywelyn, Merthyr Tydfil … and these are the easy ones!
There really are a lot of famous people from Wales
As if in compensation for the rather rough and challenging conditions of this breathtaking country, Mother Nature seems to have created a breeding ground for artistic talent. Many world-renowned singers, actors and writers hail from Wales. Tom Jones, Shirley Bassey, Bonnie Tyler, Charlotte Church, Richard Burton, Anthony Hopkins, Catherine Zeta-Jones, Roald Dahl, Dylan Thomas and George Elliot are just a few that figure on the long list.
As the train pulled into Cardiff I parted company with my new-found Welsh friend, who had entertained me during the journey with many an anecdote about the famous Welsh lace curtains and the penillion, a traditional Welsh form of singing poetry accompanied by a harp. I kid you not, he gave an example, albeit sans harp! I picked up my hire car and embarked on my trip around Wales.
My Wales Itinerary
Brecon Beacons
Wondering where to start my Wales itinerary, I decided my first stop where the Brecon Beacons, which includes a National Park that is a paradise for those who love hiking and walking. A symphony of greens, blues, reds and browns rolls out before the eye, grassy moss giving way to a more mountainous territory.
Abergavenny or Brecon is a good base for tours into the park. Fforest Fawr (Great Forest) deserves a special mention because of the tumbling streams which join the River Neath and finally empty into Swansea Bay. This is farm country and not only will you be able to observe the lace curtains which adorn every window of the farms but you can also sample some of the best lamb dishes, period.
Snowdonia
Moving further north, next on my Wales itinerary was another National Park, Snowdonia. The landscape changes dramatically; moors and rolling hills give way to rocks and mountains with Mount Snowdon at 3560 feet as the highest peak.
The entire district can be divided into four regions, though, and the lovely coastal town of Bangor is the other extreme. Imposing castles like Caernarfon and Conwy vie for your attention with the narrow gauge railway Ffestiniog connecting the mountains with the sea, a journey which should not be missed.
You can visit a woolen mill or a slate museum, admire Britain's smallest house as well as its ugliest house, enjoy sandy beaches, climb mountains or relax in Trefriw Wells Spa, a spring first used by the Romans. And they certainly knew a thing or two about the benefits of spas.
Snowdonia is also home to the Dolgellan Gold belt with Gwynfynydd still operating 24 gold mines. Welsh gold is of the highest purity and traditionally serves as the material for royal wedding rings. So, when walking, keep your eyes peeled; you might spot a nugget!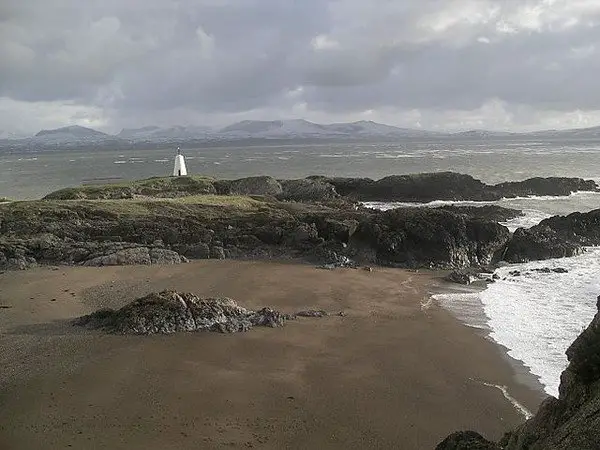 Anglesey
If moors and mountains aren't your things and you prefer beaches, then cross either the Menai Suspension Bridge or the Britannia Bridge to the island of Anglesey. The east coast features many sandy beaches with rural villages around them whereas the northern coast boasts spectacular cliffs. The best known is the town of Holiyhead but there are a few others as well, with castles, manor houses, hotels, and shops.
Not for nothing have Prince William and Kate Middleton started their married life in a whitewashed cottage on the island of Anglesey instead of a tropical paradise in the Caribbean.
Another curiosity: in the island of Anglesey lies the village with the longest name in Britain. I won't even try to spell it, suffice it to say it has over 25 consonants!
Accommodation and food
When in Wales skip the five-star hotels and opt for the wonderful British institution of the B&B or a holiday rental instead.
At the bed and breakfast, you won't find a rain shower in the bathroom, but amenities are more than compensated for by atmosphere, coziness, family welcome and, of course, breakfast. No insipid tea bags, the brew is made from leaves, strong and sweet. And with a vacation rental, you will afford yourself the opportunity to easily fall into the pastoral pace of the Welsh countryside and learn to brew your own tea!
With an abundance of sheep and cows, food is good and always plentiful.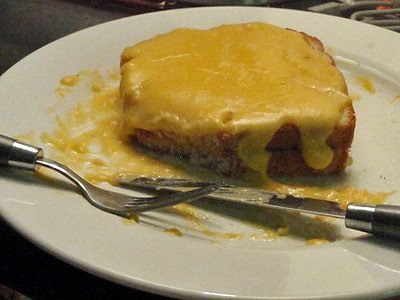 Be sure your Wales itinerary includes trying the local specialty, Welsh rarebit, which is a very creamy and tasty cheese sauce made from grated cheddar cheese, flour, butter, cream, ground pepper, cayenne pepper, Worchester sauce and beer, all cooked, blended together and then poured over toast.
Sometimes, a fried egg is put on top or underneath the cheese cover.
A last word of advice: at whichever time of the year you decide to take a vacation in Wales, don't forget to pack a sweater, umbrella and raincoat. It does rain in Wales, a lot!
Today's post brought to you by Home Away UK.
* Scenic photos in public domain via Wikipedia. Welsh rarebit by Joelk75
Pin for Later