There are many reasons behind my love of travel, and one of the main ones is seeing each place for itself. To me, one of the best things about getting to know a new country is getting the actual, local vibe, steering away from the tourist traps. If you dare to leave the Moscow tourist attractions behind, this city has so much to offer!
The traditional Moscow downtown is well worth a visit, with its imposing buildings and heavy history. But once you've checked that off, it's time to delve a little deeper into this wondrous city. As you can imagine, the largest capital within the European country and one of the most important cities on Earth has a lot going on. In Moscow, there's a crazy mix of a hectic life, high energy, luxury, and even an almost intimate artsy vibe, all worth a visit.
Trendy Patriarshiye Prudy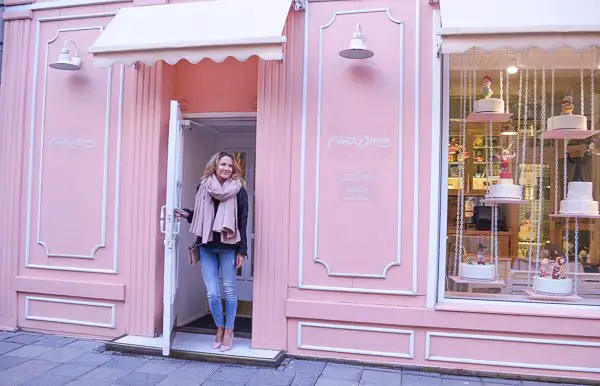 My favourite area in Moscow, this is where the city's vibrant foodie scene thrives. The neighbourhood, Patriarch Pounds in English and Patriks for short, was born as a residential area. First created in the 19th century, the neighbourhood has gone through quite a bit of stages, including hosting communal apartments during the Soviet years. 
And while it retains its suburban-like charm, in the past few years it's grown as a hip hub for creatives. What's more, it's the center of Moscow's alternative foodie scene!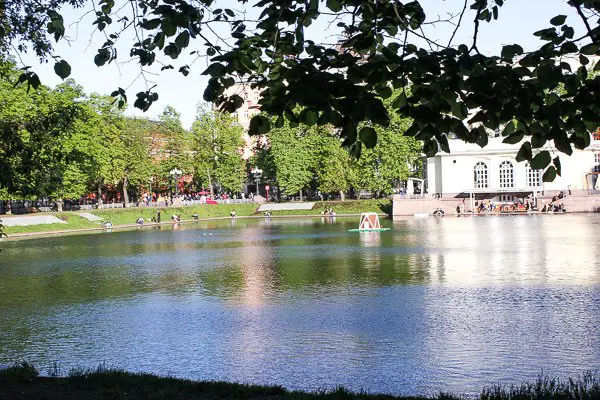 Patriks is the place to go when your palate is craving something different. The area is booming with small eateries of all types, many of which have unique concepts or offer very particular cuisine fusions. You'll find plenty of great options for every meal here, and the vibe is always fantastic. This is where trendy Moscovites and ex-pats hang out, so there's always a young and hip crowd.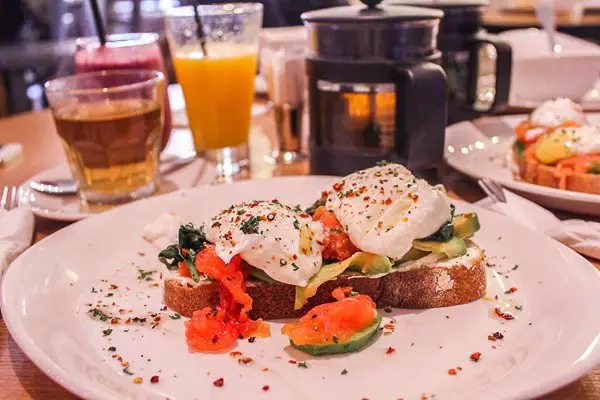 I'd highly recommend spending a day restaurant hopping here. Start the day having breakfast/brunch at either I Love Cake (perfect for pancake and sweets lovers) or Fresh (the place for a healthy brekkie and delicious, freshly-squeezed juices). Move on to dinner at either Asian fusion place PINCH, New York dining spot Saxon and Parole or Japanese darling Cutfish. 
In between restaurant hopping, there are plenty more things to do at Patriks. Mani-pedi places are super popular here, as well as designer boutiques and all types of shops. What I love about Patriks is that it's a great area to treat the senses!
Creative Hub ArtPlay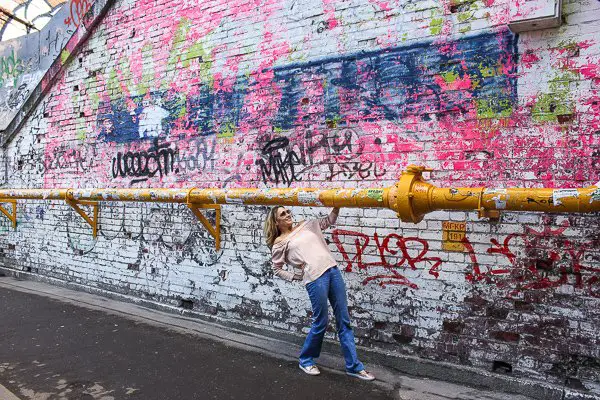 Hosting an old factory until not too long ago, ArtPlay has become a meeting point for Moscow artists in the past few years. About 20 minutes away from the modern part of town, Moscow City, ArtPlay thrives with creativity. A new art district, it's full of exhibition places, art schools and showrooms of all types. It's one of my favourite places to hang out in during a weekend, with its great vibe, full of creative people.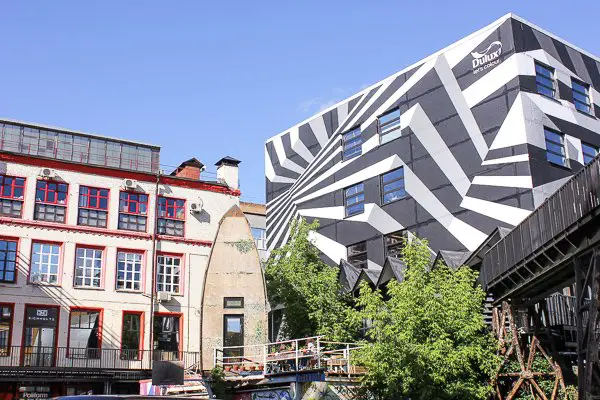 A hub for art and architecture lovers, it retains some of the old industrial vibes while adding a modern design touch. During the summer, ArtPlay has an extra bit of magic, hosting fun and artsy fairs. Besides the thriving art life, there are plenty of offices here and lots of cute little cafés. 
The Hip Food Markets
A big metropolis like Moscow is no stranger to the growing world trend towards more sustainable and organic consumption. Like many other large cities, Moscow is now home to a lot of fantastic food markets, all focused on organic products and foods, giving new life to smaller farms and more traditional agricultural practices. In the most popular Moscovite food markets, you'll find the freshest produce and animal products – and a broad variety of food stands with plates from all over the world.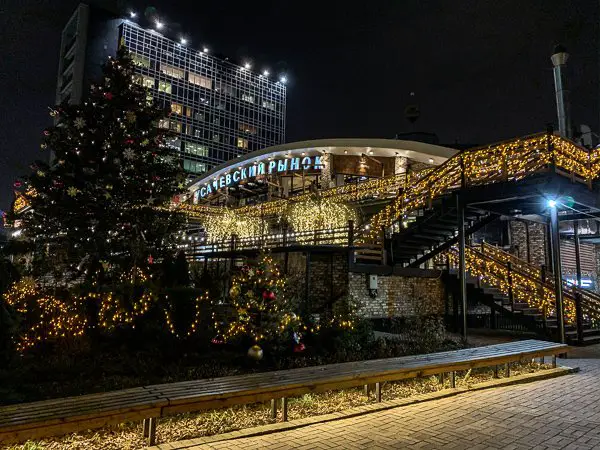 The Danilovsky Food Market has been around since Soviet times, and it's become increasingly hip with the passing of time. Try flavours to your heart's desires – and do not miss the Vietnamese food stand, particularly their delicious pho. There's usually a queue, but I promise it's worth it!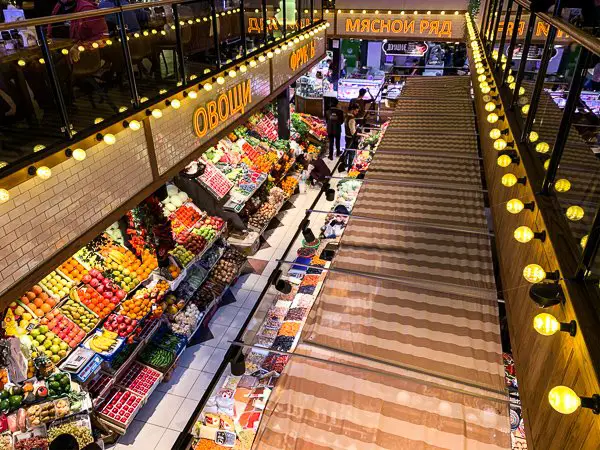 Another favourite is the Usachovsky Market, recently renovated for an even more hipster approach. Very eclectic in its proposal, you'll find everything from oysters to international foods, including Mediterranean flavours and cuisine from neighbouring countries. Great for grocery shopping and some lunch, I love spending a day here trying out fresh products like local cheeses.
The Russian Shopping Experience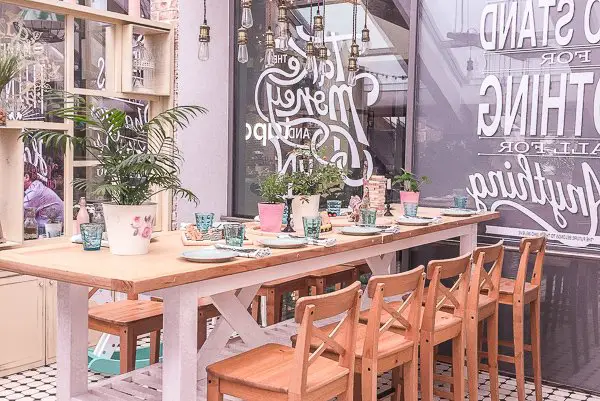 In the decades since the perestroika, Moscow has gone from dreary to a hub for extravagant shopping. Russian oligarchs seem to compete over who has the biggest shopping centres, and there's an insane amount of malls all over town. From large malls to small and intimate boutiques, this is a town to go wild shopping.
As previously mentioned, Patriarch Ponds has a lot of shopping options for design lovers. Small and cute boutiques abound here, offering many unique items made locally, a treat for those who want to take home their travels. It's also the best area to check out the local trends and what's happening inside the minds of Russian designers. Keep in mind that this is a bit exclusive and prices can be quite steep.
Tsvetnoy Central Market is one of my favourite local malls and quite a hip experience. Focused on luxury shopping, you'll find most big European brands here, mixed up with top-of-the-line Russian designers. Boutiques and pop-up stores line up here, with lovely and highly Instagrammable colours. What I love most about this place is that it combines a modern mall experience with an old market: on the 5th floor, there's a farmer's market! Fancy and organic, you'll find fresh produce, fine meats and some of the prettiest cafés in town. After a day shopping here, you can go to the rooftop bar and restaurant on the 6th floor!
Red October Partying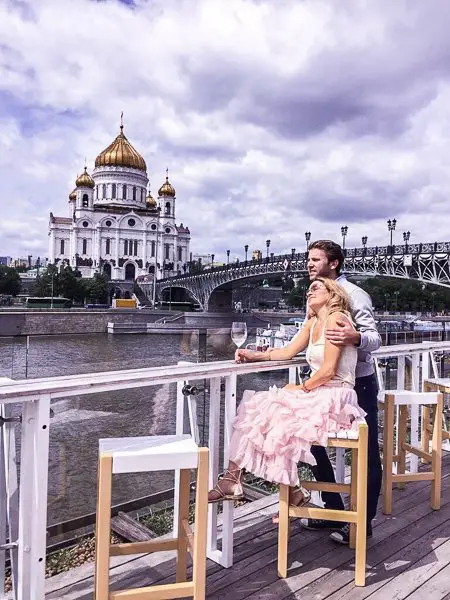 Like so much of hip Moscow, Red October used to be a factory – a chocolate one, in fact. An island of bright red brick buildings, it's one of the hippest points in town – and certainly the place to party till the sun comes up. Bars and nightclubs line up here every night, including my favourite one, Strelka, with its magnificent terrace (only open summer time). A prime place to catch a sunset in Moscow!
At daytime, Red October is much calmer, with art galleries and happenings everywhere, plus lovely cafés, restaurants and rooftop bars.
Walk beyond the cliché Moscow places and discover one of the most thriving cities on Earth, be it summer or winter!
Want to see more of the hip side of Moscow? Then check out our Vlog from our Artsy Moscow Weekend!